I more often than not eat a salad I've thrown together with random ingredients for lunch. I usually love it and look forward to it but every once in a while I need to eat my veggies in a different way than a salad. Enter: turkey bacon caesar wraps.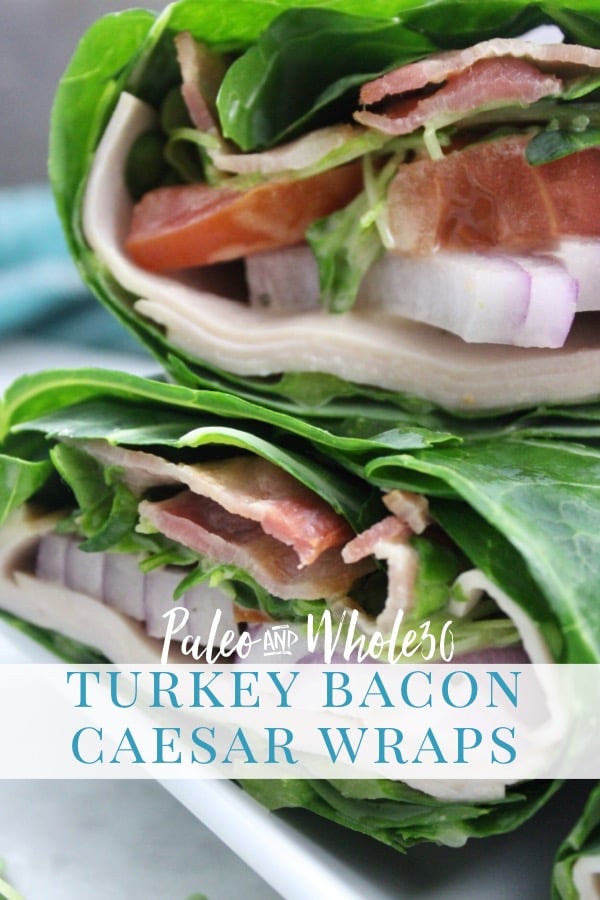 This post is in partnership with Primal Kitchen. I'm happy to have partnered with this brand I believe in and love! Thanks for your support here on the blog and your support for all of our awesome Whole30 Approved companies!
If I'm making these turkey bacon Caesar wraps as part of a meal or have the time to do it, I'll blanch the collard greens first. But, if I'm in a hurry, starving, or have thin enough collard greens, I won't. Sometimes it's a good option regardless if the collard greens you purchased are thick and fibrous.
One nice thing about blanching collard greens is that you can do a big batch at a time. Or even the whole bunch of greens you buy. They stay in the fridge after blanching for about three days. I like doing this and preparing all of the other ingredients ahead of time. I'll chop the veggies and cook the bacon during meal prep. That way I have wraps ready to be assembled in minutes for quick meals.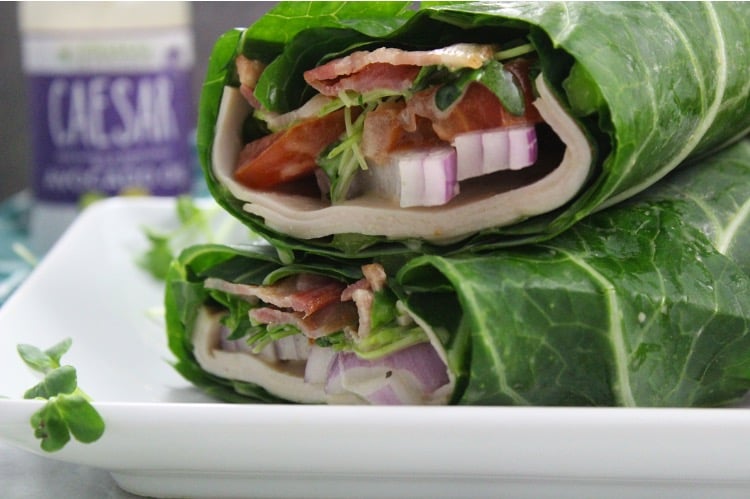 If you can't find deli meat without all of the junk added, you can use chicken breast strips or tuna instead. I've done 'em all and loved 'em all! Once you have your greens blanched and in the fridge you can use them as a way to do a fridge clean out too. You can throw your leftover veggies and protein in. Just drizzle with Caesar dressing and lunch is served and the fridge is clean.
My favorite way, however, is the recipe I'll leave you with here. It's a healthier take on a turkey bacon sandwich and who doesn't love those?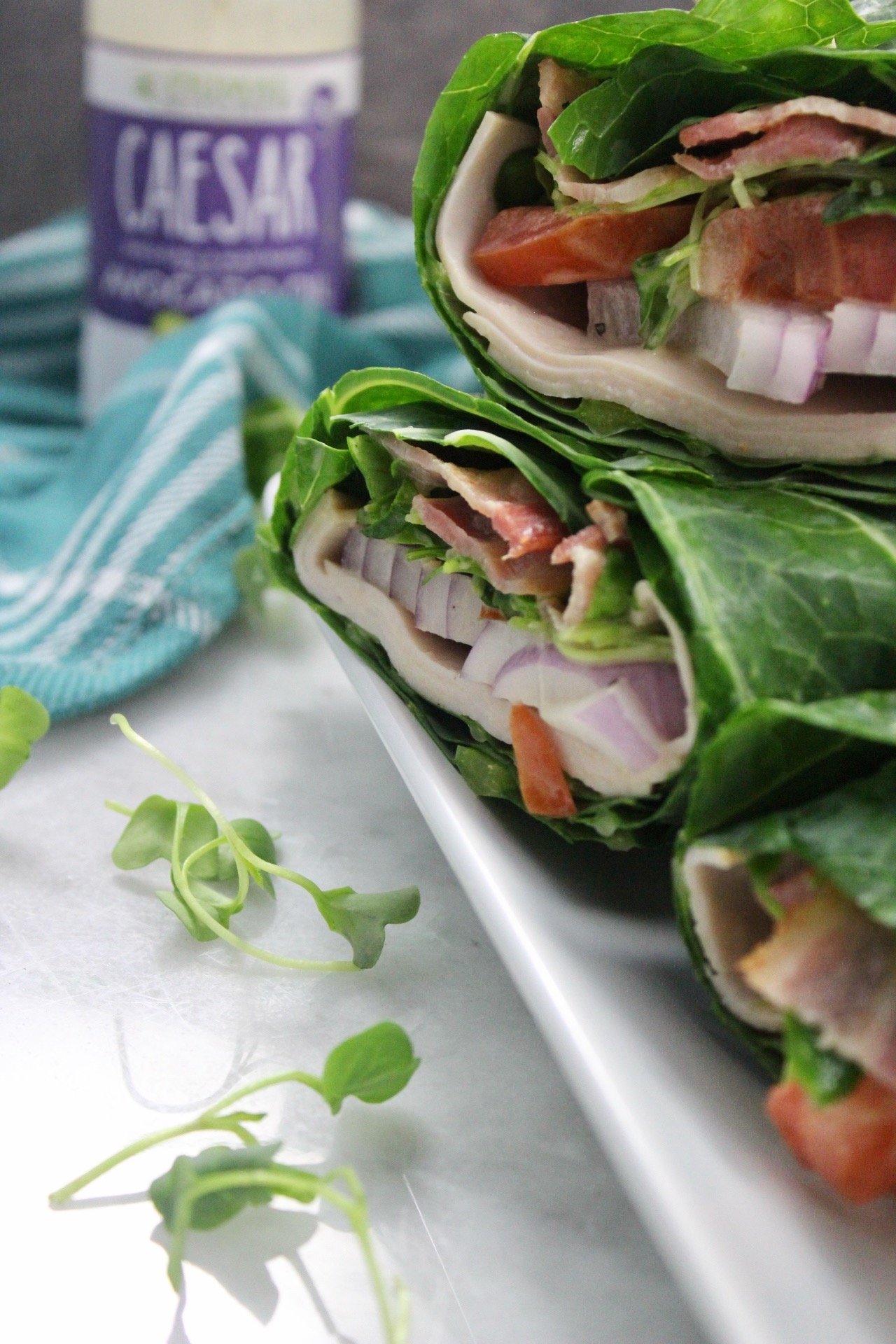 The bacon I use is from Pederson's Farm (you can get it at Whole Foods or Paleo On The Go) and it's the best bacon ever. Paleo or otherwise. I find Whole30 compliant deli turkey from a few different places. Fresh Thyme, Whole Foods and a local co-op here in Minneapolis carry it. It used to be impossible to find. Like, completely elusive. It's becoming less of a rarity though, thanks to people like you who care about what's in your food.
Of course, the Caesar dressing that I always have in stock and used for these turkey bacon Caesar wraps is from Primal Kitchen. Grab it from their website (use GROK15 to save you 15% storewide) or from Thrive Market. It's their newest dressing so I have yet to see it in Whole Foods but I'll keep ya' posted.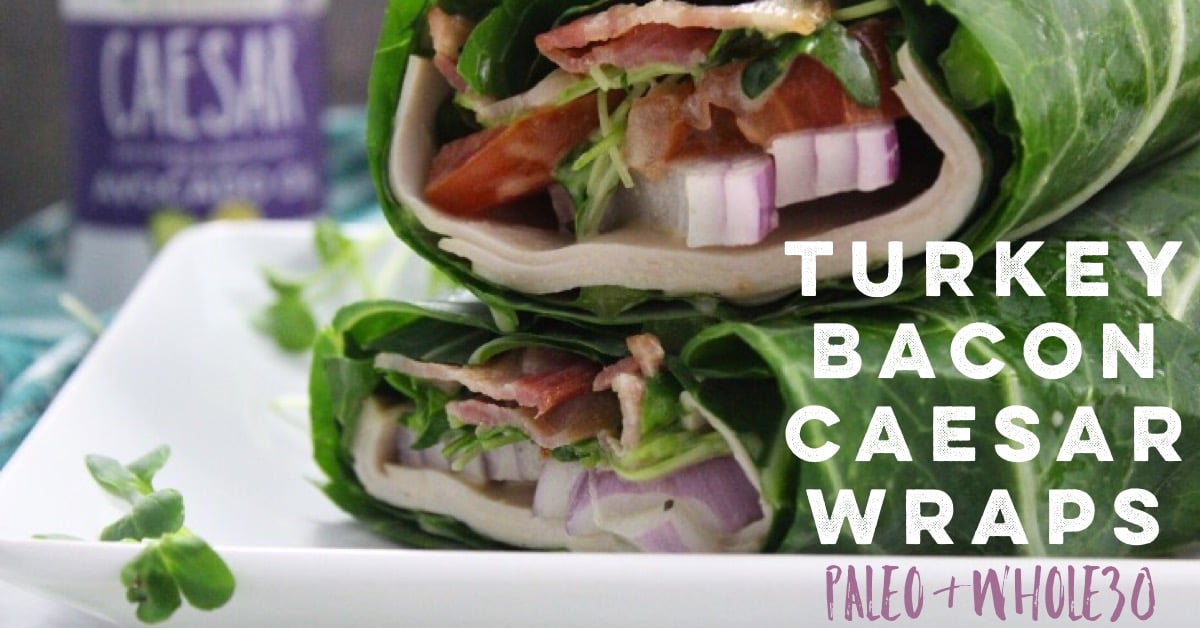 Print
Hungry for more? Subscribe to my newsletter to get new recipes delivered straight to your inbox! And be sure to stay in touch on Facebook, Pinterest and Instagram for all of the latest updates.
Turkey Bacon Caesar Wraps: Easy Paleo and Whole30 Lunch
Prep Time: 10 minutes
Total Time: 10 minutes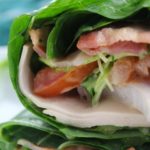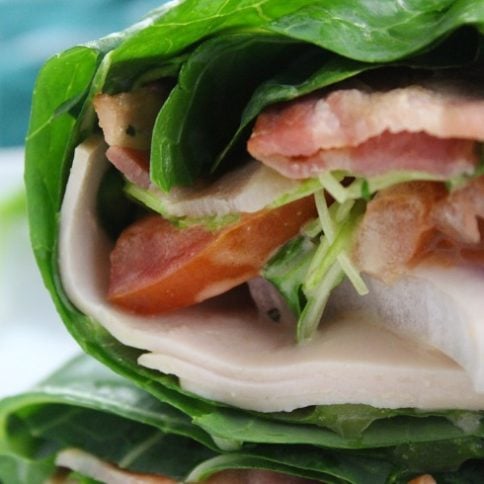 Ingredients
For one Wrap:
3–4 leaves of collard greens
3 slices turkey
2–3 slices bacon
2 slices tomato, cut in half (4 half slices)
1 slice of red onion
1 handful micro greens or spinach
2 tablespoons Caesar dressing
Instructions
To Blanch Collard Greens:
Place two large handfuls of ice cubes in a large bowl of water and set aside (or refrigerate a large bowl of water for an hour or two prior to blanching)
In a large pan or pot, bring 5-6 cups of water to a boil and reduce to a simmer
Cut stems and trim the spine of the collard
Place the leaves 1 at at time into the simmering water
Leave in for only 30 seconds
The longer you leave it in, the softer it will become and you'll need it to hold up when you wrap your ingredients
Remove collard and place directly into the cold water for 10-15 seconds using a tongs
Remove and pat dry with a towel or paper towel
Set aside and continue process until all are blanched
For the Wraps:
Place three to four collard greens down flat in a diamond like pattern with half of each leaf overlapping the others
Place turkey down in the center of the wrap
Add onion and tomato on top, ensuring that the onion and tomato is evenly dispersed over the turkey
Cover with micro greens and drizzle Caesar dressing over it
Top with desired amount of bacon
Like a burrito, bring the left and right sides inwards over the top of the ingredients
Then grab the wrap, side furthest away from you, and bring it over top
Begin rolling wrap towards you, tucking in as you go
Use toothpicks to hold it in place until you cut it in half or are ready to eat!
Notes
Double the recipe as needed depending on amount of wraps you'd like to make.
This post may contain some links that are affiliate links, though products are ones I use personally and recommend. When you purchase anything using my links, it costs you absolutely nothing extra, but it does give wholekitchensink.com a little financial support which helps to keep this blog running. Thank you for your continued support, both with your dollars and your interest.