I've been on a total slow cooker kick this winter. Okay, who am I kidding. I'm always on a slow cooker kick. I had a family function out of town to go to this week. Naturally, I volunteered to bring something. I didn't want to show up with yet another bag of chips, or fruit and veggie tray to contribute. There's always like 3 of those trays at every get together, right? I like to switch things up a bit. But, I needed to bring something that would travel easily, taste ahhh-mazing reheated and be hearty enough to fill the bellies of the people I love. I give you: slow cooker bolognese sauce.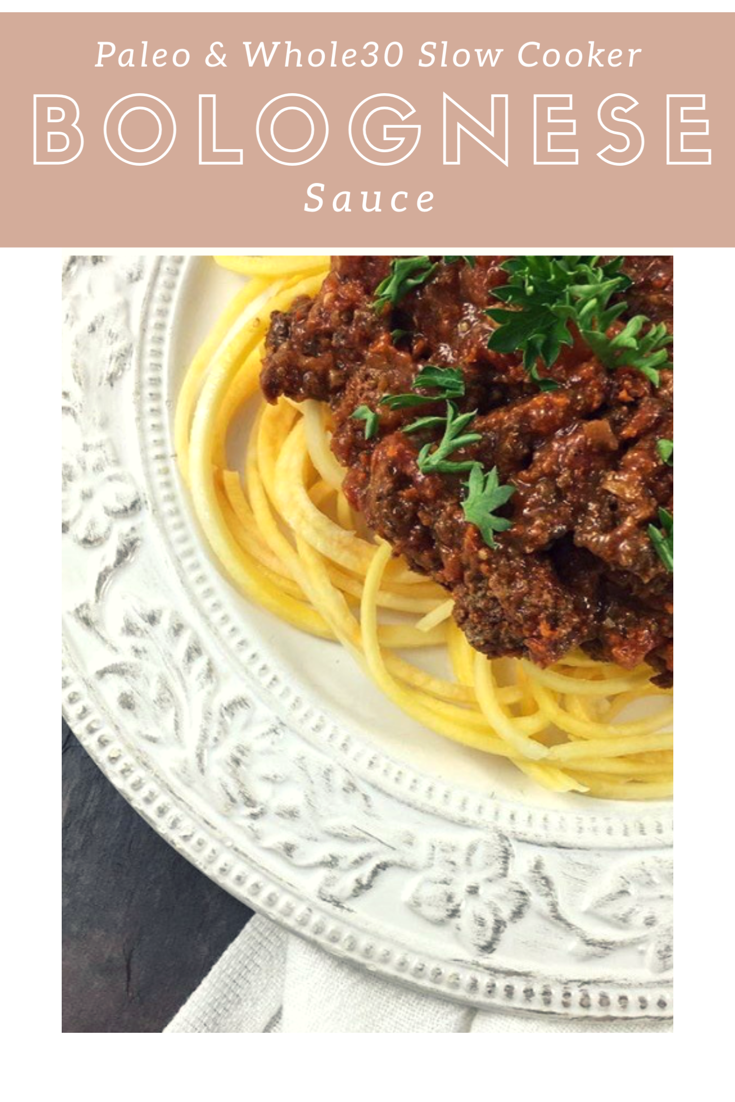 This sauce only takes about 20 minutes to prep because you'll get the sauce started before it all goes into the slow cooker. Then forget about it for the rest of the day and come home to a meal that tastes like you slaved away in the kitchen for hours. I call for ground bison and ground beef in the recipe, but you can use all ground beef if you prefer or already have it on hand. I also call for 4 slices of bacon. It adds an awesome flavor to the sauce but if you don't have any, it's not a deal breaker.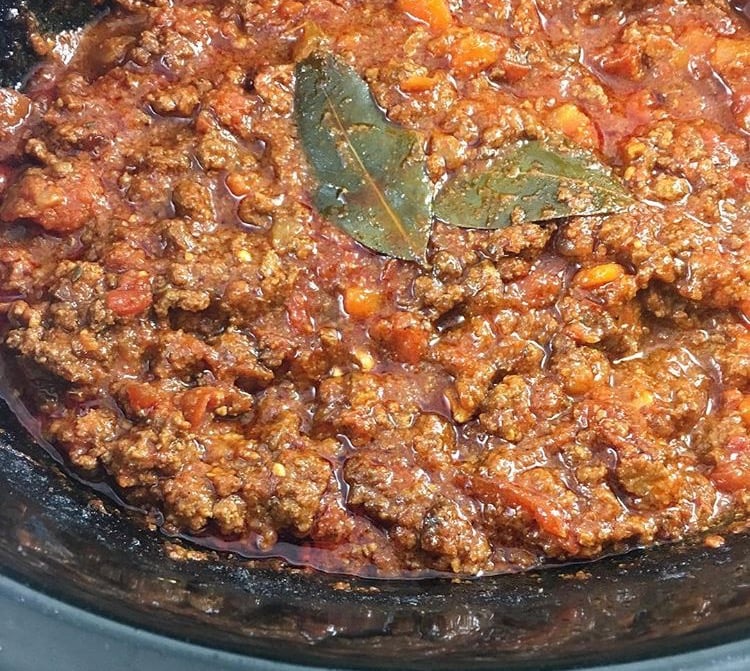 I had never done this with my bolognese sauce prior to a few months ago after I visited Italy. An old man that owned a restaurant across the street from the hostel I stayed in spent time telling me how he cooked his sauce.. after he noticed I had came back and ordered it two days in a row! He shared with me that the bacon is the secret, along with cooking it low and slow. This elderly Italian man would let his simmer on the stove top for hours but we're going to just pretend and use the slow cooker. He also added a bit of red wine along with the milk when doing the reduction. If you wish to, you can do that as well. I skip this because I just never have wine in the house. (Yes, I'm serious!)
If you've been following me for a while on my Instagram, you'll know how much I love Nutpods. Nutpods are a dairy free creamer, intended for coffee. They're a Whole30 approved partner with natural ingredients. I always keep 'em around for a lot more than just my caffeine fix. They have three flavors and while I prefer the French Vanilla in my coffee, I typically only keep a constant stock of the Original. I use that flavor the most – in soups, cream based sauces or just in recipes that need milk. They work better as a heavy cream substitute than pretty much any other Paleo milk option I've tried. I use it for my slow cooker bolognese sauce for the milk reduction before letting the slow cooker do it's thing.
I serve this recipe most often with butternut squash noodles. They're firmer and less watery than zucchini noodles. To me, they serve as a better replacement for spaghetti noodles because of how well they hold up when cooking. One question I get all the time is what spiralizer I use. I use a Paderno that I bought on Amazon. Best $22 purchase ever. Before I bought it I had one of those crappy, flimsy handheld ones. Because it sucked so badly, I made noodles with it, like, maybe 3 times but the results were always a poor excuse for noodles.
I was scarred after that and didn't want to spend money on something that wasn't going to work. So, I did some research and found out that Paderno is also sold in Williams & Sonoma. It's way cheaper on Amazon but I went in one day to look at it before I bought it. They actually had testers of the 3 and 5 blade models out that I tried with a zucchini. The 3 blade was plenty for what I needed it for. After seeing the extra blades that come with the 5-blade model and knowing I'd never use them and they'd just take up space, I went home and bought the 3-blade one. It's worked perfectly and given me the best veggie noodles ever since. Bonus: it's easy to use and easy to wash, too.
Cooking Notes:
I included two ways to cook the butternut squash noodles in the recipe. Keep in mind that these noodles take a few more minutes of cooking than zucchini noodles do to soften up.
If you have extra noodles left over, don't meal prep them in with the sauce. Leave them separate to prevent the bolognese sauce from getting watery due to the excess liquid that the squash noodles will produce when refrigerated.
This slow cooker bolognese sauce recipe can be frozen and I suggest freezing them in individual containers and letting it thaw in the fridge before microwaving.
You can also serve the slow cooker bolognese sauce over a baked potato! I do that with the frozen or refrigerated leftovers because it's easy to meal prep and bring to work!
Print
Slow Cooker Bolognese Sauce: Paleo & Whole30 Approved
Prep Time: 30 minutes
Total Time: 30 minutes
Yield: 4-6 1x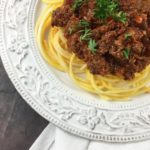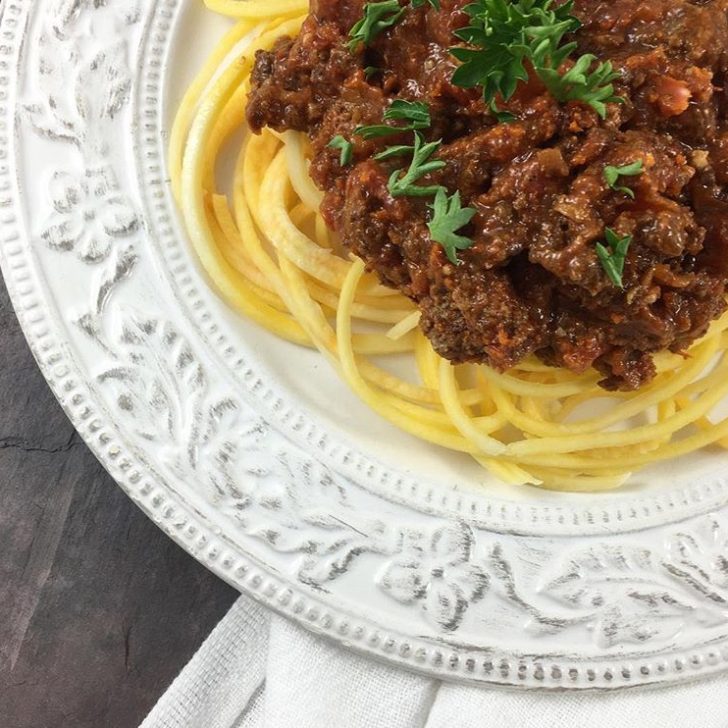 Ingredients
For the Sauce:
1 pound ground beef
1 pound bison (use 2 pounds ground beef if you'd like)
4 slices bacon (not required)
1/2 cup original flavor Nutpods (or Paleo milk substitute)
1 28 ounce can of diced tomatoes, drained
1 28 ounce can of tomato sauce
2 tablespoons olive oil
1 white onion, diced
2 large carrots, peeled and diced
3 celery stalks, diced
2 tablespoons tomato paste
3 tablespoons minced garlic
1 teaspoon salt
1 teaspoon thyme
1 teaspoon oregano
1/2 teaspoon pepper
1/2 teaspoon nutmeg
3 bay leaves
For the Noodles:
1 large butternut squash
1 tablespoon olive oil
Salt and pepper to taste
Instructions
For the Sauce:
Heat olive oil in a large skillet over medium heat and add the veggies
Once the veggies have began to soften, about 10 minutes, add tomato paste and garlic
Stir until tomato paste has combined and transfer veggies to slow cooker
In the same pan, begin browning 2 pounds of the ground meat
As it's cooking, mix in all spices except bay leaves
Once the meat is mostly cooked, a little pink still is OK, pour in 1/2 cup of Nutpods (or Paleo milk substitute)
Let simmer until milk reduces down
Once there's not much liquid left, about 10 minutes of simmering, transfer to slow cooker
Add diced tomatoes, tomato sauce, finely chopped uncooked bacon to slow cooker and stir
Place bay leaves into slow cooker and cover
Cook on low for 6-8 hours
For the Noodles:
Cut off the bulbous end of the butternut squash, set aside and save for a different recipe. You won't be using this end
Cut off the very end of the part of the squash you will be using
Peel squash so the outer skin is completely removed
Squash will be about 6 inches long, cut in half so it's easier to spiralize
Use a spiralizer to make noodles
Heat oil in a skillet and cook noodles until soft or to preferred firmness (5-10 minutes, depending on how many noodles you have in skillet)
OR
Coat raw noodles in oil and roast for 5 minutes at 400 degrees F
This post contains affiliate links, though all products are ones I use personally and recommend. When you purchase anything using my links, it costs you absolutely nothing extra, but it does give wholekitchensink.com a little financial support which helps to keep this blog running. Thank you for your continued support, both with your dollars and your interest.