This Whole30 chipotle chicken skillet checks all of my boxes. Paleo, low carb, gluten free, you name it. In under 20 minutes you've got a family friendly chicken dinner on the table or ready to be put in the fridge for meal prep. It's easy to make this Paleo skillet recipe your own by swapping the veggies, or changing the spice level if you like it a little on the hotter or more mild side!
I'm back again this week with, you guessed it, another Whole30 skillet recipe. It's always been almost weekly a new one of these pops up here on the ol' blog. In everyday life over here on the other side of your screen, that's because one pan or skillet dinners are what I'm making nightly. It's just so EASY, ya know?! Throw everything in, leave only one pan to be cleaned up by your housekeeper once she's finished doing your laundry… alright so I can't help you with that last part. But I got you on the one pan thing.
This Whole30 chipotle chicken skillet could not be more simple or straightforward. You're going to start by quickly browning some ground chicken. The veggies you'll add in can be swapped for any other veggie you've got or prefer. Red onions , jalapeños, broccoli, etc. I'd personally avoid subbing or adding zucchini though. The cauliflower rice, if not drained enough, can add a bit of extra liquid to the skillet, and adding another watery veggie wouldn't be ideal.

Speaking of cauliflower rice, I recommend taking advantage of 2018, and picking up some cheap bags of frozen cauliflower rice at the grocery store. They're available basically everywhere now, which makes doing a Whole30 shopping at Walmart and Target pretty dang easy. If you want to make your own, that's awesome too. You can find out how to do that here.
If you steam the cauliflower in the bag, before you add it to the skillet you'll want to drain the excess water. My trick for doing that is to use a nut milk bag. Putting the cauliflower rice into the bag and gently squeezing it helps the rice to keep it's shape while still making sure you get as much water out as possible. I do this with veggie noodles, like zucchini, as well. This one that I have is dishwasher friendly and has held up great for my veggies, nut milk and cold brew coffee uses!
If you are going to cook the cauliflower rice in a skillet, you'll want to do this first so that you can drain it properly before the meat is in. Simply cook the cauliflower rice in the skillet, which shouldn't take more than 3-5 minutes, drain, and set aside until the skillet is almost done!
You can top the Whole30 chipotle chicken skillet with any type of ranch you prefer, the one I used here is my homemade and Whole30 southwest ranch dressing. Other great options are habanero or creamy ranch from Tessemae's, or Primal Kitchen's ranch dressing.
Other Skillet Meals You'll Love:
Creamy Paprika Chicken Skillet
Lemon Chicken & Summer Squash Skillet
Print
Whole30 Chipotle Chicken Skillet (Paleo, Keto, GF)
Prep Time: 5 minutes
Cook Time: 20 minutes
Total Time: 25 minutes
Yield: Serves 3-4 1x
Category: Entree
Cuisine: American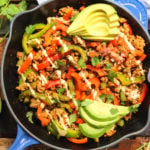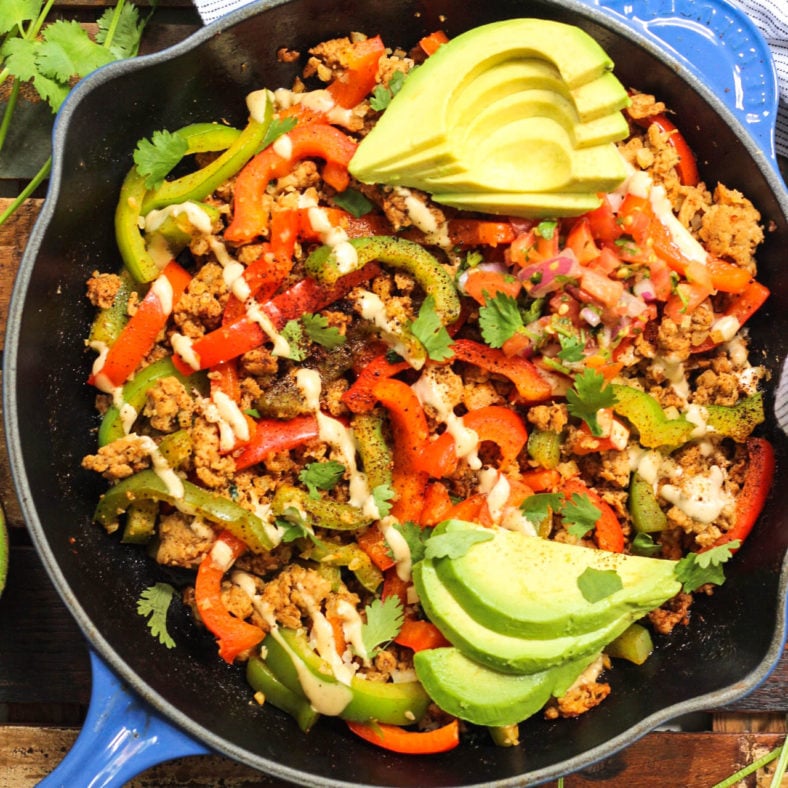 Ingredients
1 pound ground chicken
1 red pepper, sliced
1 green pepper, sliced
2 cups cauliflower rice
1/2 white onion, finely diced
2 tablespoons olive oil
1 tablespoon minced garlic
3 teaspoons chili powder
2 teaspoons chipotle chili powder (adjust to taste)
1 teaspoon paprika
1 teaspoon cumin
1 teaspoon salt
1/2 teaspoon pepper
1/2 teaspoon cayenne (adjust to taste)
Homemade southwest ranch to drizzle over top
Instructions
Heat olive oil in a large cast iron skillet
If microwaving steamable cauliflower rice, do so now, or, add cauliflower rice to pan and cook for 4-5 minutes, or until translucent
Remove cauliflower rice and to cool and drain excess liquid
Add ground chicken, minced garlic and white onion to the skillet
When it begins to break apart and starts browning, add all seasonings and combine with chicken, cook about 5 minutes or until almost fully cooked
Add sliced peppers to the skillet and cook until softened, about 5 minutes
Mix in cauliflower rice, add any additional seasonings to taste and remove from heat once cauliflower rice is hot
Top with ranch, and any additional garnishes
Notes
Optional toppings:
Avocado
Cilantro
Chives
Jalapeño
Nutrition Facts:
Calories: 296
Sugar: 1
Fat: 18
Carbohydrates: 4
Protein: 22
This Chipotle Chicken Whole30 Skillet post may contain some links that are affiliate links, though products are ones I use personally and recommend. When you purchase anything using my links, it costs you absolutely nothing extra, but it does give wholekitchensink.com a little financial support which helps to keep this blog running. Thank you for your continued support, both with your dollars and your interest. I promise I won't buy a pony.