This easy Whole30 steak skillet is full of flavor and healthy veggies. It's a new favorite Paleo one pan meal around here that only takes 20 minutes! Making everything in one skillet is my go-to for quick meal prepping or making a clean eating and family friendly weeknight dinner.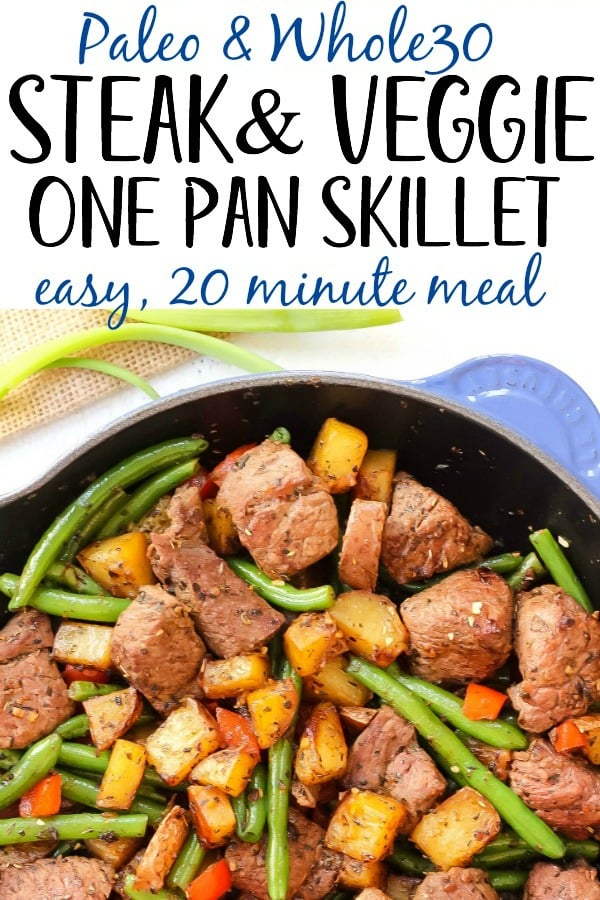 When I say this is my favorite time of year, most people think I'm talking about summer. Nope. I'm talking about peak green bean season. I know most of us have year round access to them, but there's something special about getting fresh local green beans in the summer months.
The one thing that trumps my love of green beans is my love of making dinner in one skillet. It's so easy and really reduces my clean up during meal prep or dinner. This Whole30 steak skillet with veggies recipe only takes maybe 5 minutes of dicing, and 20 minutes cook time until you're ready to eat.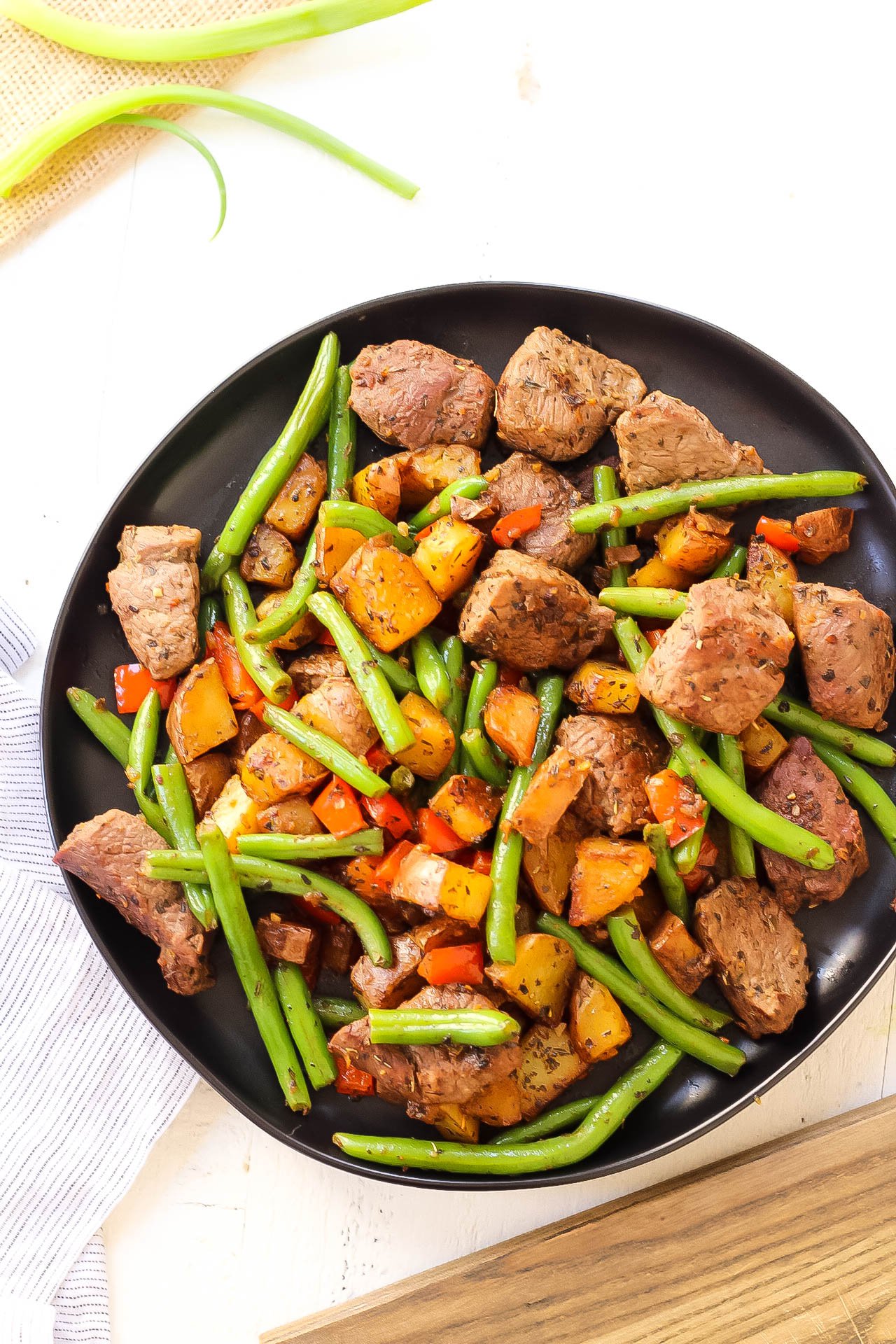 The secret to making one pan recipes work is to start with the ingredient that takes the longest to cook. I often hear that people have trouble because something is either over cooked, or under cooked because they all have different cook times. Well, simple fix there friends! After adding in the vegetable that takes the longest and giving it a few minutes to get a head start, then you'll add in another ingredient.
You'll keep doing this in the order from longest cook time to shortest cook time. With this, you have some wiggle room here with the steak. If you like it well done, you'll want it to cook longer, so add it in after the potatoes. For a more rare or medium done steak, make sure you're adding it in when the potatoes are mostly cooked through.

There's lots of substitutions you could make to make it your own too! If you have chicken, this would be great with that! You could add different seasonings, like a favorite steak seasoning mix. Toss it with a sauce, use a different vegetable, mix it up!
Other Easy Whole30 & Paleo One Pan Meals You'll Love:
Print
Whole30 Steak and Vegetable Skillet: Paleo One Pan Meal
Prep Time: 5 minutes
Cook Time: 20 minutes
Total Time: 25 minutes
Yield: Serves 4
Category: Entree
Cuisine: American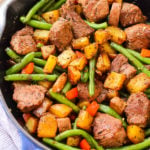 Ingredients
1.5 pounds steak (cut of choice or beef tips), cut into 2 inch cubes
3 cups of green beans
2 cups Yukon gold potatoes, cubed
1 red pepper, diced
1 tablespoon olive oil
1 tablespoon ghee
1 tablespoon minced garlic
1 teaspoon onion powder
1 teaspoon dried basil
1 teaspoon dried parsley
Instructions
Season steak with salt and pepper, set aside
Heat olive oil and ghee in a large skillet over medium heat
Once melted, add potatoes and garlic. Sauté for 5-6 minutes until potatoes begin to soften
Add red pepper, cook for an additional 2-3 minutes, stirring frequently
Add cubed steak to the skillet, along with onion powder, basil and parsley. Stir to combine
Cook for 5-6 minutes, stirring frequently to evenly cook steak
Add green beans and salt and pepper to taste
Cook an additional 5 minutes until green beans are fork tender and steak is done to your liking
Notes
To ensure the ingredients in the skillet meal are done at the same time, ensure that you begin by adding in the ingredient that takes the longest to cook first, and slowly adding in ingredients in order of decreasing cook time
This Whole30 steak skillet post may contain some links that are affiliate links, though products are ones I use personally and recommend. When you purchase anything using my links, it costs you absolutely nothing extra, but it does give wholekitchensink.com a little financial support which helps to keep this blog running. Thank you for your continued support, both with your dollars and your interest.