These chewy and soft Paleo sugar cookies are gluten free, dairy free and so chewy and delicious! With these clean, better-for-you ingredients, you won't even know they're grain free. They're perfect for your next party, cookie swap, or just a healthier treat option!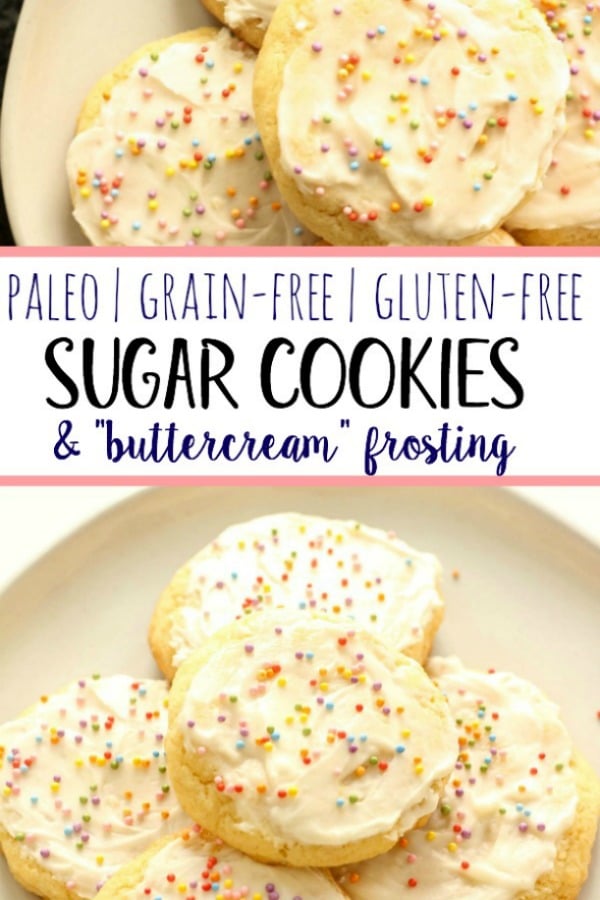 Paleo baking is hard for me. Seriously, I'd be a better NASA astronaut than I would a baker (and I'm not nearly smart enough for the former). Even regular baking isn't really my jam. I know some people love it, but it's just too exact for me to enjoy doing frequently. I'm more of a "eh about 1 cup of this, maybe 4 tablespoons of that" kind of girl when it comes to recipes. Which is why my one skillet meals and slow cooker meals are my defaults.
Okay, I'll get to the point. What I'm saying is that if I can make these, so can you. Granted, it took me a few tries to get it right, but now that it IS, you'll just mix, roll and bake! Oh, and most importantly, eat.
I made these with cassava flour, which is one of my favorite Paleo flours to use in general. It's so, SO much better for things like making breaded boneless wings. It's not as popular as coconut or almond flour, but in my opinion, it's better. It's also nut free, which obviously then opens a lot more doors for those with nut allergies who also want a grain free and gluten free flour alternative.
The most important thing to note about these grain free, soft Paleo sugar cookies is that the cookies need to cool almost completely before you start messing with them after they come out of the oven. The cassava flour makes them so soft that they need to cool just a bit more than the average cookie. Then, you'll be all set to frost them with this vanilla "buttercream" frosting. Or just eat them right off the cookie sheet. No judgements here.
These cookies are made with coconut sugar, which is a great replacement for your regular white or brown sugar in baking. It sounds and tastes a lot like sugar, but it's glycemic index is dramatically lower (35) compared to standard sugar. This means that your body is much more capable of controlling how fast your cells burn this type of sugar, preventing a sugar spike and sugar crash. I get my coconut sugar on Thrive Market, but it's widely available at almost all grocery stores now with it's growing popularity in the health food market today, and among diabetics.

Other Desserts You'll Love:
Paleo No Bake Layered Berry Cheesecake
No Bake Paleo Banana Cream Pie
Print
Paleo Soft Baked Sugar Cookies (Gluten Free, Dairy Free)
Prep Time: 10 minutes
Cook Time: 10 minutes
Total Time: 20 minutes
Yield: 12-16 cookies 1x
Category: Dessert
Cuisine: American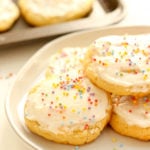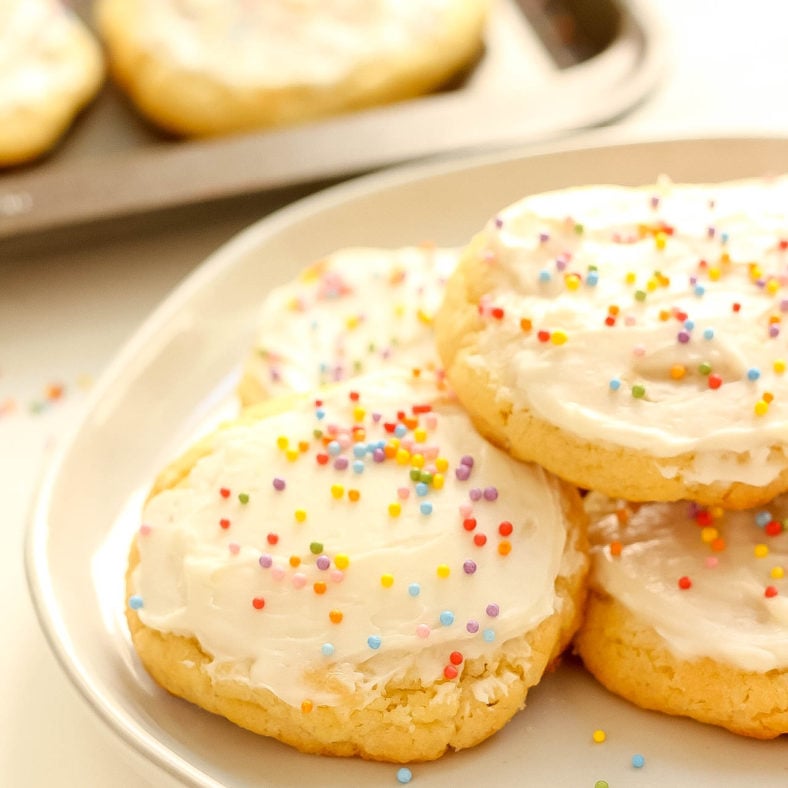 Ingredients
For the Cookies:
1 egg
1 cup cassava flour
1/2 cup fine almond flour (can substitute for coconut flour. Do not use almond meal)
1/2 cup ghee, unmelted
1/4 cup coconut sugar
3 tablespoons honey
1/2 tablespoon vanilla extract
1/2 teaspoon baking powder
1/2 teaspoon salt
For the Frosting:
1 can coconut cream (do not use coconut milk)
2 tablespoons maple syrup
1 teaspoon vanilla
Instructions
For the Cookies:
Preheat oven to 350 degrees F. and lightly grease a baking sheet
In a large bowl, mix cassava flour, almond flour, baking powder, coconut sugar and salt together
Add in ghee, honey, vanilla, and egg and beat until fully combined and dough is sticky and formed
Roll into 1″ sized balls and place on the baking sheet, leaving plenty of space between each cookie
With the palm of your hand, gently press down on each cookie to slightly flatten it (can do this before or immediately after baking)
Bake for 8-10 minutes. Remove from oven and let cool completely prior to moving!
For the Frosting:
Chill canned coconut cream in the fridge 12-24 hours prior to use. Pour the coconut cream into a bowl, add maple syrup and vanilla. Beat with a fork or electric mixer until completely smooth and fluffy
Notes
Baking time may vary by oven
Coconut flour and almond flour are a 1:1 substitute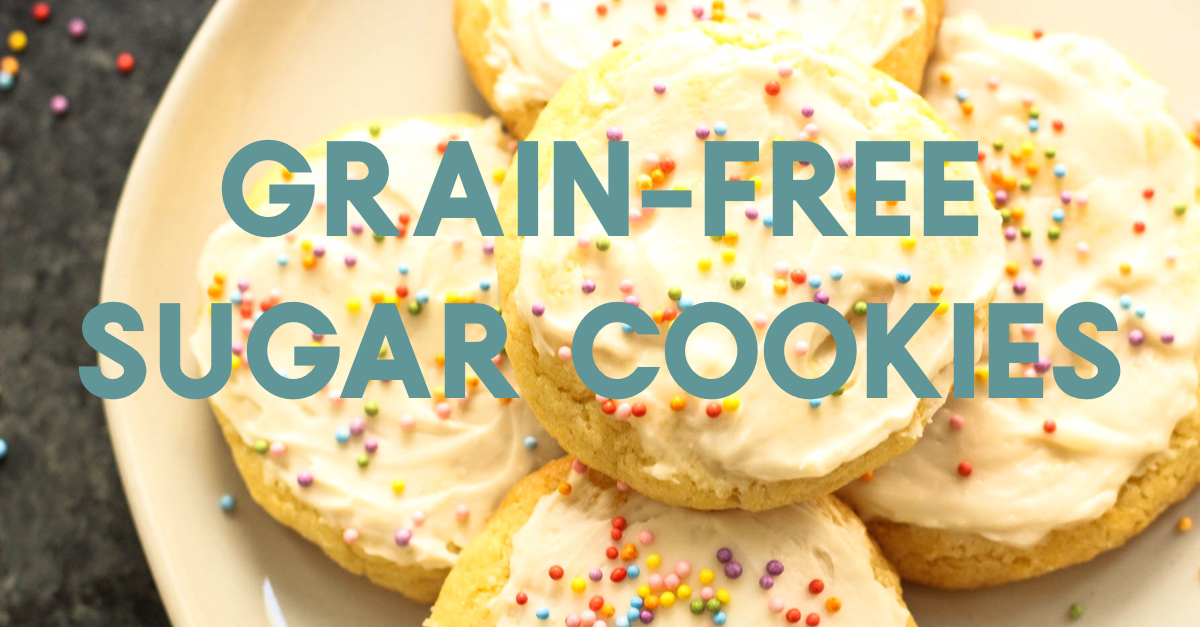 This soft Paleo sugar cookies post may contain some links that are affiliate links, though products are ones I use personally and recommend. When you purchase anything using my links, it costs you absolutely nothing extra, but it does give wholekitchensink.com a little financial support which helps to keep this blog running. Thank you for your continued support, both with your dollars and your interest.