I love to show people that Whole30 can be done even if you don't have access to specialty stores. There's so many options for Walmart Whole30 or Paleo foods! Especially now, more and more compliant options can be found in the average grocery store. There's no Walmart near me, but it's a widely accessible and commonly requested grocery store round up. It was high time I put all of the Whole30 finds Walmart has to offer in one place!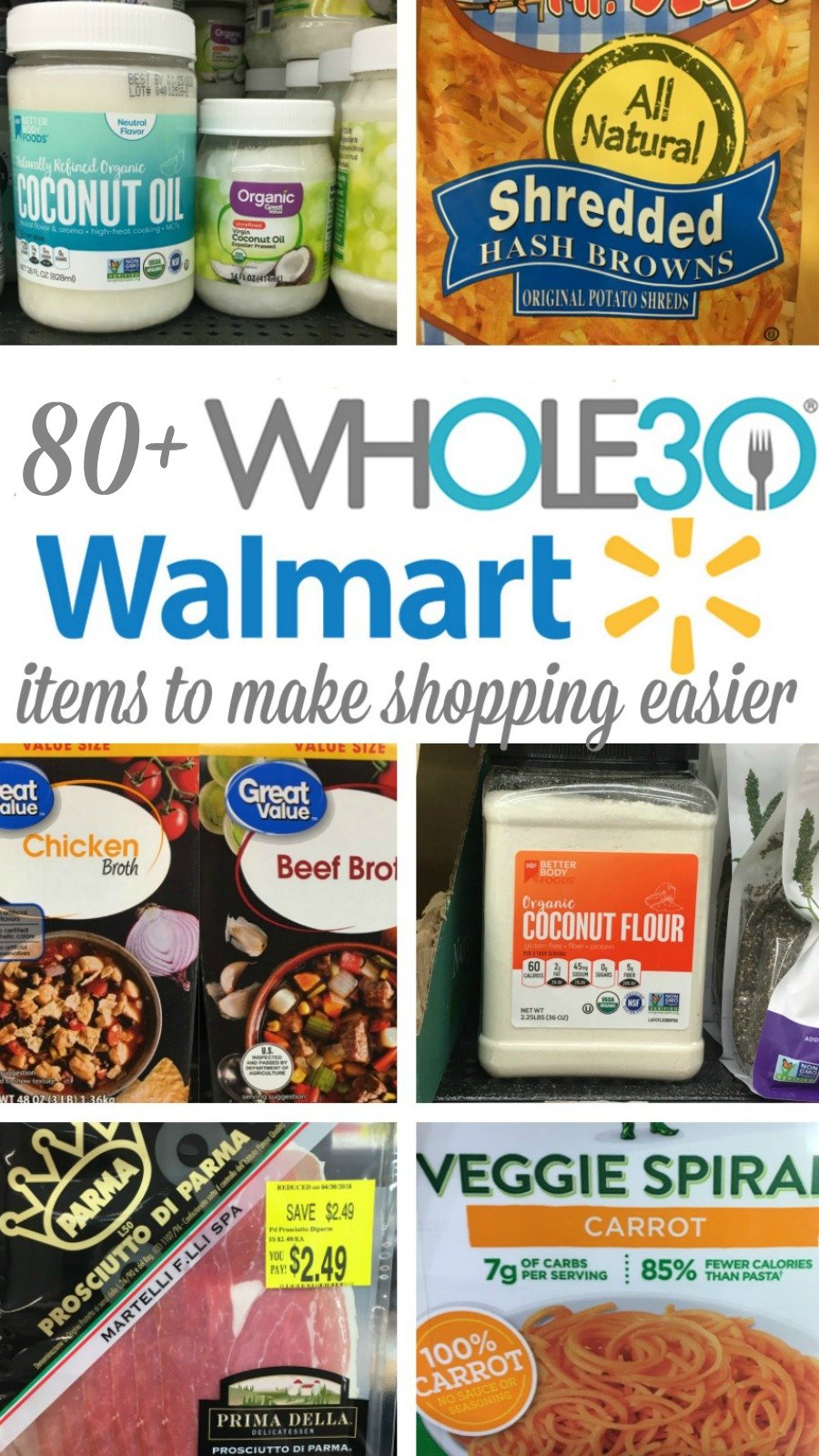 It's so exciting to me that these healthy options are more available. I hope it makes doing a Whole30 feel easier and more realistic for you knowing you can get all of these products at Walmart! Of course, Walmart also has cuts of meat, both frozen and fresh. They also have vegetables and fruit you can pick up from their produce section. There's enough to really make a complete Walmart Whole30 possible. I can comfortably say that you could pick up almost everything needed to do a successful Whole30 here!
If you're not just a Walmart Whole30 shopper and frequent Target too, check out my 50+ Whole30 Target products! I also have a huge Trader Joe's Whole30 shopping list if that's more your thing!
First, I want to start off by saying I'm increasingly impressed with Walmart's selection of organic produce. They have a large selection of individual fruits and veggies, along with bagged and pre-sliced options. From kale and cabbage mixes, bagged and pre-sliced organic carrots, and broccoli florets to organic cartons of strawberries, blueberries and raspberries. They're all at really reasonable prices as well!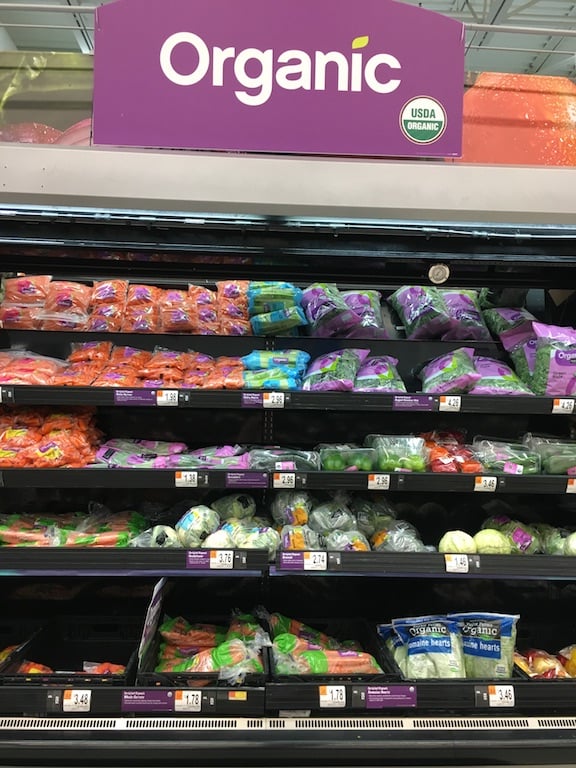 If you're interested in more budget tips, check out my Whole30 on a Budget series, and if you're wondering what foods you should buy organic and which you can skip, read my guide to buying organic produce!
Now let's get to it!
Walmart Whole30 Freezer Items: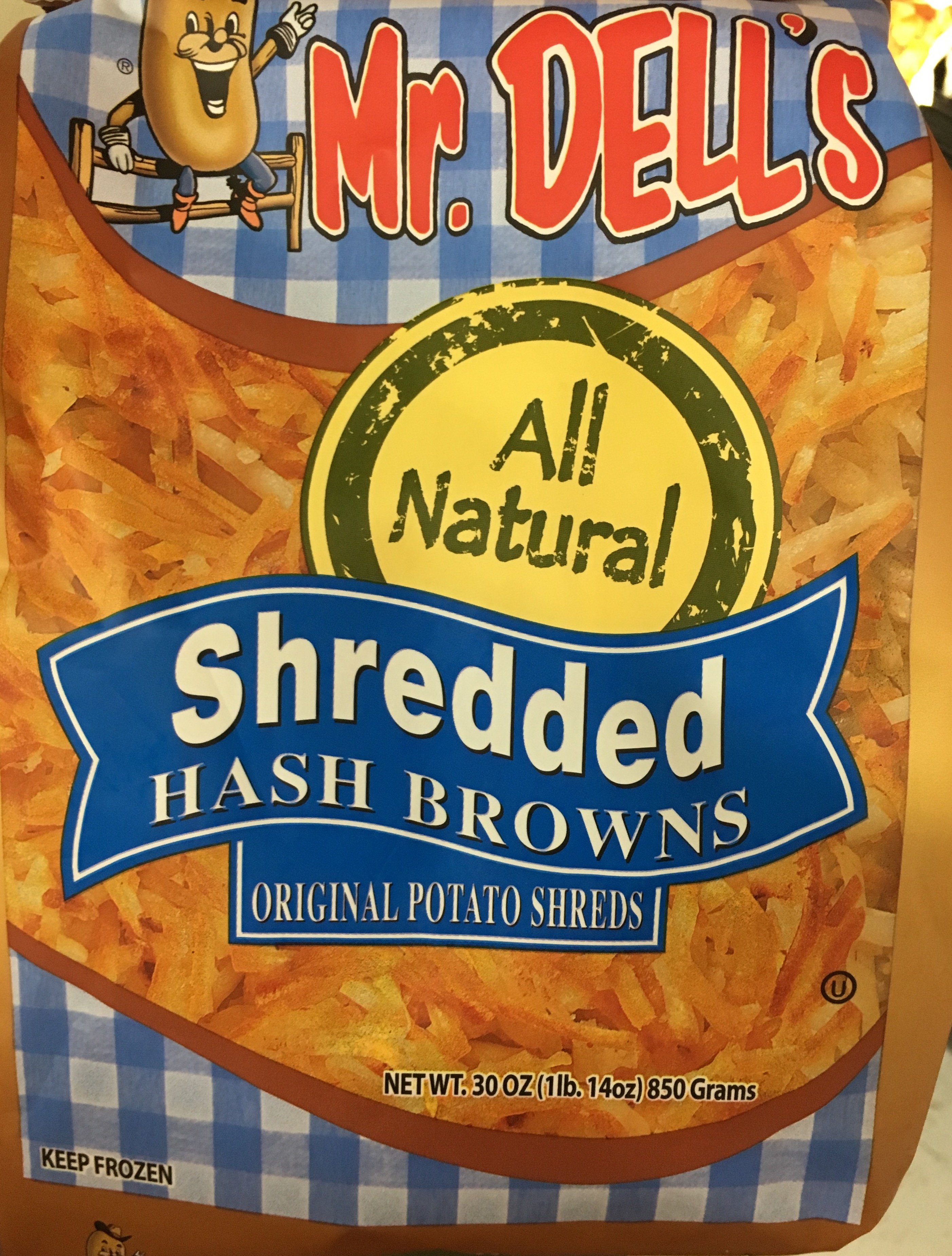 Hash browns are one of my most favorite foods, and it's often something I have for breakfast a few times a week. This brand is just potatoes, making it totally Whole30 compliant! Keep them on hand for quick meals, or slow cooker breakfast bakes!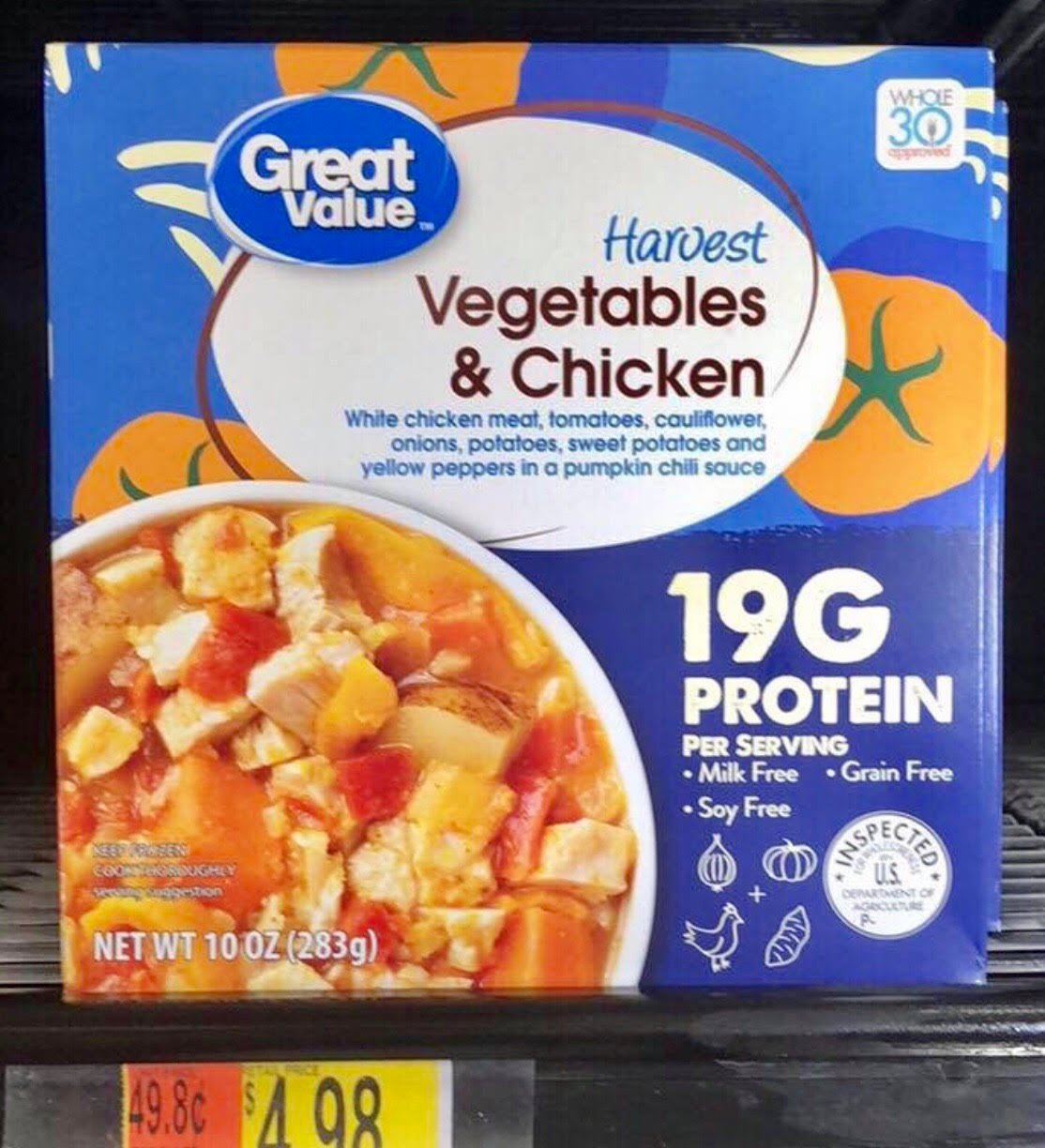 Peep that Whole30 Approved label on these guys! These frozen meals come in a variety of different options such as: Harvest Vegetables and Chicken in pumpkin chili sauce (pictured), Roasted Orange Chicken and Vegetables, and BBQ Sauce Chicken and Vegetables. They're an affordable price and comparable to other frozen meals, which will make having a Whole30 emergency freezer stash, or work-week lunches at the office a whole lot easier!
Spiralizing or ricing your own veggies is insanely time consuming sometimes, and adds more dishes to my rotation than I prefer. Green Giant now sells extremely affordable pre-riced and spiraled vegetables to stash away in the freezer using broccoli, beets, butternut squash, or carrots.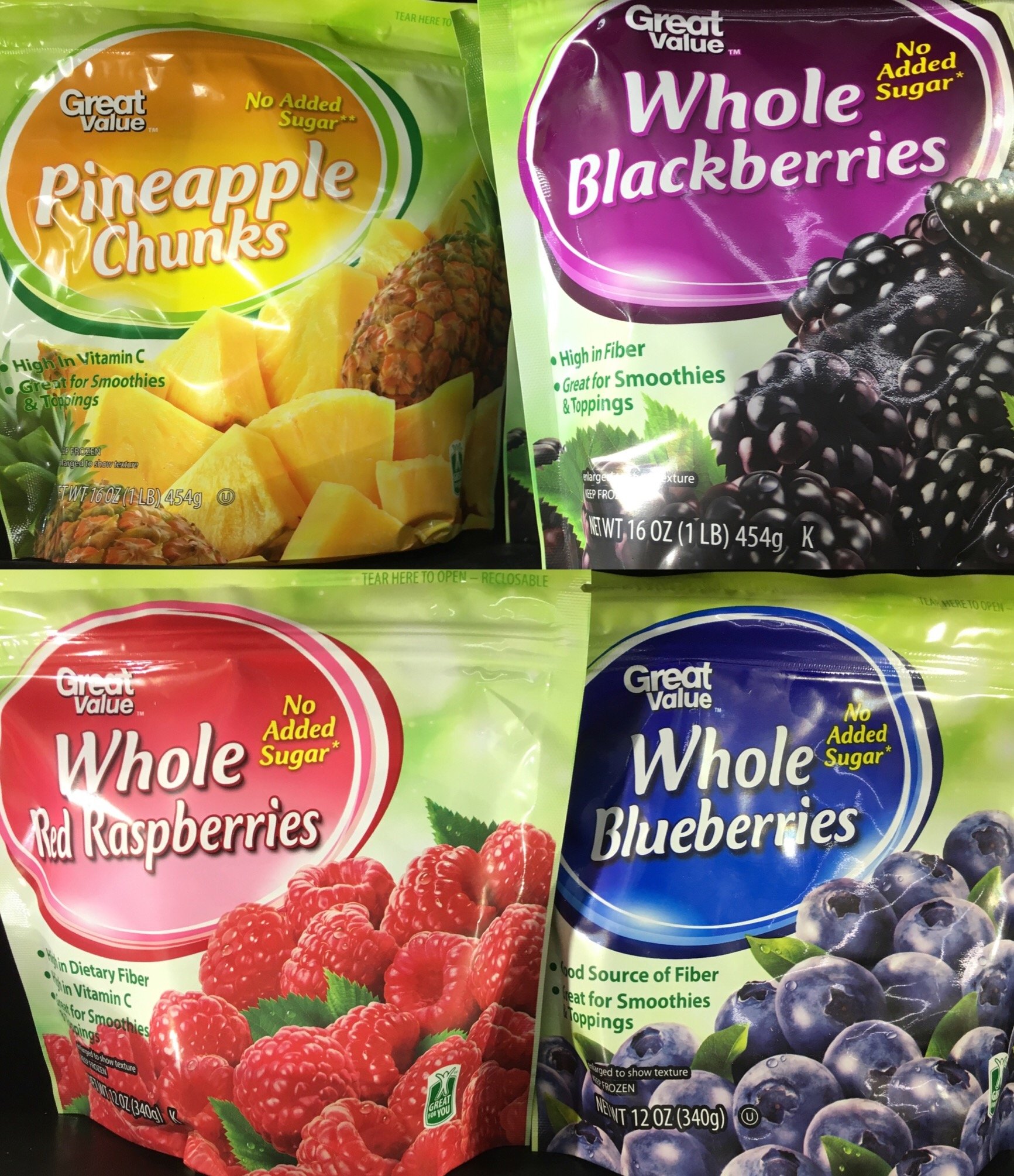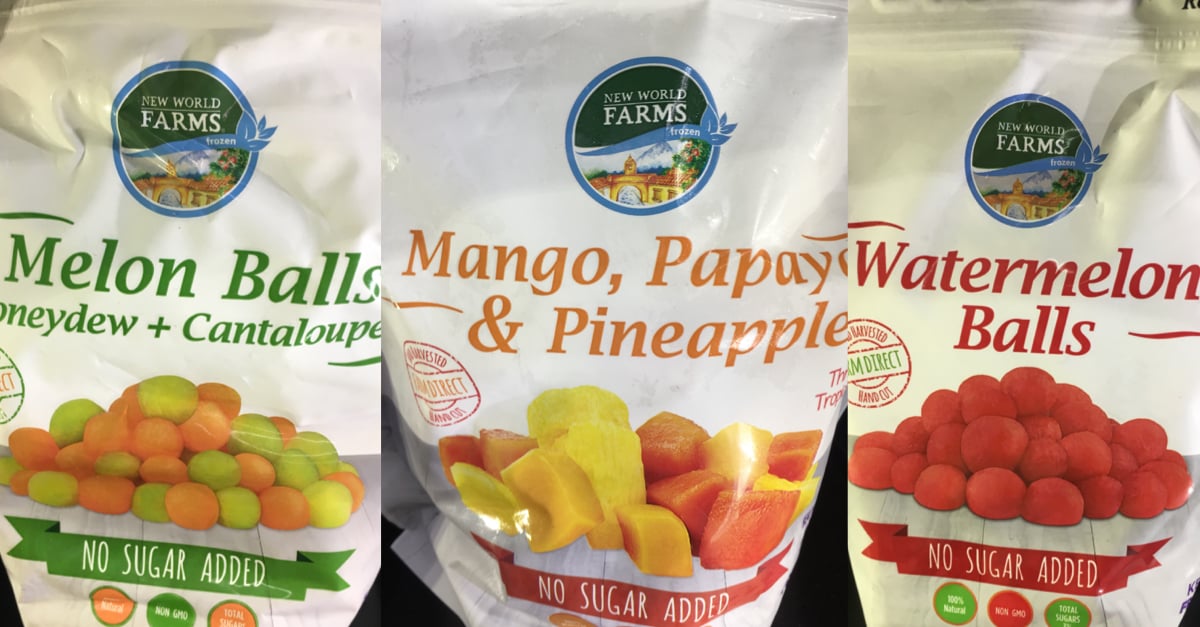 Frozen fruit is just as nutrient dense when flash frozen than fresh fruit! It's picked and frozen at peak freshness so no nutrients are lost. This is important to know so that you never have to feel bad for grabbing a bag of these affordable and Whole30 compliant fruit options to keep on hand for sides or recipes. Same goes for frozen vegetables too!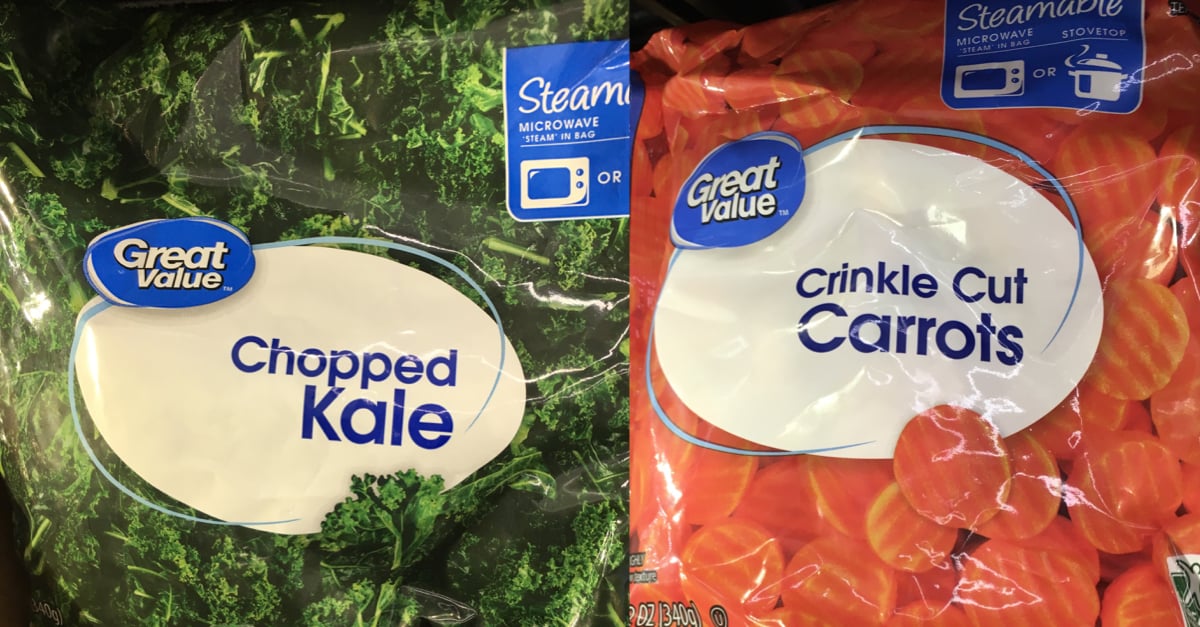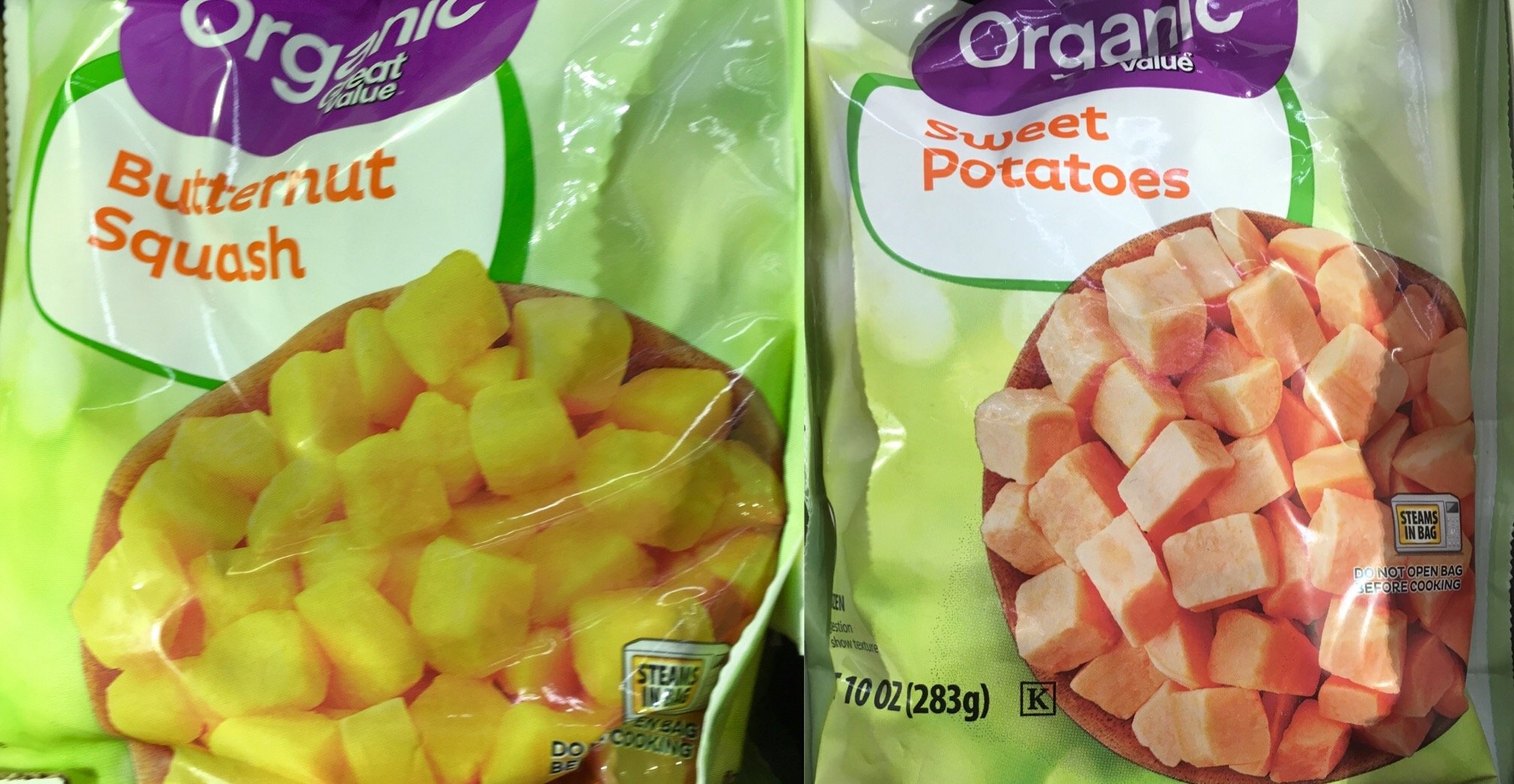 Great Value organic cubed veggies are a perfect way to meal prep or roast your veggies without all of the chopping, or for throwing into soups and slow cooker meals! These bags of veggies include just the vegetable in the ingredient list.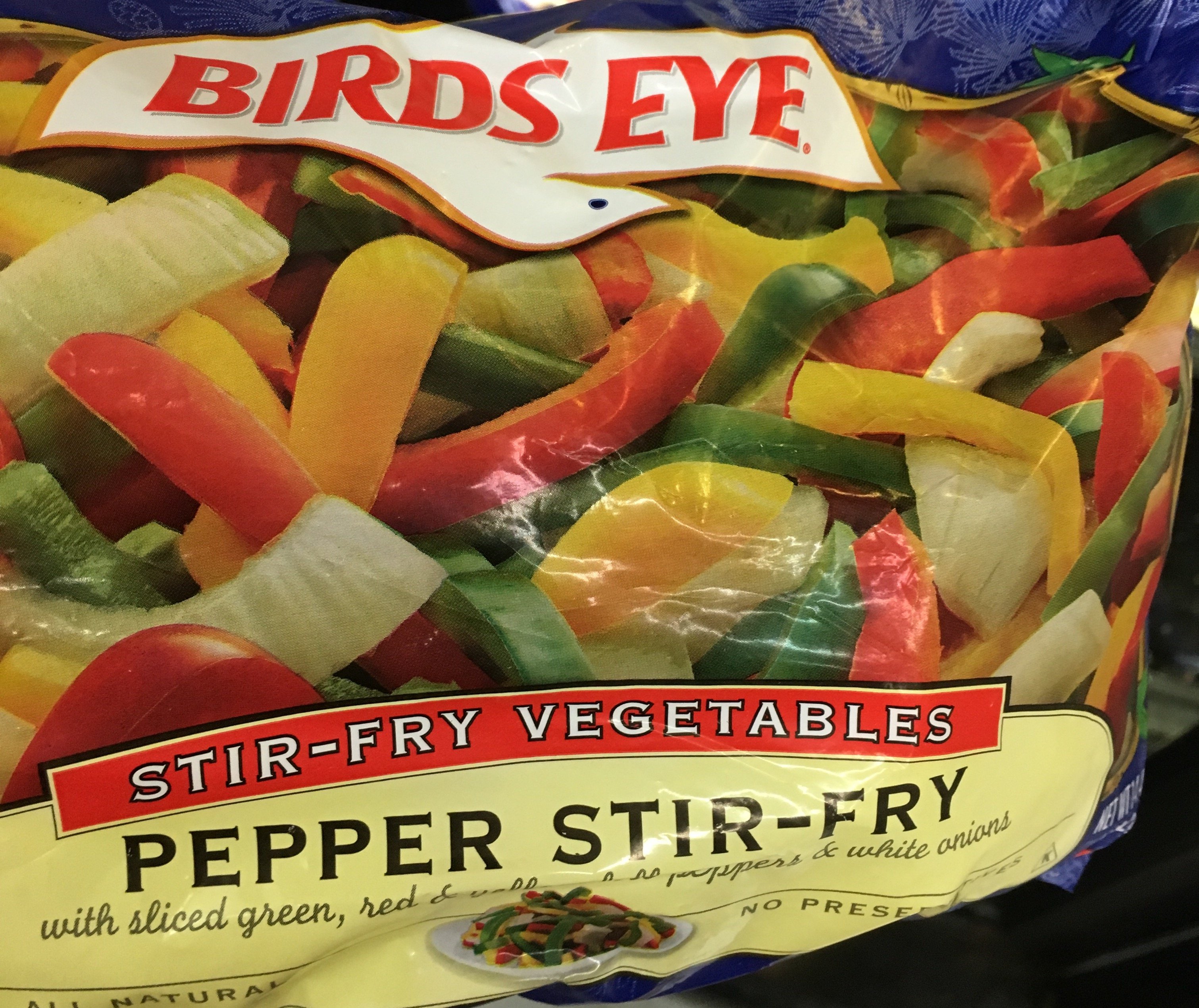 These are a staple in my freezer for tossing into a skillet for easy weeknight stir fry meals or burrito bowls!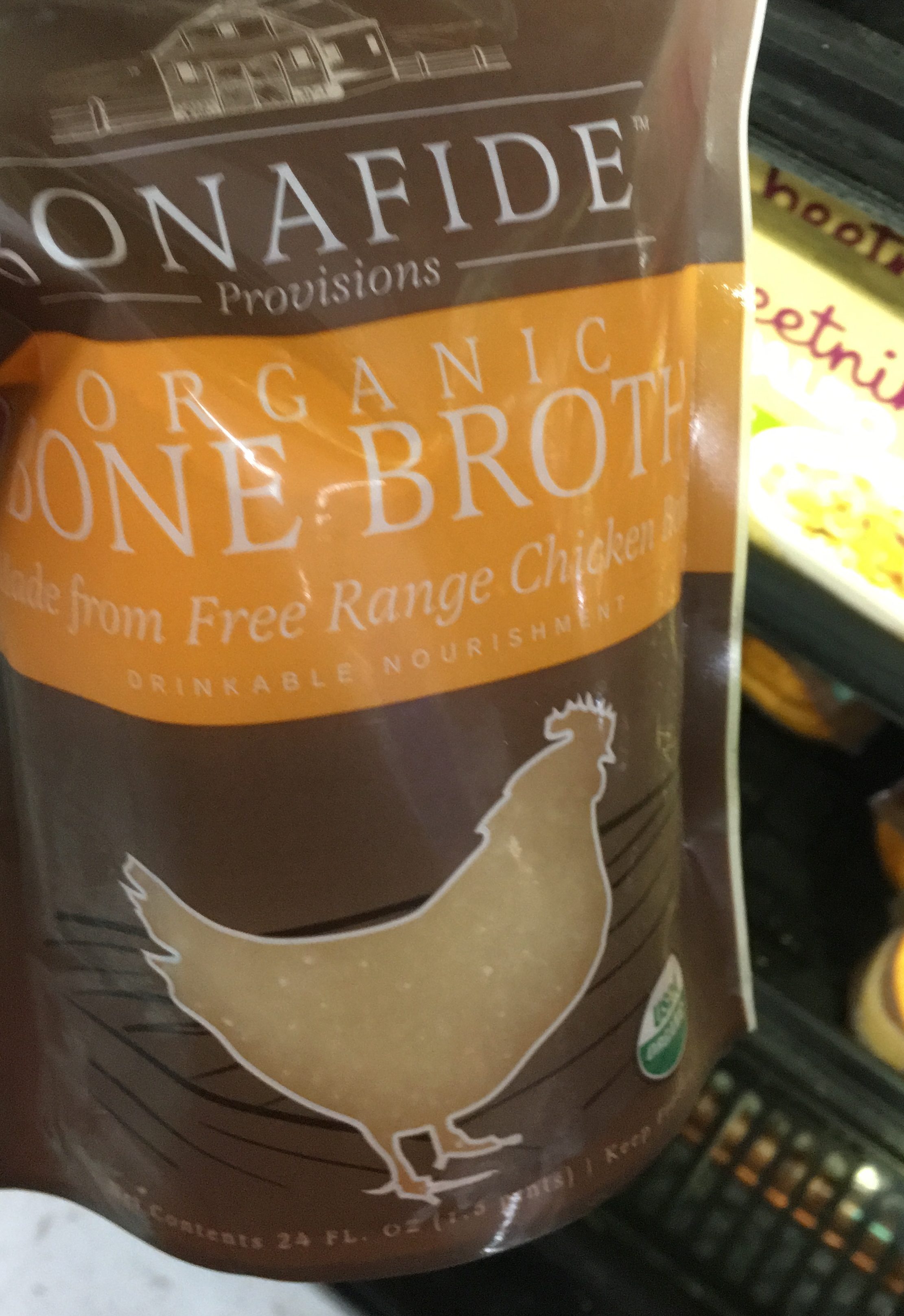 Bone broth is good for the soul (and body!) and it's one of the most nutrient dense products out there. In the freezer section, you'll find Bonafide Provisions bone broth in chicken and beef flavors.
Along with these items, Walmart does sell plenty of frozen meats in different cuts. They have frozen chicken breasts, pork chops, and more in different bag size options.
Walmart Whole30 Refrigerated Items: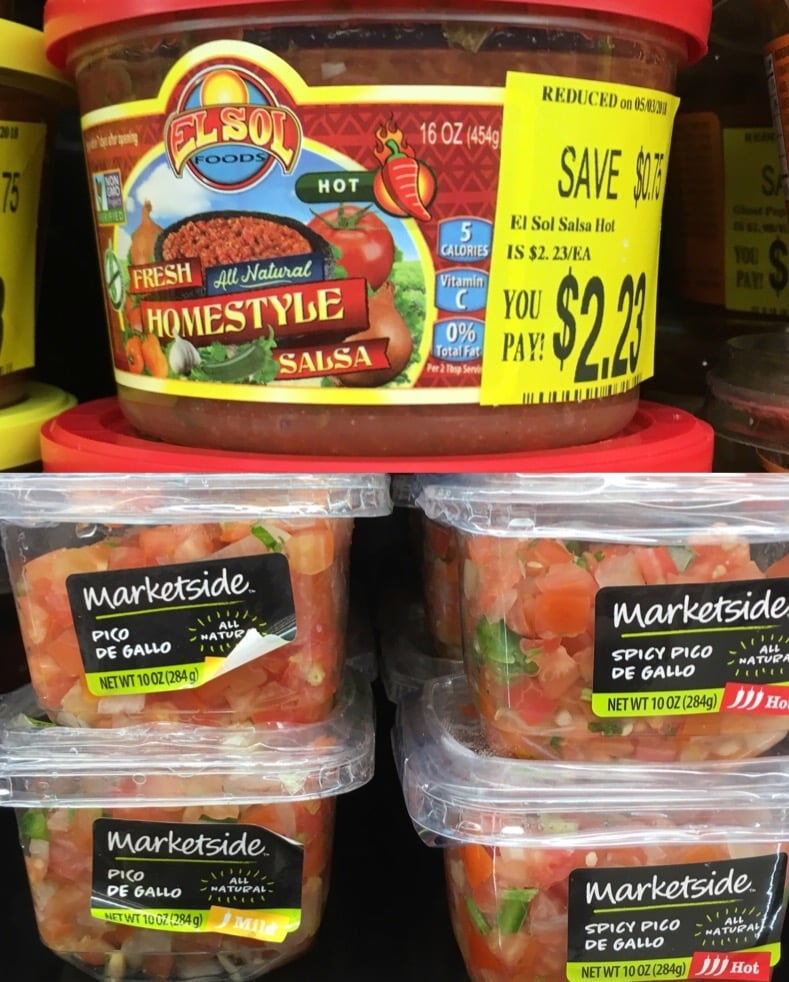 Both fresh pico and blended salsa can be picked up in the refrigerated produce area. At such great prices I can feel good about not making my own pico!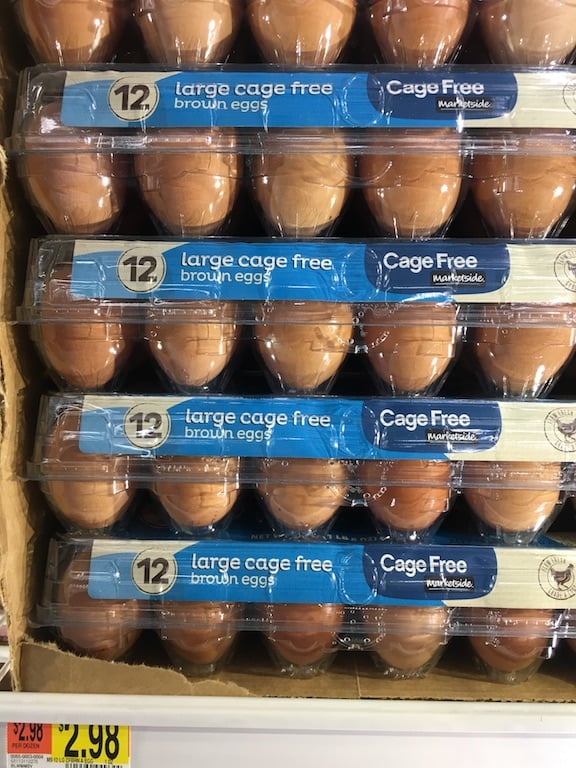 They carry a few different brands of organic and/or cage free eggs. The Walmart near me also stocks eggs from a local Minnesota farm at a price that can't be beat! (No pun intended!)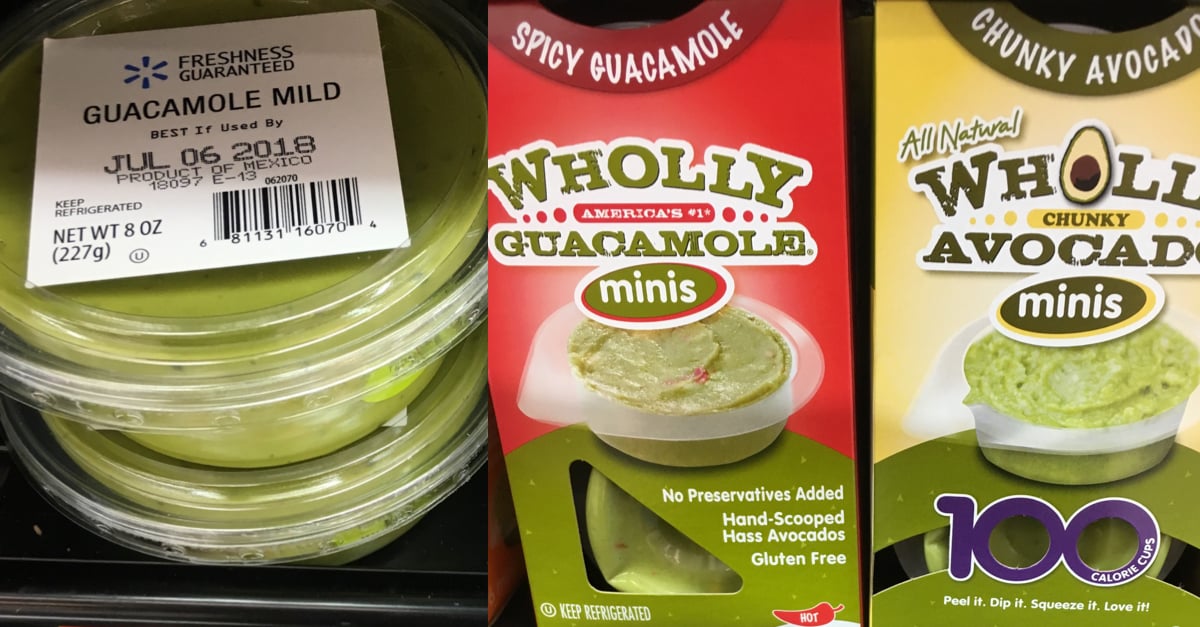 Walmart has fresh made guacamole, along with the individual packets of it – all Whole30 compliant!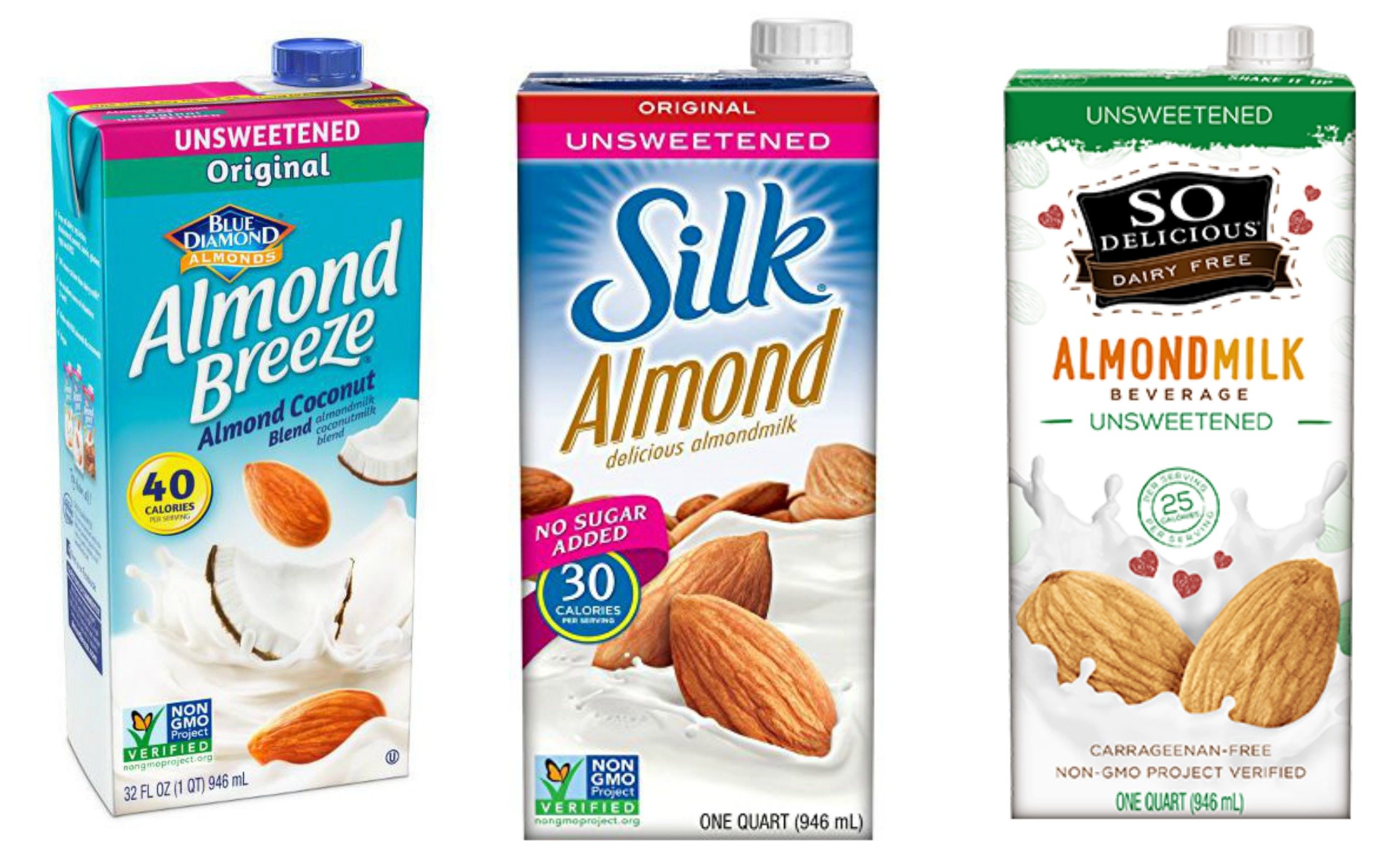 The almond milk is actually stocked in the pantry goods section of the store, but it made more sense for this post to put it in the refrigerated section, which is where you'll be storing it! Walmart Whole30 almond milk options are limited, but enough to make it work! They carry three brands of Whole30 compliant nut milks, and for more on Whole30 compliant milk brands and options, check out the extensive list of Whole30 almond milks!
Th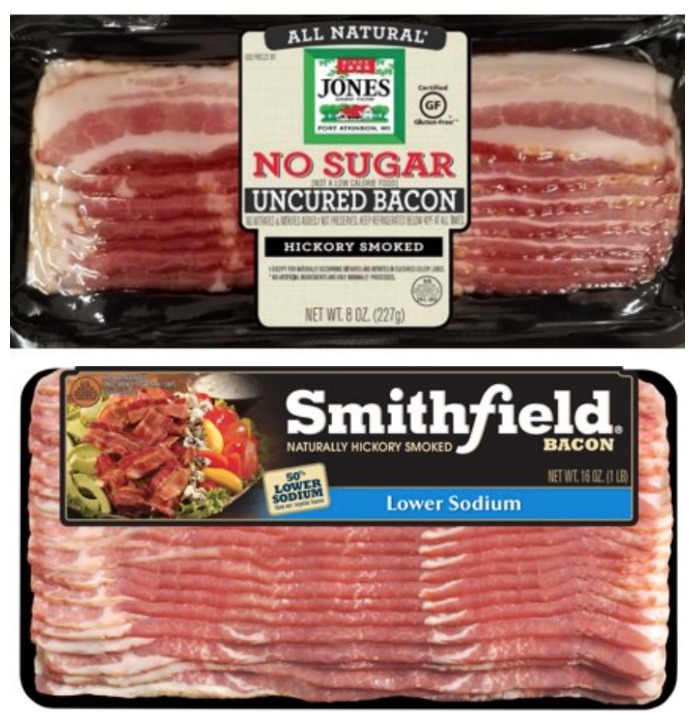 These bacon options are compliant, the ingredients in the Smithfield bacon are: Pork Cured With: Water, Salt, Sodium Phosphates, Sodium Erythorbate, Sodium Nitrite. The ingredients in the Jones bacon are: Pork, Water, Vinegar & Lemon Juice Concentrate, Salt, Cultured Celery Juice.
For more Whole30 Compliant Bacon options, check out this complete list.
Walmart carries Applegate hotdogs, Aidell's chicken and apple sausages along with two types of prosciutto, one of which is the Great Value brand. They also stock a variety of organic and grass fed ground beef and cuts of chicken.
Walmart also carries Tessemae's Whole30 Approved dressings in select Walmart stores across the country.
Walmart Whole30 Pantry Items: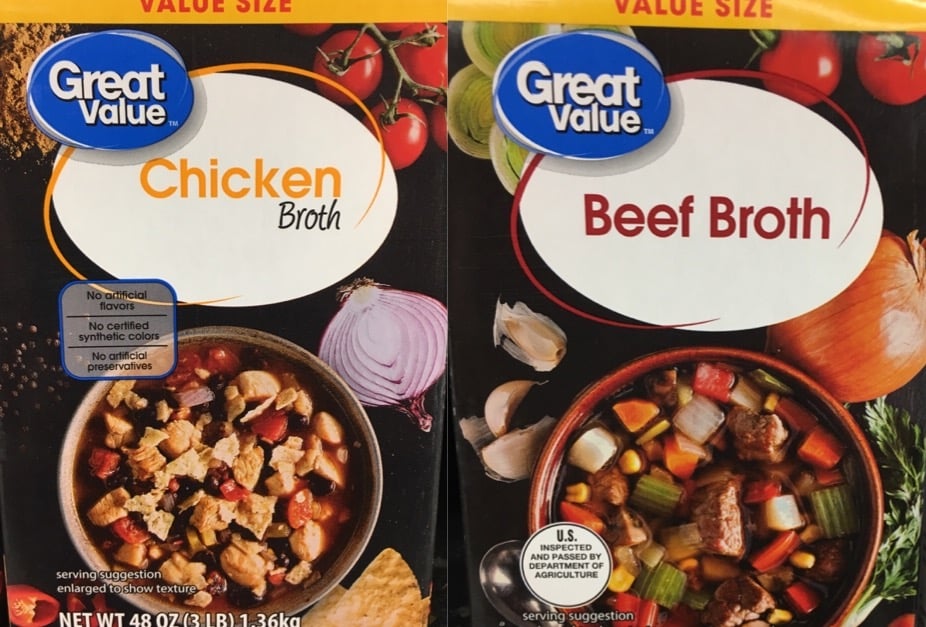 It is HARD to find Whole30 compliant bone broth sometimes. Luckily, and surprisingly, Walmart carries compliant broth in both chicken and beef flavors from Great Value brand, and Swanson's. Walmart's Great Value brand contains yeast extract, which is Whole30 compliant. Melissa's, the Co-Creator of Whole30, stance on yeast extract can be found HERE.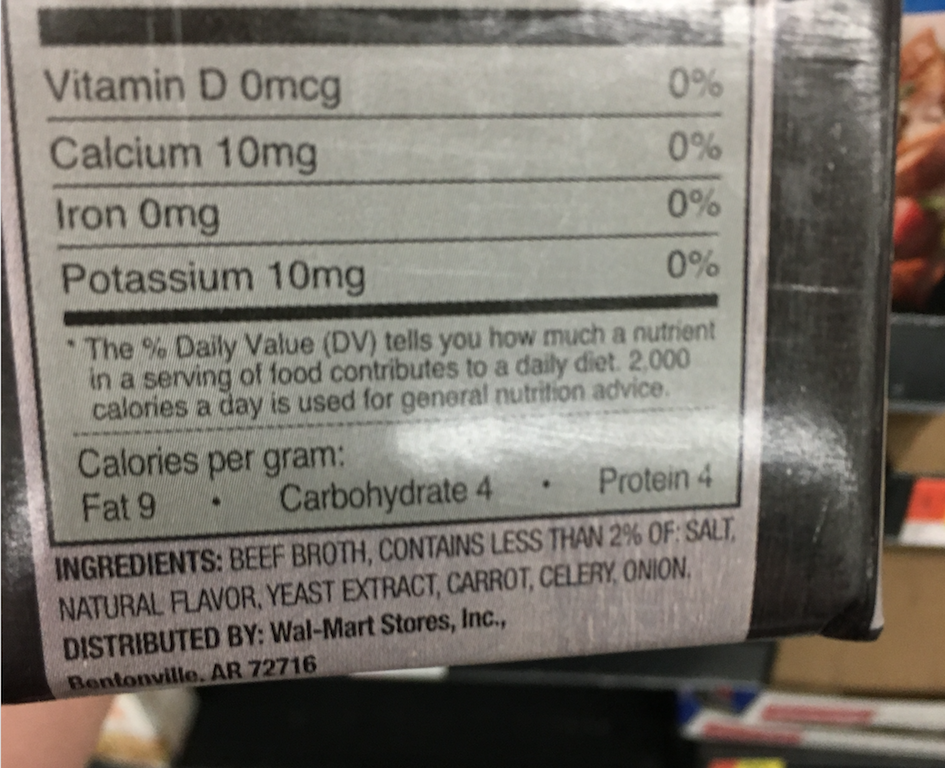 There is a huge selection of canned pantry items to stock up on at Walmart. They sell a few different brands of coconut milk and coconut cream, and canned veggies. Almost all of the Great Value's canned vegetables are Whole30 compliant and contain just the vegetable!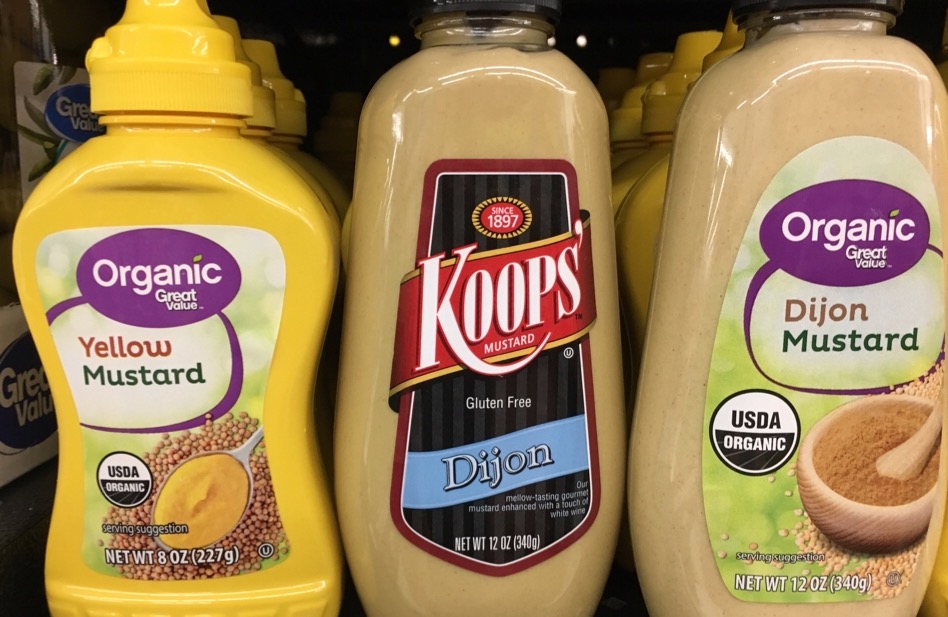 Walmart Whole30 mustard options are plentiful and include a few different types of mustard. Both yellow mustard and dijon from Walmart's Great Value brand are compliant. Walmart also carries a variety of pickle flavors in this section that are compliant as well. Keep an eye out for Great Value Dill Pickle Spears!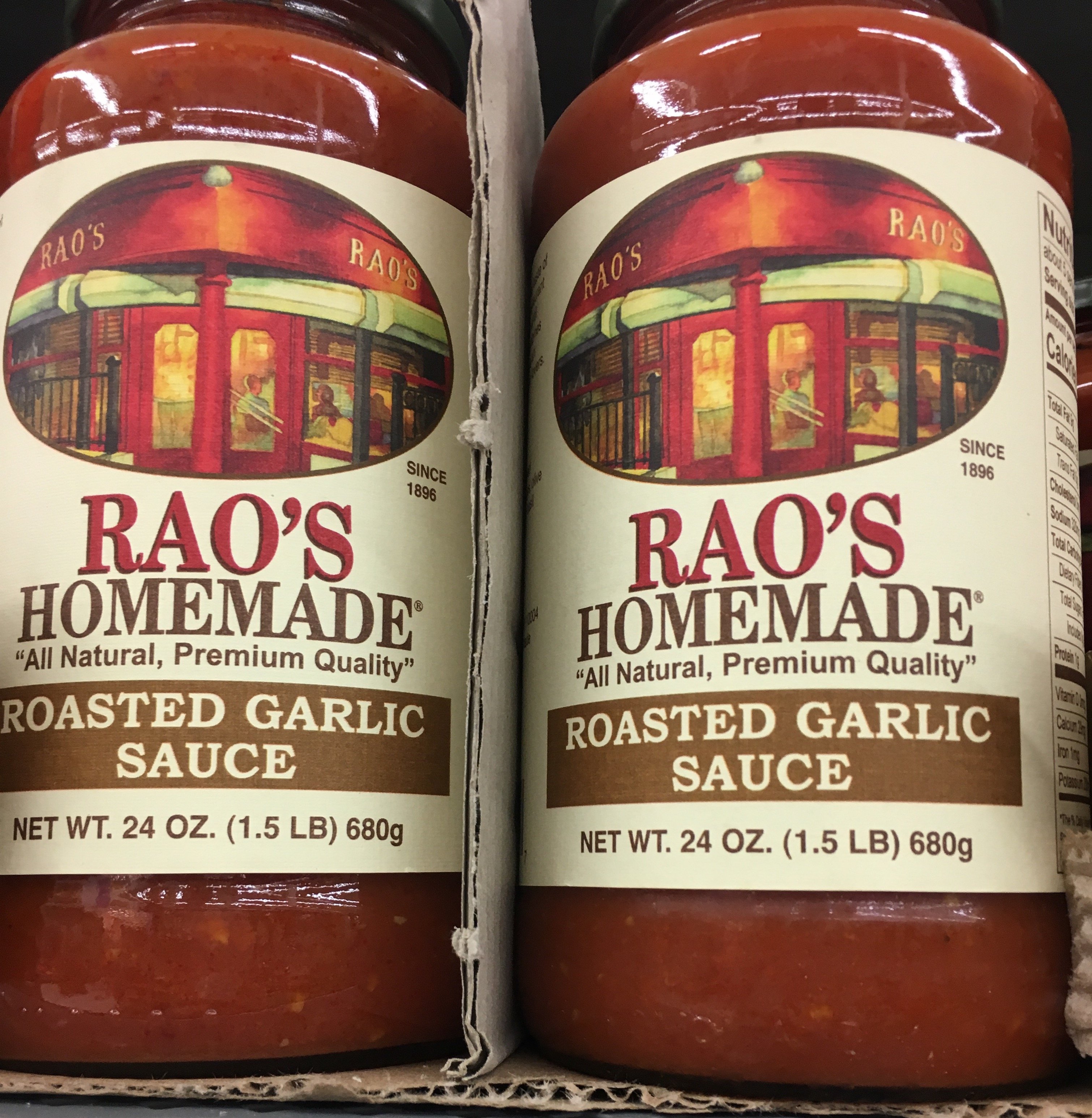 Rao's Homemade is a Whole30 compliant marinara sauce offering two different flavors that are carried at Walmart.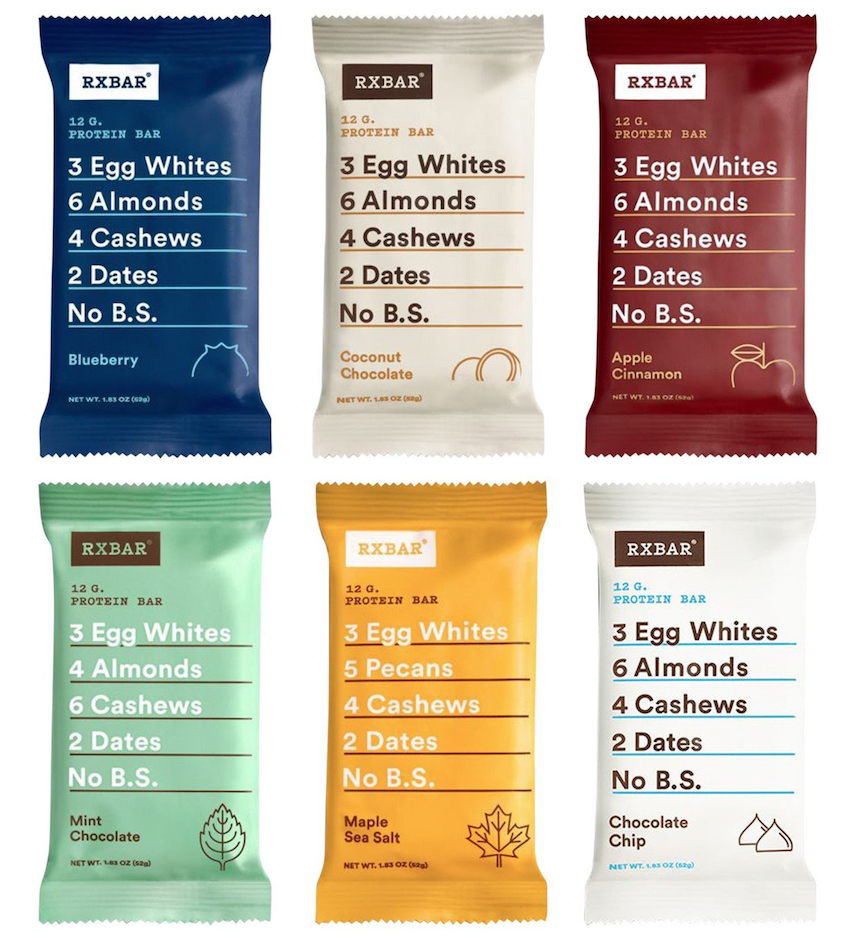 RXBARs can now be found at Walmart stores, including both the full-size bars and the RXBAR Kids bars. While most are fine for your Whole30, check the labels, like always, as the bars with peanuts are not Whole30 compliant.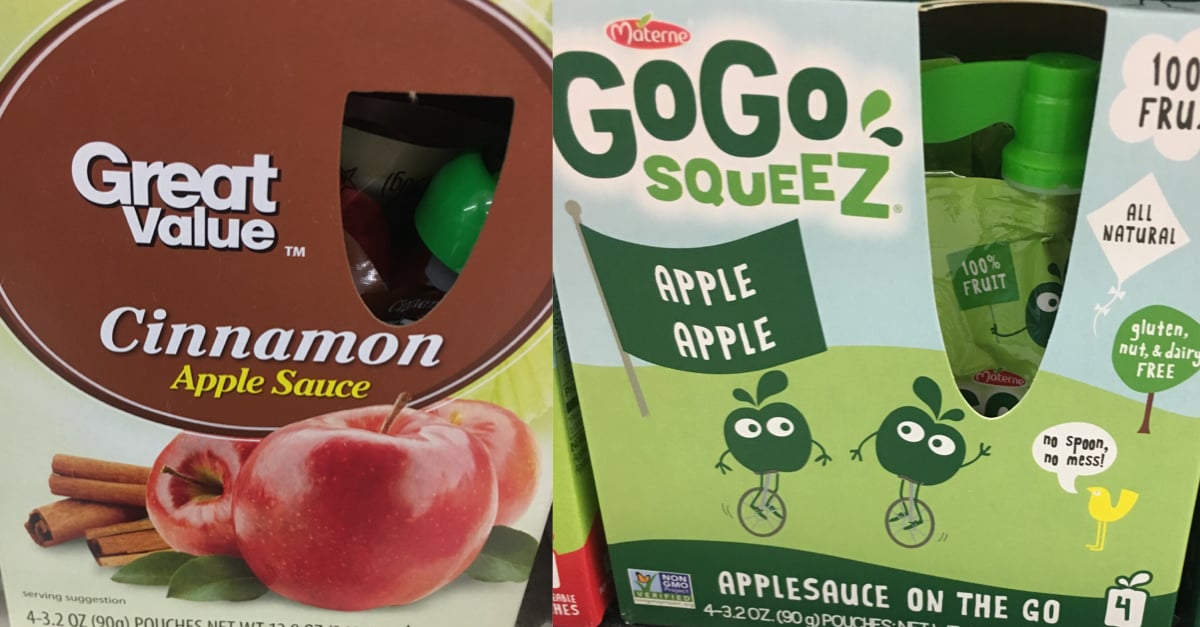 Along with apple sauce pouches, Walmart also carries other shelf-stable packets of Mamma Chia chia squeezes, and fruits such as medjool dates, which can be used in Whole30 in recipes such as bacon wrapped dates, or to make your own Whole30 BBQ sauce. They stock a few flavors of Whole30 compliant Lara Bars as well.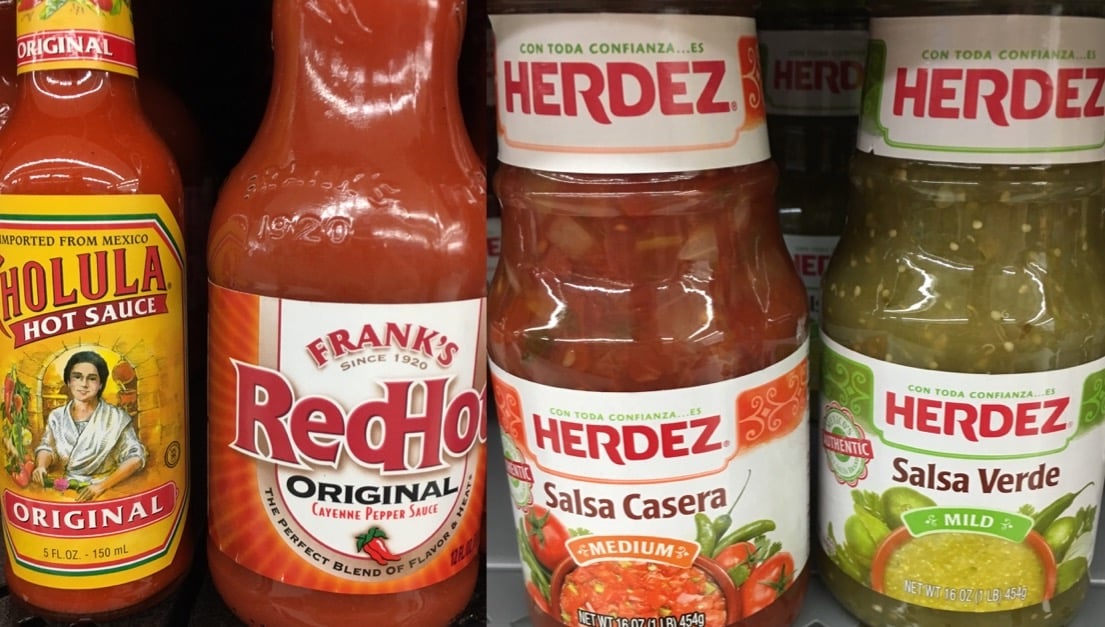 There's a HUGE selection of Whole30 compliant salsa and hot sauces that I couldn't begin to list all of the brands. Walmart Whole30 selections of hot sauces are equally as large and you should have no trouble with these condiments!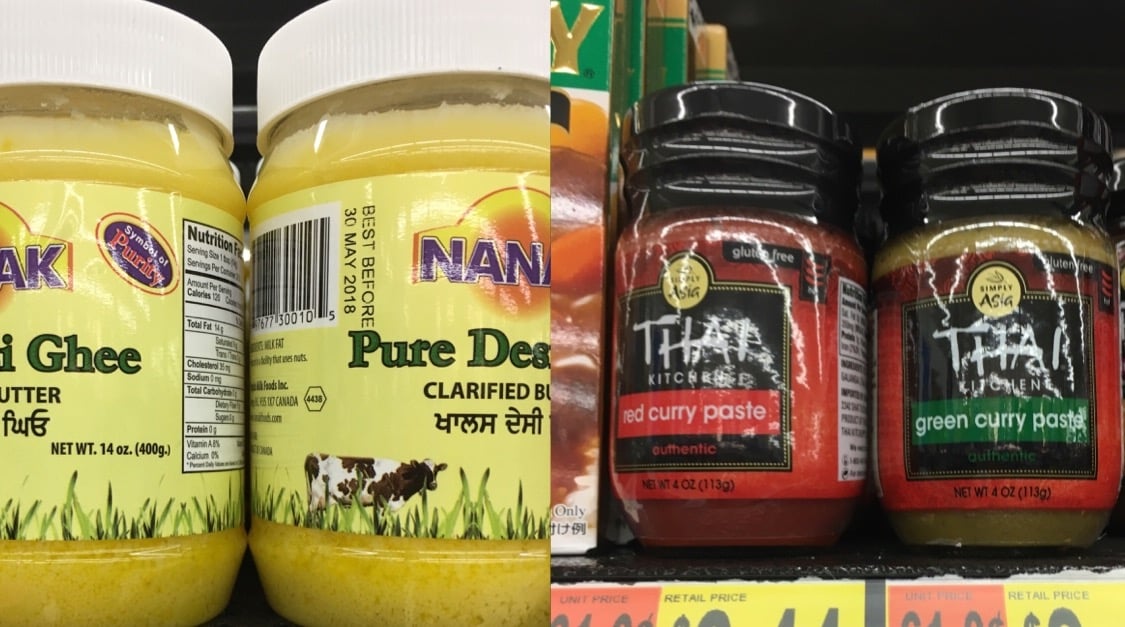 Walmart carries ghee from a few different brands for under 10 dollars for a large jar (a great deal!). They also have Whole30 compliant curry pastes which makes throwing a curry dish together really simple!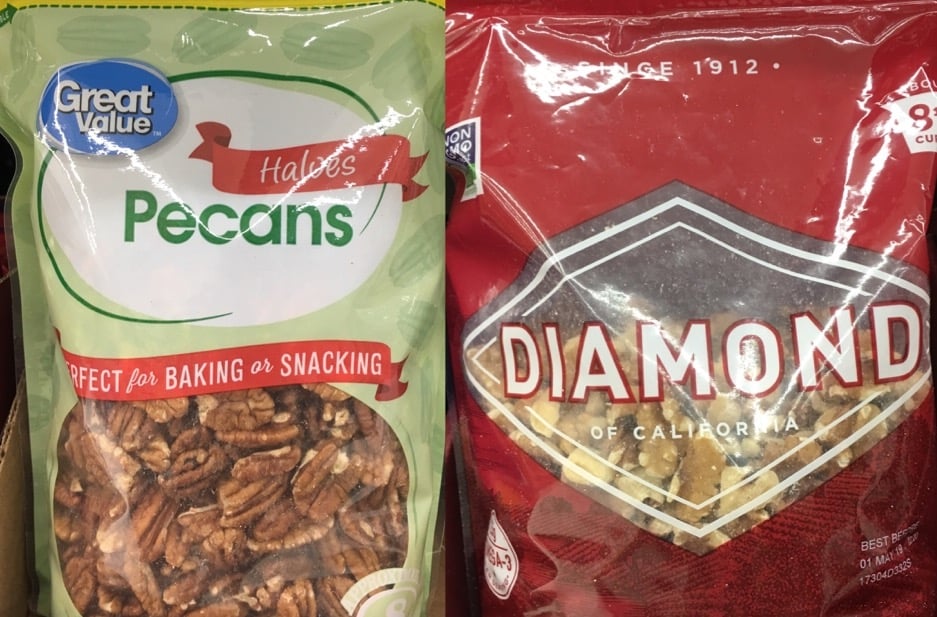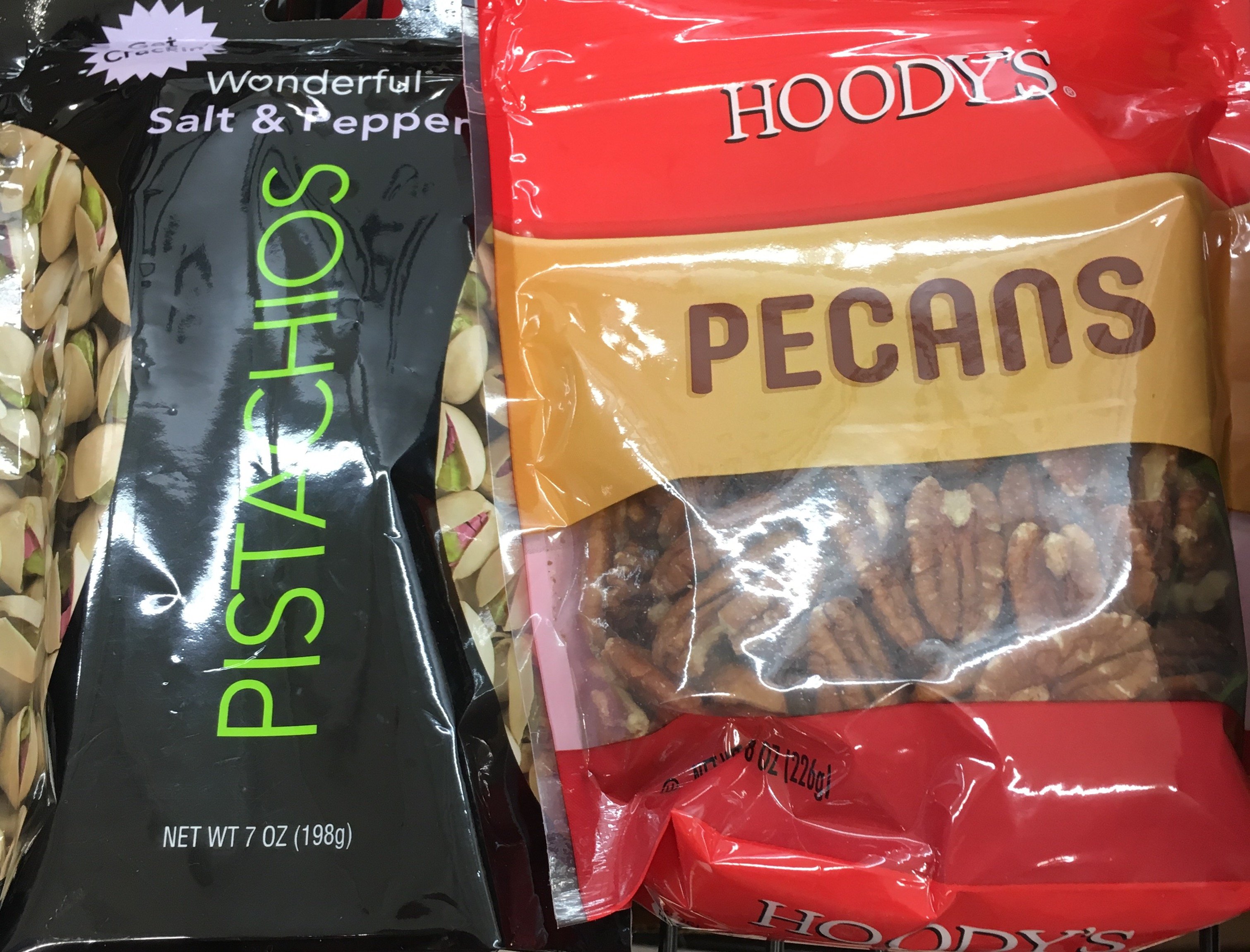 A large variety of nuts can be purchased from Walmart. They come in a few different forms ranging from whole nuts, sliced, slivered, and halved.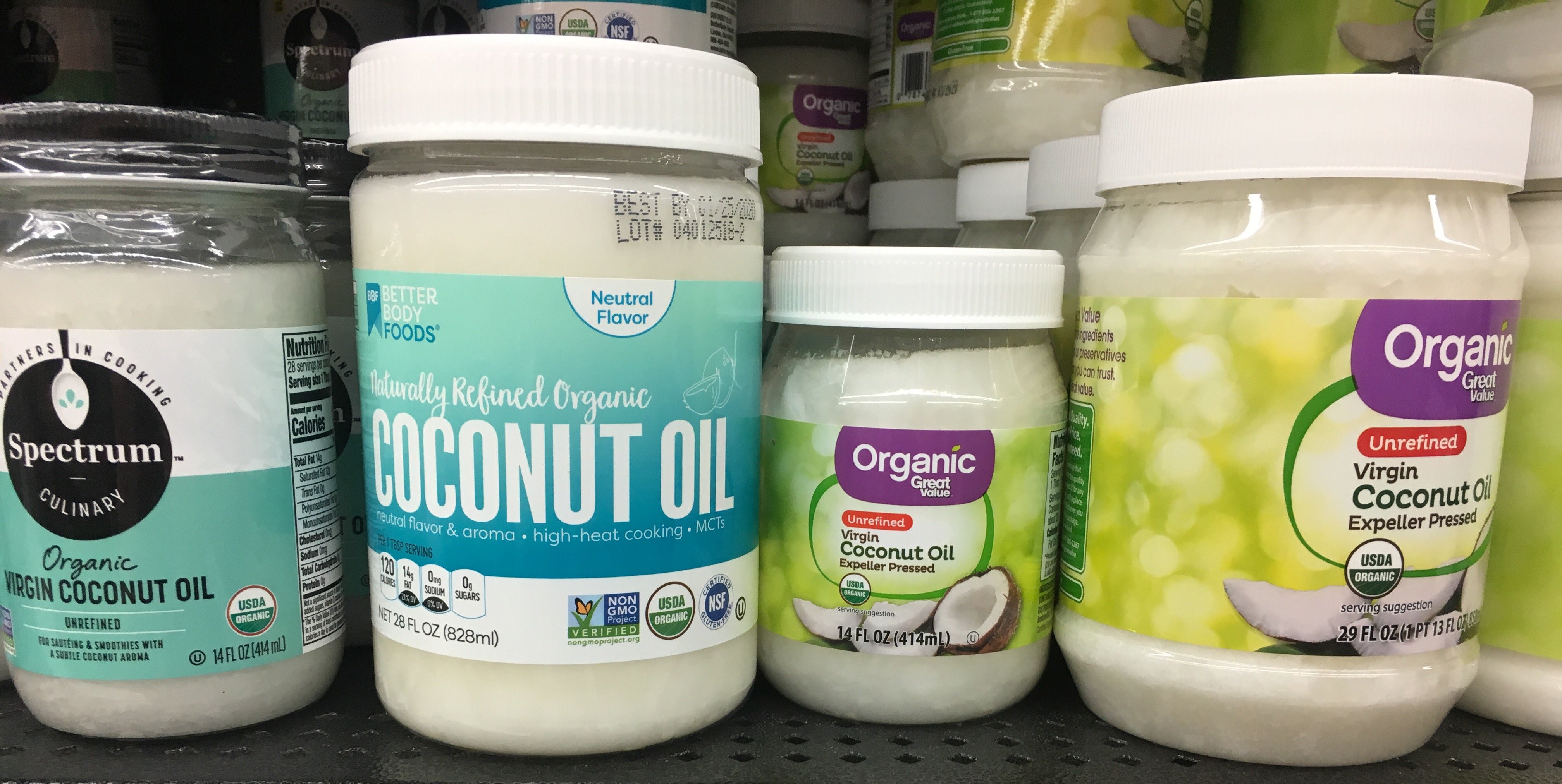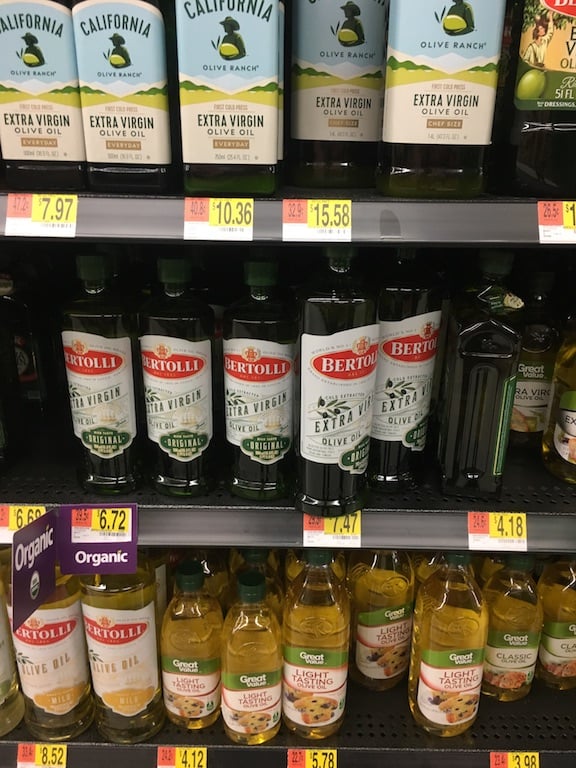 Any and all oil you could need can be found here. Additionally, Walmart also carries balsamic vinegar, apple cider vinegar, and white wine vinegar but be sure to get the options without added sulfites. The types of oil you can get at Walmart include:
Avocado oil
Olive oil
Light olive oil (great for making mayo)
Extra virgin olive oil
Sesame oil (located by the Asian products)
Coconut oil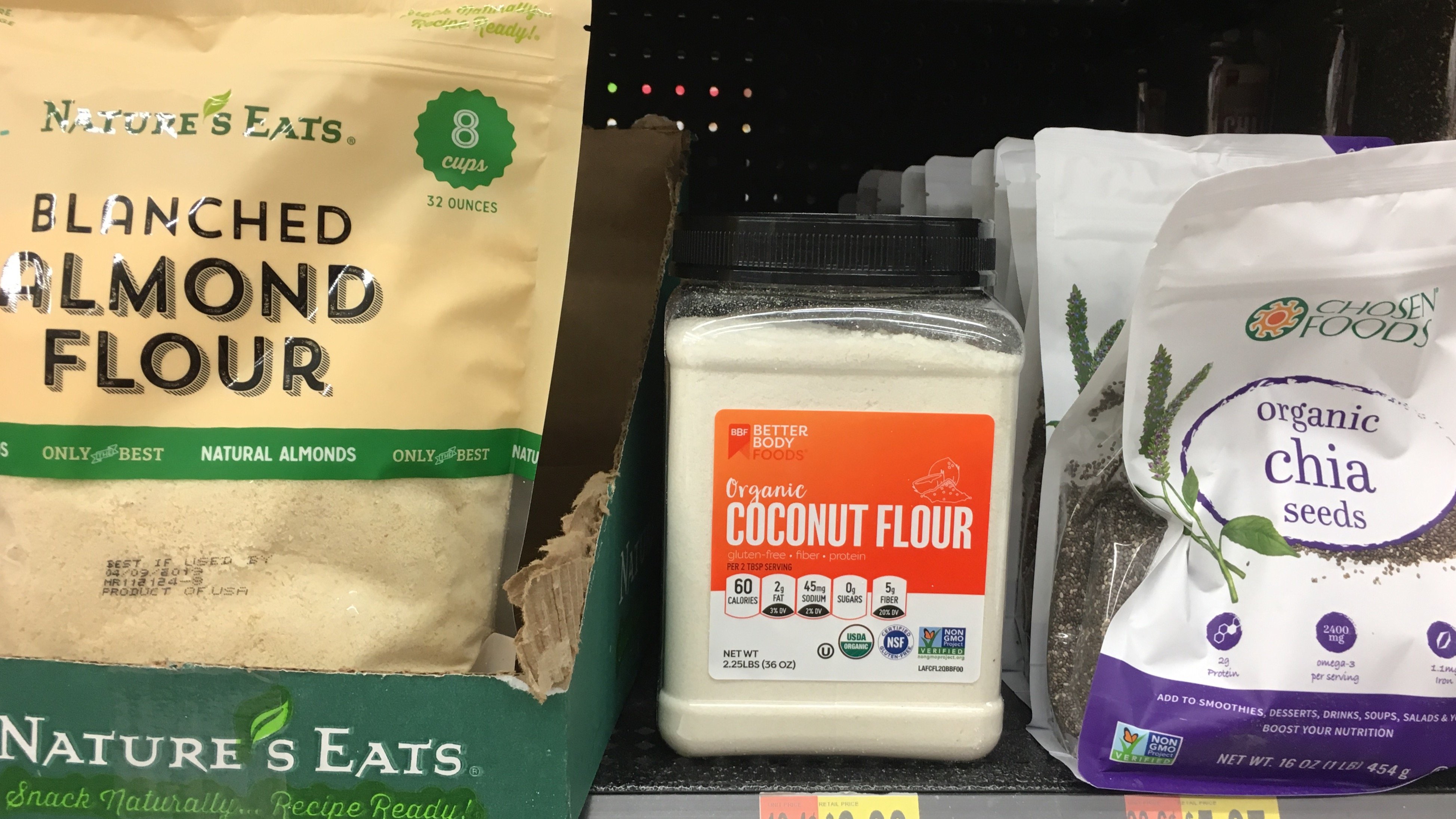 These Whole30 compliant flours are great for breading Whole30 boneless wings, pork chops, or for thickening. Chia seeds can be used for chia seed pudding as long as it's not for dessert!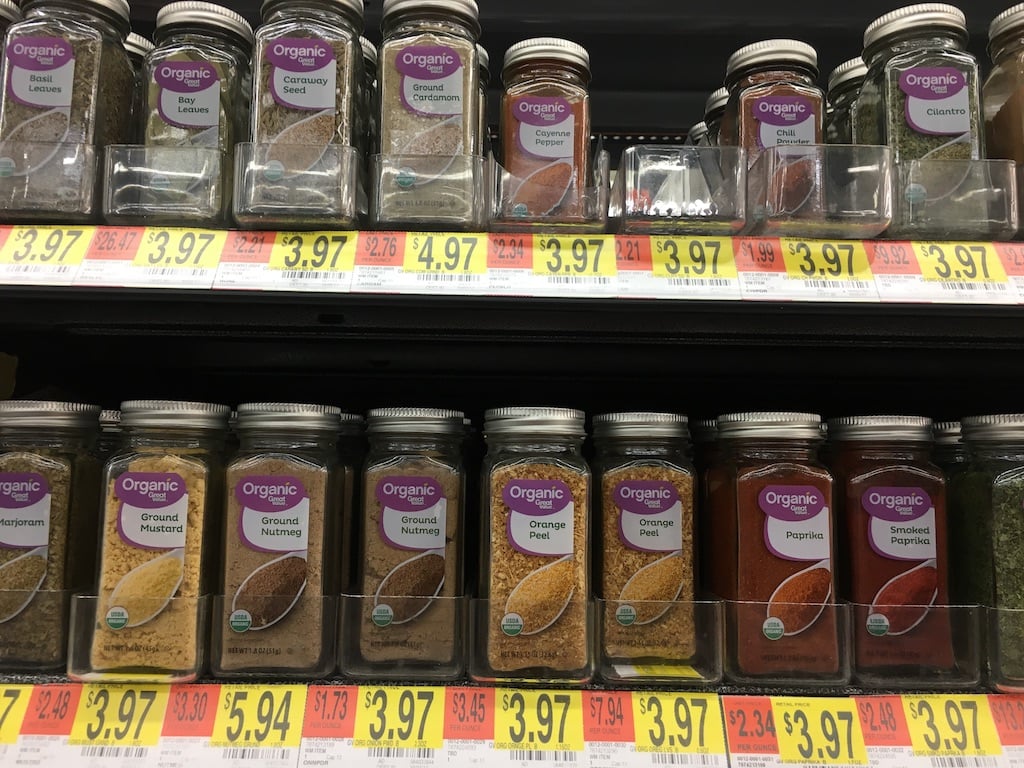 Every spice you could need can be found at Walmart. As always, be sure to check your labels on specific ones such as garlic salts and cinnamons.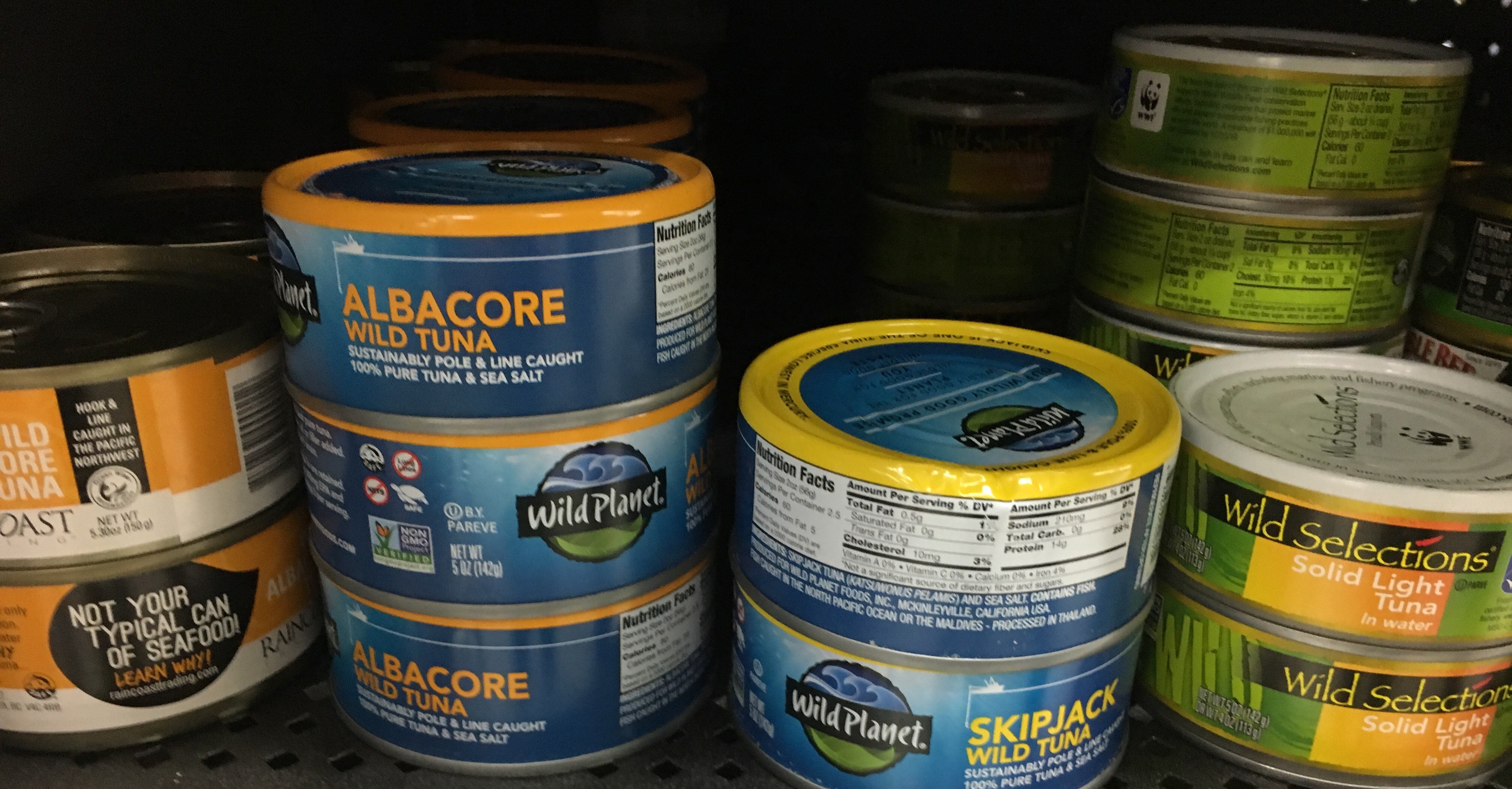 Walmart offers a few different Whole30 compliant canned tuna at really reasonable prices. These are great to keep around for emergency meals or just quick and easy protein!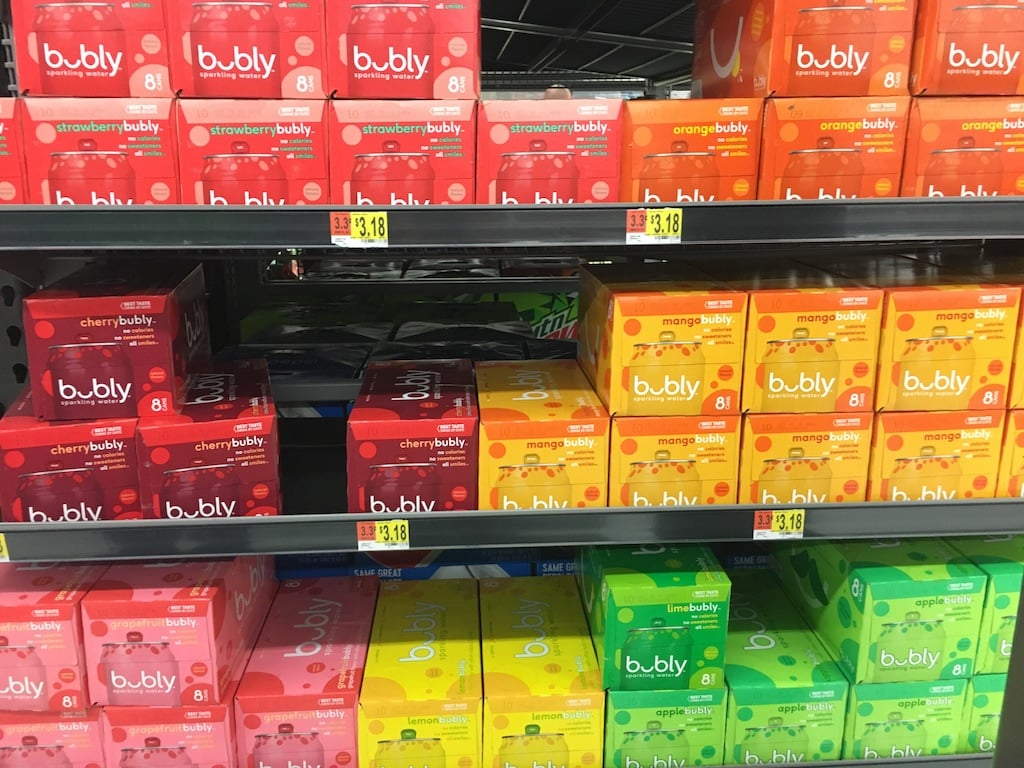 I had taken a handful of other photos to include of the different water options, but I figured more than one would be overkill. The types of Whole30 compliant flavored waters they offer are from:
La Croix
Bubly
Canada Dry
Perrier (flavored and unflavored)
San Pellegrino (unflavored)
Dasani
Wondering what else you can drink on the Whole30? Read up on the Whole30 compliant drink options!
And there you have it! A large smattering of Walmart Whole3o options to make your life and grocery shopping easier! I hope this helps you see that the Whole30 can be done without expendable budgets, and without fancy grocery stores. It all boils down to checking your labels and just eating real food!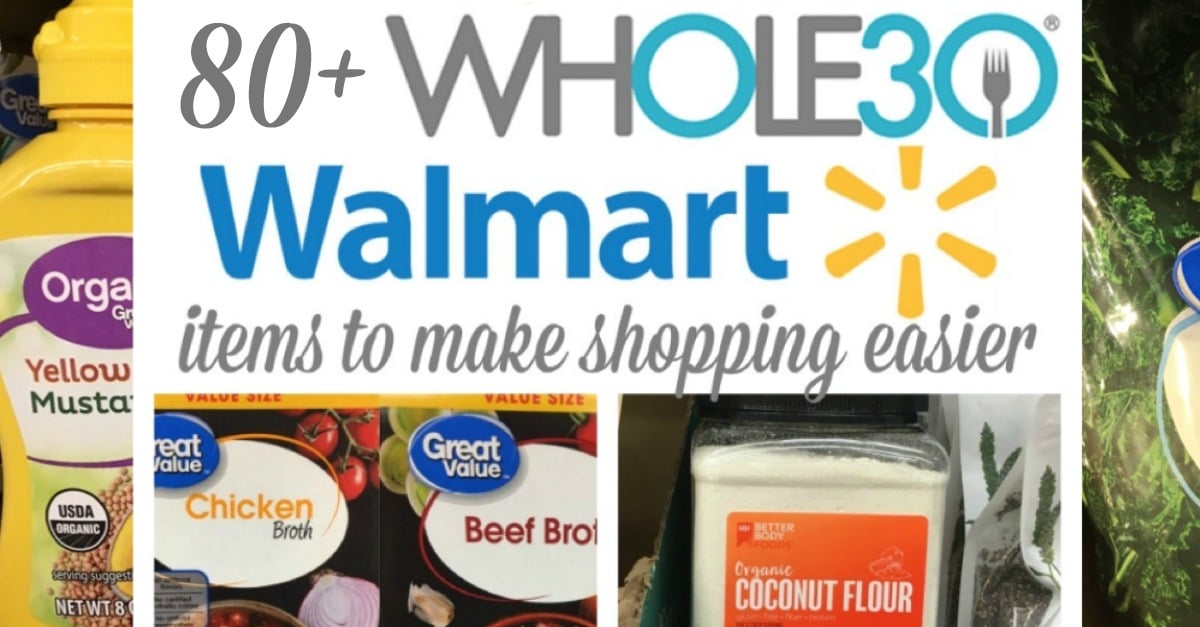 This Walmart Whole30 post may contain some links that are affiliate links, though products are ones I use personally and recommend. When you purchase anything using my links, it costs you absolutely nothing extra, but it does give Paleobailey.com a little financial support which helps to keep this blog running. Thank you for your continued support, both with your dollars and your interest.