This easy Paleo cashew chicken skillet recipe will make healthy eating both delicious and easy whether you're doing a Whole30 or not! It's made completely in one pot, and in under 30 minutes. It's a family friendly, takeout fake-out recipe that's totally good for you!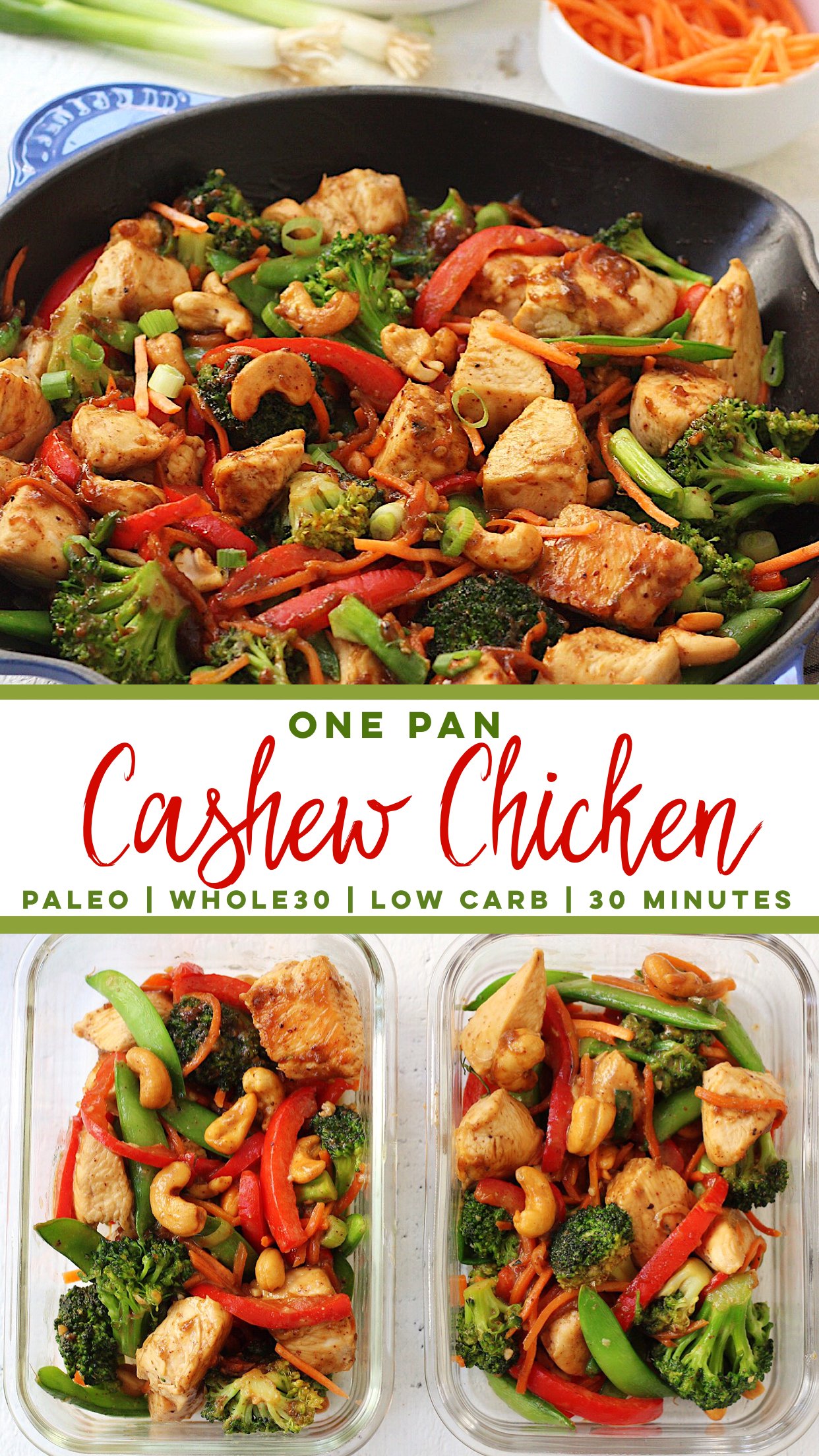 This Whole30 skillet recipe is sponsored by Vital Proteins. I'm happy to work with a company I love, use and believe in so much! Thanks for your support here on the blog and your support for Vital Proteins!
You would not believe how often I get asked the question, "how can I make eating healthy/real food/Paleo/Whole30 easier?". Okay, maybe you DO believe it, because you're wondering the same thing yourself. My answer is usually disappointing, because there's no magic trick to it.
It's only as difficult as you make it.
Most people who ask this question are waaaay overcomplicating what they're eating. By doing so they're spending too much time in the kitchen, too much time grocery shopping, too much time cooking complicated meals. And that last one usually leads with a sink full of too many dishes to do. This might be fine… for about a week. Then eating well can quickly change into a chore that's unsustainable in your life for the long term. Actually making it easier is how you make it easier.
That, my friends, is where skillets and one pan meals come in. Scratch that. One pan 30 minute meals. Throwing everything into a pan, having a meal that was simple to make, and then only one thing to clean up. Looking for areas in your current routine that are making it feel harder than it needs to be is a good way to start simplifying. Cutting out the extra steps, or finding ways to make real food work for your life (instead of the other way around) is key.
This Whole30 and Paleo cashew chicken skillet is a perfect example. There's very little effort, time or clean up involved. Even the ingredients I used didn't cause me to spend extra time in the store. One way I started making cooking easier for me, and cutting out those extra steps, was switching from boxed liquid bone broth to Vital Proteins Collagen Bone Broth powder. It's been 7 months now, and I've never looked back.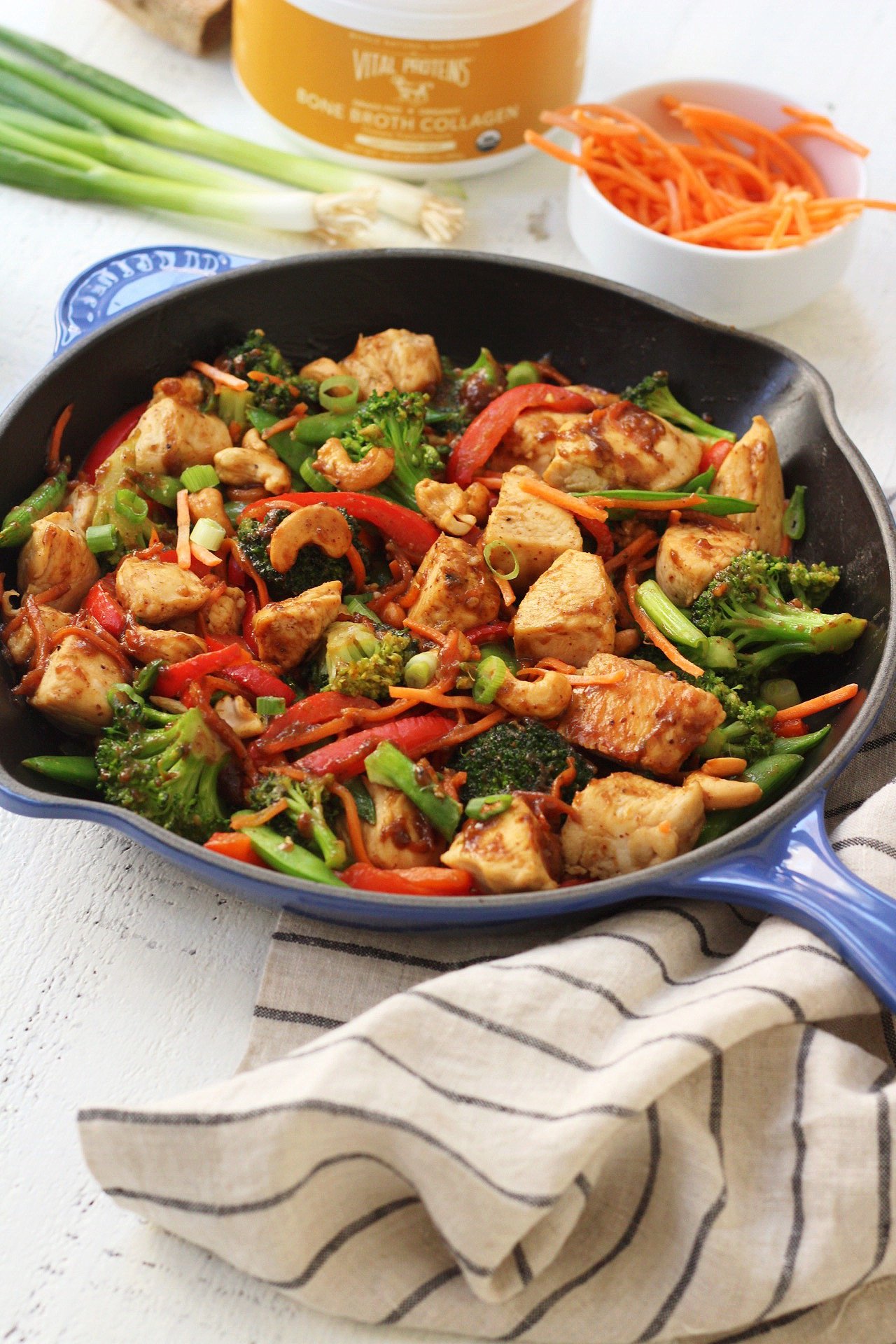 Using Collagen Bone Broth saves me time and money and effort. I mean, have you ever tried to find boxed broth in a grocery store without ridiculous additives? It takes some serious detective skills and a lot of time spent in the broth aisle you'll never get back.
I never have to even go down that aisle anymore and it's pretty much the greatest step to skip at the grocery store ever. With my Vital Proteins, I always have it on hand AND it's Whole30 Approved. The only ingredient? Organic chicken bone broth powder.
I also end up saving money because I'm no longer wasting half of an expensive carton of broth that got lost in my fridge. Most recipes only call for 1-2 cups, then you're left with an awkward amount left over. Once opened, liquid containers are only good in the fridge for 7 days. I either forgot it was in my fridge, or didn't need to use it in those 7 days more often than not. Now I'm not wasting anything because I'm using up all of the Vital Proteins Collagen Bone Broth the course of a few months until it's gone. No dollars or broth left behind.
Not only am I not wasting money or time or cabinet space on cartons of broth, I'm getting tons of added health benefits from the collagen, this Whole30 skillet is the perfect example. So basically this Paleo cashew chicken skillet just leveled up from awesome for you to really awesome for you. If you're unfamiliar with collagen, read my tell-all guide to collagen to speed yourself up.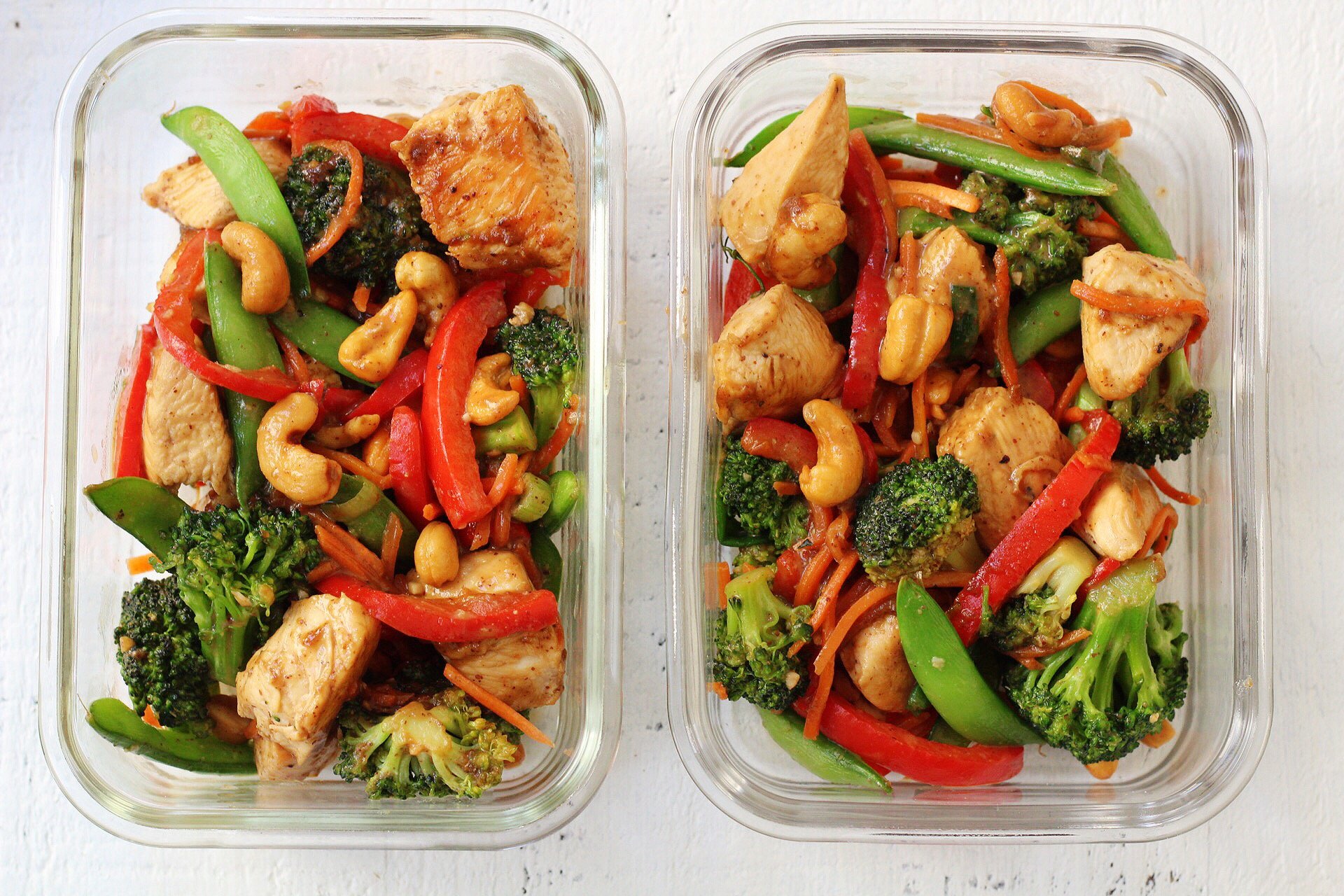 Just a few of the numerous benefits of adding collagen to your diet are improved joint pain and degeneration, helps with leaky gut, digestion, improves skin, nails and hair, speeds up recovery time after illness and workouts. And that's just the short list. Plus this powdered broth can be used exactly the same way as the liquid stuff, making it a super easy and healthier switch.
Get my favorite chicken bone broth HERE
I really do just love having it on hand. And I'm reminded how convenient it is for quick recipes like this Paleo cashew chicken skillet when I only need a small amount. Another step I totally skipped the hassle on for this recipe? A really good sale on pre-cut veggies from Target. Can't pass that up!
Other tasty (and easy) ways to use Collagen Bone Broth:
Chorizo and Butternut Squash Chili
Best Ever Instant Pot Mashed Potatoes
Enjoy!
Print
Paleo Cashew Chicken: Paleo, One Pan, 30 Minutes
Prep Time: 15 minutes
Cook Time: 20 minutes
Total Time: 35 minutes
Yield: Serves 4
Category: Paleo Entree
Cuisine: Asian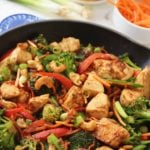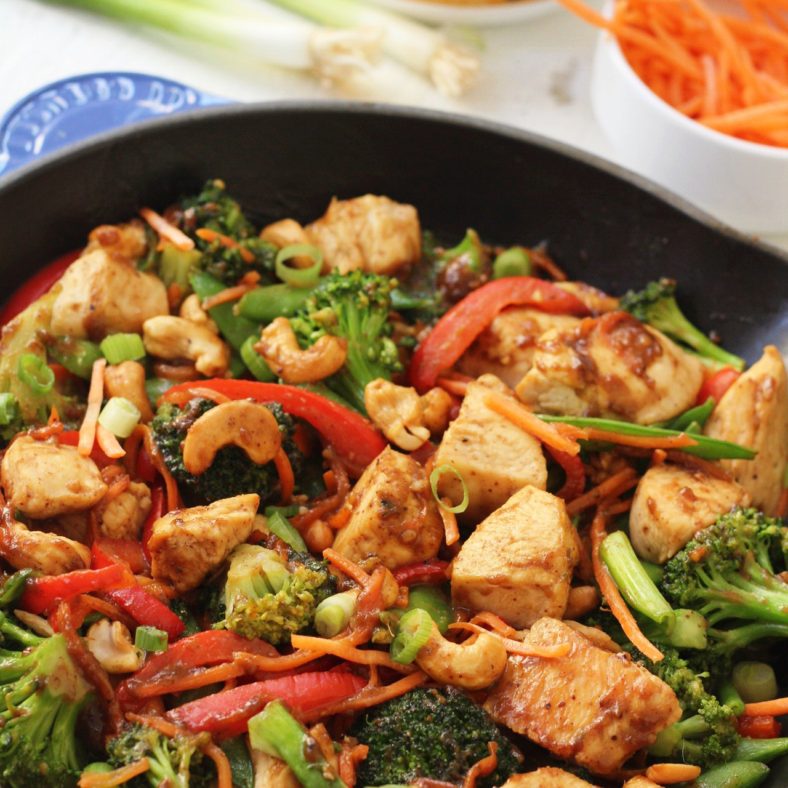 Ingredients
For the Stir-Fry:
1 pound chicken breasts, diced into 1" cubes
3 green onions, chopped
2 cups broccoli florets
1 red or green pepper, thinly sliced
1 cup sugar snap peas
1 cup shredded carrots
1/2 cup raw cashews (or lightly roasted is fine)
1 tablespoon olive oil
1 tablespoon minced garlic
1/2 teaspoon salt
For the Sauce:
1/4 cup chicken broth
4 tablespoons almond butter
4 tablespoons coconut aminos
1 tablespoon sesame oil
1 teaspoon ginger powder
Optional: 2 tablespoons honey(omit for Whole30)
Instructions
Heat olive oil in a large pan over medium-high heat
Once hot, add diced chicken and salt and let begin to brown on both sides, about 5 minutes
While chicken is browning, combine sauce ingredients into a small bowl, mix well and set aside
Add garlic to the pan, followed by broccoli, peppers and snap peas
Cook for about 5 minutes, stirring frequently, until vegetables are cooked halfway
Add in the carrots, green onions and sauce and mix well to evenly coat
Continue stirring frequently another 5-10 minutes until sauce has thickened and veggies are fully cooked
Mix in the cashews and serve!
If sauce hasn't thickened but your veggies are tender to your preference (still crisp or fork tender), move the chicken and veggies with a slotted spoon to serving dish. Allow sauce to continue to thicken a few additional minutes. Once it's bubbling and thick, pour over cashew chicken and mix.
Nutrition Facts:
Calories: 452
Sugar: 9
Fat: 24
Carbohydrates: 22
Protein: 37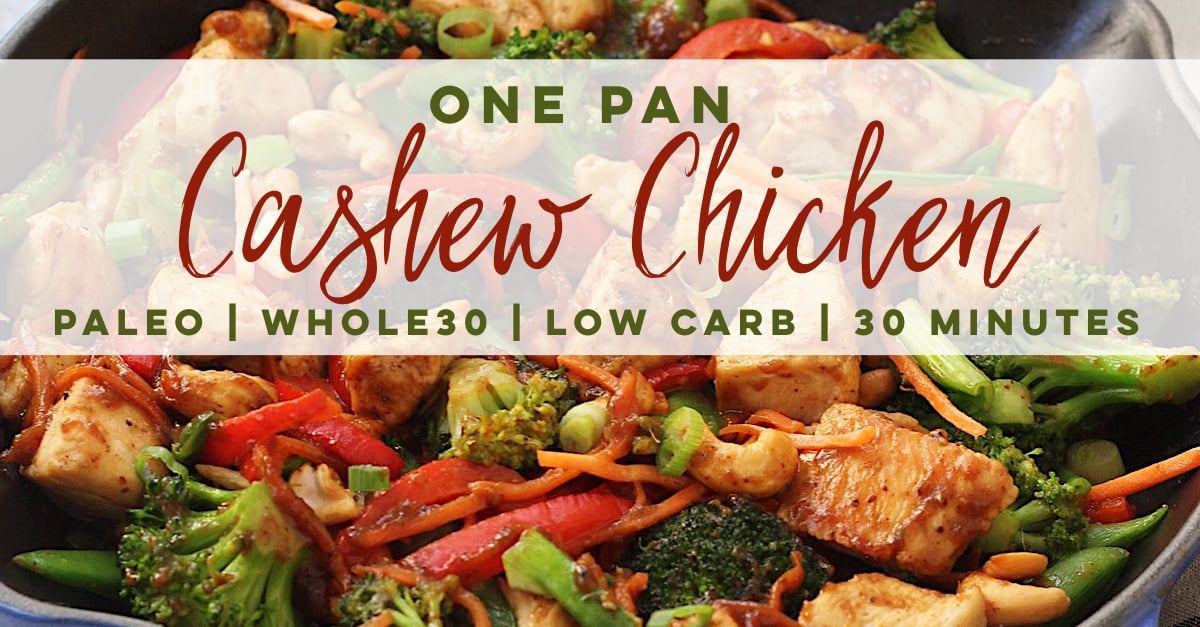 This post may contain some links that are affiliate links, though products are ones I use personally and recommend. When you purchase anything using my links, it costs you absolutely nothing extra, but it does give wholekitchensink.com a little financial support which helps to keep this blog running. Thank you for your continued support, both with your dollars and your interest.