I love regular potato salad, don't get me wrong. I also love mixing it up! I'll pretty much eat potatoes any which way, but every once in a while it's fun to enjoy them with some flavors you might not normally. Exhibit A: Southwest Potato Salad.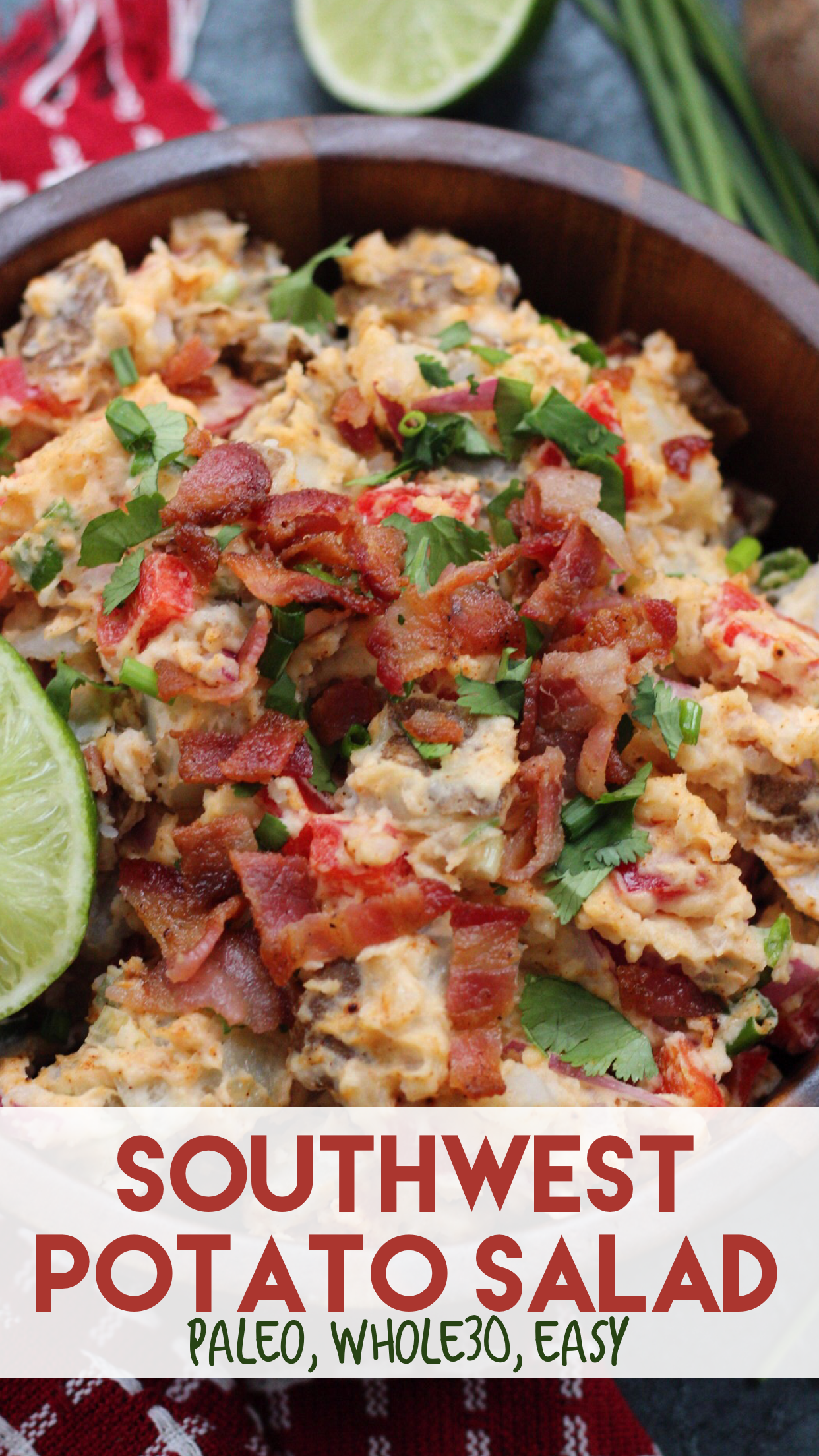 This potato salad is quick and easy to make. The only thing you have to cook is the potatoes. If you call boiling potatoes cooking, anyway. By the time they're done boiling, you'll have all of your other ingredients diced and sliced and ready to combine.
There's two ways to make the mayo to mix all the ingredients with. You can check out Primal Kitchen's chipotle lime mayo. I get them from Thrive Market, but they're also available at Whole Foods.


If you use this mayo, basically all the spices are going to be in your southwest potato salad. You'll just need to add 1/2 tablespoon chili powder. Otherwise, you can make your own mayo or use your favorite brand.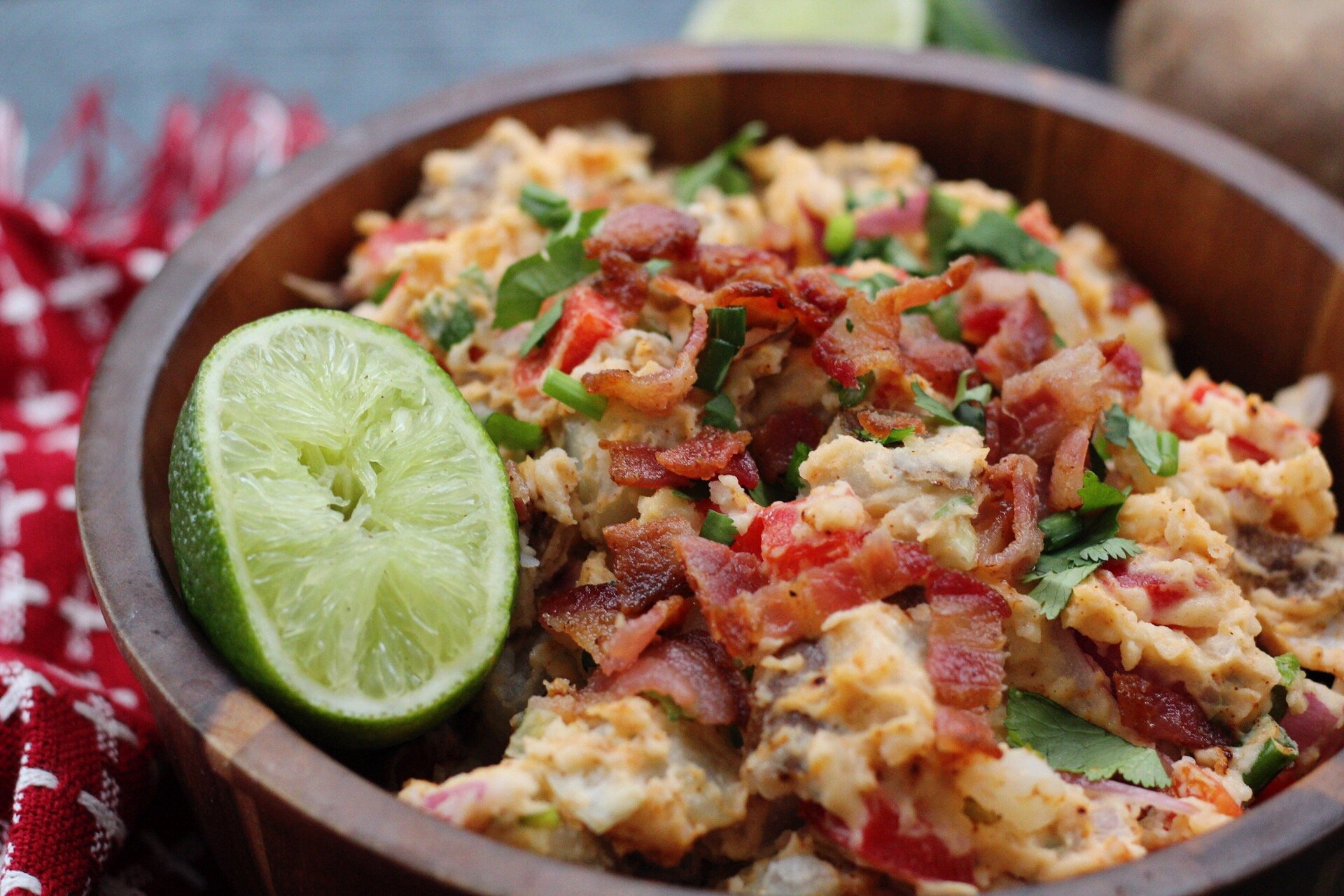 One trick to making a good potato salad is to not over boil the potatoes. You want them tender, but still firm. This should take about 15 minutes. If you cook them until they're too soft, when you're mixing all of the ingredients together you'll end up with a southwest potato salad mash. Which, to be honest, doesn't sound like the worst problem to have. Just not the look we're going for here, ya know?!
To avoid over mixing and mashing the potatoes, I like to mix the lime juice, spices and mayo together in a separate bowl before adding into the bowl with the potatoes and veggies.
Other Potato Recipes You'll Love:
Instant Pot & Stovetop Chunky Mashed Potatoes
Slow Cooker Ham and Potato Soup
Print
Southwest Potato Salad: A Paleo and Whole30 Side Dish
Prep Time: 15 minutes
Cook Time: 15 minutes
Total Time: 30 minutes
Yield: Serves 6-8 1x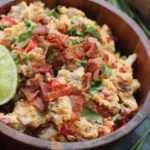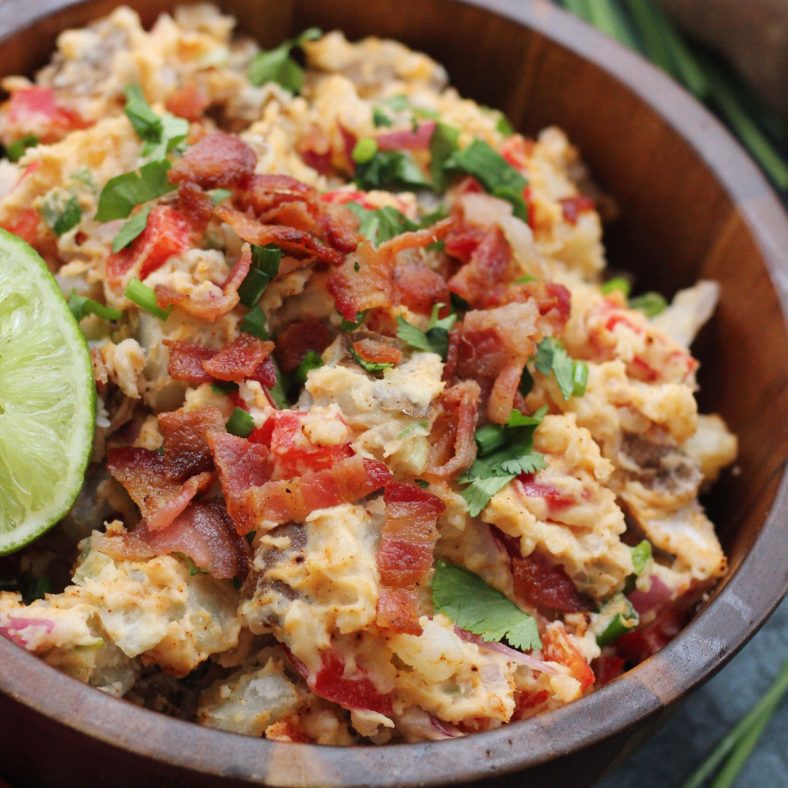 Ingredients
3 pounds of red potatoes, quartered
1/2 red pepper, diced
1/2 green pepper, diced
1/2 red onion, quartered and sliced thinly
4 green onions, diced
1/3 cup fresh cilantro, chopped
6 slices bacon, cooked and chopped
3/4 cups mayo
1 tablespoon chili powder
5 teaspoons adobo seasoning, OR:
1/2 teaspoon paprika
1/2 teaspoon cumin
1/2 teaspoon cayenne
1/2 teaspoon chipotle powder
1/2 teaspoon garlic powder
1/8 teaspoon salt
1/8 teaspoon pepper
Juice of 1/2 lime
Optional: 1 small can of diced chilis or 1 diced jalapeño
Instructions
Boil potatoes in a large stock pot 15 minutes, or until tender but still firm
Drain water and let cool
In a large bowl, combine potatoes, bacon, veggies and cilantro
In a small bowl, combine mayo, lime juice, and all seasonings
Stir to combine
Add mayo mixture to the other ingredients
Stir gently to avoid mashing the potatoes to combine
Refrigerate at least a half hour prior to serving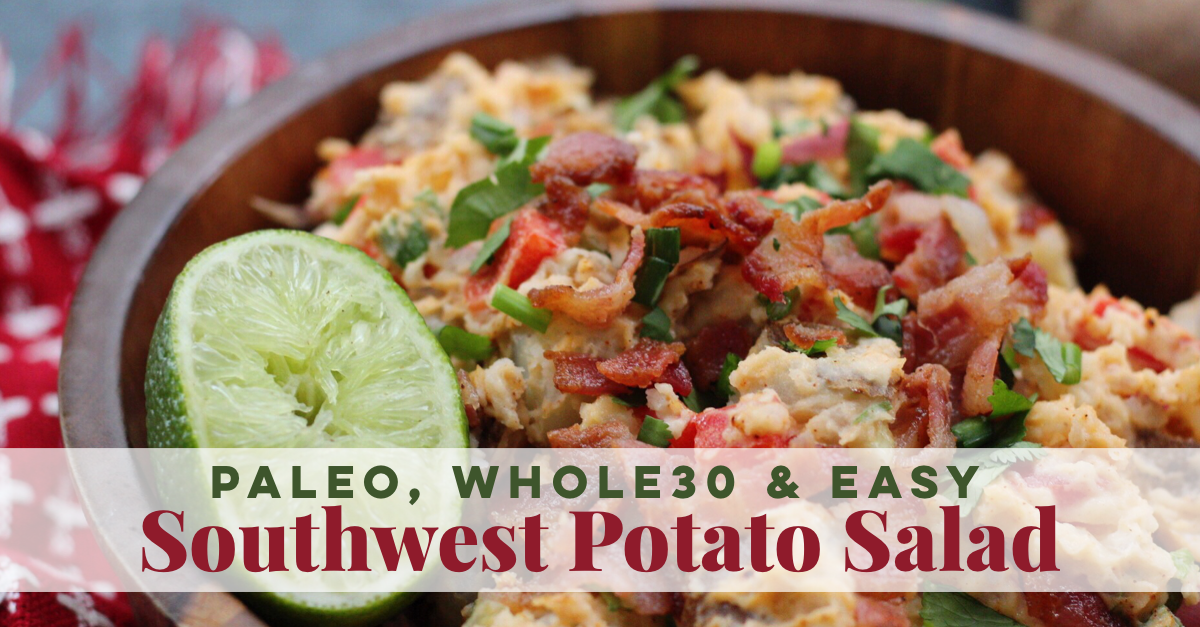 This post may contain affiliate links, though all products are ones I use personally and recommend. When you purchase anything using my links, it costs you absolutely nothing extra, but it does give wholekitchensink.com a little financial support which helps to keep this blog running. Thank you for your continued support, both with your dollars and your interest.