A tip that I've been telling people for what seems like forever now has been to freeze a few pounds of chicken in different marinades. This has served me so well while doing a Whole30, and while trying to make cheap and easy meals when I'm just eating healthy, clean foods. These DIY marinades are an inexpensive way to set yourself up for success.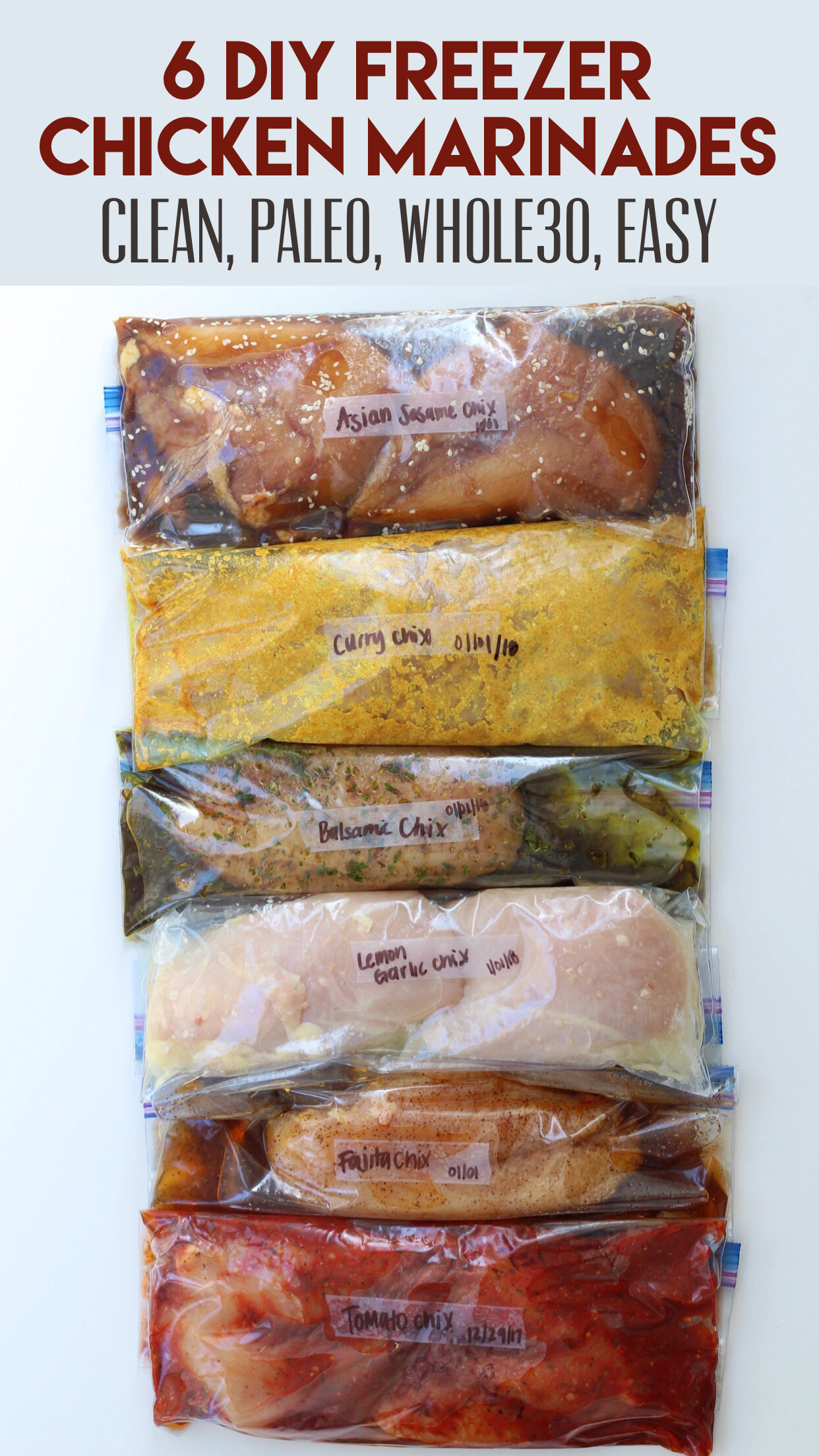 We all have the days where coming home and cooking from scratch isn't high on our priority list, even though eating healthy often is. Sometimes when it's been a rough week, you just don't want to cook. I hear you. That's when having back up options like marinaded chicken come in so handy. Even better, with these you have a few options to choose from so you're never going to get stuck making chicken the same way you always do. Again. For the 17th time this month.
First let's talk about chicken breasts. Not all are created equal. These DIY marinades are written out for one pound of chicken. Depending on what size of chicken breasts you buy, that could mean 2, 4 or 6 of them to equal a pound. If you're prepping a half pound, just divide the recipe in half.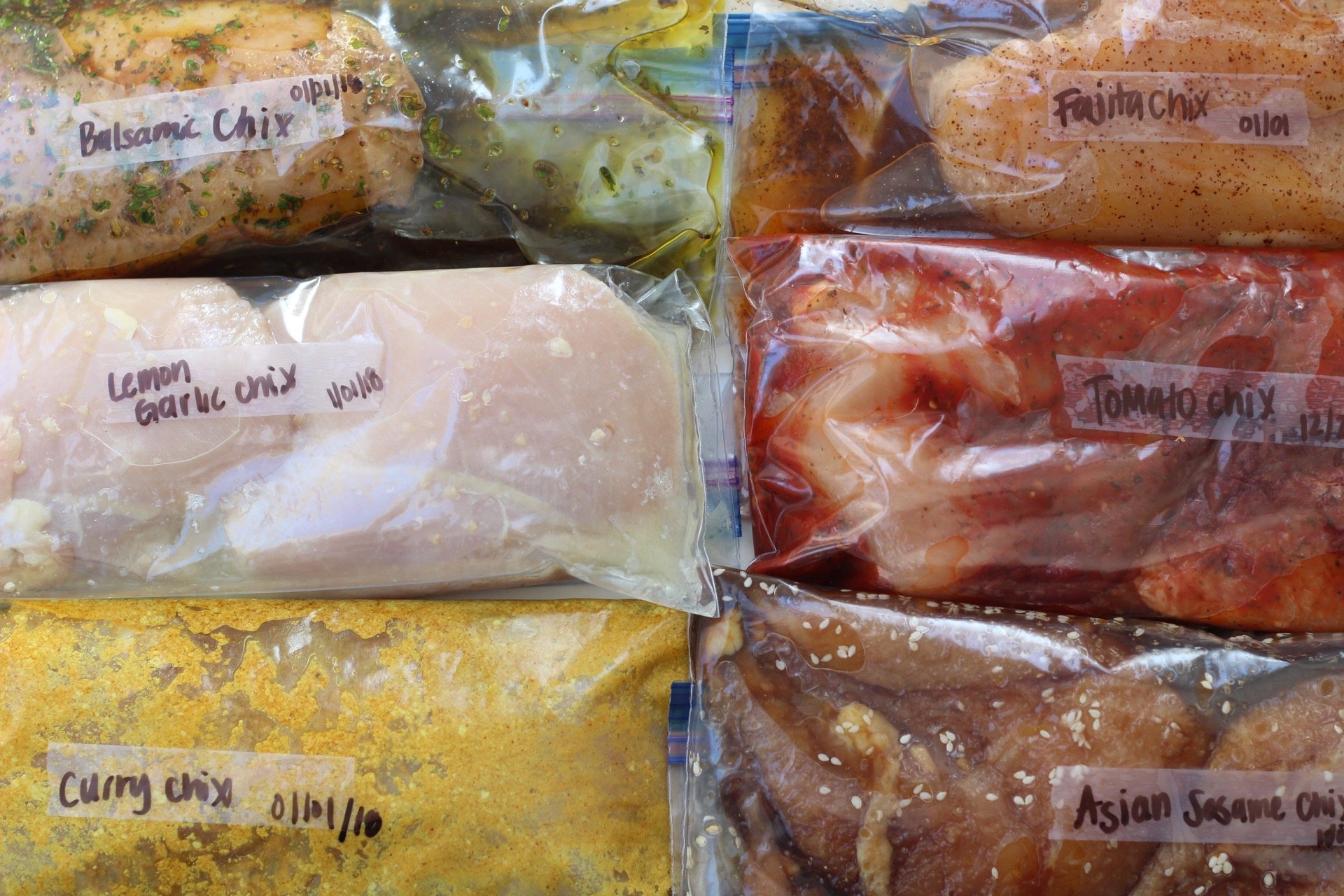 On that note, you can't ever go wrong with having more marinade than you need. It's not a big deal if there's a bit more oil in the bag per chicken breast, or a bit more tomato paste. It won't matter once it's frozen, defrosted and then cooked! Don't stress yourself out weighing out chicken breasts and doing the calculations per ingredient. The good thing about DIY chicken marinades is that they're DIY. Even if you're eyeballing the spices, they'll be good!
We're all about convenience and making things work for you over here. This is also why I made sure to use staple products that most of us have in our pantry. You truly don't need anything fancy to make healthy and simple meals.
Most of my pantry goods I get from Thrive Market. Which is basically a Costco meets Whole Foods. Healthy products at budget prices. You can read about my Paleo and Whole30 staples, or check out the sale they're having for 20% off of your first 3 orders!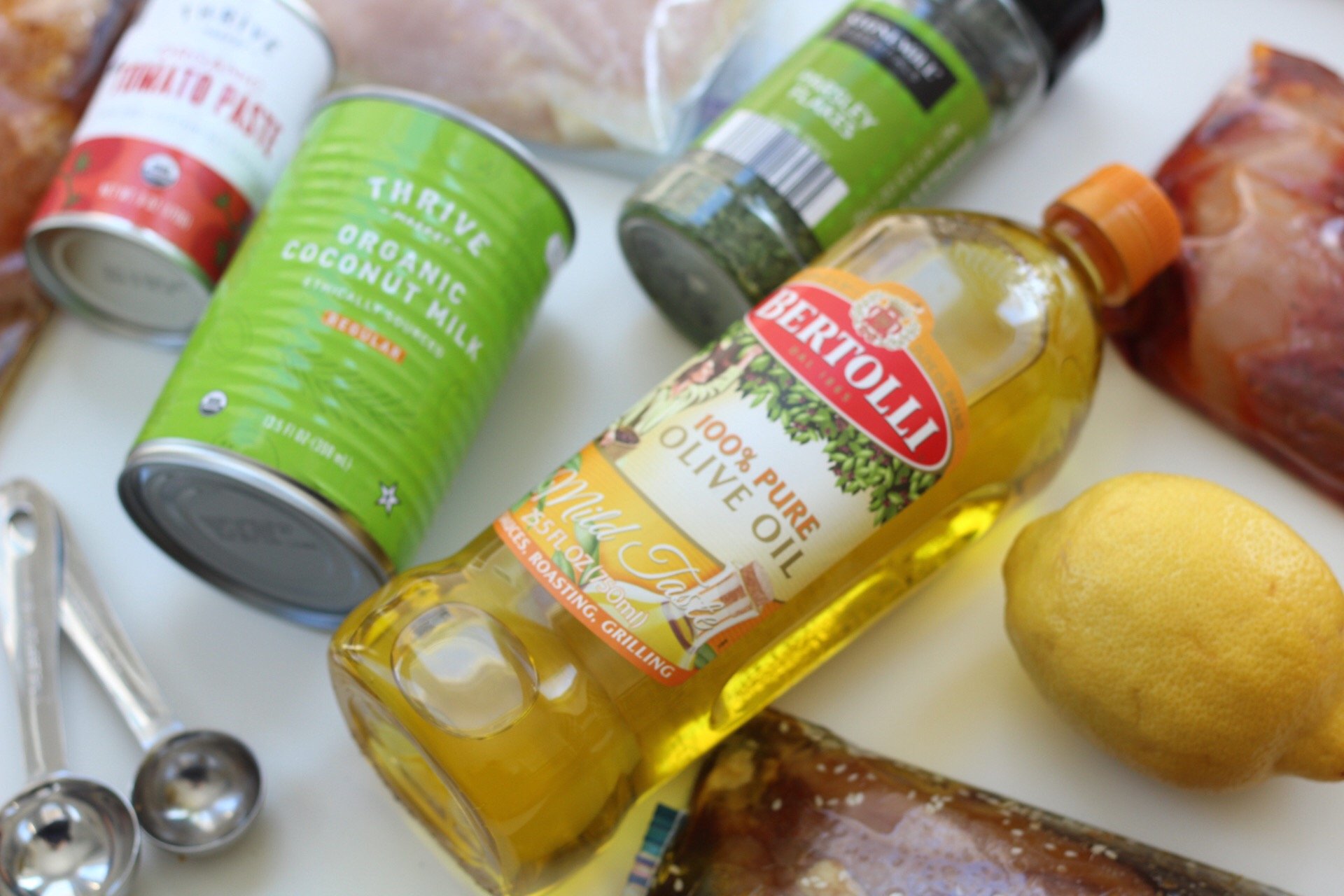 Now for the good stuff. The marinading process stops once these hit the freezer, and starts again once they begin thawing. These are good in the freezer for 3 months, so make sure to date the bags you use!
You want to give the chicken plenty of time to marinade before you cook them. It's best to take one out of the freezer 12-24 hours prior to cooking.
You can then throw them into the slow cooker with the marinade for a few hours. You can make shredded chicken by putting them into the instant pot for 8 minutes. Or, bake them in the oven. Remember when we talked about how not all chicken breasts are created equal? This comes back into play here when we're talking about baking times. If you have 4 chicken breasts that are 6 ounces, they'll bake faster than 2 chicken breasts that are 11 ounces each.
For most chicken breasts, you'll bake at 400 degrees F. for 20 minutes. For larger chicken breasts, you'll have to add (approximately) an additional 5 minutes.
Cooking times may vary, based on the size and weight of your meat. Make sure chicken is no longer pink, and has an internal temperature of 170 degrees F.
Now that your chicken is cooking, it's time to make the rest of the meal that simple too! Think about paring your chicken breasts with roasted or sautéed veggies. Cook up some fajita veggies for the fajita chicken, steam some broccoli or cook some cauliflower rice to go with the curry chicken, or add the Asian sesame chicken to a salad with cabbage, carrots and cilantro. Enjoy the balsamic chicken with easy mashed potatoes and asparagus! The options are endless, and it's SO convenient to be able to just throw together a meal based on what you already have in the fridge.
These 6 recipes are surefire ways to ensure you're not using marinades filled with junky ingredients, sneaky additives and sugar. If you're looking for other good pre-made options, my favorites are:
Green Goddess, Greek, Honey Mustard (Honey Mustard not Whole30) from Primal Kitchen
The New Primal Citrus Herb and Classic marinades
Tessemae's Lemon Garlic, or any of their Whole30 Approved dressings!
For 1 Pound of Chicken Breasts: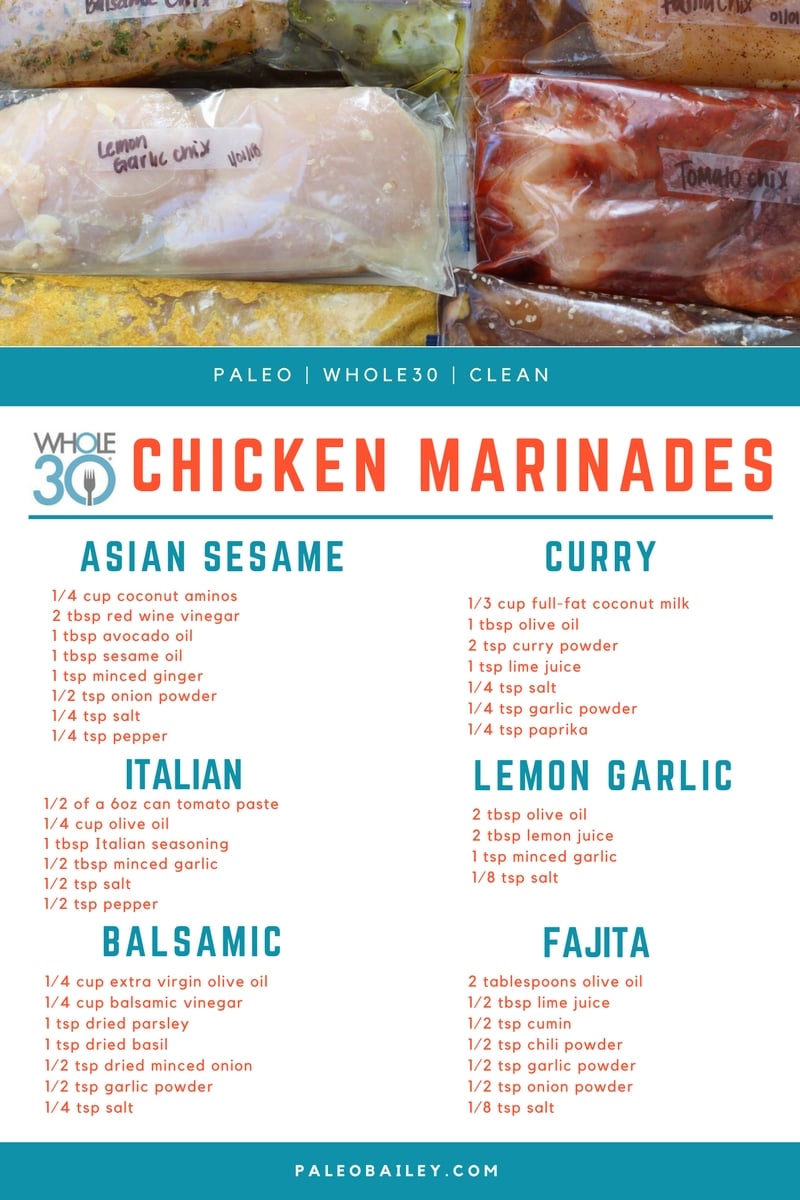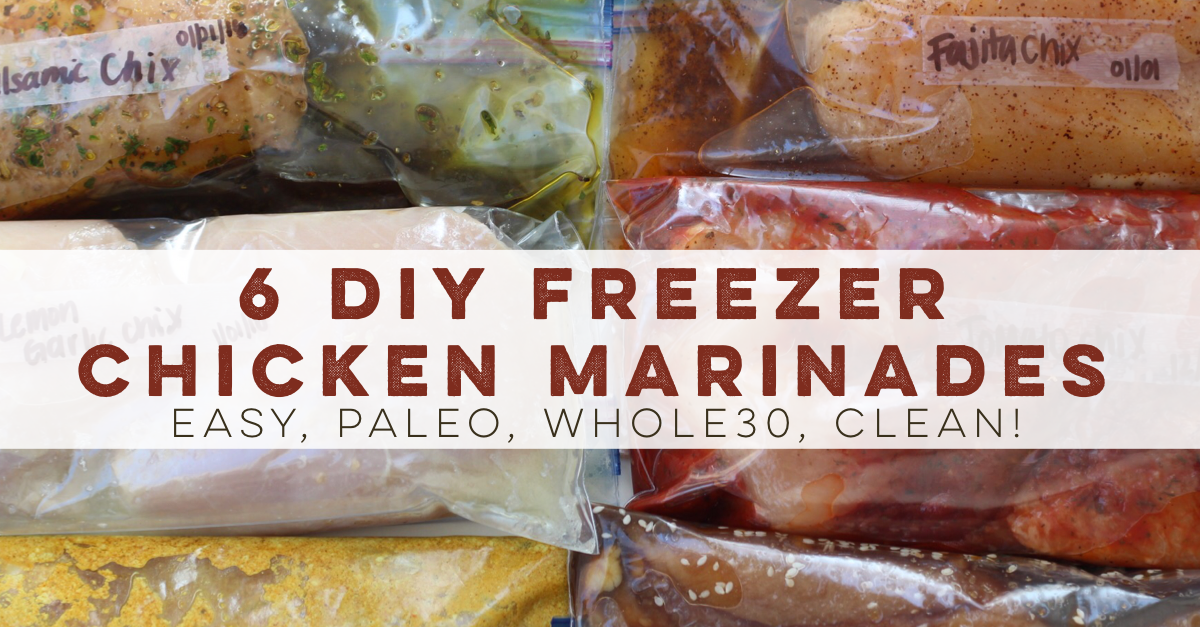 This post may contain some links that are affiliate links, though products are ones I use personally and recommend. When you purchase anything using my links, it costs you absolutely nothing extra, but it does give Paleobailey.com a little financial support which helps to keep this blog running. Thank you for your continued support, both with your dollars and your interest.