Cold weather months are upon us, and that calls for comforting and savory meals! This roasted chicken with a Medjool date, carrot and apple medley is perfect for meal prep or an easy weeknight dinner. It's also so tasty and presents so beautifully that it would be a great option to serve at your holiday gathering or around your dinner table for guests.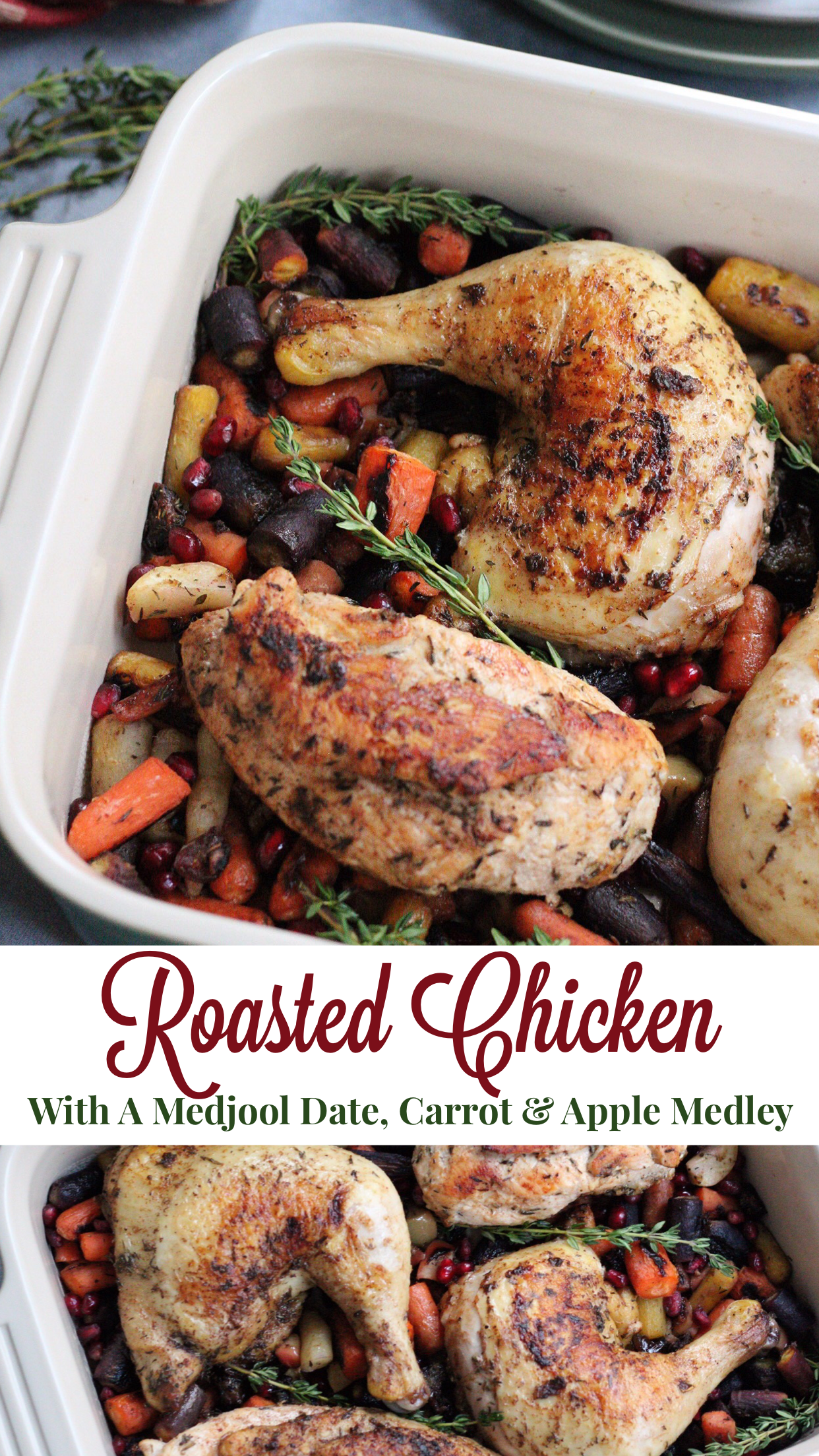 This post is sponsored by Natural Delights. All opinions are my own. I'm happy to work with a company I use and love! Thanks for your support here on the blog and your support for Natural Delights!
Once summer is over, I love making recipes that have more seasonal fall and winter fruits and veggies. This roasted chicken with a Medjool date, carrot and apple medley also has pomegranate and thyme. These ingredients, with the dates and apples come together to create a lovely winter inspired flavor.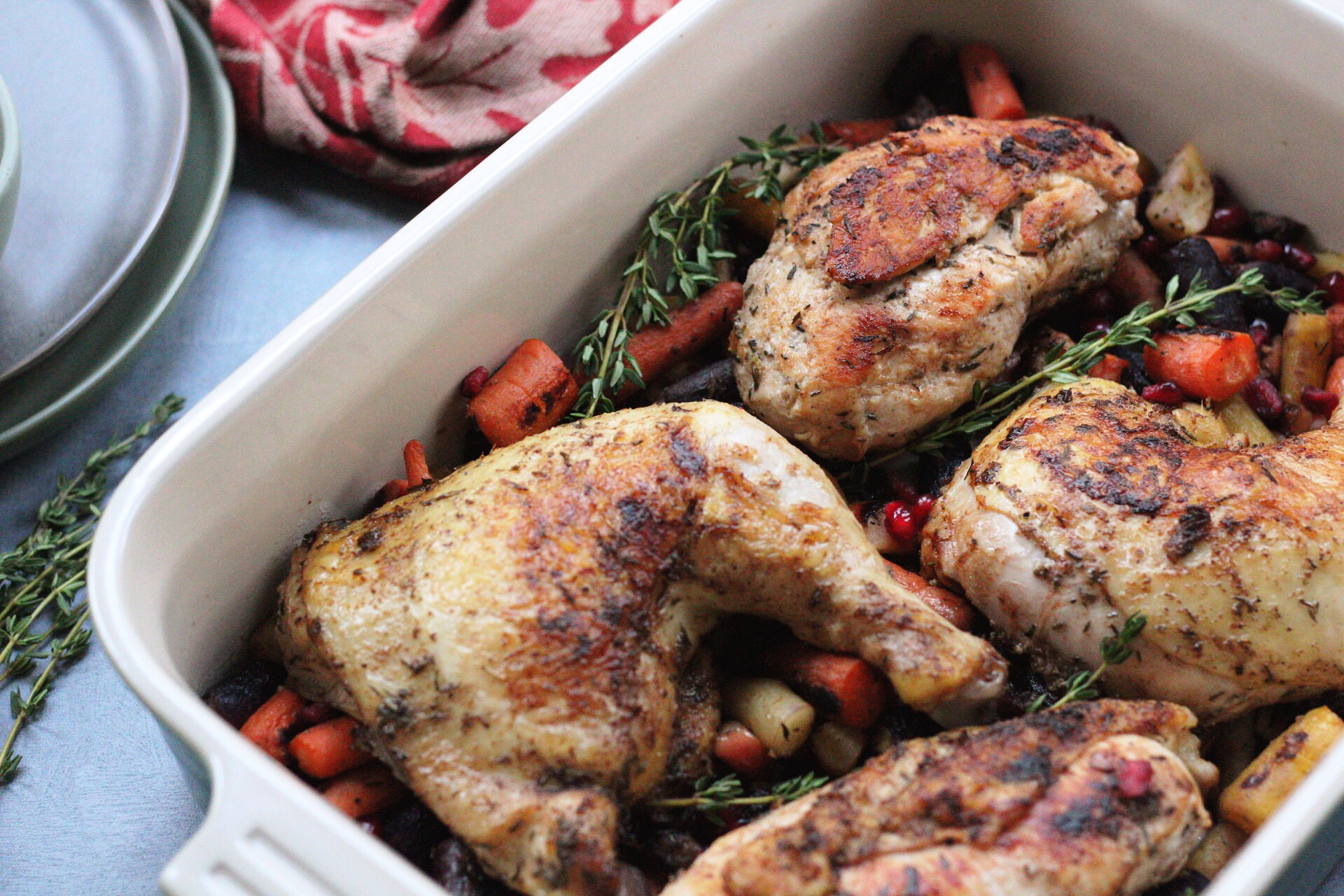 Using Medjool dates is one of my favorite ways to add the perfect hint of sweetness to a savory meal. In this roasted chicken with Medjool dates, carrots and apples recipe, the Medjool dates are what ties it all together. When baked, they give everything a comforting caramelization.
Using Medjool dates in your recipes, as opposed to processed sugar, is one of the easiest ways you can make your meals healthier and still not lose out on any flavor. In fact, Medjool dates are one of my favorite sugar swaps.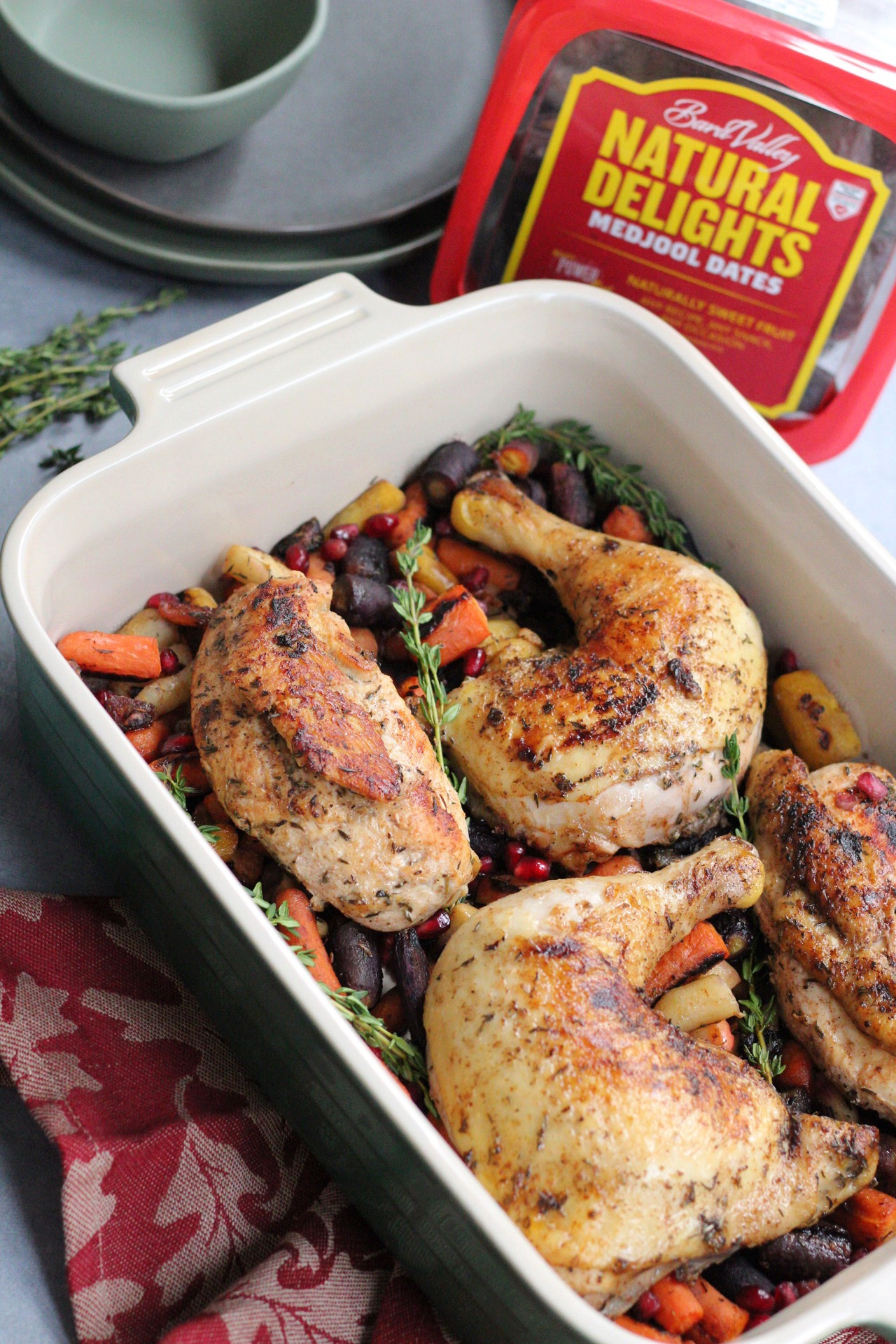 Chopping up a few Medjool Dates from Natural Delights and tossing it into this roasted chicken recipe is healthier than, say, adding brown sugar for more than just a few reasons. Not only is it a simple alternative to make, but Medjool dates are a (little but mighty) powerhouse of essential vitamins and minerals. Loaded up with calcium, iron, potassium, vitamin K, vitamin A (among others), they even have more antioxidants than blackberries and apples! And when grown with care like Medjool dates from Natural Delights, they're a fruit with no pesticides, additives or GMOs.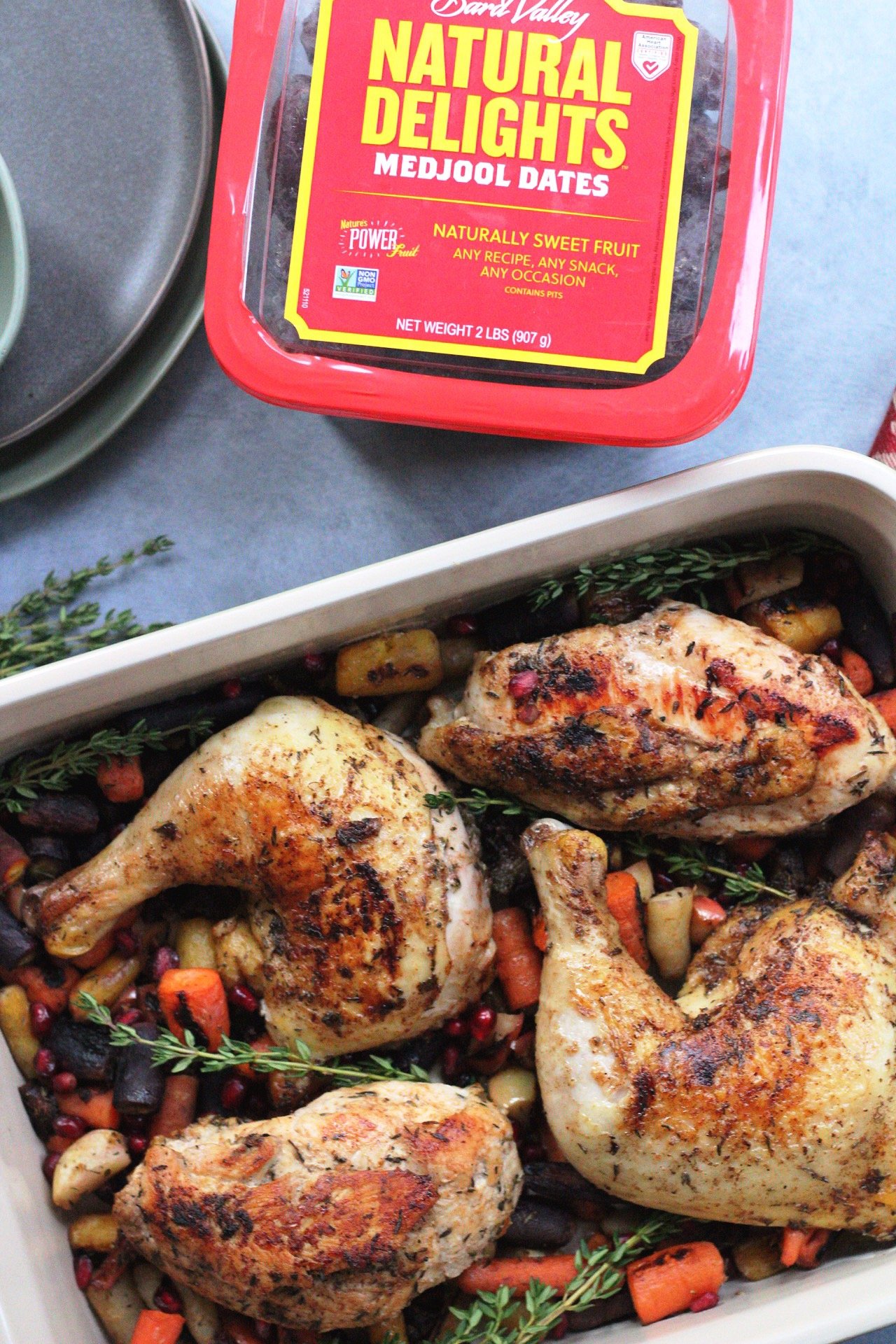 I'm so excited for you to get your hands (and forks!) on this healthy and Whole30 compliant roasted chicken recipe. The spiced chicken is so tasty and the fruit and veggie medley is roasted to caramelized perfection thanks to Natural Delights Medjool dates. Bonus: it's really not much hands-on work either! Enjoy!
Print
Roasted Chicken with a Medjool Date, Carrot and Apple Medley
Prep Time: 15 minutes
Cook Time: 30 minutes
Total Time: 45 minutes
Yield: Serves 4-6 1x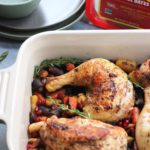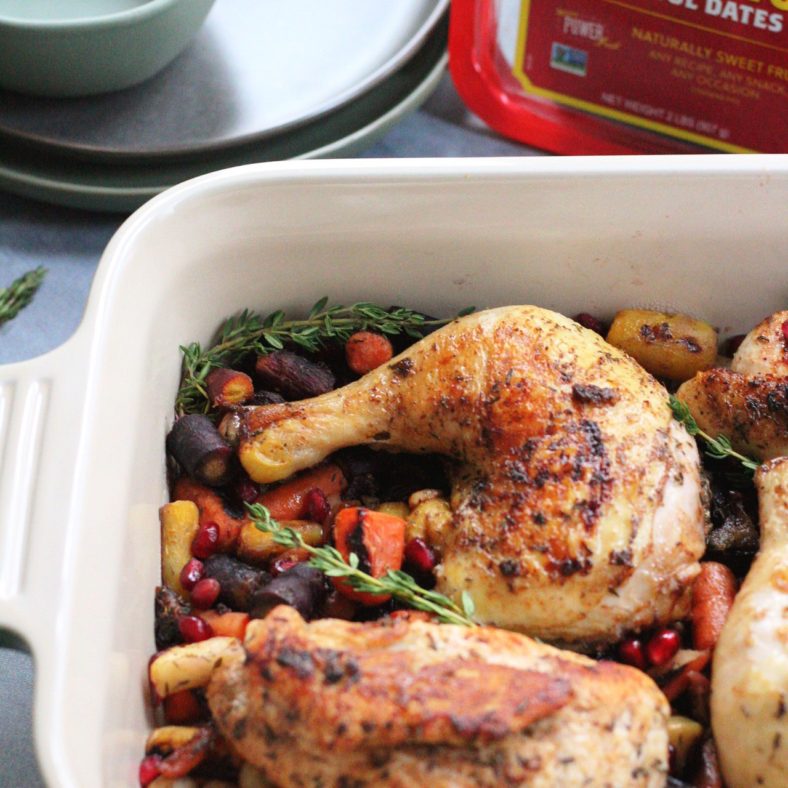 Ingredients
1 (3-4 pound) chicken, cut into 6 pieces, OR, 4-6 skin-on chicken breasts
1 and 1/2 pound multicolored baby carrots, cut in half
4 Natural Delights Medjool dates, pitted and chopped
2 honey crisp apples, cored and diced in cubes
1/4 cup of pomegranate gems, plus additional for garnish
4 tablespoons olive oil, divided
1 tablespoon dried thyme, divided
1/2 tablespoon minced garlic
1/2 teaspoon chipotle chili powder
1/4 teaspoon allspice
1/4 teaspoon salt
1/4 teaspoon pepper
Instructions
Preheat oven to 400 degrees F. and set two racks, one closer to the bottom of the oven
In a large bowl, coat the chicken with 2 tablespoons olive oil, 1/2 tablespoon thyme, salt, pepper, chipotle chili powder, and allspice
Set chicken aside and prepare the fruit and veggie medley
On a large baking sheet combine Medjool dates, carrots, apples, pomegranate gems, 1/2 tablespoon thyme and minced garlic with 1 tablespoon olive oil and additional salt and pepper to taste
Mix well with hands to evenly coat fruit and veggies with oil and spices
Place in oven and set timer for 10 minutes
Then, in a large cast iron skillet, heat 1 tablespoon olive oil and add chicken to pan. Sear each side for 4 minutes and transfer to a baking sheet
After 10 minutes is up, stir around the carrot mix and place back into the oven on top rack
Add the baking sheet with chicken to oven on the bottom rack
Set timer to 20 minutes, remove chicken from the oven when the meat thermometer reaches 160 degrees F. (about 20 minutes)
Add an additional 5 minutes if needed – exact time will depend on size of chicken pieces used
Take the carrot mix out of the oven and place on the bottom of a platter with chicken over top, or serve as is!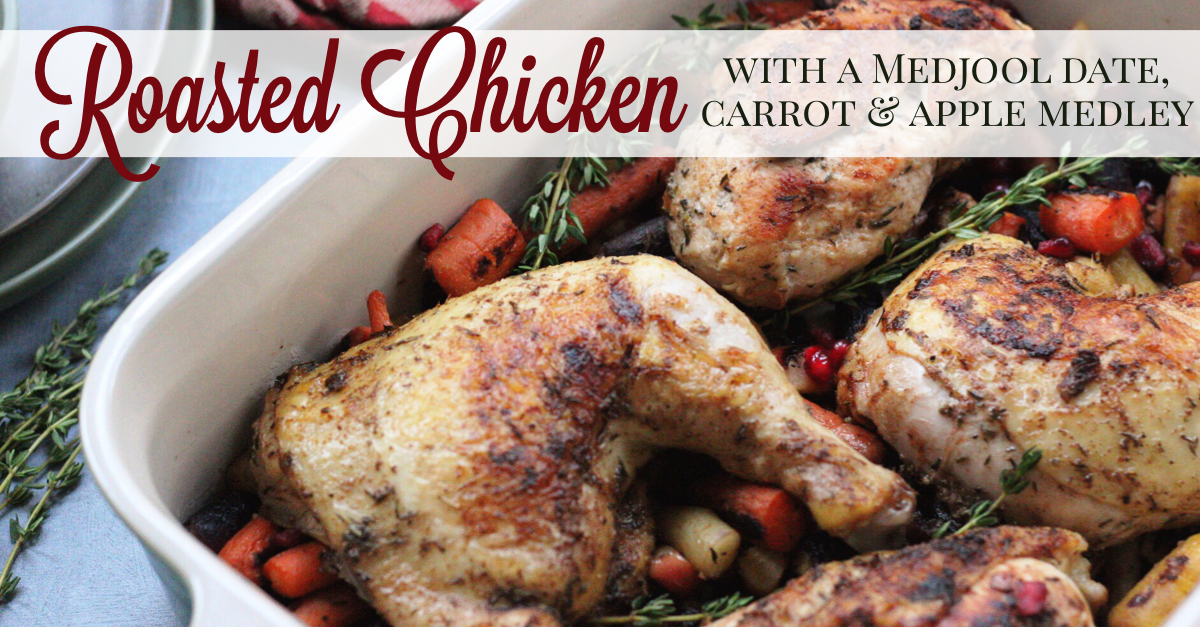 This post may contain some links that are affiliate links, though products are ones I use personally and recommend. When you purchase anything using my links, it costs you absolutely nothing extra, but it does give wholekitchensink.com a little financial support which helps to keep this blog running. Thank you for your continued support, both with your dollars and your interest.