I'm combining two of my favorite things today. My instant pot and Chinese food! This Whole30 instant pot beef and broccoli is about a million times healthier than the beef and broccoli you would normally get in your takeout order. It also happens to be a quicker option too, with only 30 minutes needed to put this on the dinner table! Got your attention now didn't I? Thought so!
I remember when I first got my instant pot this summer and was terrified of it. I remember writing in the first recipe I posted here about how it looked like a spaceship (haha!) and that I was so nervous to use it. Compared to my slow cooker that has two buttons for low and high, this contraption felt like I needed an engineering degree to figure out. But, alas, I managed, and now I couldn't imagine life without it. Bonus: my kitchen hasn't exploded (yet).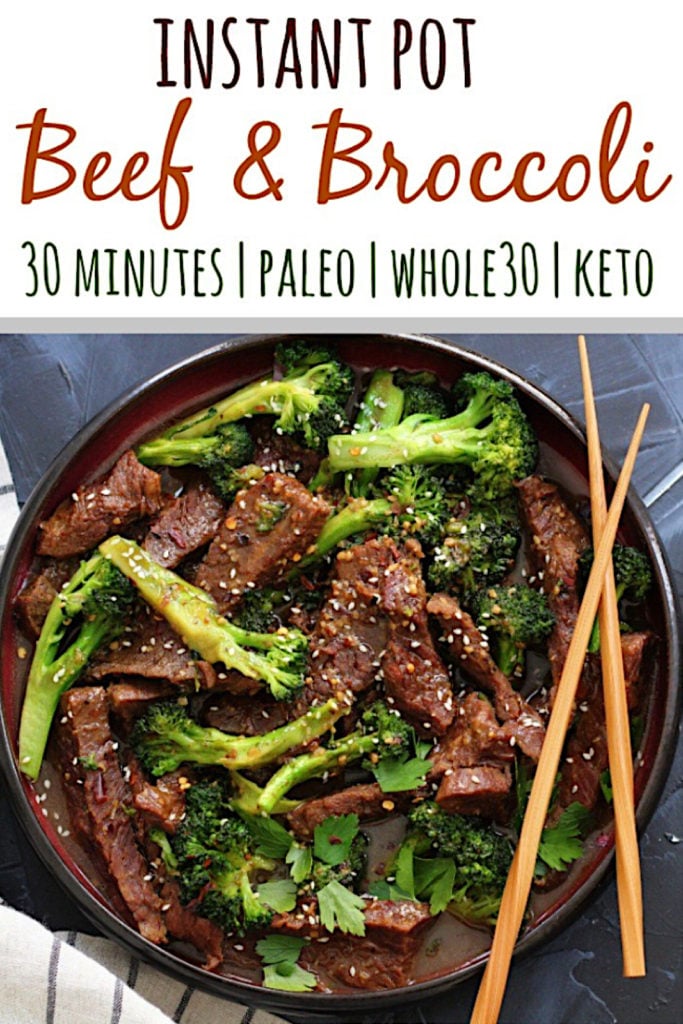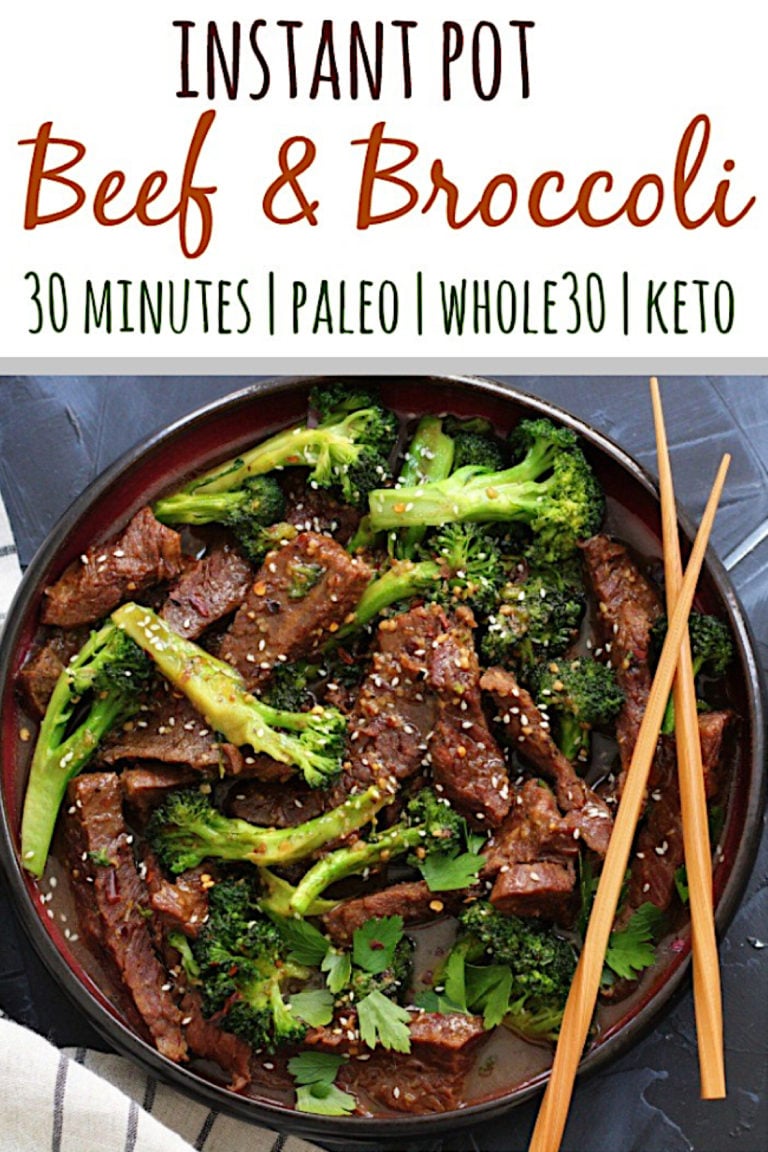 If you've been hesitating on getting one for yourself, I'm here to tell you it's worth it. Not only for easy 30 minute meals from start to finish, like this beef and broccoli or my chicken taco soup, but even for batch cooking! I love using it at the beginning of the week to cook a bunch of chicken breasts to dice or shred, pork, taco meat or roasts so I have a go-to protein for the week.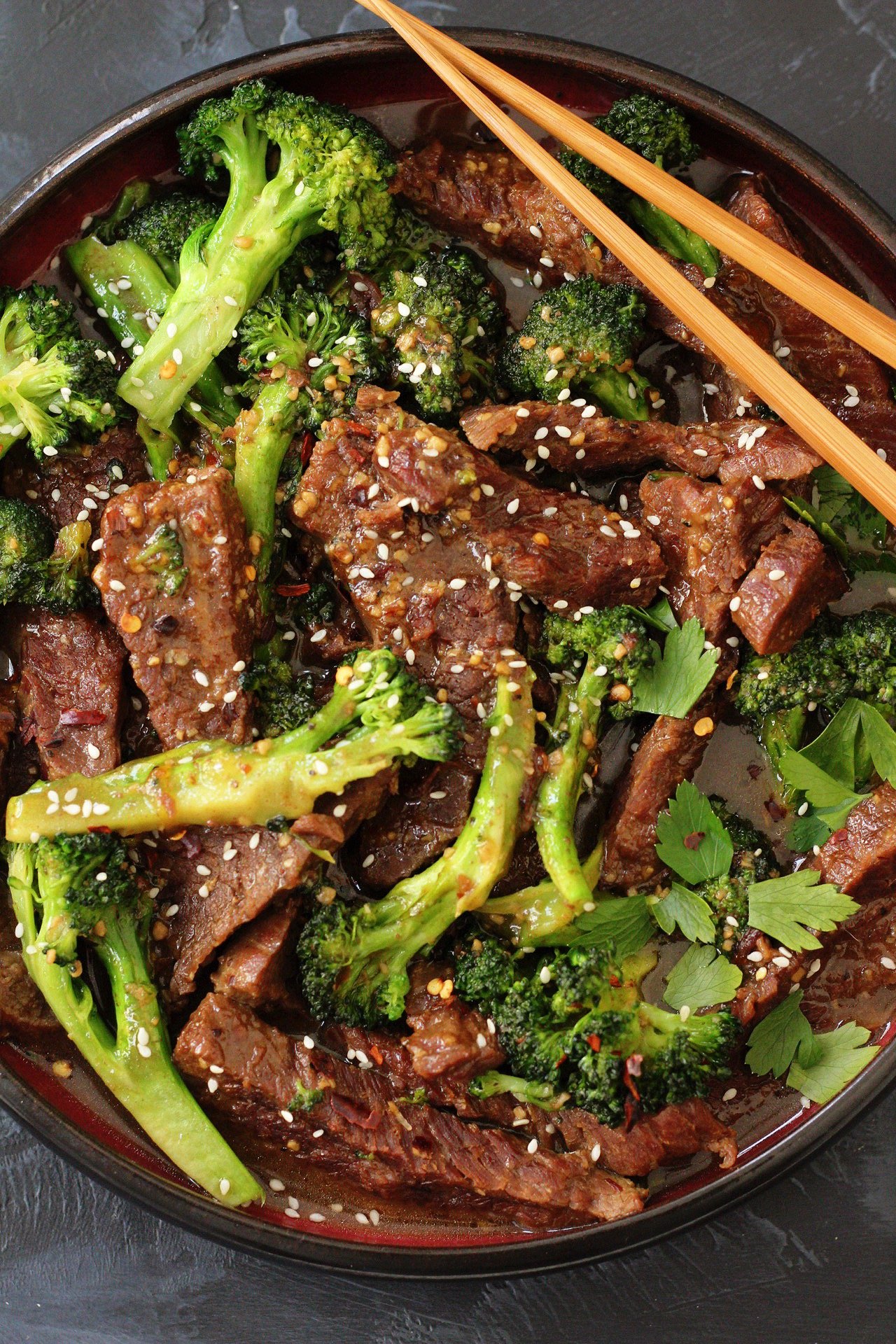 For this instant pot beef and broccoli, you can use flank steak or a beef chuck roast. If you use a chuck roast, make sure to trim any extra fat prior to cooking. Those cuts of beef typically are a bit fattier, but they're also cheaper so it's a good budget option!
Instead of a typical soy sauce (Paleo = no soy), I use coconut aminos. You can pretty much get coconut aminos anywhere nowadays. Target and Walmart even. My favorite brands are Big Tree Farms and just the Thrive Market brand because it's way cheaper and I go through this stuff like water sometimes. I DID tell you I was a huge fan of Chinese food at the beginning of this, remember?


I did link to Big Tree Farms on Amazon, but just to show you what I'm yappin' about. It's way cheaper on Thrive Market per bottle (like half the price) so just a heads up there. Thrive Market gives you 20% off your first 3 orders as well, so you can maximize your savings there too.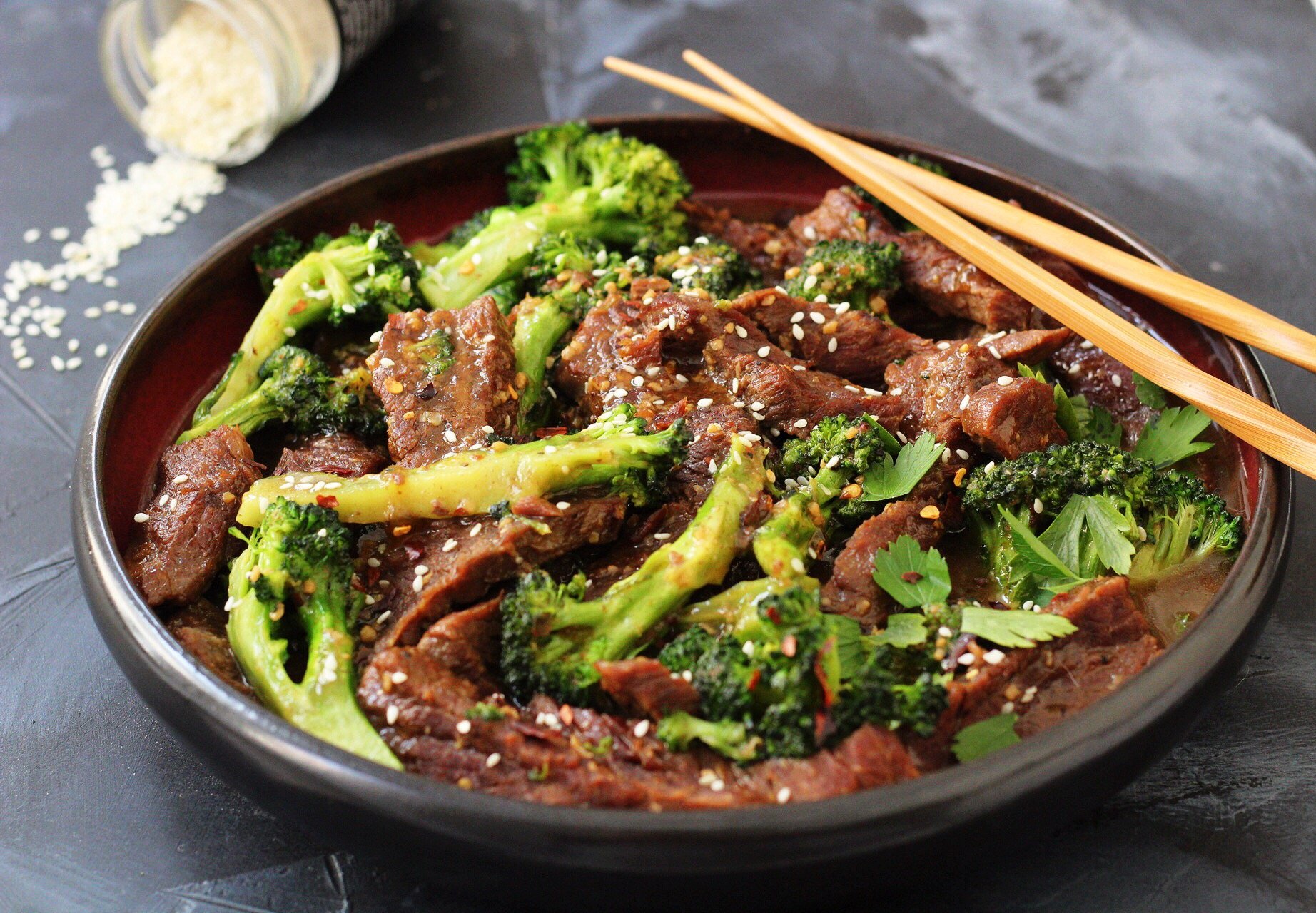 The other ingredients used in this simple Whole30 instant pot beef and broccoli recipe are sesame oil, which is a staple for creating the well known Asian flavor in dishes. Along with using arrowroot flour as the thickener instead of cornstarch. Some other options for thickening sauces are tapioca starch, coconut flour or gelatin.
For my tips on cooking with gelatin, check out this post!
This Whole30 instant pot beef and broccoli is great served with cauliflower rice, broccoli rice or just on it's own! You can make it for a quick weeknight dinner, or use it for your next meal prep. It makes plenty of servings to get you some delicious lunches for the week! Enjoy!
Instant Pot Beef & Broccoli Tutorial Video
You'll also love:
Sheet Pan Sweet and Sour Chicken
Print
Instant Pot Beef and Broccoli: Whole30, Paleo and 30 Minutes!
Prep Time: 10 minutes
Cook Time: 20 minutes
Total Time: 30 minutes
Yield: Serves 4
Category: Dinner
Cuisine: Asian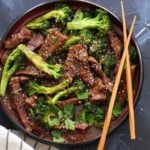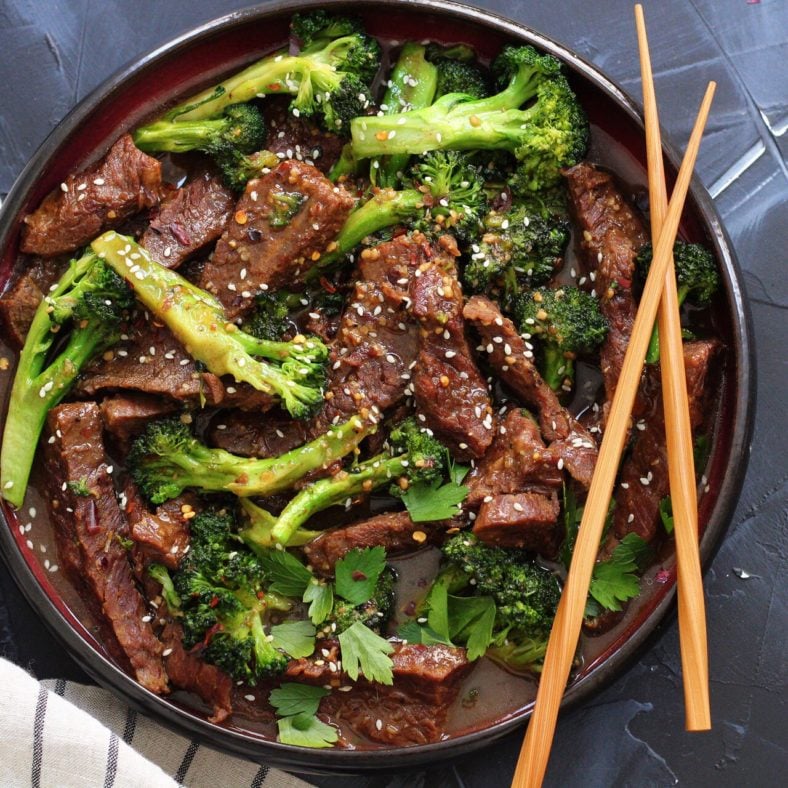 Ingredients
1.5 pound flank steak, thinly sliced against the grain
2–3 crowns broccoli broken into florets
3/4 cup beef broth
1/2 cup coconut aminos
2 tablespoons avocado oil (I use Primal Kitchen) or olive oil
2 tablespoons sesame oil
1 tablespoon minced garlic
1 tablespoon arrowroot flour
1/2 tablespoon grated ginger
1/2 teaspoon onion powder
1/4 teaspoon salt
1/4 teaspoon red pepper flakes
1/8 teaspoon pepper
Sesame seeds to garnish
Chopped green onions to garnish
Instructions
Turn instant pot onto "sauté" mode and add avocado or olive oil.
Once oil is sizzling, sear sliced beef (about 30 seconds-1 minute on each side) in batches, ensuring not to overcrowd or over cook. Transfer to a plate once browned
Once all beef is browned and on the plate, add minced garlic to the instant pot and sauté until fragrant, about 1 minute
Add in the beef broth, ginger, coconut aminos, sesame oil, onion powder, red pepper flakes, salt, and pepper. Add beef and juices from plate to the instant pot, close the lid, and set to "sealing"
Select manual and set the time for 10 minutes
While beef and sauce is cooking, place broccoli florets in a microwave safe dish filled 3/4th's with water. Microwave for 3 minutes until lightly steamed for al dente broccoli. Drain water and set aside. Mix in with the beef after cooking. *See notes for additional way to cook the broccoli
Once beef is done, do a quick release, and put the instant pot back into "sauté" mode
Slowly add in arrowroot flour, using a fork to whisk into the liquid as you add it. Add in broccoli and continue stirring as the sauce thickens
Remove beef and broccoli with a slotted spoon and arrange in a large serving dish or meal prep containers. Allow the remaining liquid to continue simmering and thickening
Once it's thick and bubbling, pour sauce over beef and broccoli
Garnish with sesame seeds, green onions or additional red pepper flakes
Notes
Optional way to cook broccoli: Once done the beef is done, do a quick release, remove lid, place in broccoli. Close the lid again, set to 0:00 on manual, and set to "sealing" to steam broccoli. This will cook the broccoli more thoroughly as opposed to lightly steaming it for more fork tender broccoli. Then continue with step 7.
Nutrition Facts:
Calories: 418
Sugar: 5
Fat: 23
Carbohydrates: 10
Protein: 38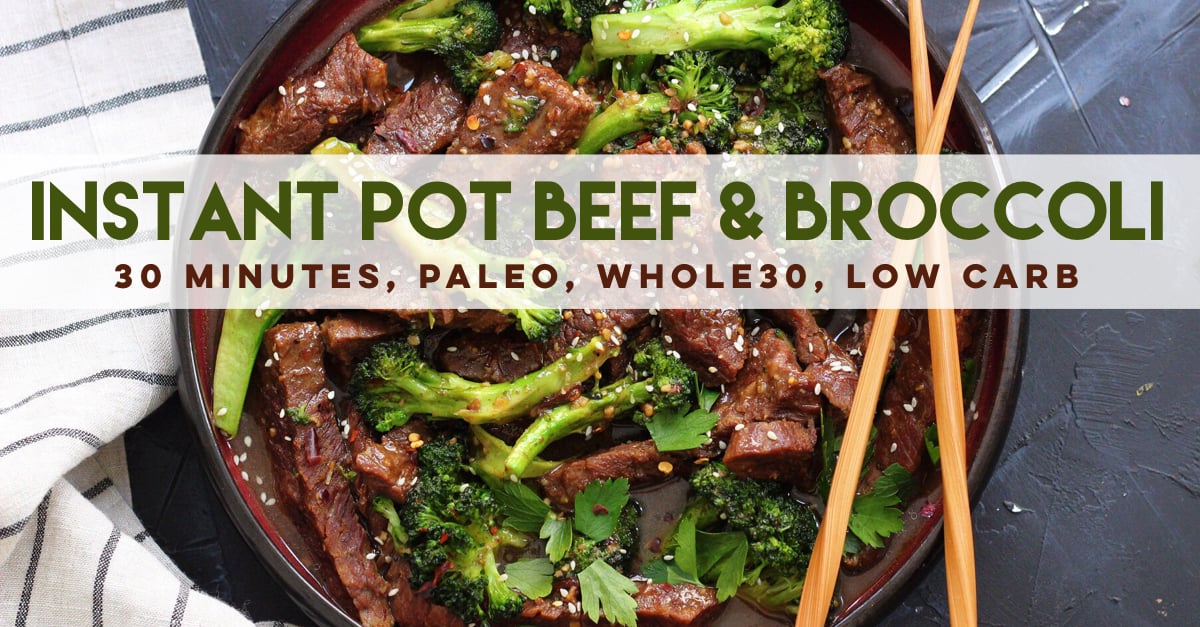 This post may contain some links that are affiliate links, though products are ones I use personally and recommend. When you purchase anything using my links, it costs you absolutely nothing extra, but it does give wholekitchensink.com a little financial support which helps to keep this blog running. Thank you for your continued support, both with your dollars and your interest.