I arrived a little late to the everything but the bagel sesame seasoning party. Now that I'm here though, I can't stop using it on, well, everything but bagels. I'm okay with that, because these everything bagel chicken wings are even better than bagels. If you don't have the seasoning, or have never heard of it, don't worry! I'll show you how to make easily make it. These wings are Paleo, Whole30 and low carb, and baked instead of fried!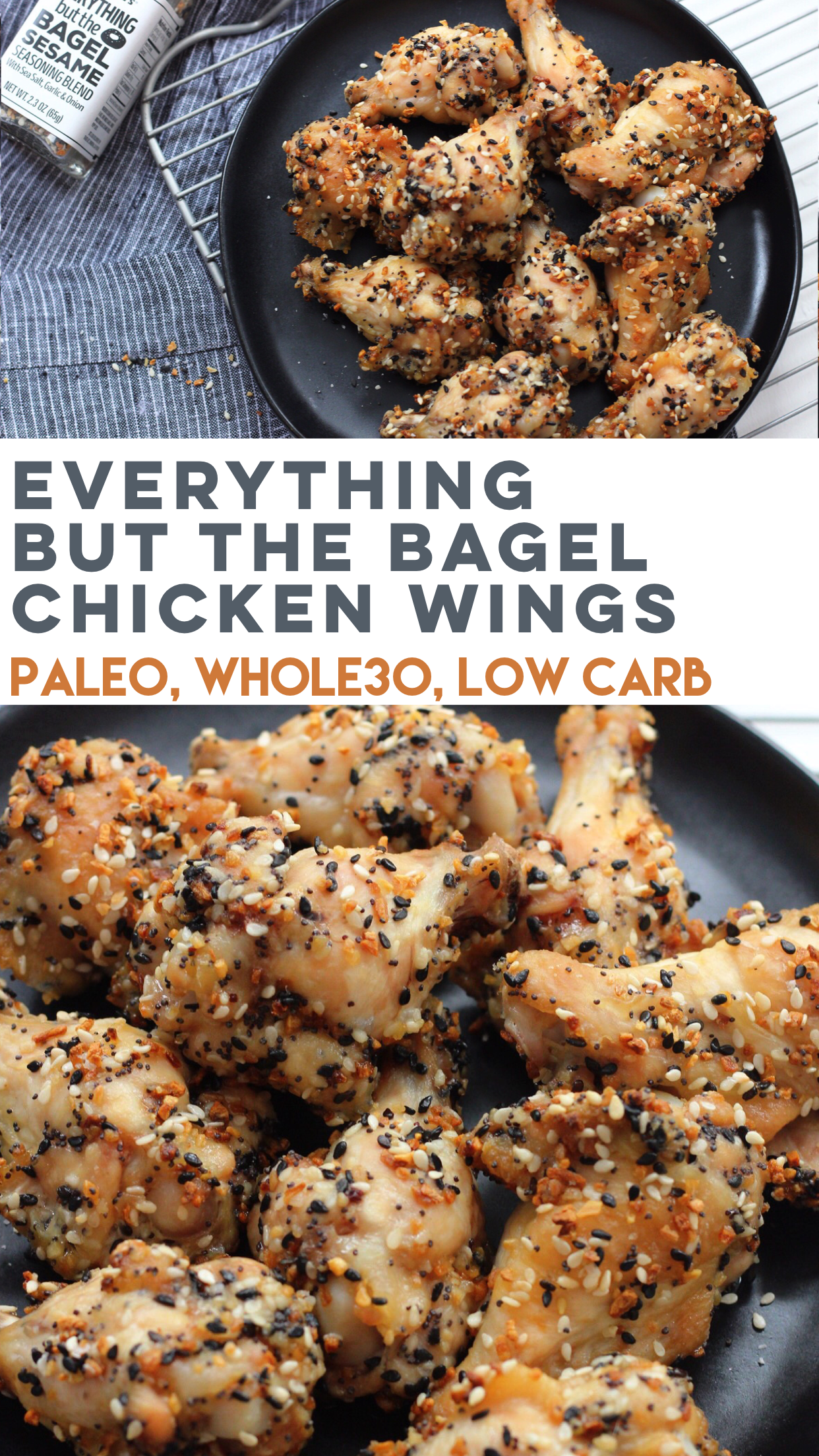 Everything but the bagel seasoning is readily available at Trader Joe's. You can get it on Amazon, but I wouldn't recommend it. It's about 3 times more expensive there as it is in the store. If you don't have any, no need to rush out and get some. The copycat recipe is simple and made with common pantry ingredients and you'll still have tasty everything bagel chicken wings!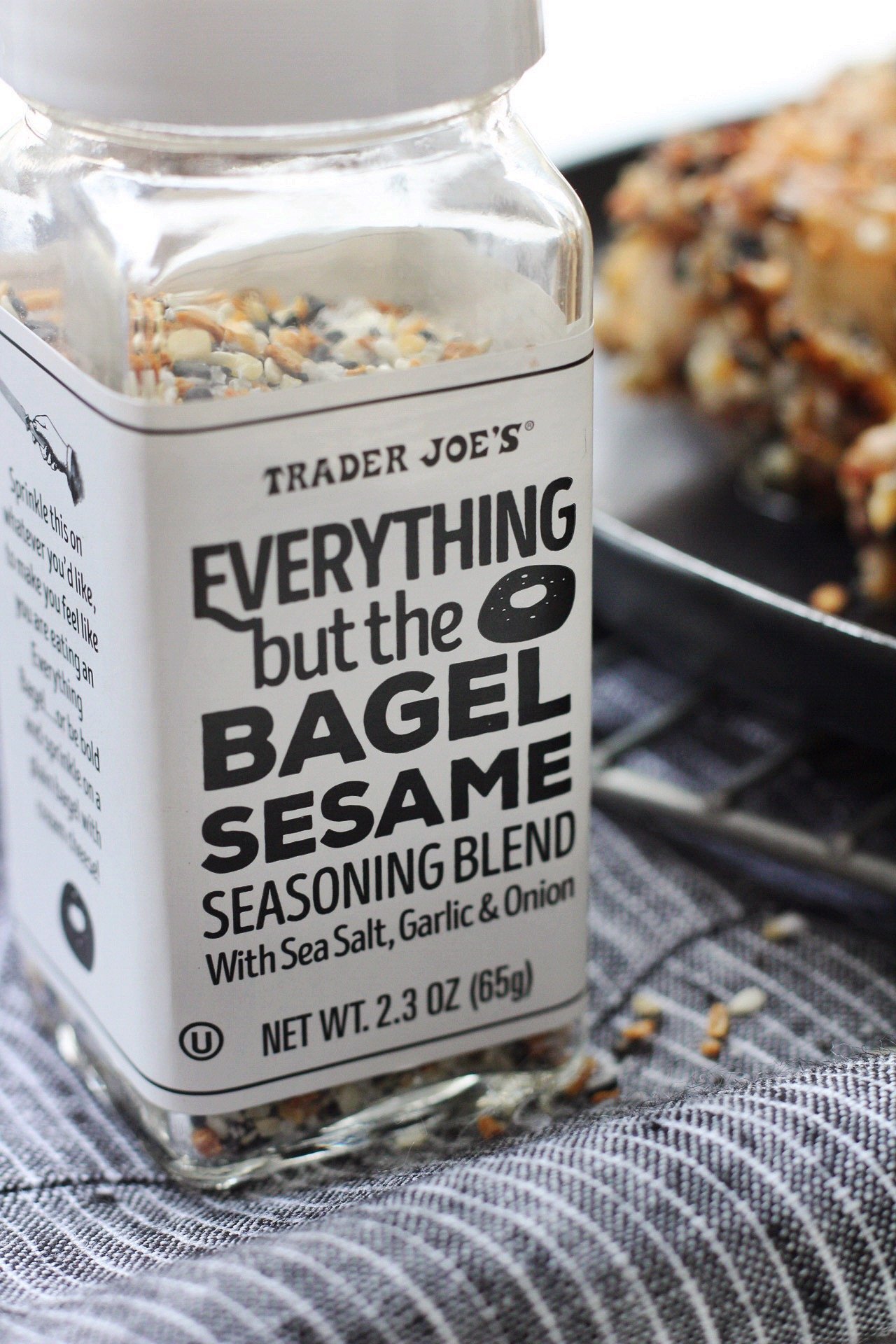 I've made these everything bagel chicken wings before by skipping the sauce coating and just using the seasoning and oil. This is totally delicious as well, but I would take the extra step to coat with the mayo and dijon. These will give them a nice brown skin and something for the seasoning to stick to in the oven while they bake.
Both the mayo and the mustard are much less expensive on Thrive Market!
These everything bagel chicken wings are a huge hit with everyone who eats them. They're a perfect family friendly recipe, game day snack or a change of pace from your go-to wing recipe!
You may know by now I'm quite the chicken wing enthusiast. I used to LOVE getting wings all the time when I was out to eat. But now that I know what's in those ones, and I've gotten to experiment and make so many awesome DIY chicken wing recipes, I prefer the at-home versions instead! You'll be surprised at how easy they are to make!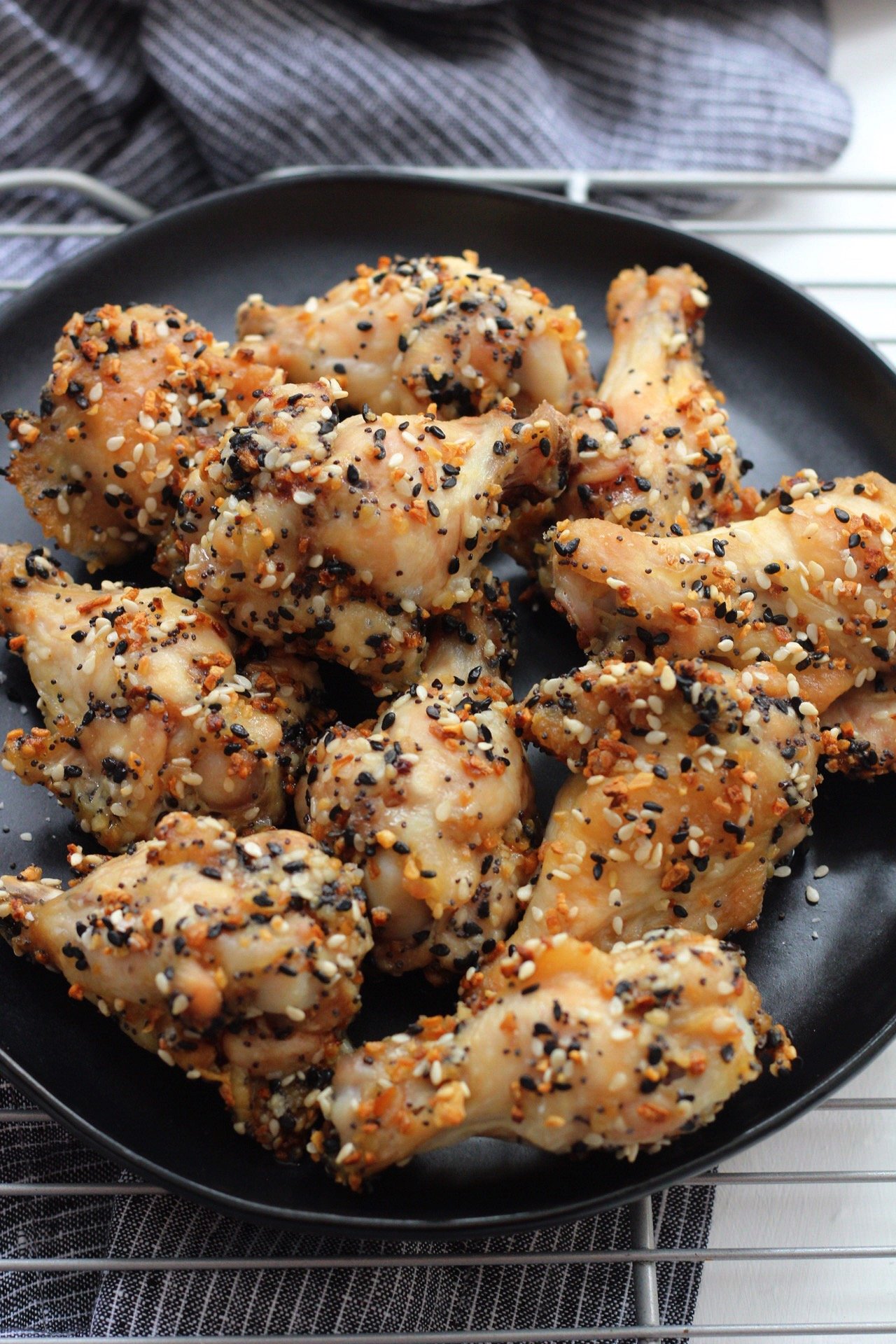 My Favorite Healthy Wing Recipes: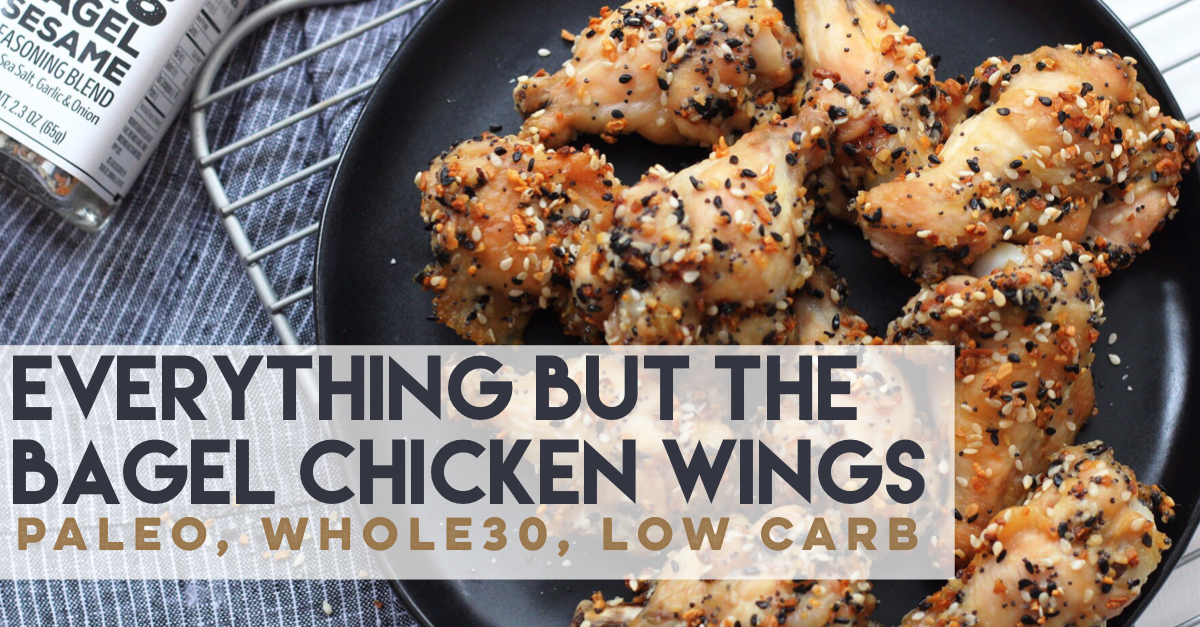 Print
Everything But The Bagel Chicken Wings: Paleo, Whole30 and Low Carb
Prep Time: 5 minutes
Cook Time: 40 minutes
Total Time: 45 minutes
Yield: 4 1x
Category: appetizer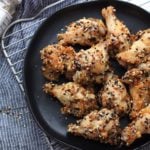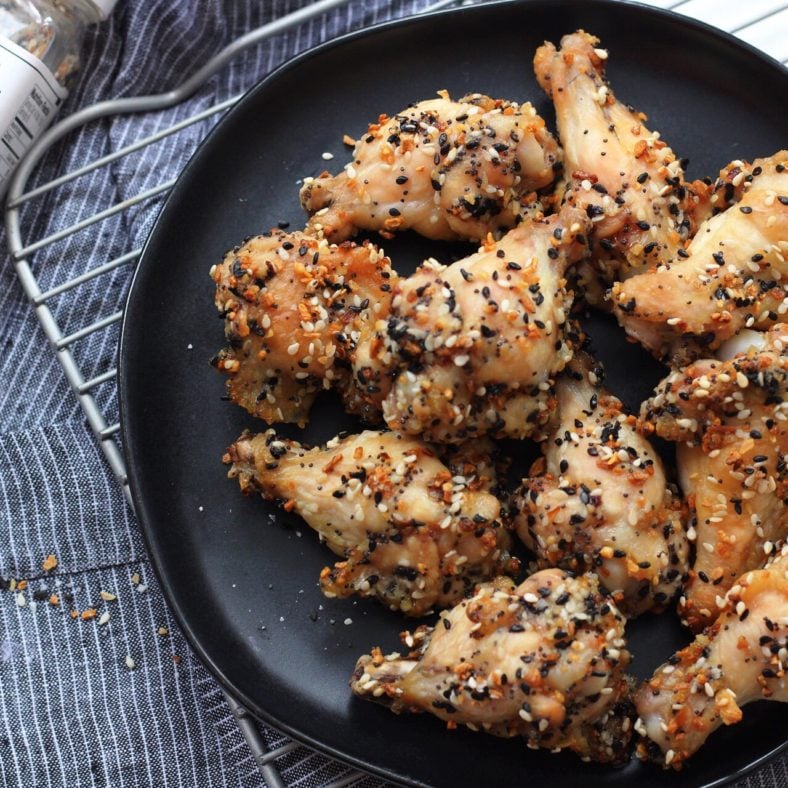 Ingredients
2 pounds chicken wings
2 tablespoons mayo
2 tablespoon dijon mustard
1 tablespoon honey, omit for Whole30
1 tablespoon olive oil
4–5 tablespoons Everything But the Bagel Seasoning
OR:
2 tablespoons dried minced garlic
1 tablespoon black sesame seeds
1 tablespoon white sesame seeds
1 tablespoon dried minced onion
1/2 tablespoon poppy seeds
1/2 teaspoon salt
1/4 teaspoon pepper
Instructions
Preheat oven to 400 degrees F.
Place an oven safe baking/cooling rack on top of a baking sheet to allow fat to drip off during baking
Mix mayo, mustard, oil and honey (if including) into a small bowl
Once combined, add to a larger bowl with chicken wings and use hands to evenly coat
Toss or roll wings in Everything but the Bagel seasoning
Place wings on the rack, or directly on baking sheet if desired, evenly spaced
Sprinkle any additional Everything but the Bagel seasoning over wings if desired
Bake for 40 minutes, flipping halfway through
Note: depending on the size of the wings, baking time may differ and additional time may be needed
Nutrition Facts:
Calories: 478
Sugar: 4
Fat: 32
Carbohydrates: 14
Protein: 33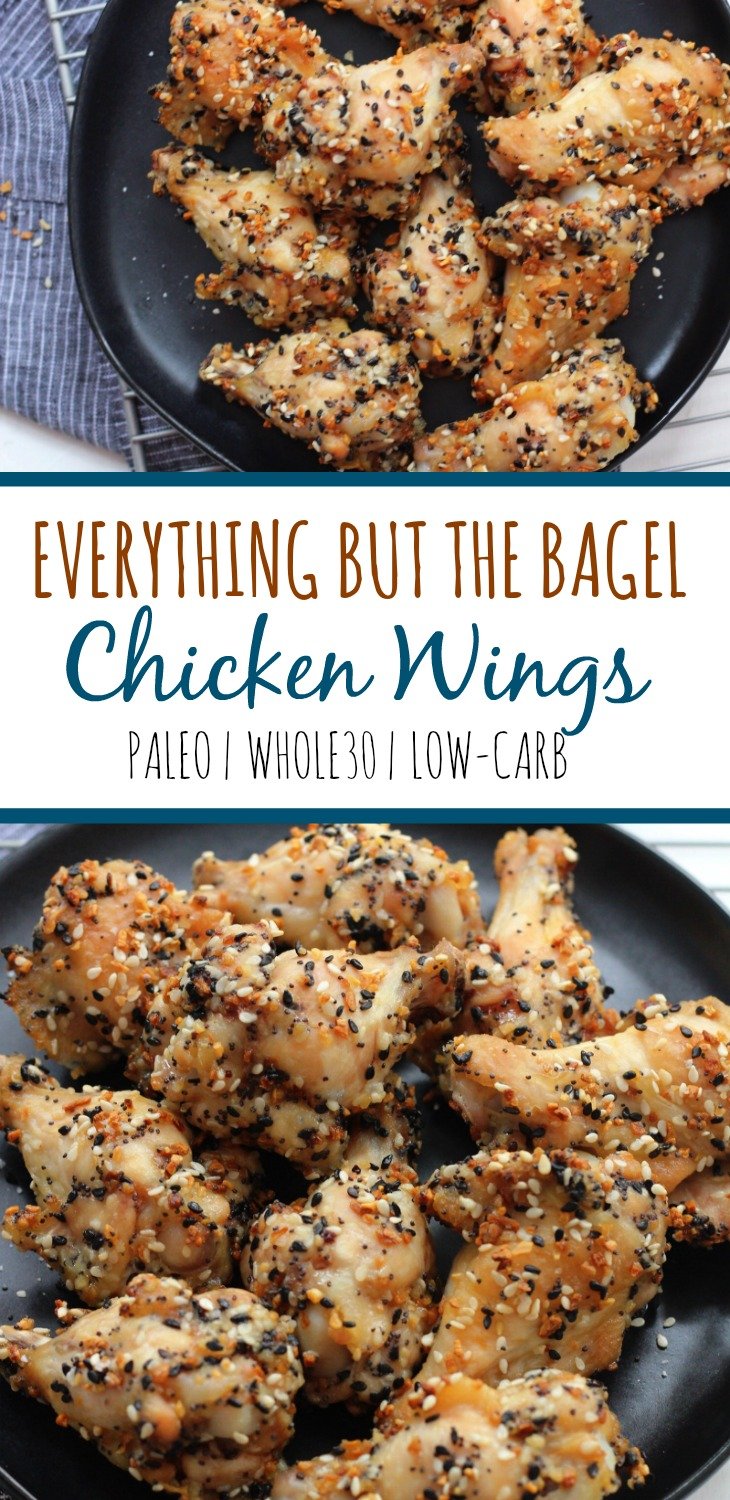 This post may contain some links that are affiliate links, though products are ones I use personally and recommend. When you purchase anything using my links, it costs you absolutely nothing extra, but it does give wholekitchensink.com a little financial support which helps to keep this blog running. Thank you for your continued support, both with your dollars and your interest.