Okay, so the title of this recipe says lunch, but these chorizo burrito bowls are awesome for any time of day. I'm obsessed with all things taco-ish. Taco salads, taco bakes, taco soups and this version of a burrito bowl is up there in that category too! I'm not sure if it's the ease of throwing something like this together, the versatility you can get with each meal or all the flavor it packs. Maybe it's the combination of all of those things! Either way, this bowl is a total favorite for me.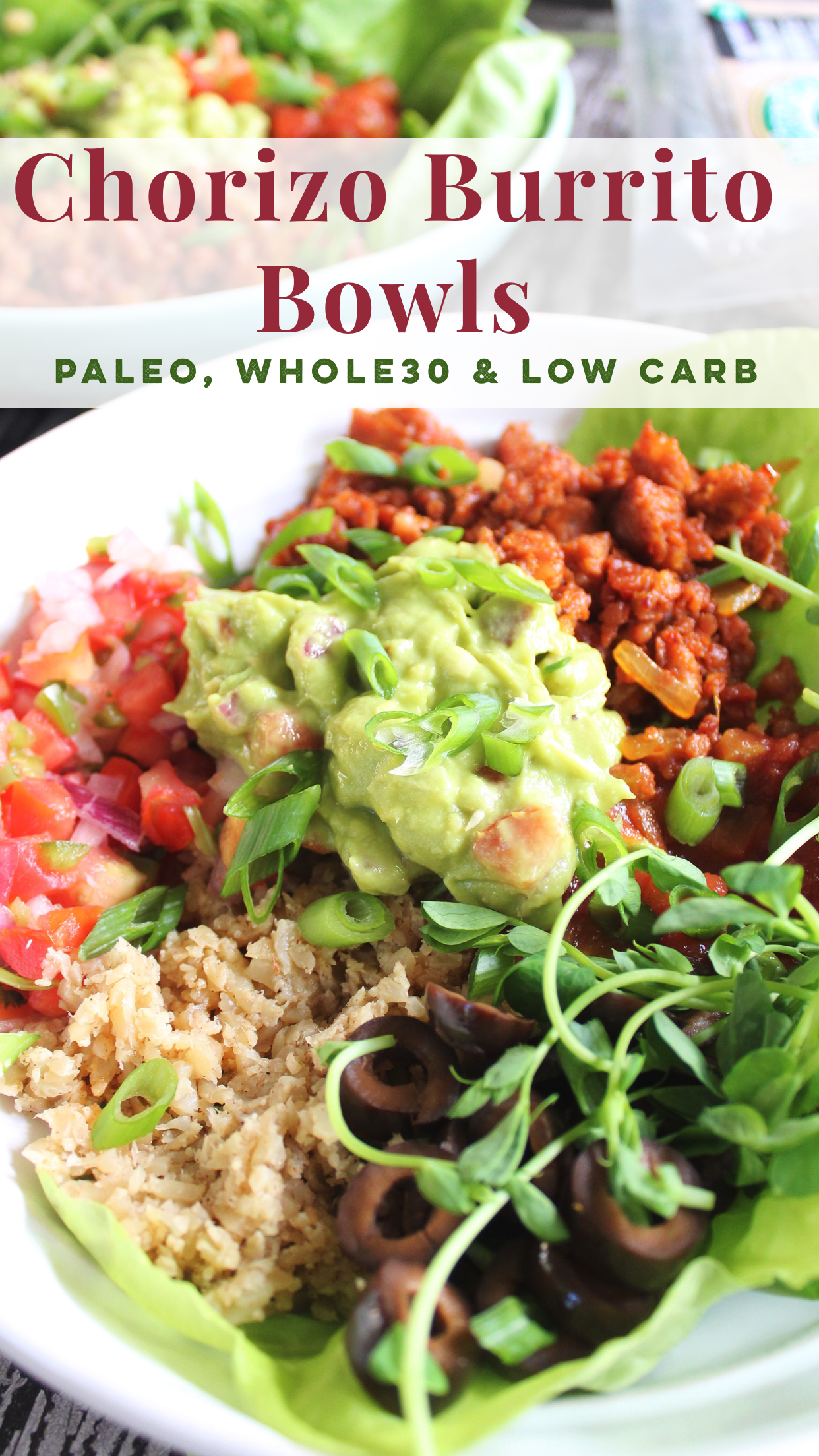 A quick note to make about chorizo. It's not all created equally. If you're just trying to eat healthy, you have a little more leeway with the type of chorizo you can purchase. If you're eating Paleo or on a Whole30, you'll want to ensure you pick up a package that doesn't have sugar in it. A lot of brands that sell chorizo include sugar in the ingredients because it's a cheap and easy way to add more flavor.
There's a few brands I've seen in stores that sell chorizo with just seasonings and no sugar, so be sure to check the labels! This brand I used here is Pederson's Farms. You can get my favorite Whole30 and Paleo ground chorizo in the Ultimate Whole30 Box on The Simple Grocer. 
A tip on how to get perfect cauliflower rice that isn't watery is to use a nut milk bag! They're so functional, even beyond just making your own nut milk. I always dump cauliflower rice or veggie noodles into it and squeeze all the water out. It does an awesome job at it, plus the veggie rice or noodles always keep their shape.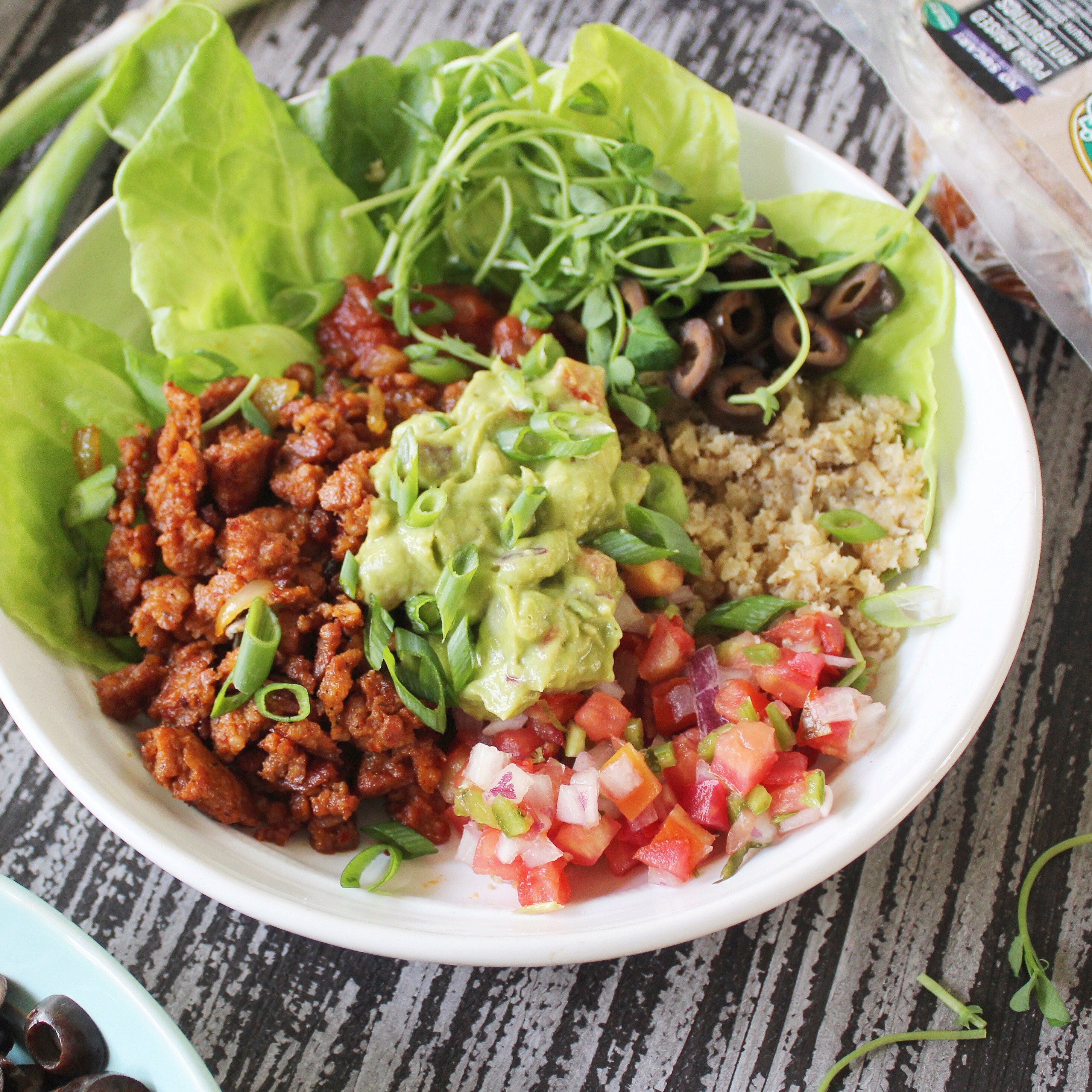 If you get a high quality bag, it'll last you a long time and be durable and sturdy enough to throw in the dishwasher. (Snag it from Amazon). If you've avoided cooking veggie rice or noodles because they're watery, I seriously encourage you to try this method! It's worked every time for me!
If you're always throwing meals together last minute, keep the ingredients around for these chorizo burrito bowls. You'll have a healthy, wholesome meal ready to eat in all of 15 minutes!
Other Meals You'll Love:
Blackened Chicken Chopped Salad
Mexican "Albondigas" Meatball Soup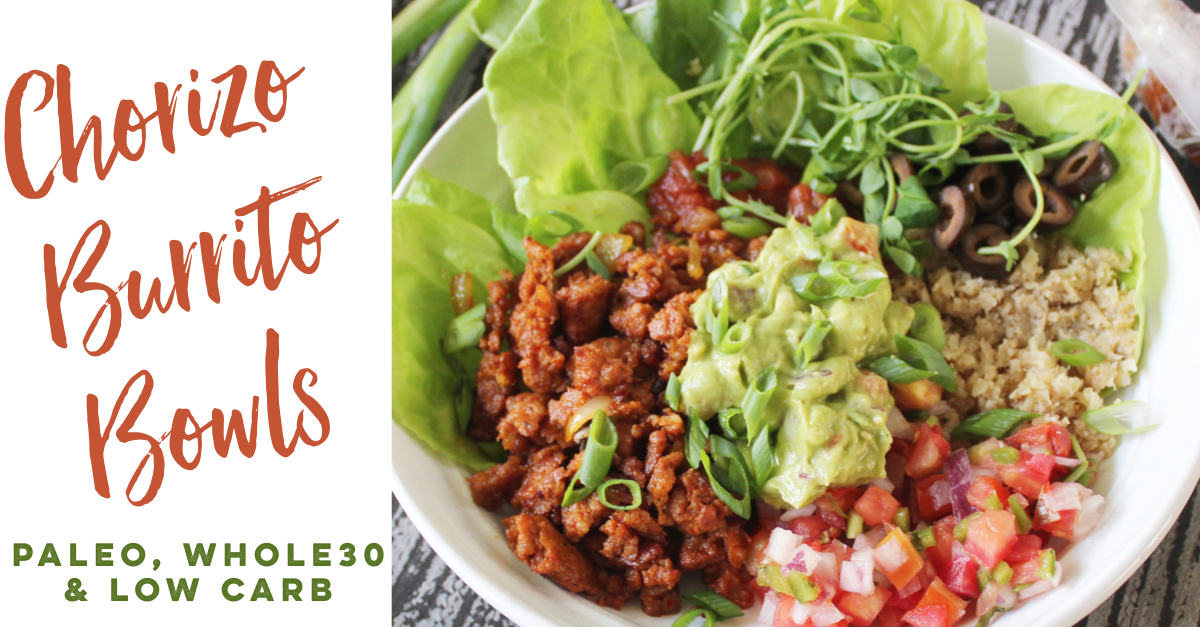 Print
Chorizo Burrito Bowls: Easy, Throw Together Paleo, Whole30 or Low Carb Lunch
Prep Time: 5 minutes
Cook Time: 15 minutes
Total Time: 20 minutes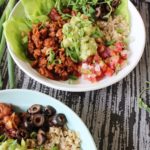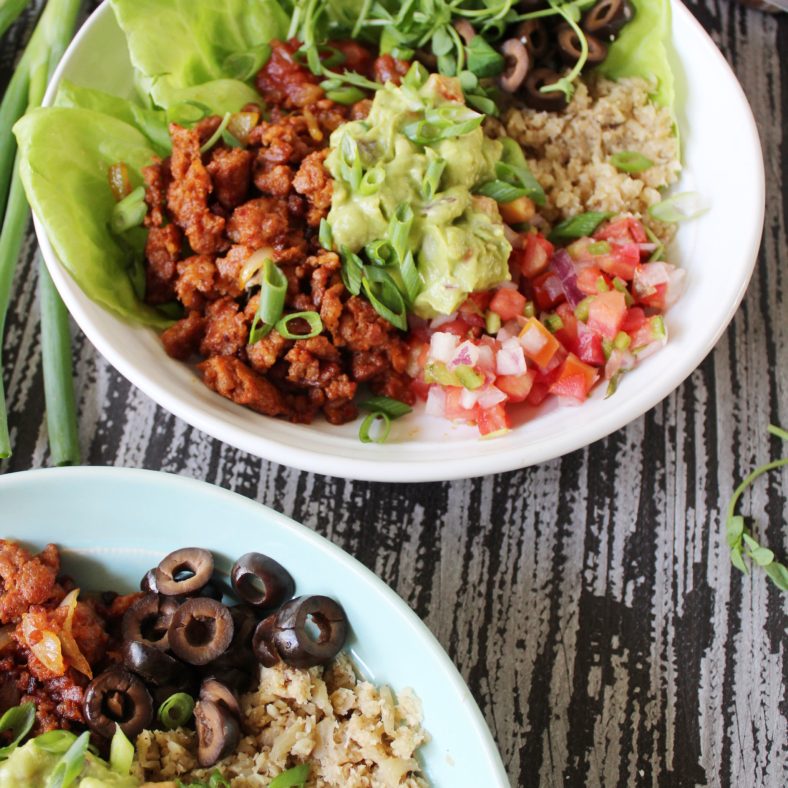 Ingredients
1 pound no sugar added ground chorizo
1/2 white onion, diced
1 bag riced cauliflower (or make your own)
1 small can of sliced black olives
Butterhead lettuce or romaine
1 tablespoon avocado oil
Toppings:
Pico
Guacamole
Salsa
Micro greens
Green onions
Instructions
In a large skillet, heat avocado oil and add in riced cauliflower
Once it becomes translucent, remove from heat and transfer to a nut milk bag (code PALEOBAILEY saves you money!) or strainer
Allow the rice to cool first, and then remove the excess water by squeezing the bag or pressing against the strainer
In the same pan while rice is cooling, brown the chorizo
When the chorizo is beginning to brown, add in the diced onion and combine
While the onion and chorizo is cooking, start assembling your bowl by adding the butterhead lettuce or romaine and the cauliflower rice
Once meat is throughly cooked, place a serving of it in your bowl
Fill the bowl with pico, guacamole, salsa, black olives, micro greens, and green onions – or whatever your favorite toppings are!
This post may contain some links that are affiliate links, though products are ones I use personally and recommend. When you purchase anything using my links, it costs you absolutely nothing extra, but it does give wholekitchensink.com a little financial support which helps to keep this blog running. Thank you for your continued support, both with your dollars and your interest.