This Paleo Mexican albondigas meatball soup came about when my friend Jen, who lives in Southern California, wouldn't stop talking about it. Albondiga in Spanish simply means meatball. I learned that the traditional way this soup was made included adding fresh mint to the meatballs. I was sold. But then I learned that the traditional way also included rice. So I went on a mission to make a version that still held true to the authentic original recipe Jen told me about while keeping it Paleo and Whole30.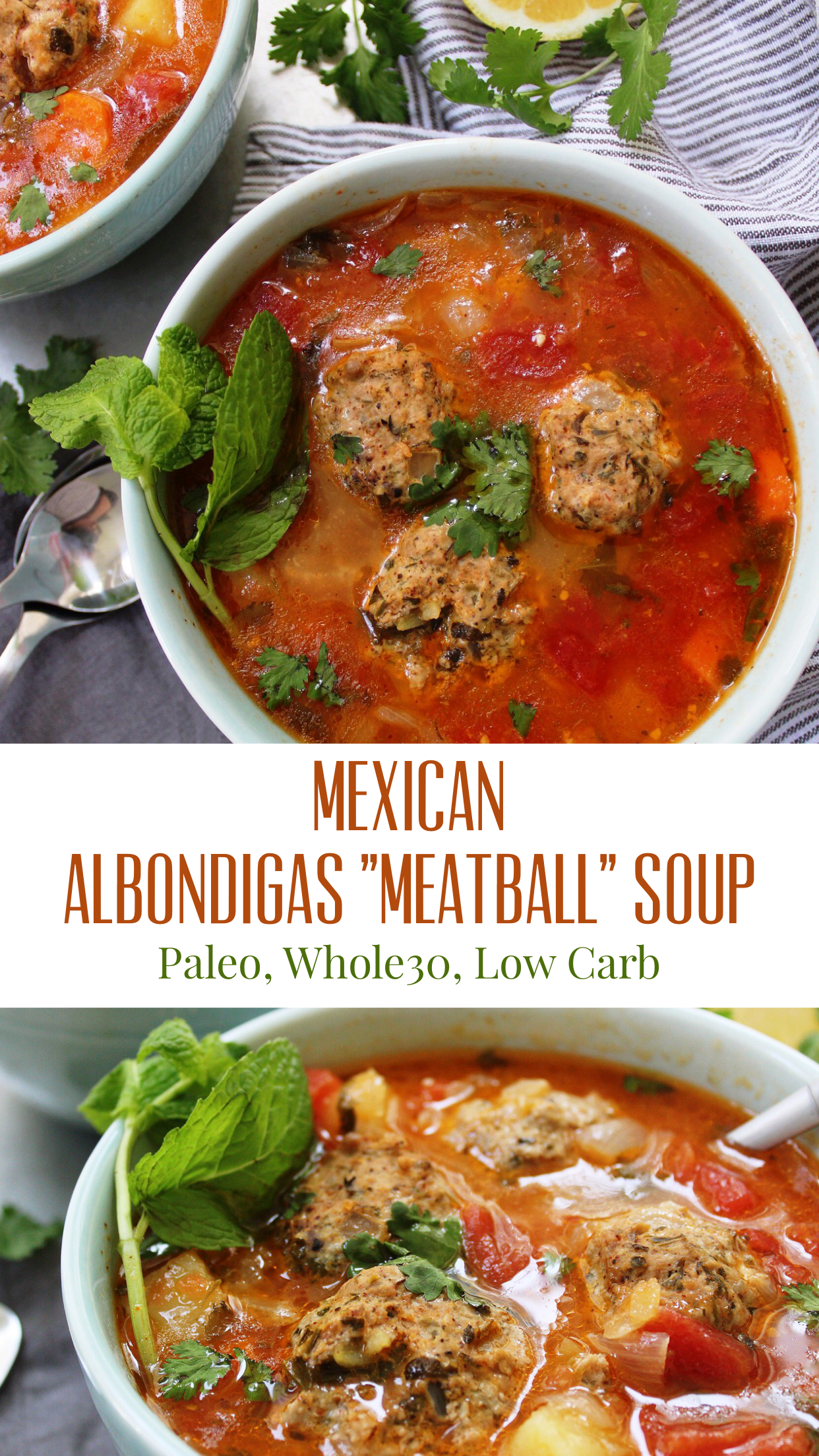 The soup wouldn't have been nearly as hearty if I just excluded rice all together so instead I swapped it for diced potatoes. That makes this soup loaded with veggies – potatoes, carrots, tomatoes and onions.
Even better, swapping the rice makes it grain-free, Paleo and Whole3o compliant!
The meatballs are super easy to make. Not that it should surprise you by now, what with me cooking just about everything the easiest way possible. You'll just combine everything together, roll into balls and plop them into the soup. No extra baking or any of that mess. I used fresh parsley and fresh mint in the meatballs, but if you wanted to save a few bucks you could easily use dried parsley instead. Totally not a big deal. I do recommend doing the fresh mint because it adds such awesome flavor to the meat.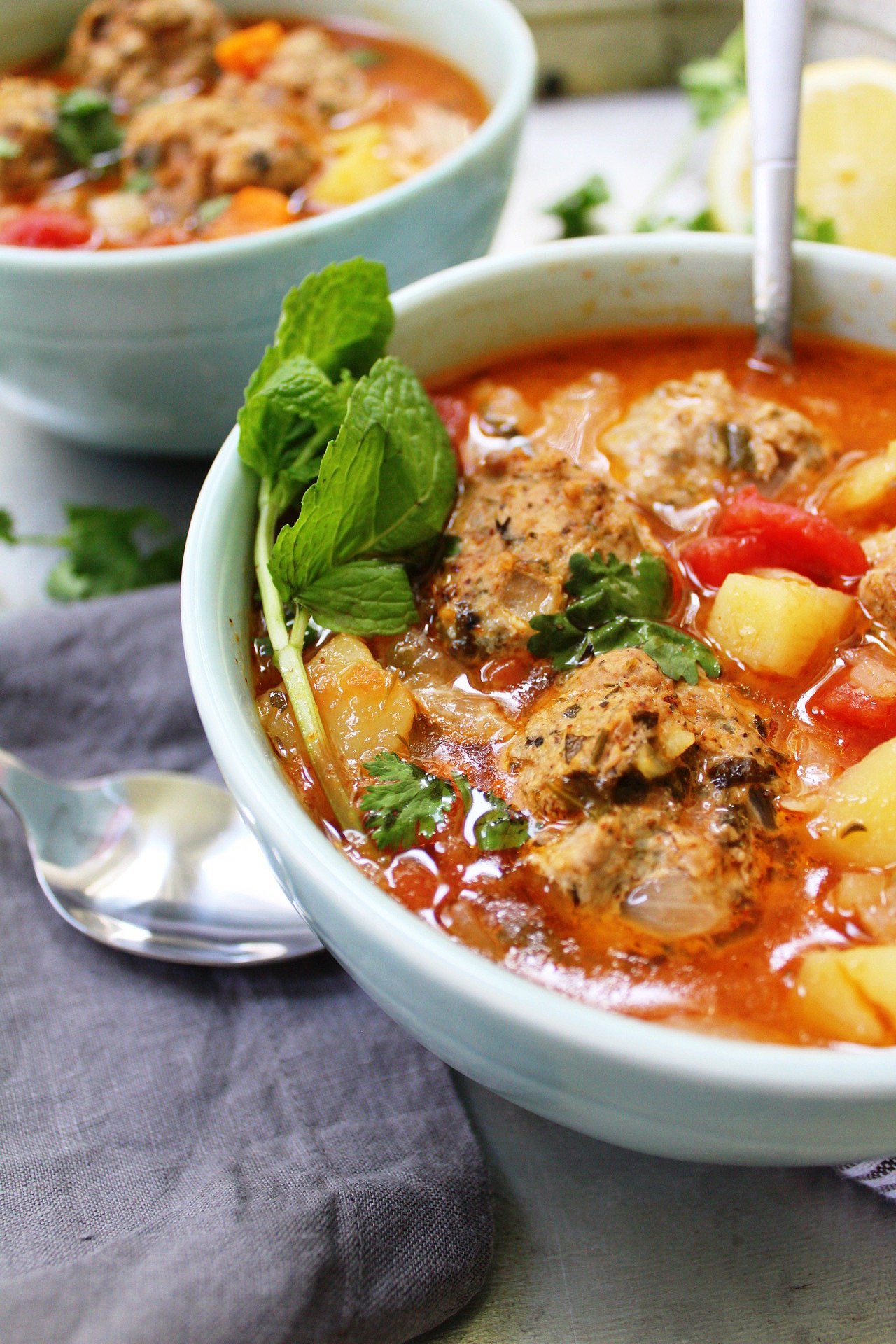 Also, I used baby blonde potatoes because of their creamy, buttery flavor. No worries though! A regular white potato would work just fine as well. This Mexican albondigas meatball soup is jam packed with flavors so you won't be missing any, no matter what kind of potato you use!
Being the soup obsessed person that I am, I'm really critical of which soups are really that good. This soup was a little different than most of the soups I usually make for myself but I'm so happy with how it turned out! It was fun to try something new and play around with it. It was even better that I got to eat it for the next few days!
Other Paleo soup recipes you might like:
Chicken Taco Soup: Slow Cooker & Instant Pot
Slow Cooker Italian Tomato Chicken Soup
Potato and Bacon Chowder: Slow Cooker & Instant Pot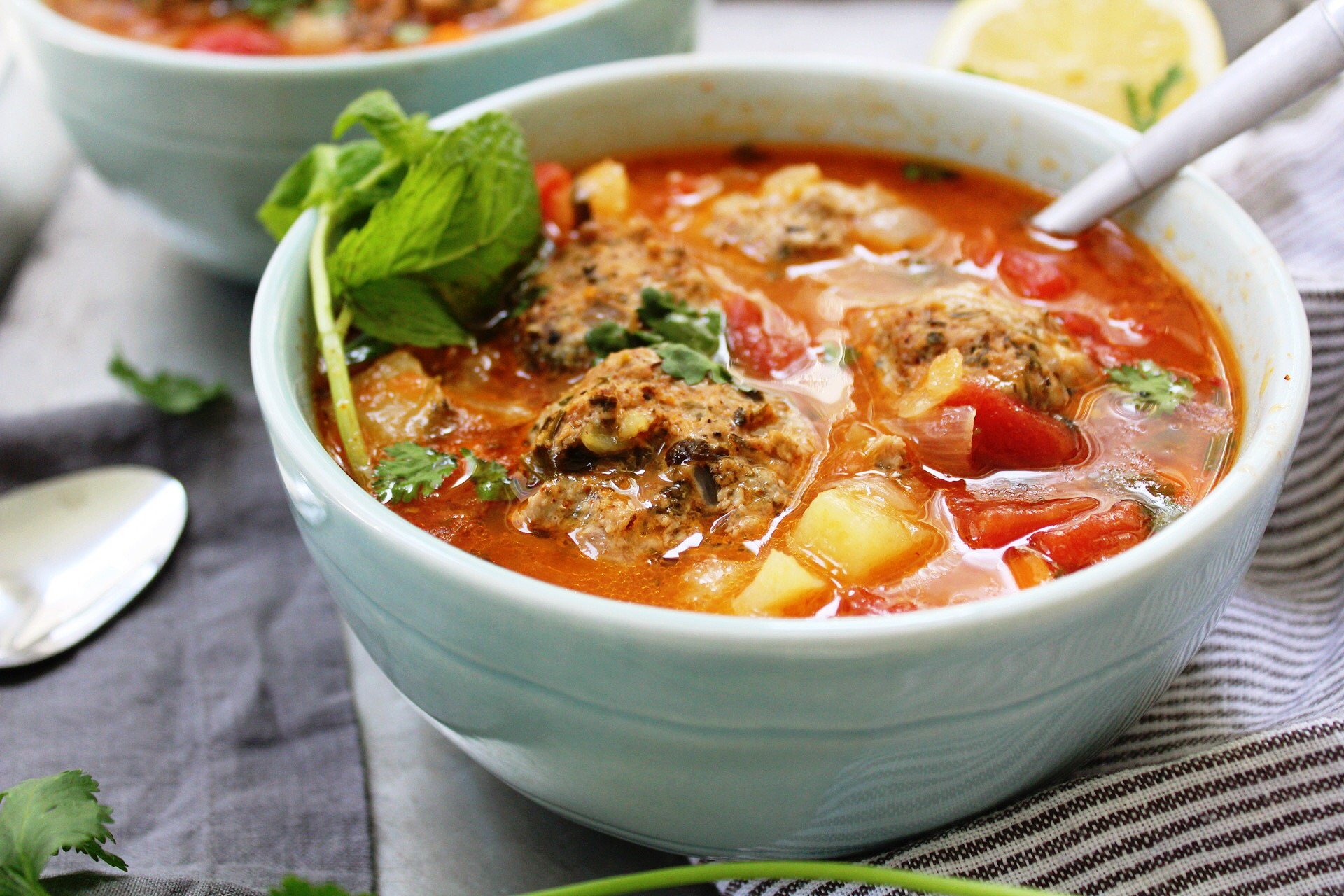 Print
Mexican Albondigas "Meatball" Soup
Prep Time: 15 minutes
Cook Time: 20 minutes
Total Time: 35 minutes
Yield: Serves 4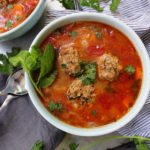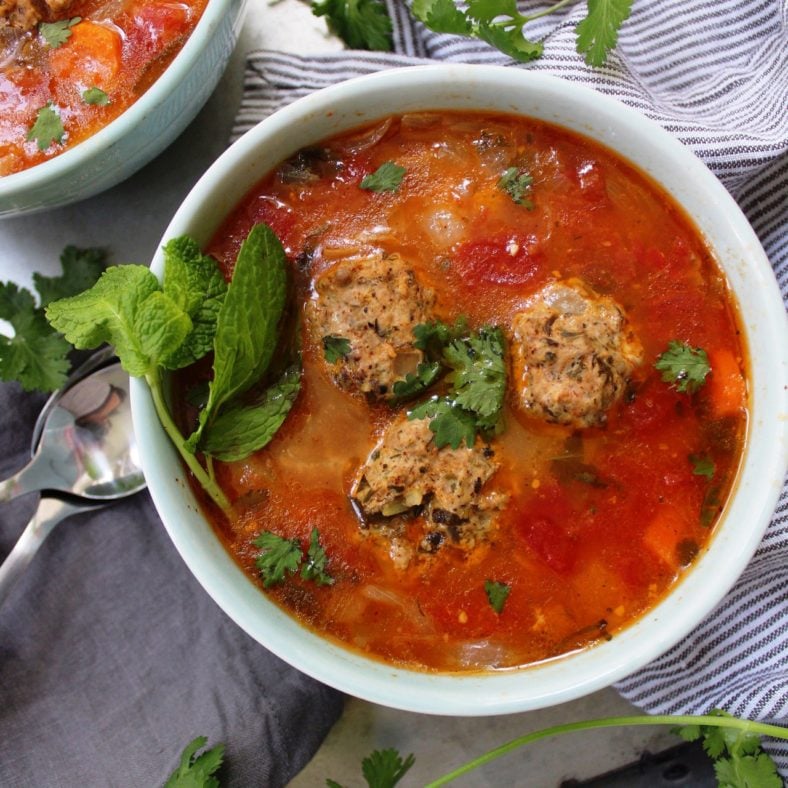 Ingredients
For the Meatballs:
1 pound ground sausage
1 egg, beaten
1/2 large white onion, diced
2 tablespoons dried oregano
1/4 cup fresh mint, chopped
1/4 cup fresh parsley, chopped
1 tablespoon minced garlic
1 teaspoon cumin
1/2 teaspoon chili powder
1/8 teaspoon salt
1/8 teaspoon pepper
For the Soup:
1/2 large white onion, diced
5 baby blonde potatoes, peeled and diced OR 2 large potatoes, peeled and diced
1 large carrot, peeled and diced
3 cups beef broth
3 cups water
1 14 ounce can of diced tomatoes with liquid
2 tablespoons minced garlic
2 tablespoons olive oil
1/8 tablespoon cayenne pepper
Juice from 1/2 lemon
1/8–1/4 cup fresh chopped cilantro, to taste
Instructions
To Make Meatballs:
Mix all ingredients together
Roll into half dollar sized meatballs
Set aside
For the Soup:
Add olive oil, garlic and onion to a large stock pot over medium heat
Let saute until garlic is fragrant
Add in carrots and potatoes, cooking for 3-4 minutes
Add in all other ingredients except meatballs
Bring to a simmer
Once simmering, turn down heat a touch and add in meatballs
Cover and let cook for 15-20 minutes until meat and veggies are cooked thoroughly
Top with fresh cilantro and enjoy!
Nutrition Facts:
Calories: 589.5
Sugar: 5
Fat: 42
Carbohydrates: 21
Protein: 25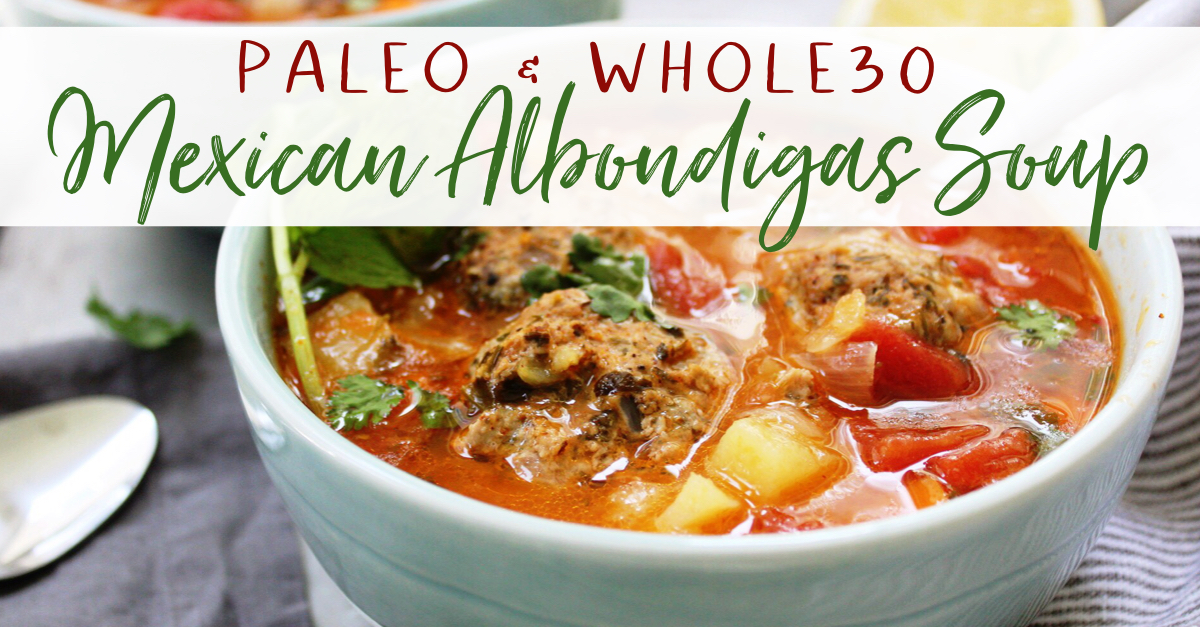 This post may contain some links that are affiliate links, though products are ones I use personally and recommend. When you purchase anything using my links, it costs you absolutely nothing extra, but it does give wholekitchensink.com a little financial support which helps to keep this blog running. Thank you for your continued support, both with your dollars and your interest.