This is one of the easiest and tastiest versions of a Whole30 breakfast skillet. These country potatoes, bacon and eggs make a pretty complete and healthy breakfast in only one pan, making clean up a breeze! This paleo breakfast is a classic, and it's always a hearty, filling go-to everyone will love!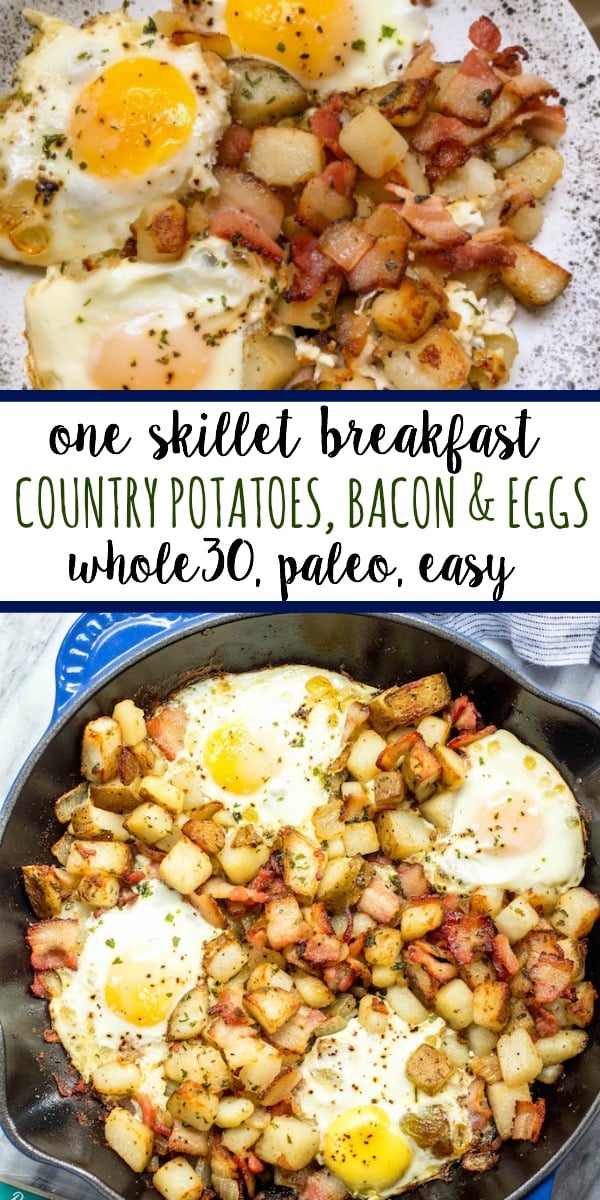 This post is in partnership with Pederson's Farms. I'm happy to bring you a company I love, use and believe in so much! Thanks for your support here on the blog and your support for Pederson's Farms!
An Ode to Breakfast Potatoes
I LOVE this meal. Like, love. Okay, fine, maybe I have a thing for potatoes in all of their forms, but breakfast potatoes just can't be beat. I always start off by cooking the potatoes first, being they take the longest. The trick for the perfect breakfast potatoes cooked in a skillet is to cook them with a combination of ghee and a high quality animal cooking fat, like pasture raised pork lard.
Tallow also works! If you don't have either, that's okay! Using only ghee will yield similar results once mixed with the bacon fat. Olive oil or avocado oil just doesn't get you the tasty breakfast potatoes like using a more flavorful fat. Another thing to make sure to do is season the potatoes while they're cooking, before adding in other ingredients. It makes a difference, trust me.
For homemade slow cooker ghee, check out this recipe!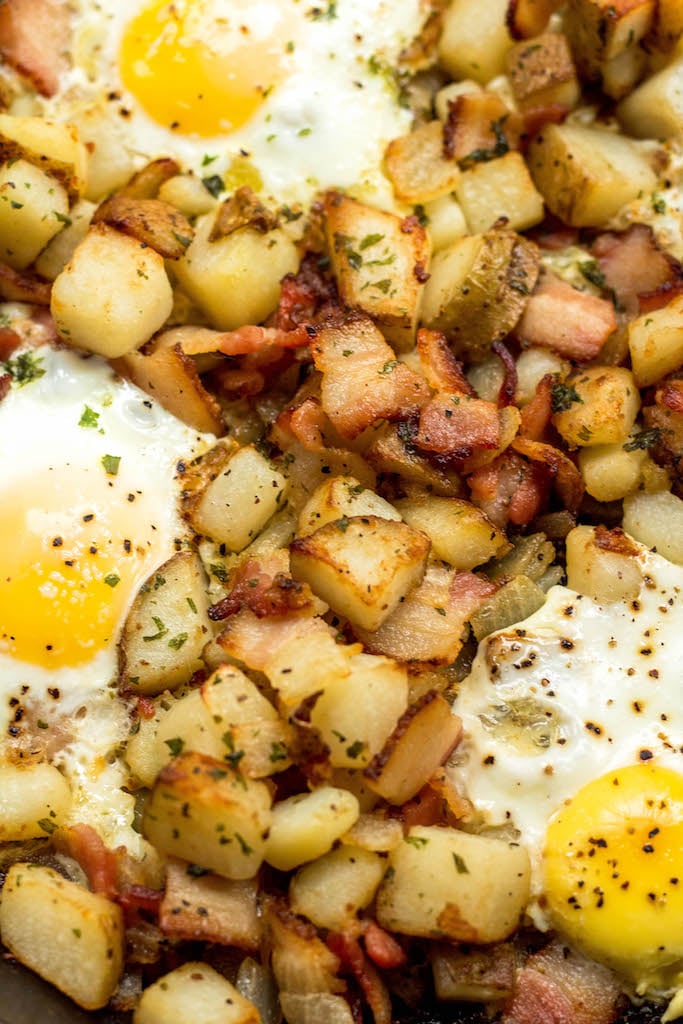 For my breakfast potatoes I use salt, pepper, garlic powder and dried parsley. You can use your favorite herb, but I'd recommend not skipping out on the salt, pepper and garlic powder. I've found (after enjoying many 'a potatoes in my Whole30 breakfast adventures) that using garlic powder over minced garlic is also preferable because it sticks better to the potatoes and for whatever reason gets them a bit more golden and crispy.
Don't Go Bacon My Heart
Sorry, couldn't think of any other bacon puns. Once you forgive me for that one, what you'll want to do is chop up half of a package of bacon into 1/2 inch pieces. Or, ya know, larger or smaller if you so desire. You'll want to make sure you're using a sugar-free, nitrate-free bacon to be Paleo or Whole30 compliant. Bacon is a REALLY sneaky source of sugar, MSG, nitrates and other less-than-idea additives.
My favorite bacon, Whole30 or NOT on a Whole30, is from Pederson's Farms. They're a Whole30 Approved brand, and frankly, the pork products they offer are some of the highest quality and best tasting stuff you're going to find. I've been opting for this bacon for years now, and like I mentioned, even when I'm not doing a Whole30. Once you know how good it is, you'll know what I mean. Plus, my opinion on it is that if a sugar-free, healthier option exists, why go back to a commercially raised, additive and sugar laden bacon at all?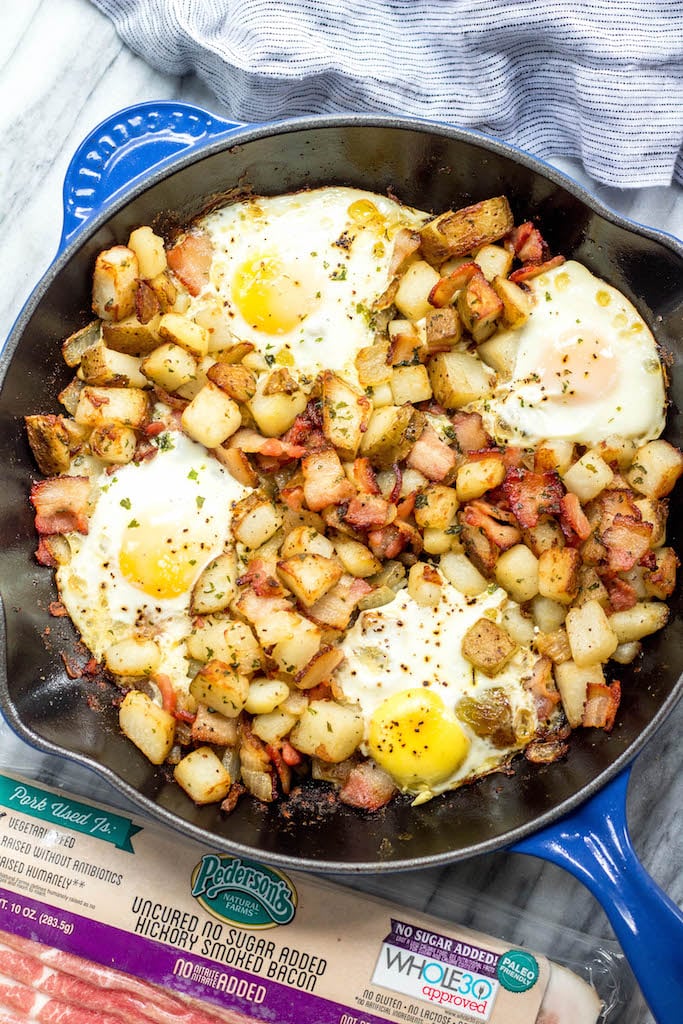 Even my bacon-loving boyfriend prefers Pederson's because, seriously, it's just better stuff! It's widely available nowadays, much more so than it used to be, anyway. You can now grab Pederson's Bacon in many grocery stores like Fresh Thyme, Sprouts, select Super Targets, Ralphs, Whole Foods (under the name Nature's Rancher), and more.
However, my go-to option is ordering online from Simple Grocer, where you're going to get a bunch of quality, sugar free, Whole30 Approved pork products at a cheaper price and free shipping. My other top favorites from Pederson's is the kielbasa, ham (both spiral and deli slices), and ground chorizo. All four of those types of meats are so hard to find in stores that are sugar free, paleo and Whole30, so I always stock up.
Toss er' in the Oven
You'll need to use a cast iron skillet for this Whole30 breakfast skillet being we're transferring it to the oven for the final few minutes, or a skillet that you have that can go into the oven. My favorite is from Le Creuset (you can get them online, but I recommend checking for an outlet store near, you which is where I always get them!), or a cheaper but still solid option is from Lodge.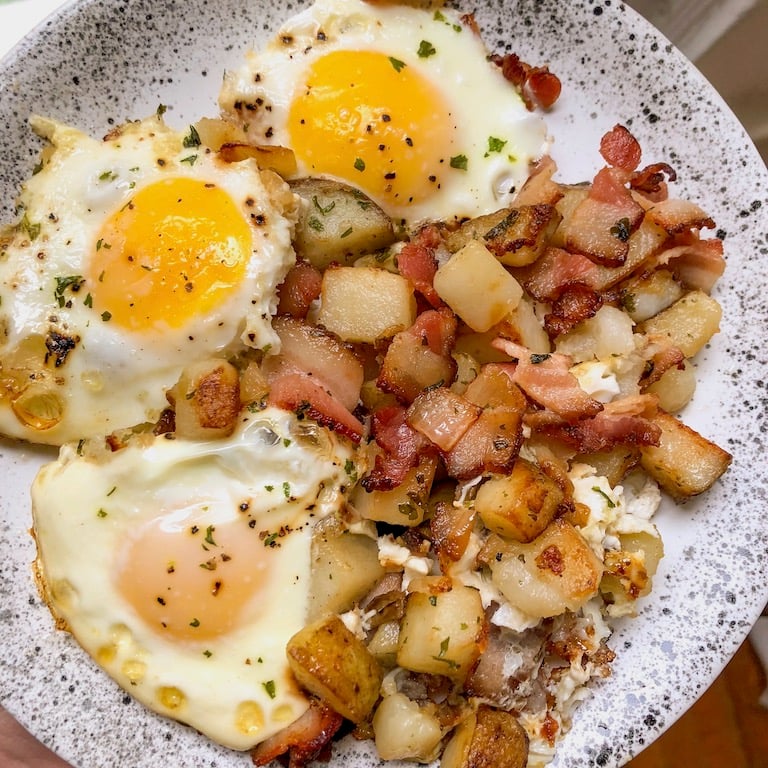 Alternatively, you don't have to finish the Whole30 breakfast skillet in the oven. You can let the eggs set and cook them in the skillet on the stovetop, or use a different skillet to cook the eggs if you want the done a different way. Another option would even be to scramble them right in with the potatoes and bacon. You're the boss! If you're not going to go the oven route, just make sure the potatoes are fully cooked before you add in the eggs!
If you want to switch it up even more, you can add additional vegetables in as the potatoes soften. Some of my favorites are green and red peppers, leeks, diced tomato, Brussels sprouts, or mushrooms. Kale or spinach is also a great addition, but should be added right before the eggs are being they don't take much time to wilt.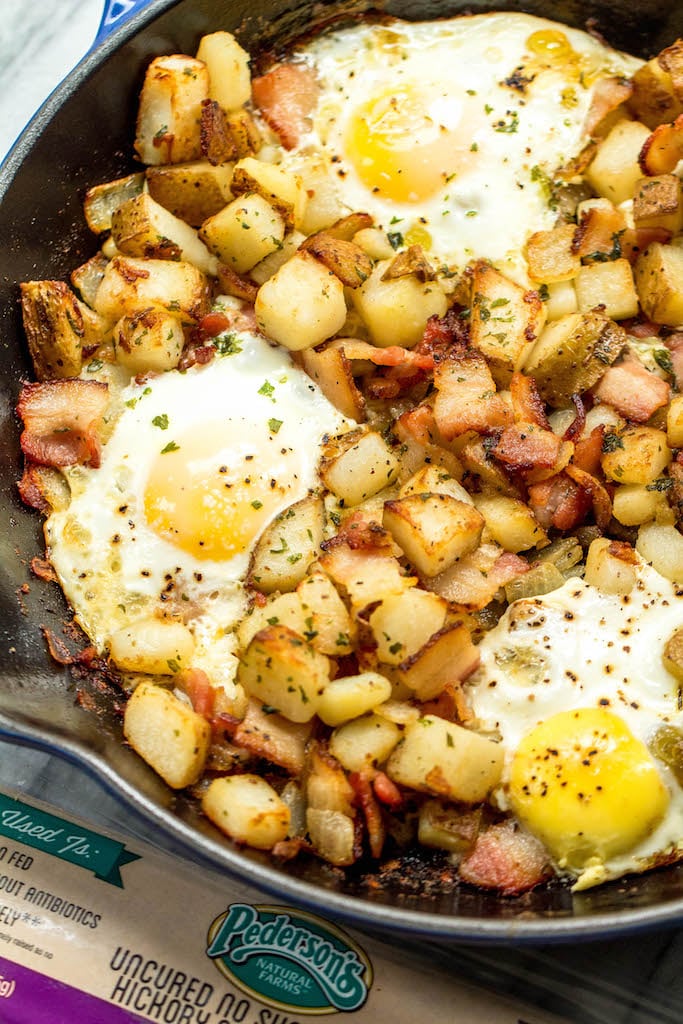 Other Easy Recipes with Bacon You'll Love:
Bacon and Veggie Egg-Free Whole30 Breakfast Skillet
Whole30 Potato and Bacon Chowder (Instant Pot & Slow Cooker)
Instant Pot Bacon Wrapped Pork Tenderloin
Print
Country Potatoes, Bacon & Eggs Whole30 Breakfast Skillet (Paleo, GF)
This is one of the easiest and tastiest Whole30 breakfast skillets. These country potatoes, bacon and eggs make a hearty and healthy breakfast in only one pan. A quick meal to both cook and clean up!
Author:
Prep Time: 10
Cook Time: 25
Total Time: 35 minutes
Yield: Serves 2-4 1x
Category: Breakfast
Method: Skillet
Cuisine: American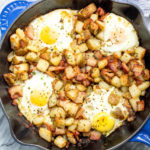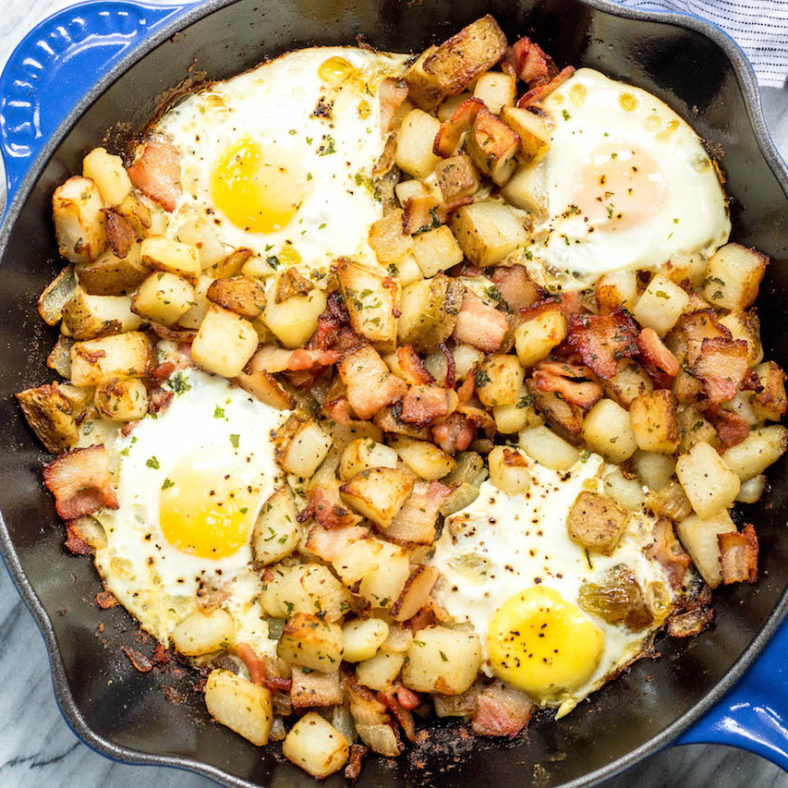 Ingredients
2 tablespoons ghee
1 tablespoon pasture raised animal cooking fat – lard or tallow (omit if you don't have it, substitute for ghee)
4 cups golden Yukon potatoes (or baby reds) diced in approximately the same size for even cooking time
3/4 cup diced white onion (about 1 small/medium onion)
1/2 package of Pederson's Farm's no-sugar bacon (5–6 ounces), chopped
4–6 eggs
1/2 teaspoon salt, or to taste
1/4 teaspoon pepper, or to taste
1 teaspoon garlic powder
1 and 1/2 teaspoon dried parsley
Instructions
Preheat oven to 350 degrees F.
Heat large oven safe skillet on medium-high heat and melt ghee and tallow. Once cooking fat is hot, add diced potatoes, season with the spices, and cook for about 5 minutes, stirring occasionally.
Once potatoes have started to soften, add diced onion and cook for another 5-10 minutes until potaotes start browning.
Add bacon and stir for about 5 minutes until bacon is about cooked thoroughly and potatoes are crisping up. Use the spatula or spoon to make open space in the skillet (create wells) for where the eggs will go.
Crack 1 egg into each well, ensuring to not move eggs/yolk around after they've been placed into the skillet. Sprinkle additional salt, pepper or parsley over eggs and place skillet into the oven.
Bake for 6-10 minutes, depending on how you prefer your eggs to be cooked
Remove from oven, top with any additional salt and pepper, parsley, optional green onion or hot sauce
Notes
Double the bacon (full package) if feeding a large crowd
Add additional eggs for more servings
Alternative ways to cook the eggs- in the skillet without transferring to oven, scrambling in the skillet without transferring to the oven, or in a separate skillet while the potatoes and bacon cooks.
Keywords: whole30 breakfast skillet, bacon, whole30 recipes, paleo recipes, paleo breakfast, one skillet meal
Nutrition Facts:
Calories: 245
Sugar: 1
Fat: 18
Carbohydrates: 13
Protein: 10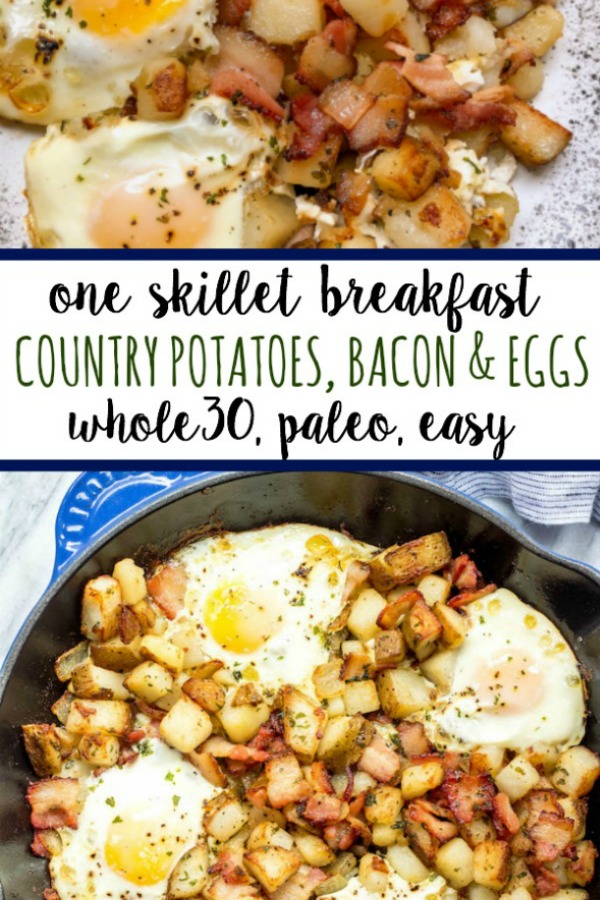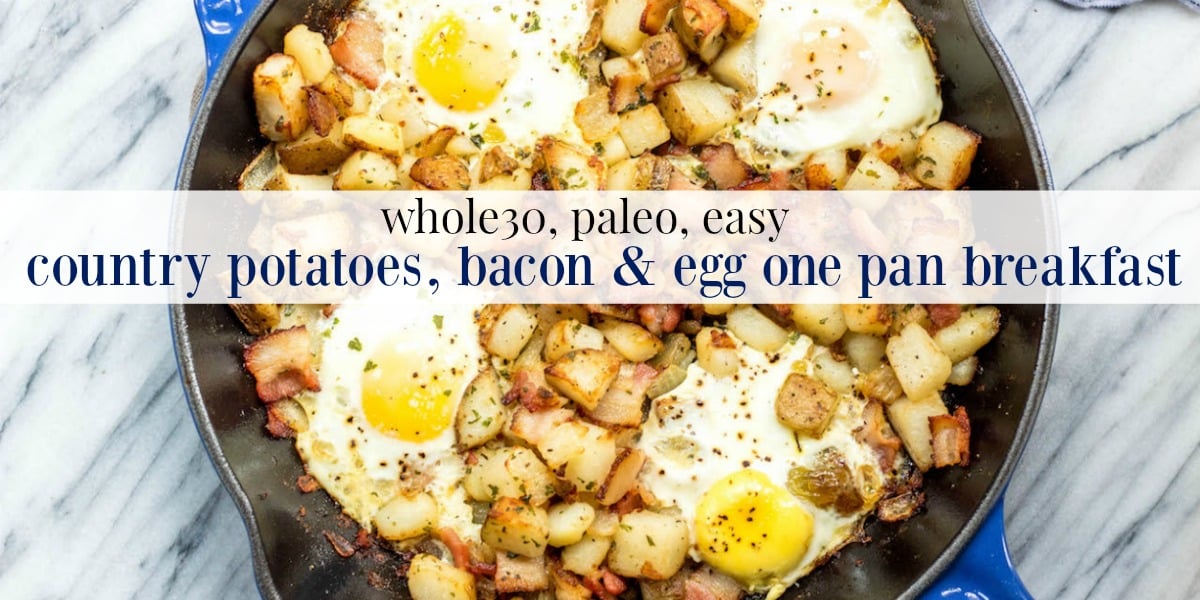 This Whole30 breakfast skillet post may contain some links that are affiliate links, though products are ones I use personally and recommend. When you purchase anything using my links, it costs you absolutely nothing extra, but it does give wholekitchensink.com a little financial support which helps to keep this blog running. Thank you for your continued support, both with your dollars and your interest.