Egg-free Paleo breakfast recipes are my favorite to make. Especially when doing a Whole30 egg-free breakfasts just have to happen at some point for me. They're easy to throw together, quick to cook, and I swear they get better when you have them the day after. What makes me love skillets even more is that they double as a one pan meal. My favorite! This bacon and veggie egg-free Paleo breakfast is no exception. And hey, you can always put an egg on it!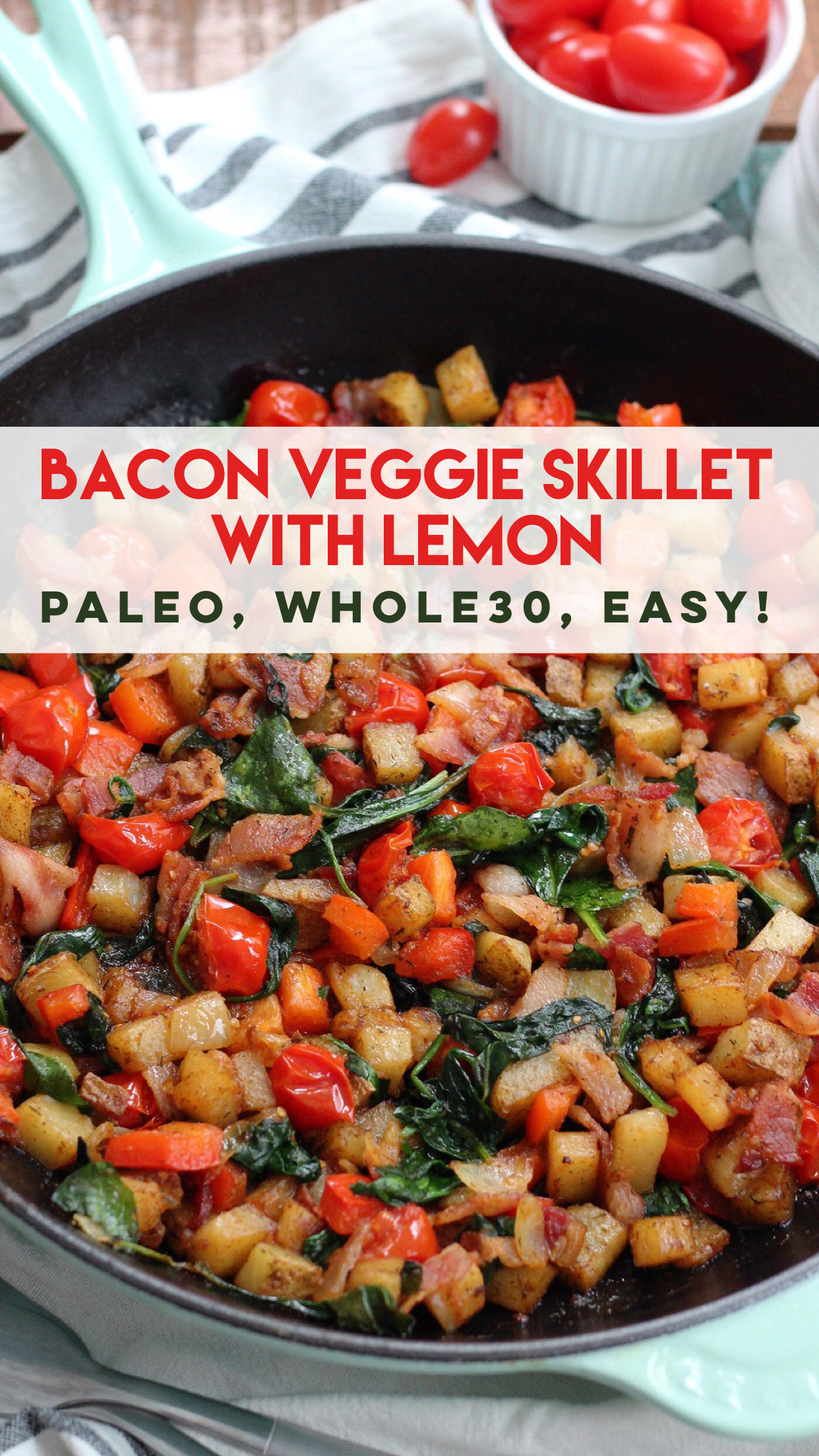 I like to squeeze the juice from half a lemon into this one. It just makes the whole thing taste so fresh and brings all of the flavors together. I know it doesn't sound normal for a breakfast skillet, but just trust me on this one. Try it once. I'm willing to bet you'll love it!
I use red pepper in this skillet most of the time, but I've definitely made it with green pepper too. Red peppers are a bit sweeter, but if all you've got on hand is a green pepper that's starting to look sad in the fridge, go ahead and use that one up!
One of the other awesome things about egg-free Paleo breakfast recipes (aside from the love letter I wrote to them at the top), is that really you can add any veggies you have. Or even any meat you have. I've made this with ground pork, subbed the spinach for broccoli, you name it. It's one of my favorite ways to clean out the fridge and still make an edible meal.
Other Breakfast Skillets You'll Love:
Sausage Breakfast Skillet with Cranberries
When my boyfriend meal preps this Whole30 egg free breakfast, he will throw a hardboiled egg into each individual container. Unlike me, he totally loves eggs and enjoys them every which way. So there's an idea for meal prepping this meal for you. Also, because the breakfast skillet is already made, it would be a good option for busy mornings because frying an egg would only take a few minutes. It would probably even be ready in the time it took to microwave the breakfast skillet for you to throw the egg on top of!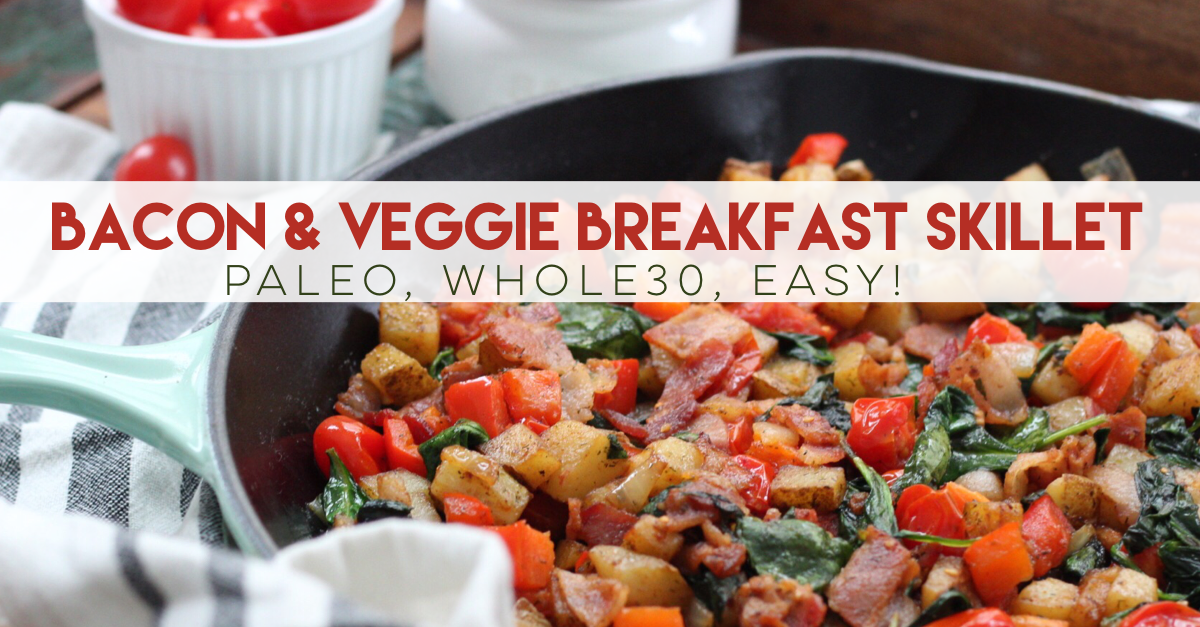 Print
Bacon and Veggie Breakfast Skillet: Paleo, Whole30, Easy Meal Prep
Prep Time: 10 minutes
Cook Time: 15 minutes
Total Time: 25 minutes
Yield: 2-3 1x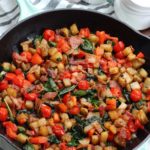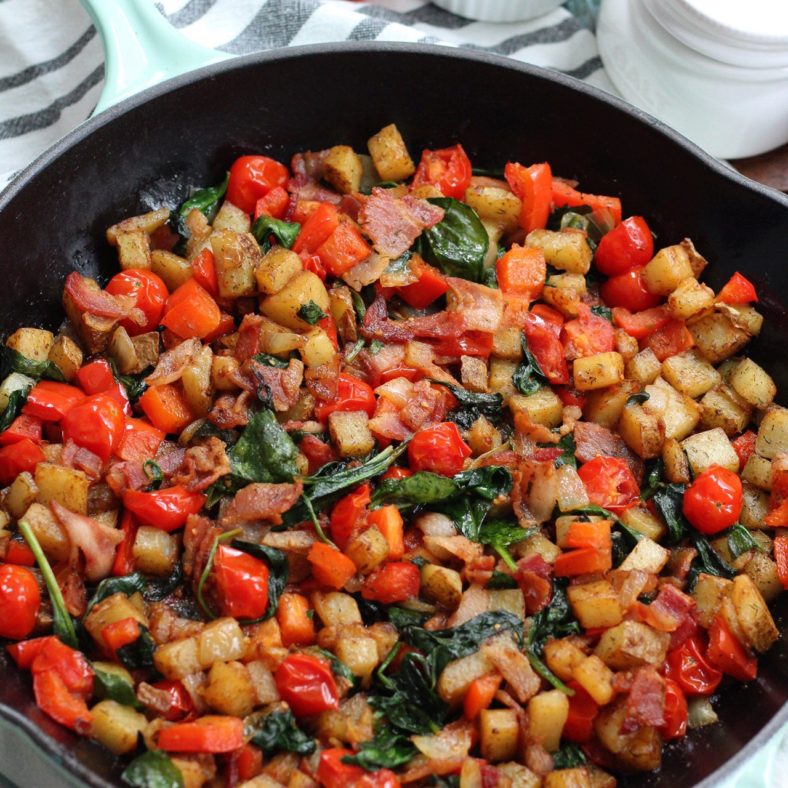 Ingredients
1 package no-sugar bacon (I use Pederson's)
1 large white potato or 3 small/medium red potatoes, diced
1/2 white onion, diced
1 red pepper, diced
1 cup halved cherry tomatoes
2 large handfuls baby spinach
1 tablespoon fresh dill
1/2 tablespoon garlic powder
Salt and pepper to taste
Squeeze of 1/2 lemon
Instructions
In a large pan over medium heat, add bacon and let cook
Remove bacon from skillet, leaving bacon fat and add in potatoes
Once potatoes start softening, add in onion, pepper, dill, salt and pepper
Let cook 3-4 minutes until peppers are tender
Add bacon back in, stirring to combine
Add cherry tomatoes and spinach
Stir and allow spinach to slightly wilt and tomatoes to soften, adding juice of 1/2 lemon into skillet while stirring
Remove from heat and serve!
Nutrition Facts:
Calories: 159
Sugar: 4
Fat: 6
Carbohydrates: 15
Protein: 8
This Whole30 egg free breakfast post may contain some links that are affiliate links, though products are ones I use personally and recommend. When you purchase anything using my links, it costs you absolutely nothing extra, but it does give wholekitchensink.com a little financial support which helps to keep this blog running. Thank you for your continued support, both with your dollars and your interest.