Instant pots are so magical. It turns this Whole30 instant pot pork tenderloin recipe into a juicy, flavorful and bacon wrapped dinner in under a half hour! Who doesn't love bacon?! This family friendly, oh so easy Paleo and Whole30 recipe is a perfect weeknight meal you'll be adding to your recipe rotation!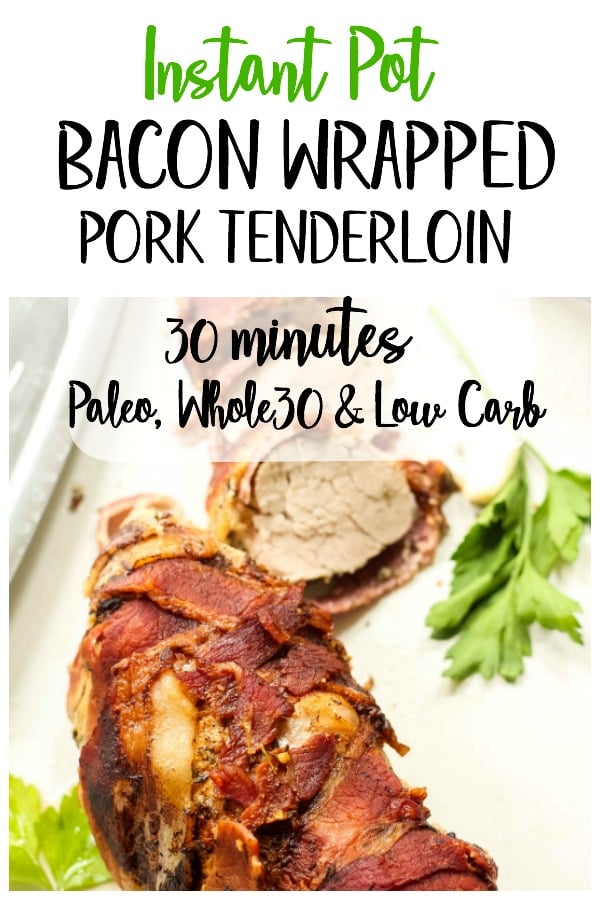 Since getting my instant pot, my life has been forever changed. I don't say this to be dramatic. I hesitated to get it, mulling over if I REALLY needed ANOTHER appliance. Would I use it? Is this going to just collect dust in a cabinet? What the heck would I do in this that I couldn't just make without it?! Well, it doesn't collect dust. In fact, it's found a permanent home on my countertop because I use that that much.
This Whole30 instant pot pork tenderloin is the perfect example. No mess from bacon grease and a cook time of only 20 minutes for crispy bacon on the outside and perfectly tender pork. No pun intended there.
Whole30 bacon is fairly easy to come across these days since it's now available nationwide in Super Target from Applegate, and in select Super Targets from Pederson's. It can also be found at Sprouts, Whole Foods, and online from Pederson's on the Simple Grocer.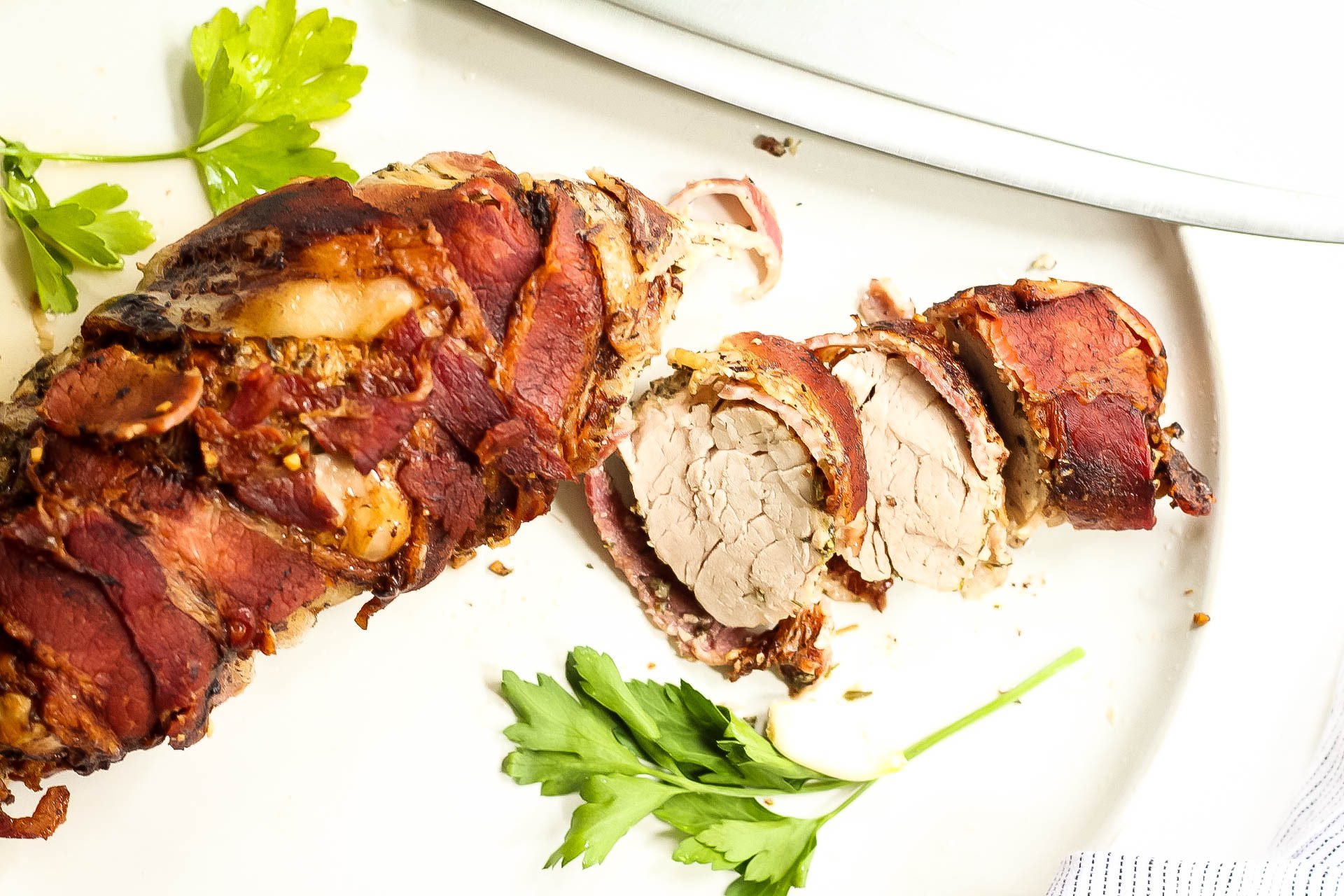 To make the liquid to add to the instant pot prior to cooking, you'll only need a few standard Paleo or Whole30 ingredients. The "marinade" I guess you'd call it is made from coconut aminos, minced garlic, balsamic vinegar to add a bit of sweetness and balsamic flavor to the pork. I get the coconut aminos and my balsamic from Thrive Market, but they're also available almost everywhere!

And, look, I know the photos aren't the most gorgeous foot photography shots you've ever seen but you're just going to have to trust me on this one. It's delicious, even if pork tenderloin isn't that photogenic. I almost didn't even share this recipe here because it's not super gorgeous, but it's just such a good one I thought that was a silly reason not to! So, thanks in advance for cutting me some slack here!
Other Instant Pot Recipes You'll Love:
Whole30 Instant Pot Beef and Broccoli
Print
Instant Pot Bacon Wrapped Pork Tenderloin (Whole30, Paleo, GF)
Prep Time: 10 minutes
Cook Time: 20 minutes
Total Time: 30 minutes
Yield: Serves 4
Category: Entree
Cuisine: American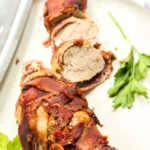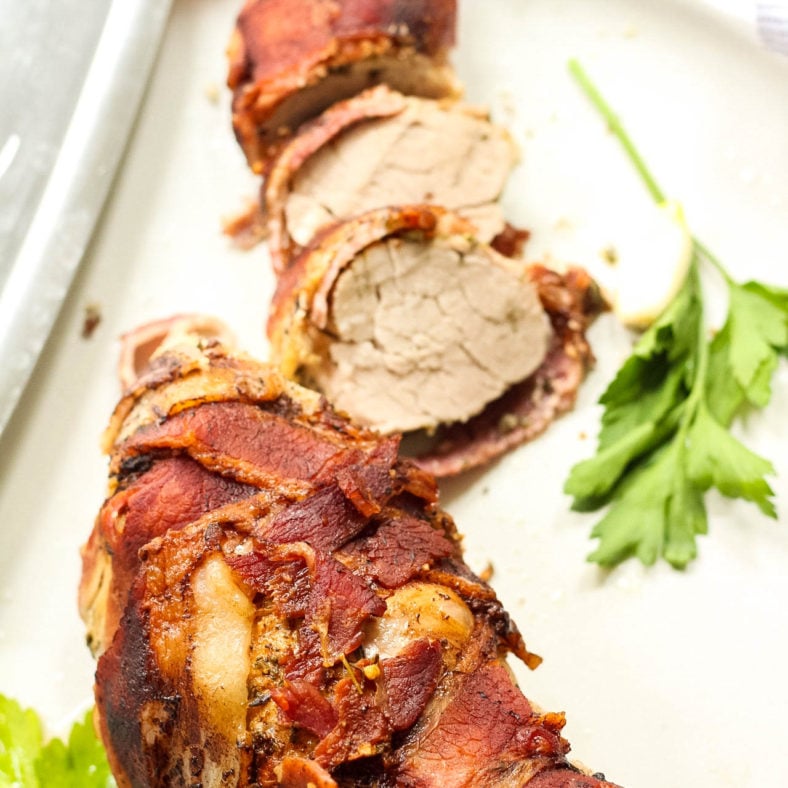 Ingredients
1 pork tenderloin
5 slices of bacon
1/3 cup balsamic vinegar
3 tablespoons coconut aminos
2 tablespoons olive oil
1 tablespoon minced garlic
1 teaspoon garlic powder
1 teaspoon onion powder
1 teaspoon dried thyme
1 teaspoon dried rosemary
1/2 teaspoon salt
1/2 teaspoon pepper
Instructions
Set the instant pot to sauté mode and add olive oil to the bottom
Lay the strips of bacon flat and next to each other on a cutting board
Place the tenderloin on top, season both sides by rubbing the onion powder, garlic powder, thyme, rosemary, salt and pepper
Once the tenderloin is seasoned, wrap the bacon around the tenderloin, slightly overlapping where each bacon strip ends
Place the bacon wrapped pork tenderloin into the instant pot and sear for 2 minutes on each side
While the tenderloin is being seared, mix the remaining ingredients, minced garlic, balsamic and coconut aminos, together
When both sides have been seared, pour liquid into the instant pot, close the lid and set to manual high pressure for 20 minutes with the steam valve sealed
When timer goes off, do a quick release, remove the pork tenderloin and slice into strips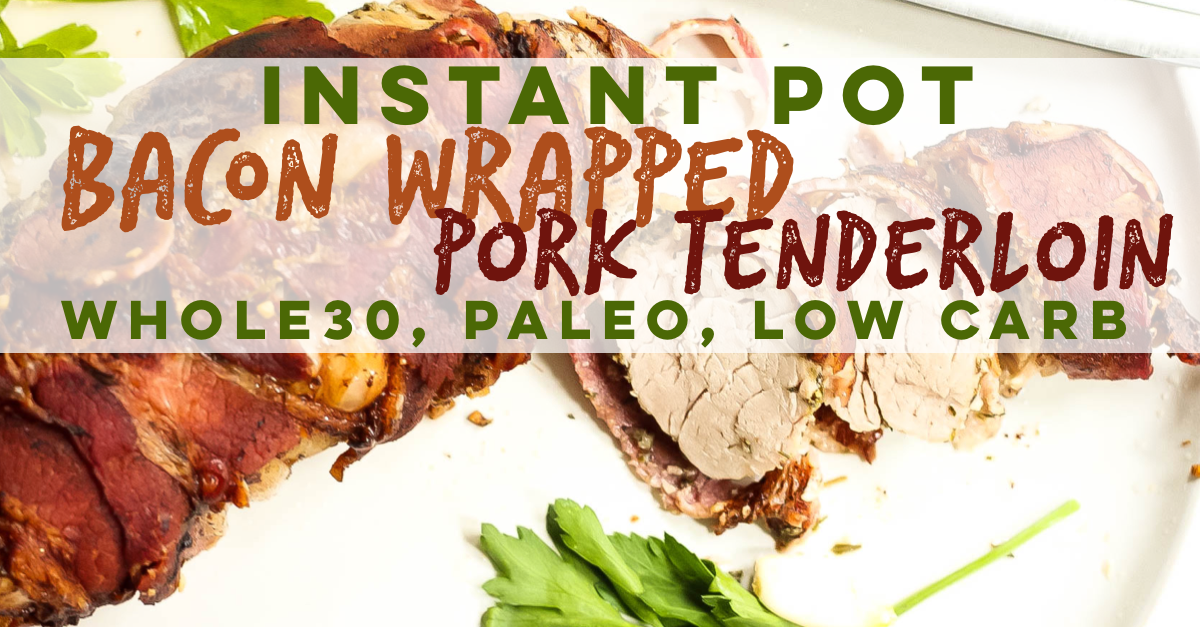 This Whole30 instant pot pork tenderloin post may contain some links that are affiliate links, though products are ones I use personally and recommend. When you purchase anything using my links, it costs you absolutely nothing extra, but it does give wholekitchensink.com a little financial support which helps to keep this blog running. Thank you for your continued support, both with your dollars and your interest. I promise I won't buy a pony.