I don't often make my own mayo because I tend to not use it up fast enough. When I'm trying to save money, however, making my own is a much more budget-friendly option. It doesn't take long at all to make yourself and is a lot cheaper than purchasing it. I try to plan a few meals that call for mayo the week I make it so I ensure I use it all and don't waste money.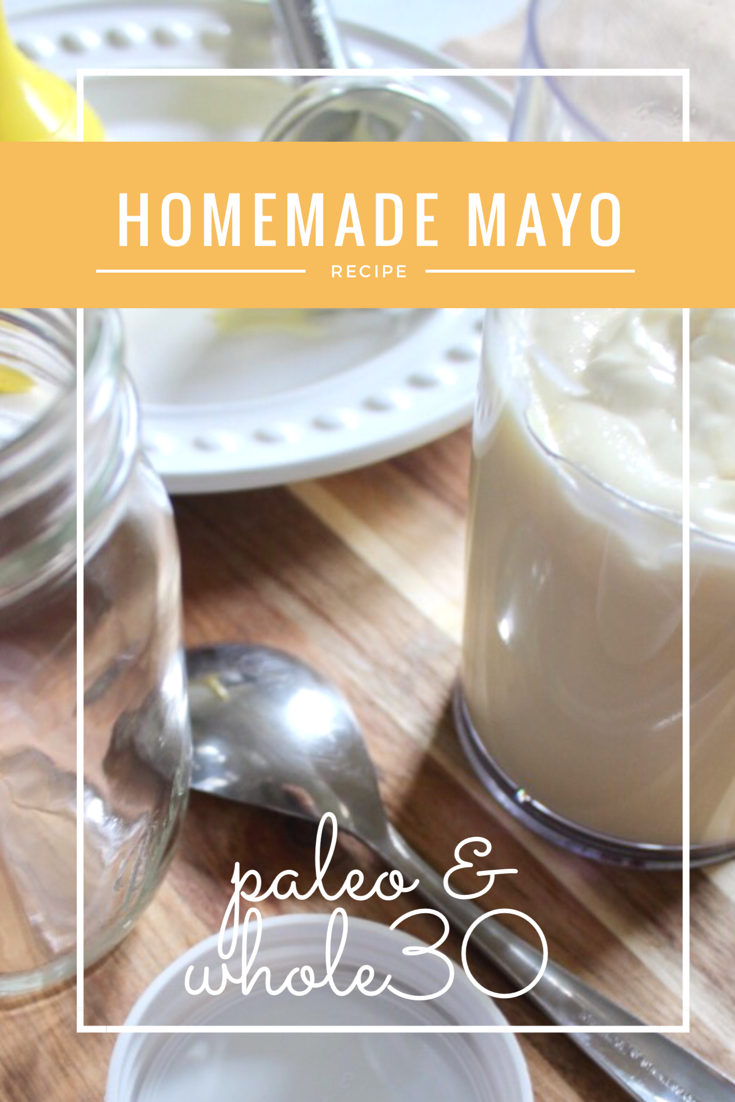 Because I'm not a huge mayo person in general, I typically just use Primal Kitchen's avocado oil mayo. It's Paleo and Whole30 and keeps longer than a homemade mayo so I don't have to worry about using it in a timely manner or having to make some every time I need it. It's always just in the fridge waiting for me. You can get from their website (use GROK15 to save 15%), Amazon, or Thrive Market.
If you make your own homemade mayo, make sure you're using a light olive oil or use avocado oil. Any heavier oil will make your mayo not turn out.
You can do this in a food processor but I use an immersion blender because it's simpler with less clean up.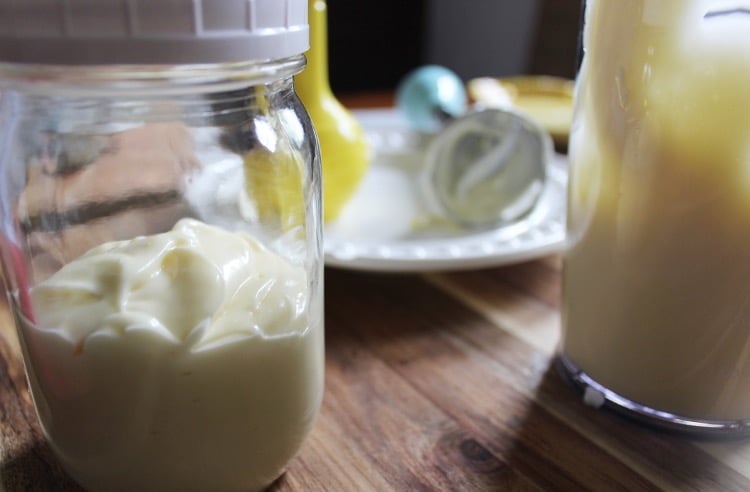 I doubled the homemade mayo recipe because I have a few things that will use mayo planned this week, like coleslaw for example. The recipe is easily doubled but you'll just want to make sure you're still pouring in the oil as you're blending, which will require you to go a bit slower.
A lot of people will tell you tell you that the egg(s) have to be at room temperature. I'll also advise you to follow that suggestion, but I will say that I've done it with eggs straight out of the fridge and had a perfectly fine mayo. But, just to air on the side of caution, leave your egg or eggs, if doubling the batch, out for at least an hour prior to making your mayo.
Store your homemade mayo in an airtight container in the fridge for up to one week. I use mason jars with these plastic lids. Any Tupperware container will do though as long as it seals well.
Print
Homemade Paleo and Whole30 Mayo
Prep Time: 2 minutes
Cook Time: 3 minutes
Total Time: 5 minutes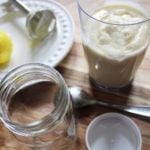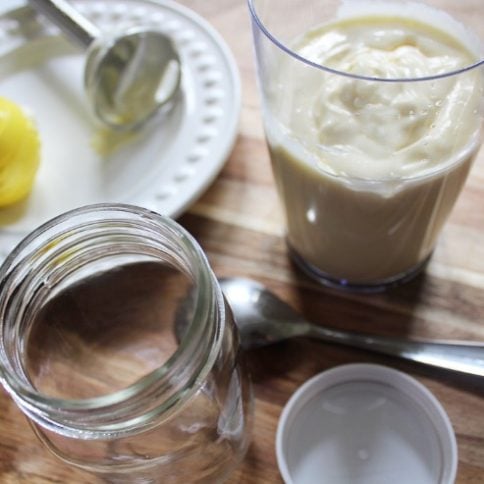 Ingredients
1 egg
1 cup avocado oil or light olive oil
2 tablespoons lemon juice
1/2 teaspoon dry mustard spice (optional)
1/2 teaspoon salt
Instructions
In a tall container or glass, if using an immersion blender, crack the egg and add lemon juice, mustard and salt
Place the immersion blender over the egg yolk and begin pouring oil in slowly while blending upwards with the immersion blender until all oil is poured
Blend until desired consistancy
If using a food processor or regular blender, just blend on the lowest setting while pouring oil
Place in an airtight container and refrigerate up to one week
This post may contain some links that are affiliate links, though products are ones I use personally and recommend. When you purchase anything using my links, it costs you absolutely nothing extra, but it does give wholekitchensink.com a little financial support which helps to keep this blog running. Thank you for your continued support, both with your dollars and your interest.