Every once in a while I need a serious break from my usual Paleo breakfasts. I always fall back on this Whole30 egg free sausage breakfast skillet. The dried cranberry and dill flavors are so delicious together, and it's a simple 30 minute meal. It's by far the best Whole30 breakfast recipe to meal prep too!
I know I'm not the only one who feels the egg burnout after one too many mornings with one too many eggs. I also run into the issue of how much I hate re-heated eggs. So, when I decide I want to meal prep breakfast, usually eggs are out. My answer to that will always be breakfast skillets.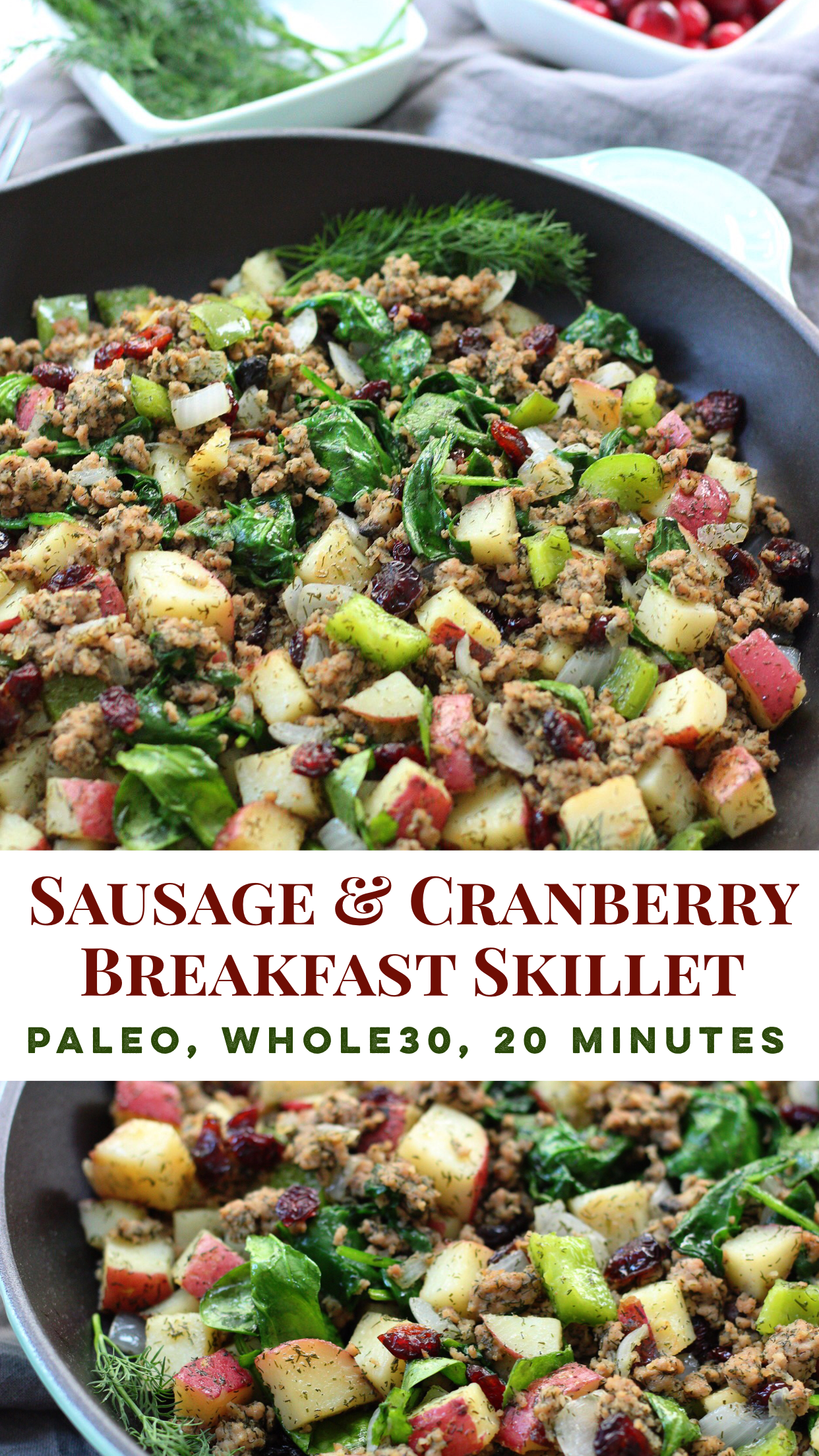 This Whole30 egg free sausage breakfast skillet with cranberries is ahhh-mazing. I swear, it's even better reheated the next day too. This recipe is hearty, filling and the cranberries add a sweetness that's not too overpowering in the morning. The potatoes add some extra umph to the breakfast and are great for fueling my early workouts or busy mornings.
Double the recipe and meal prep it for some good ol' paleo egg free breakfasts for the next few days. You'll be glad you did. Every time I make this, I end up running out before I planned. I find myself looking forward to coming home to this in the fridge. Yes. It's that good.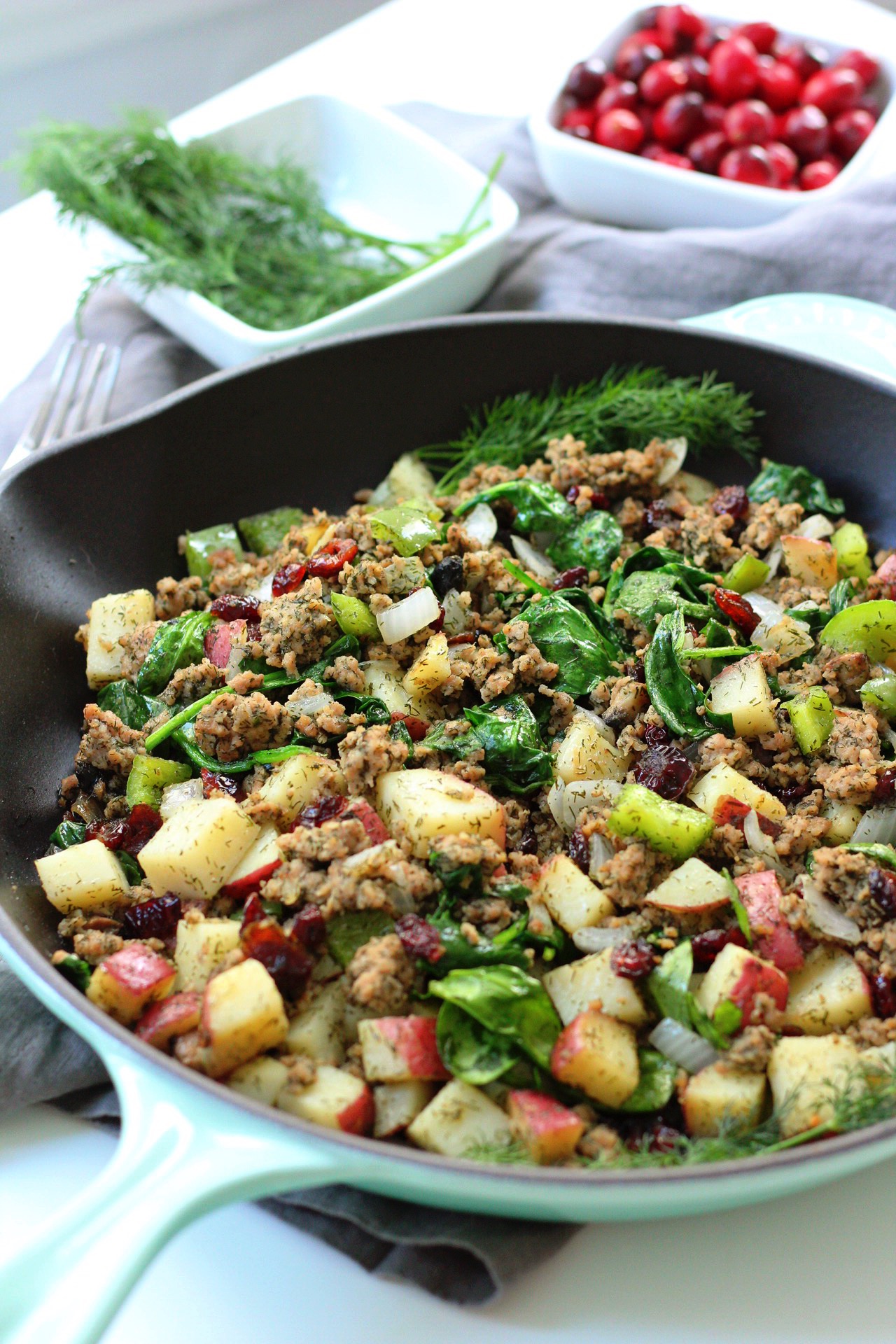 Skillets are also awesome because you can easily adapt them by using whatever ingredients you have on hand or that you need to use up. Pretty much anything you throw in a skillet ends up tasting good together. They're basically like a clean out the fridge kind of breakfast!
This Paleo egg free breakfast is one of my favorites not only because of the cranberries, but because of the dill. I know that might sound like an odd combo, but trust me. You have to trust me on this Whole30 egg free sausage breakfast skillet. TRUST. The dill with the potatoes and the cranberries adding some sweetness with the sausage… ahh it's making me hungry just typing it!
But I guess if you're not into dill as much as I am (but you have to try this combo first!) it would be okay to omit it and swap it out for either more thyme or a different herb of your choice.
I use these dried cranberries sweetened with apple juice and not sugar!
Other Breakfast Ideas You'll Love:
Mediterranean Egg Free Whole30 Breakfast Skillet
Pear and Rosemary Breakfast Sausages
Print
Hungry for more? Subscribe to my newsletter to get new recipes delivered straight to your inbox! And be sure to stay in touch on Facebook, Pinterest and Instagram for all of the latest updates.
Sausage Breakfast Skillet with Cranberries
Cook Time: 15 minutes
Total Time: 15 minutes
Yield: Serves 3-4 1x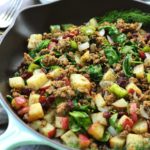 Ingredients
2 tablespoons avocado oil or oil of your choice
1 pound ground breakfast sausage
2 cups red potato, diced (about 2 potatoes)
1 cup onion, diced (about 1 onion)
1/2 cup green pepper, diced (1/2 green pepper)
1/2 cup mushrooms, diced
1/2 cup dried cranberries
2 large handfuls spinach
1 and 1/4 tablespoons dill
1/2 tablespoon thyme
1/2 tablespoon onion powder
1/2 tablespoon garlic powder
Instructions
Heat oil in large skillet over medium heat
Add sausage, potato, 1 tablespoon dill, thyme, onion powder and garlic powder
Cook until sausage starts browning and potatoes begin to soften
Add in onion, green pepper, mushrooms and the other 1/4 tablespoon dill
Continue cooking until sausage is browned and veggies are done
Throw in the dried cranberries and spinach
Stir to combine and allow for spinach to lightly wilt
Notes
Double the recipe, using a full pound of sausage to meal prep breakfasts for the week or to feed a bigger family!
Nutrition Facts:
Calories: 615
Sugar: 16
Fat: 38
Carbohydrates: 41
Protein: 23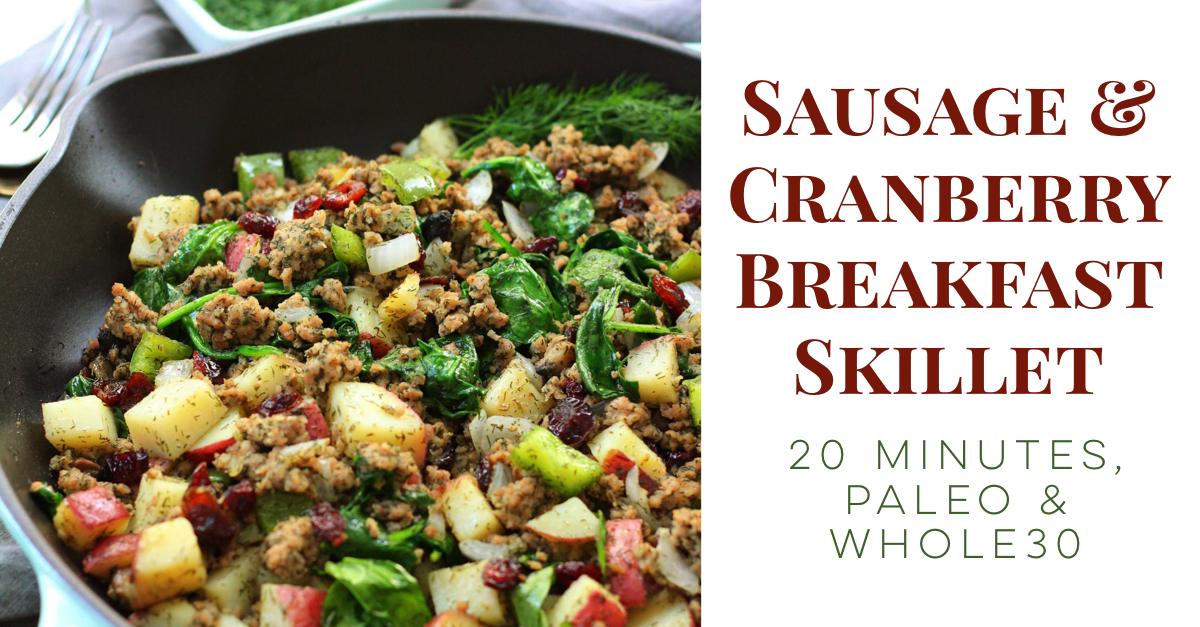 This Whole30 egg free sausage breakfast skillet post contains affiliate links, though all products are ones I use personally and recommend. When you purchase anything using my links, it costs you absolutely nothing extra, but it does give wholekitchensink.com a little financial support which helps to keep this blog running. Thank you for your continued support, both with your dollars and your interest.