I'm back with another awesome wing recipe for you today! These simple salt and pepper chicken wings are everything you could ever want in a wing. Crispy, flavorful and easy to make. You're gonna want to double the recipe, especially if you're making these for game day or for more than two people because I kid you not, my boyfriend and I finished these babies off in 15 minutes while standing at the kitchen counter.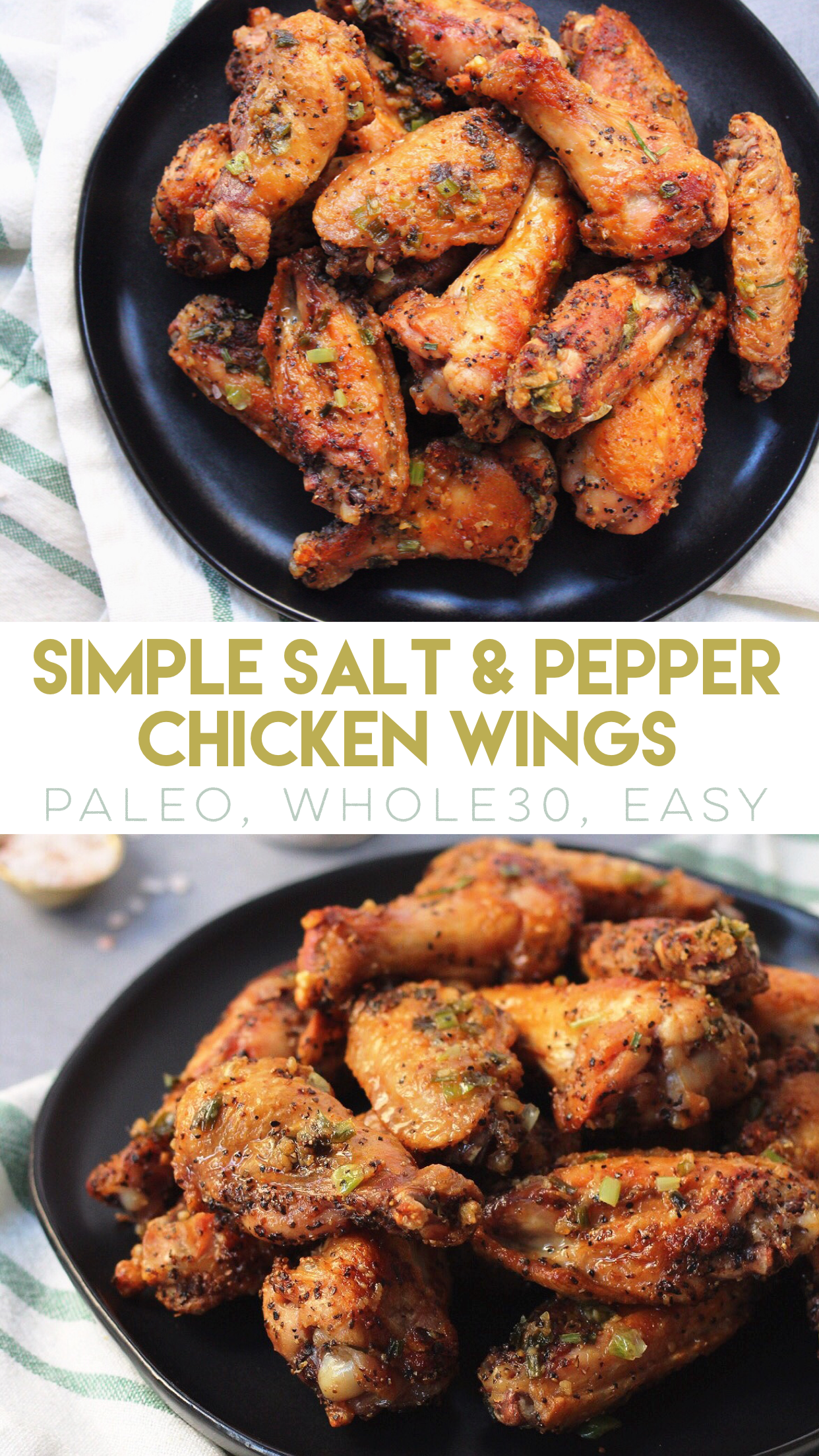 If you've never had salt and pepper chicken wings before, first of all, skip all this and go make them right now. Kidding… kind of. Salt and pepper chicken wings are a really common menu item at almost every Chinese food restaurant. Unlike this recipe for them though, your local Chinese take-out joint fries them to make them crispy and there's probably a hearty dose of MSG. These wings are baked and only uses a small handful of healthy ingredients.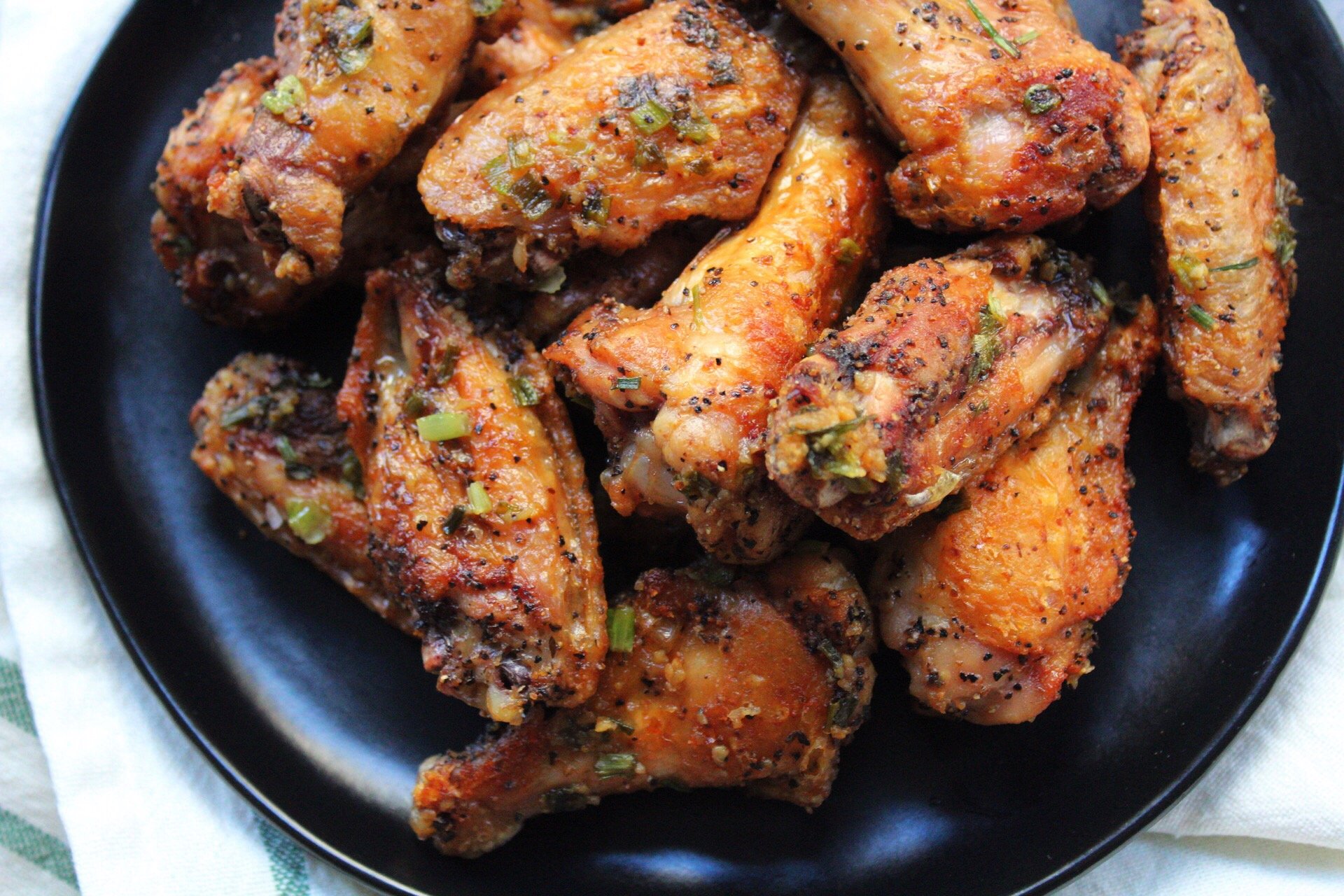 I prefer to use finely chopped green onions in this recipe but I will say that parsley is a good alternative. I'm a big fan of using what you already have on hand, and because the salt and pepper chicken wings don't require many ingredients, you'll probably already have everything you need. Aside from the green onion, and if that's the case, switch it out for something already hanging out in your fridge. Or skip it all together. They'll still be delicious.
Other Wing Recipes You'll Love:
Everything in this recipe is Whole30 compliant, making these an awesome option for you to bring to a party or family function. Everyone will love them and not even realize that this wings are actually good for them! Really though, I don't blame you for making them and keeping them at home all for yourself. This is also a good crispy wing recipe to use as a base and then top with your favorite wing sauce.
There really is no trick to tell you about these and I don't have any enlightening cooking method – they're just simply good wings. Trust me on this.
Print
Simple Salt and Pepper Chicken Wings
Prep Time: 35 minutes
Total Time: 35 minutes
Yield: 2-4 1x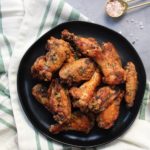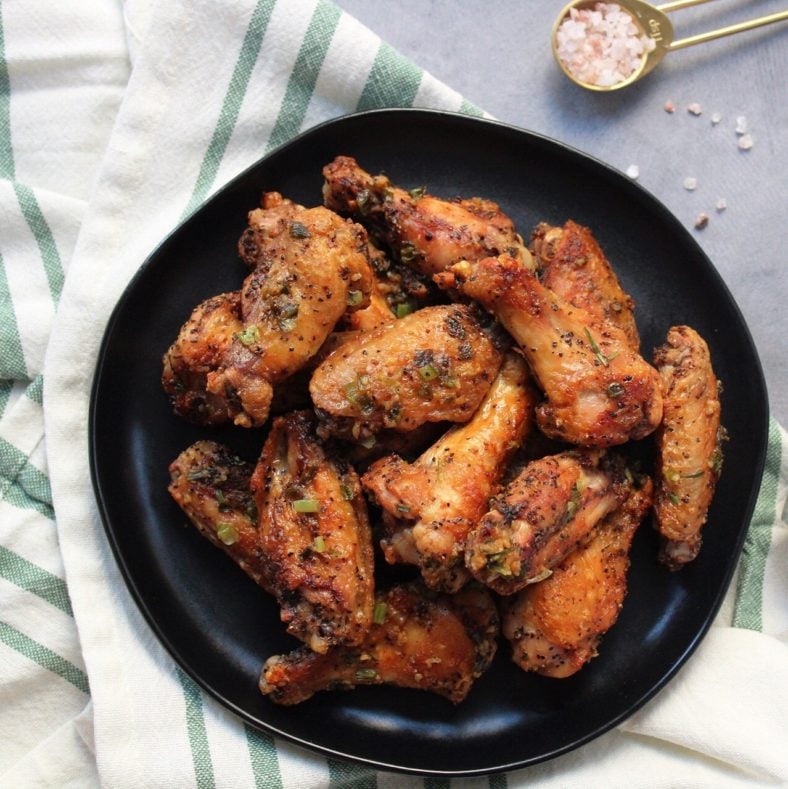 Ingredients
1 pound chicken wings
1/4 cup finely diced green onions
2 tablespoons minced garlic
2 tablespoons sesame oil
1 tablespoon extra virgin olive oil
2 teaspoons salt
2 teaspoons pepper
Instructions
Preheat oven to 400 degrees F.
In a large bowl, evenly coat chicken wings with extra virgin olive oil, salt and pepper
Lay out evenly on a baking sheet in a single layer, leaving space between each wing
Bake for 15 minutes, flip and bake for another 15 minutes
A few minutes before they're done, heat sesame oil, onions and garlic in a small skillet over medium heat
Once the garlic is browning and fragrant, remove from heat
Take wings out of the oven, add to a large bowl and pour mixture over and stir to evenly coat
Serve immediately and enjoy!
Nutrition Facts:
Calories: 423
Sugar: 0
Fat: 32
Carbohydrates: 2
Protein: 30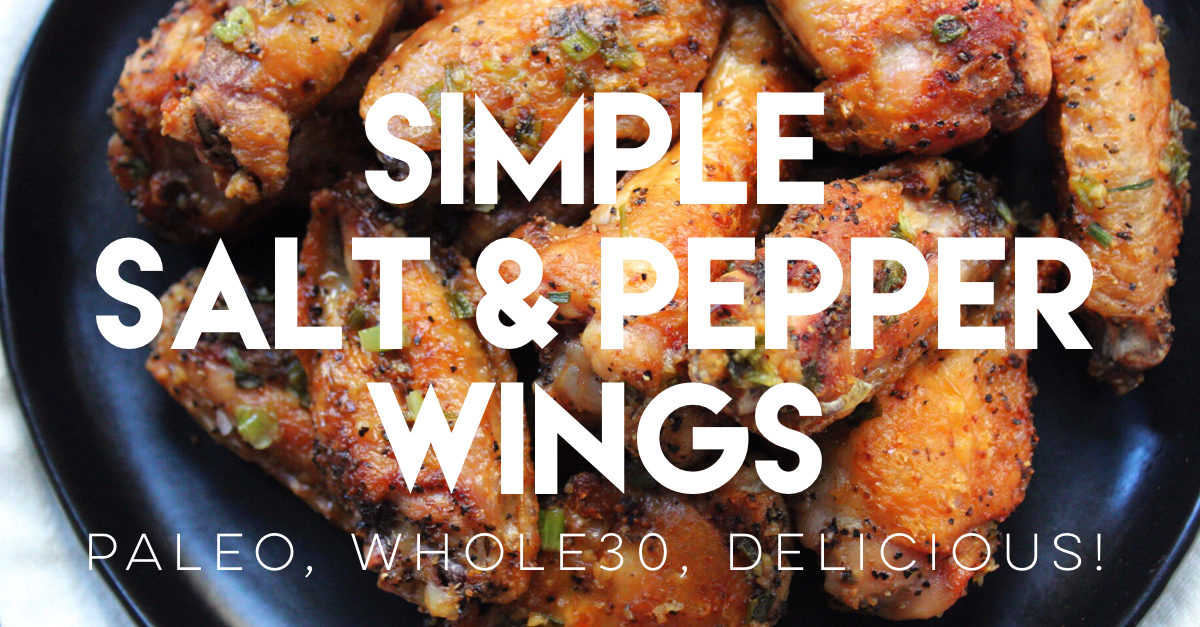 This post may contain some links that are affiliate links, though products are ones I use personally and recommend. When you purchase anything using my links, it costs you absolutely nothing extra, but it does give wholekitchensink.com a little financial support which helps to keep this blog running. Thank you for your continued support, both with your dollars and your interest.