Sometimes I think canned tuna gets a bad rap and isn't utilized as much as it could be. While tuna is awesome as a staple pantry item for quick, convenient meals or back-up protein, it doesn't just have to be your back-up plan! Sometimes, like with this delicious Mexican chopped tuna salad, canned tuna can (and should!) be the star of the show.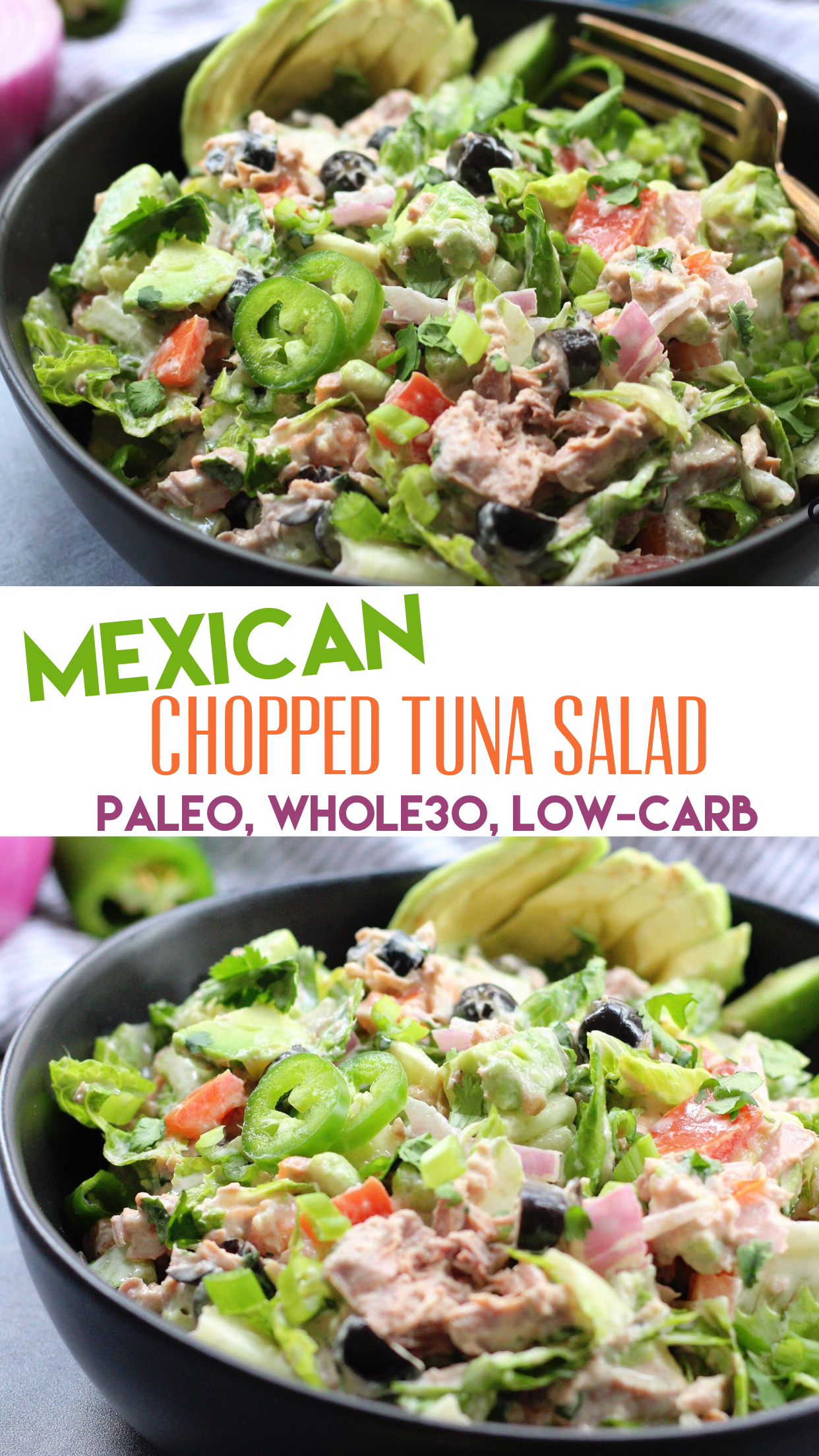 This post is sponsored by Safe Catch. All opinions are my own. I'm happy to work with a company I use and love! Thanks for your support here on the blog and your support for Safe Catch!
I'm sure you know by now I'm pretty much obsessed with anything with the Mexican food flavors. Mexican meatball soup, burrito bowls, salmon fajitas. It's kind of my thing. But so is simple and easy. One of the things I love most about this Mexican chopped tuna salad is that there's exactly zero minutes of cooking necessary. You're pretty much just mixing things together and then diggin' in!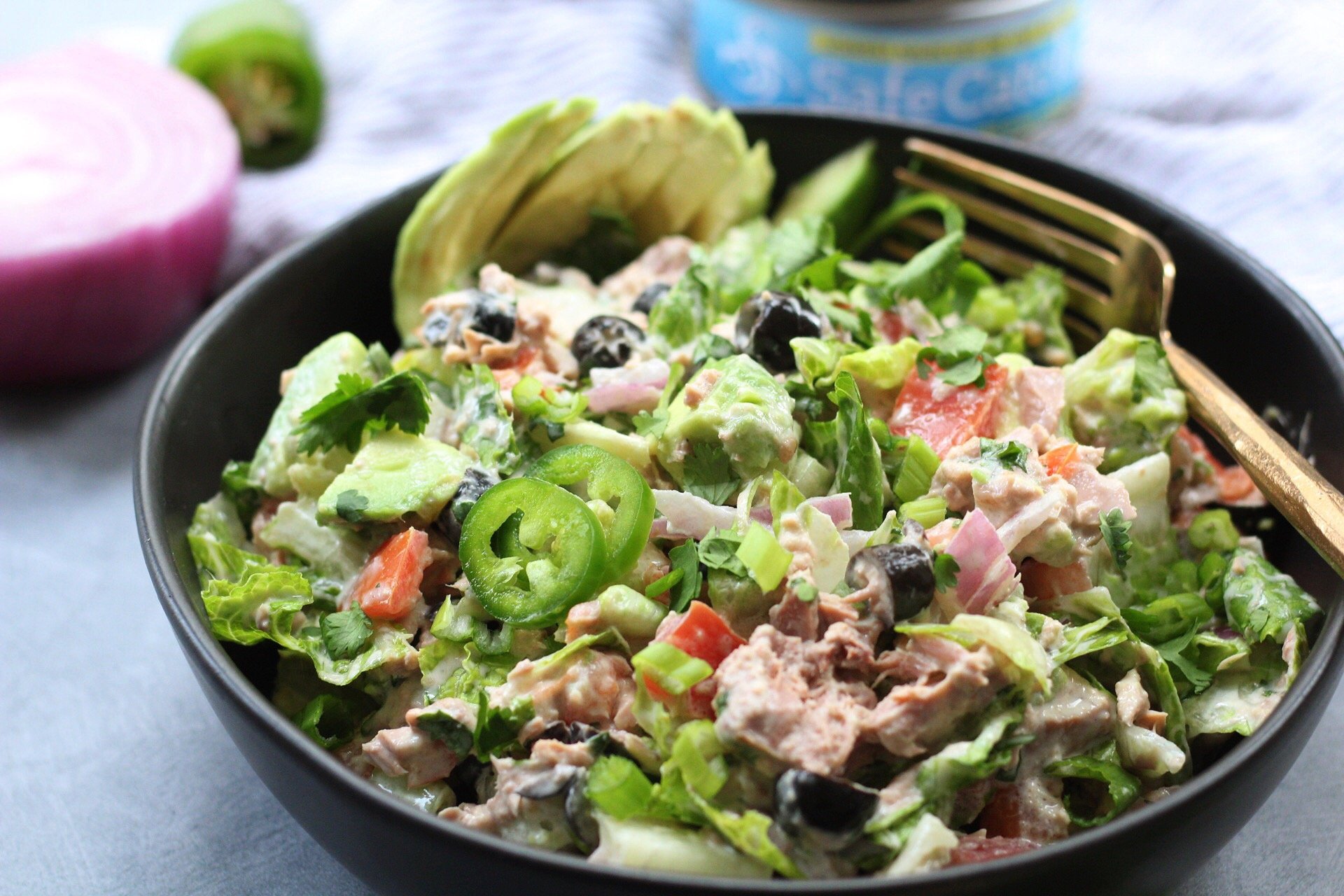 The other thing I love most about this salad is that I'm using the highest quality tuna out there. It's crazy to me that a lot of canned tuna on the market today contains additives like soy. Soy! Google "tuna additives" and I'm willing to bet you'd be shocked. But enough of that. That kind of stuff is something I don't worry about anymore with canned tuna from Safe Catch.
Since I first learned about the canned tuna industry a few years ago, I have always made it a priority to know where my tuna is coming from. I wasn't about to give up eating it, because I love keeping it on hand at home, but I knew I needed to find a healthier, more sustainable option. Safe Catch is everything that I was looking for that the big market brands lack.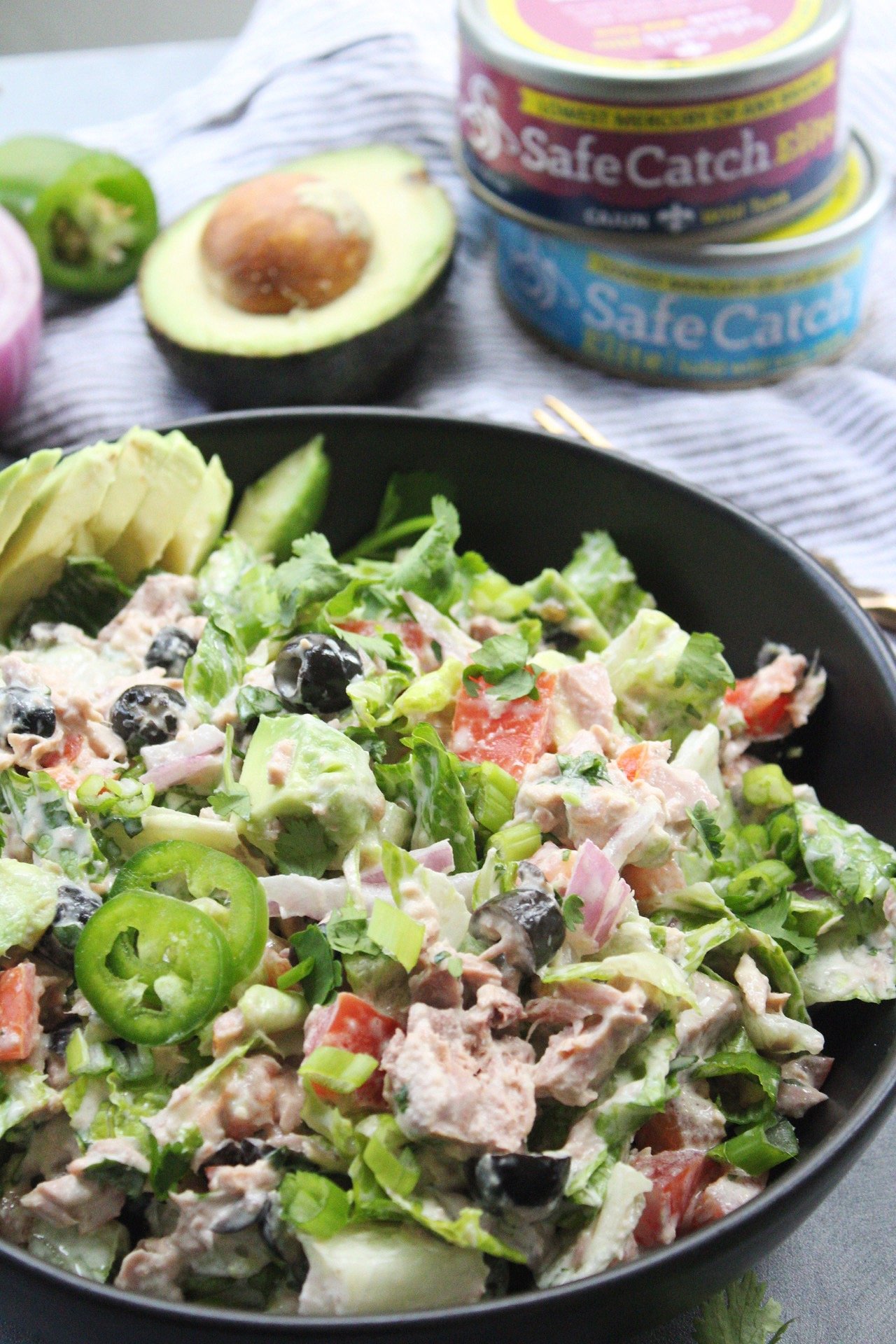 Most canned tuna companies machine process and precook the fish, which removes flavor, nutrients and healthy Omega-3s. Then they use additives and numerous other fillers to add flavor back in afterwards. Safe Catch packs tuna steaks by hand during the canning process, ensuring flavor and nutrients aren't lost and additives aren't needed for flavor. Even better is that they're hand packed after each and every fish has been tested for mercury. Safe Catch is the only tuna brand that does this.
I've been loving their Seasoned Elite tuna lately and knew the cajun flavored tuna would be perfect for this quick and easy chopped salad. The other flavors are equally as tasty and healthy. If you're wondering where you can pick them up, check out the store locator. I'm happy to report that they're in over 40 locations local to me, making it super easy for me to do my shopping.
You can also grab them right from Thrive Market at a discount, where they have the other Safe Catch tuna flavors like plain, garlic herb, citrus pepper and tandoori. Bonus: all Safe Catch plain tuna and a majority of the Seasoned Elite flavors are Whole30 Approved!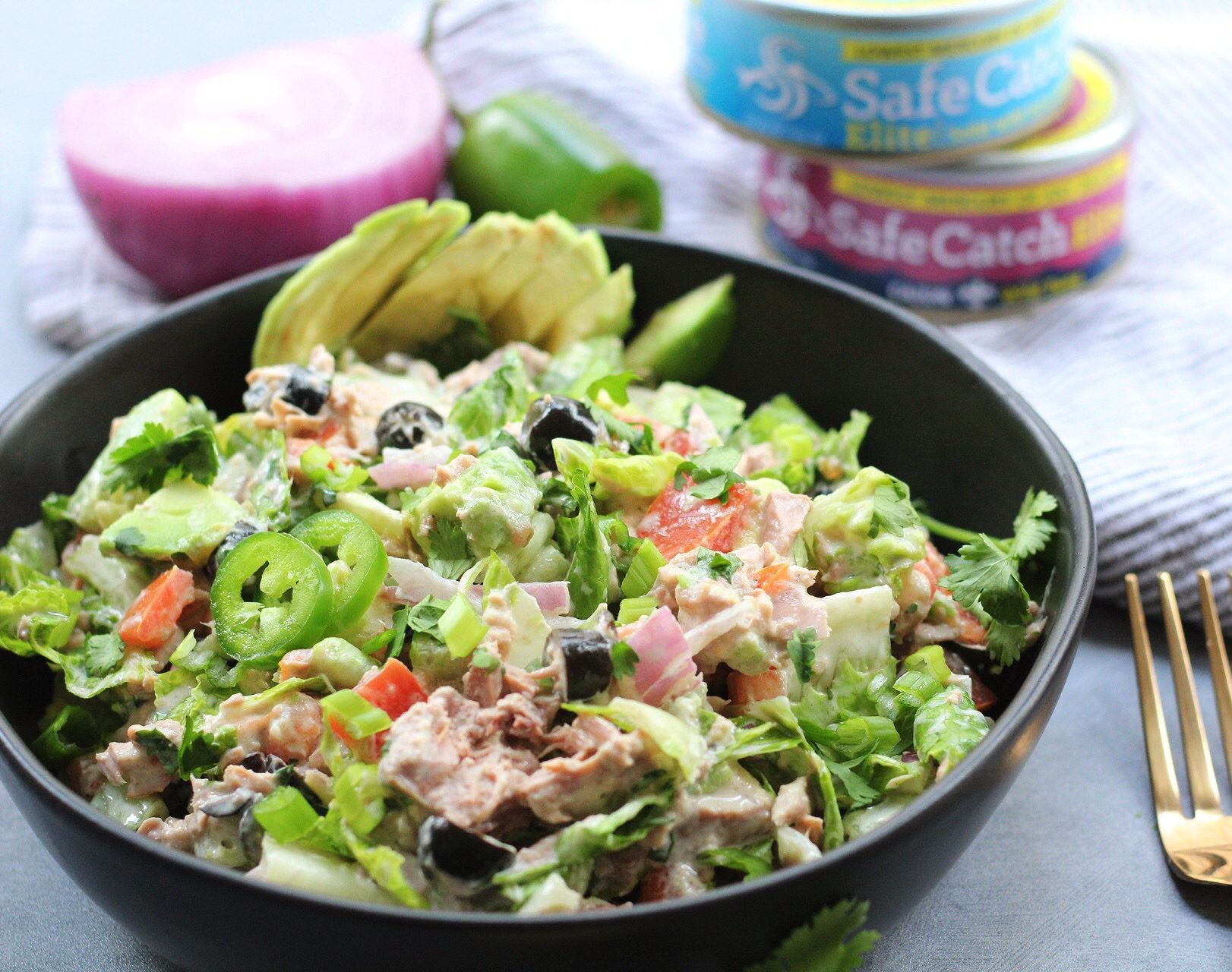 Canned tuna is my trick to making this Mexican chopped tuna salad recipe one that comes together in a few minutes, with only a few dishes, and no cooking required. It's one of my go-to lunches and one of the best for meal prepping. There's lots of ways to change it up to fit your preferences, like swapping out the black olives for diced cucumbers. It's also good for a family meal or pleasing a crowd because you can easily add shredded cheese to your family members' plates!
Pro tip for meal prepping: if you're making this Mexican chopped tuna salad and savin' it for later, combine everything except for the avocado (no brown avocados allowed!) and maybe the dressing. If you like a crisper salad, hold off until you're ready to eat, but if you like salads after the flavors have had time to marinade together, mix it all up right away! Enjoy!
Print
Mexican Chopped Tuna Salad: No Cooking, Paleo, Whole30, Low-Carb!
Prep Time: 20 minutes
Total Time: 20 minutes
Yield: Serves 4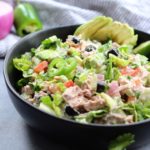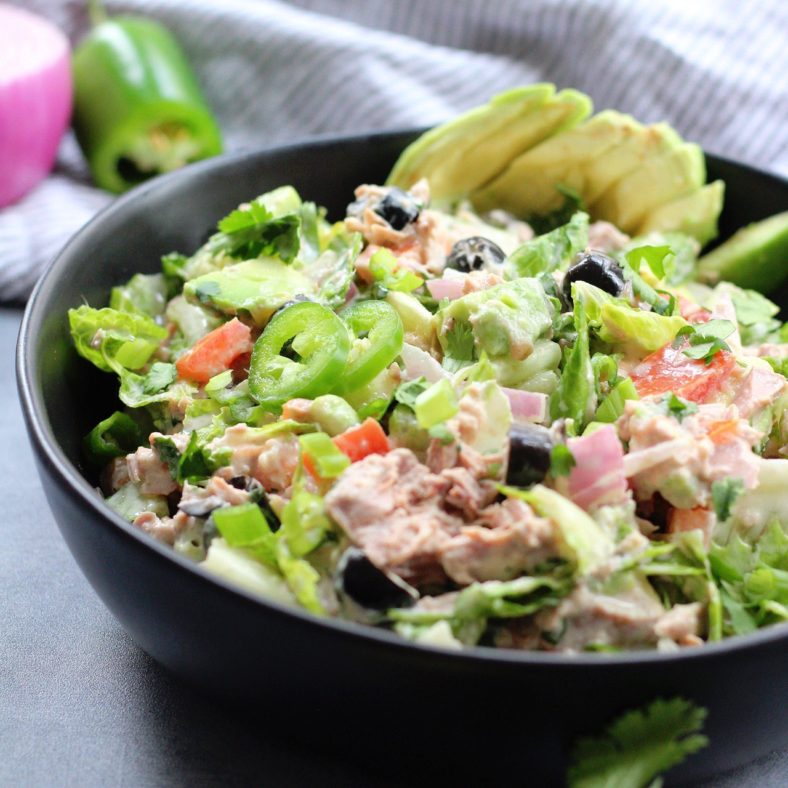 Ingredients
For the Salad:
4 cups chopped romaine (about 1 and 1/2 romaine hearts)
2 cans Safe Catch Seasoned Elite Cajun tuna (unflavored tuna works too), drained
1 2.25 ounce can sliced black olives, drained
1 avocado, diced
For the Dressing:
1 cup mayo
3/4 cup finely chopped cilantro
1 tablespoon white wine vinegar
Juice of 1 whole lime
For the Pico:
2 roma tomatoes, seeded and diced
1/3 cup diced red onion
1/3 cup chopped cilantro
1/8 cup finely diced jalapeño
Juice of 1/2 lime
Instructions
Combine all salad ingredients in a large bowl, flaking tuna when removing from the can
In a seperate smaller bowl add all pico ingredients and stir to combine
Add to the large salad bowl
In the same bowl, add all dressing ingredients and stir well to combine
Add the dressing to the large salad bowl
Stir all ingredients together well and add extra chopped red onion, tomato or avocado if you wish!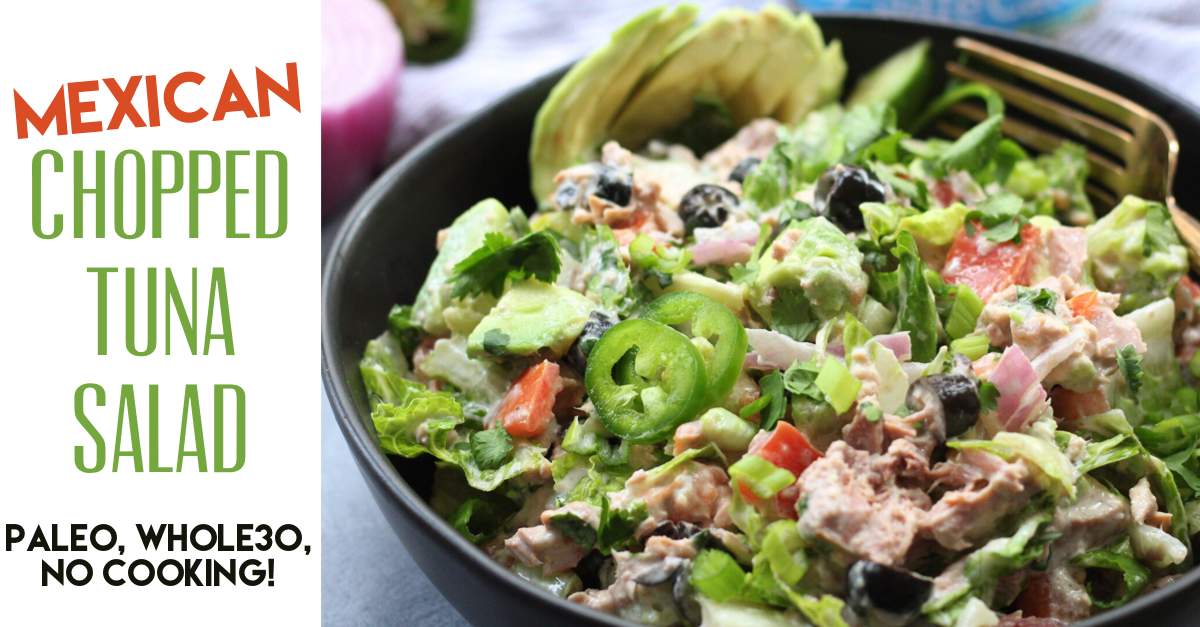 This post contains affiliate links, though the products are ones I frequently use personally and recommend. When you purchase anything using my links, it costs you absolutely nothing extra, but it does give wholekitchensink.com a little financial support which helps to keep this blog running. Thank you for your continued support, both with your dollars and your interest.