Rarely do I meal prep breakfast, but when I do you can bet it's a breakfast hash. I don't utilize these quick skillet meals often enough. This chicken breakfast hash was a perfect fridge clean out meal and they just work so well for busy families. I realized this week how much I loved having it on hand for those crazy mornings or even for lunch when I wanted something simple to pull out of the fridge.
Another great part about breakfast hash meals is that they're totally customizable. So much so that I feel silly even giving a recipe for it! You can truthfully just do whatever you want, with whatever meat or produce you have.
Towards the end of the week I often end up with random veggies like half of a pepper, only a handful of spinach, 1 crown of broccoli… You know what I mean. Just odds and ends that don't really make a full meal but enough that I don't want to waste it either!
Enter: breakfast hash.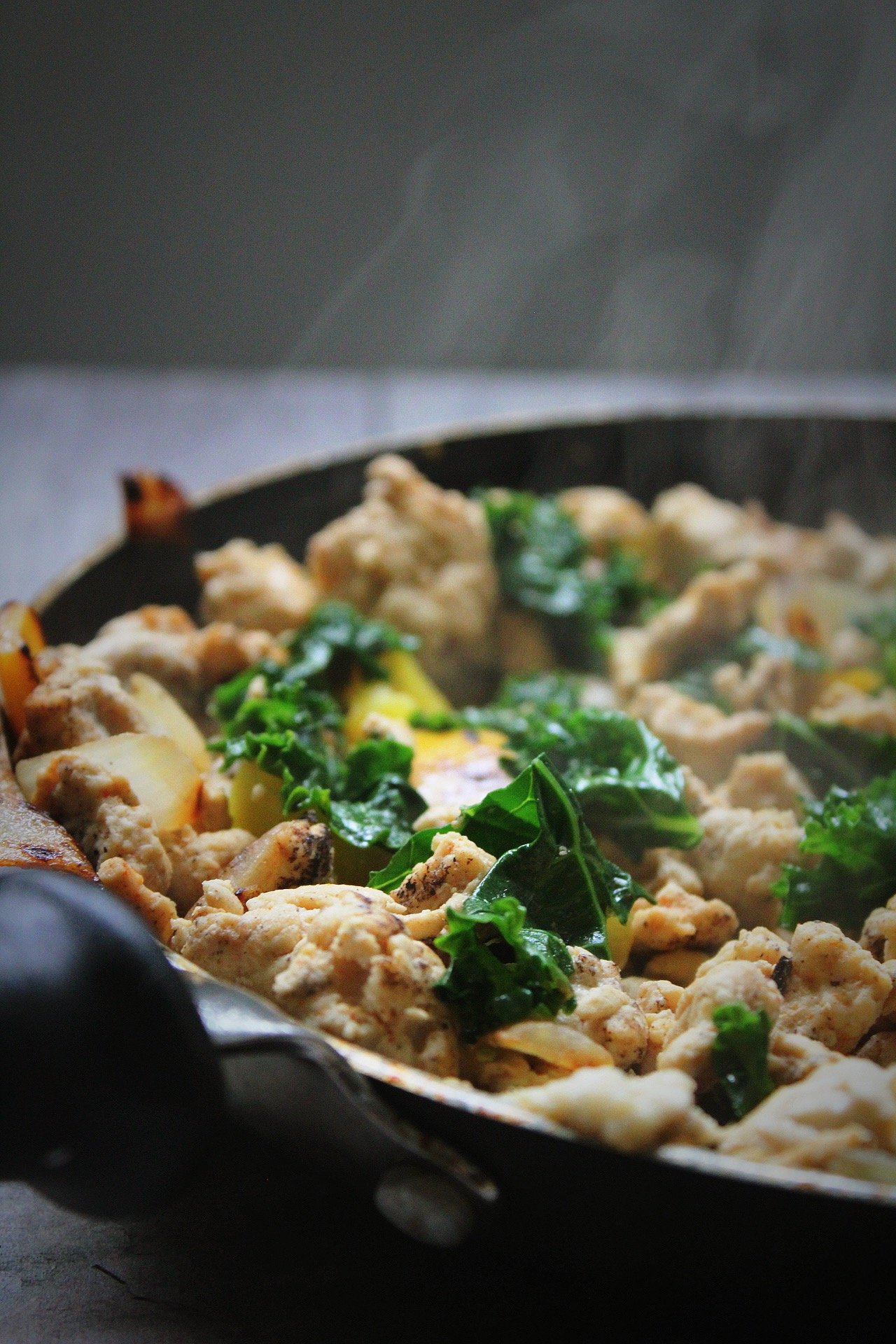 This one I actually made prior to the week starting, which means that I used the bits and pieces from LAST week. All I did was look through my freezer at what meat I had already. I opted to go with ground chicken instead of ground pork this time but you could also do bacon, turkey, chorizo, you name it.
For this chicken breakfast hash, I removed the stems from the kale I had leftover, diced up onion and yellow pepper, threw in some spice and that was that!
I also think that making meals like this, meals that are SO customizable, are easy ways to avoid food boredom either on a Whole30 or otherwise. Especially with breakfast, it's not hard to get into a rut with what you're eating day in and day out. Not only can you change up what meat and veggies are in your hash, you can make an entirely different meal just by changing what spices you use.
So, that being said, use the bones of this recipe but go crazy and do your own thing, too!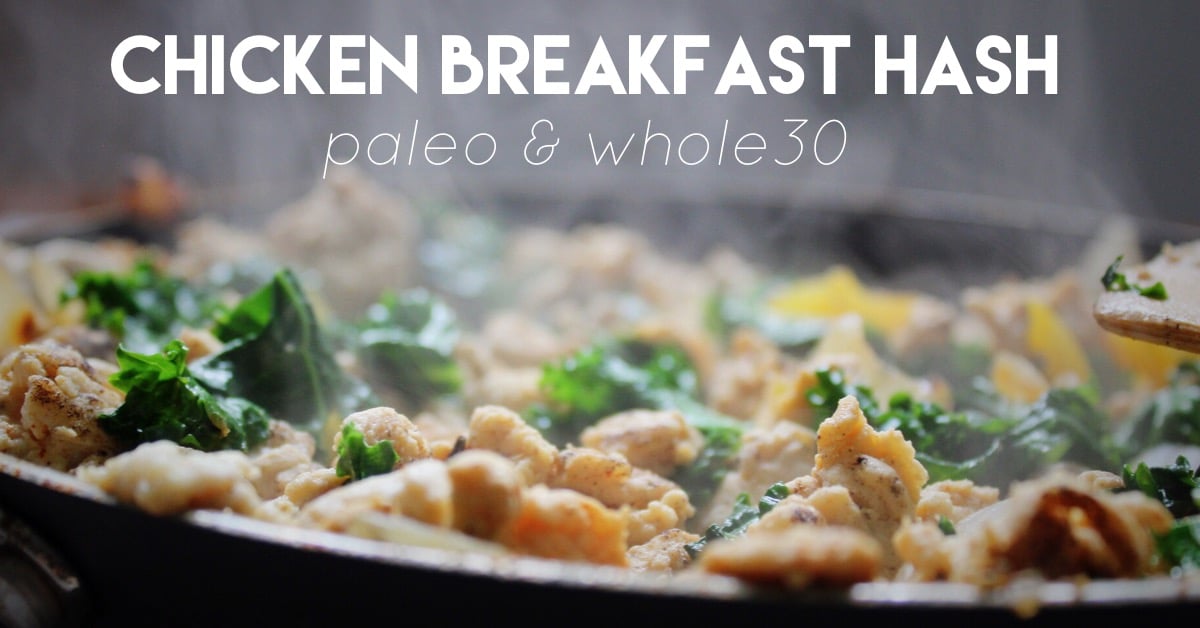 Here's some other ideas if you're a breakfast kinda' person:
Breakfast Skillet with Cranberries
Sausage and Egg Make Ahead Muffins
Print
Chicken Breakfast Hash: Egg-Free, Whole30 Breakfast
Prep Time: 5 minutes
Cook Time: 15 minutes
Total Time: 20 minutes
Yield: Serves 3-4 1x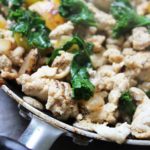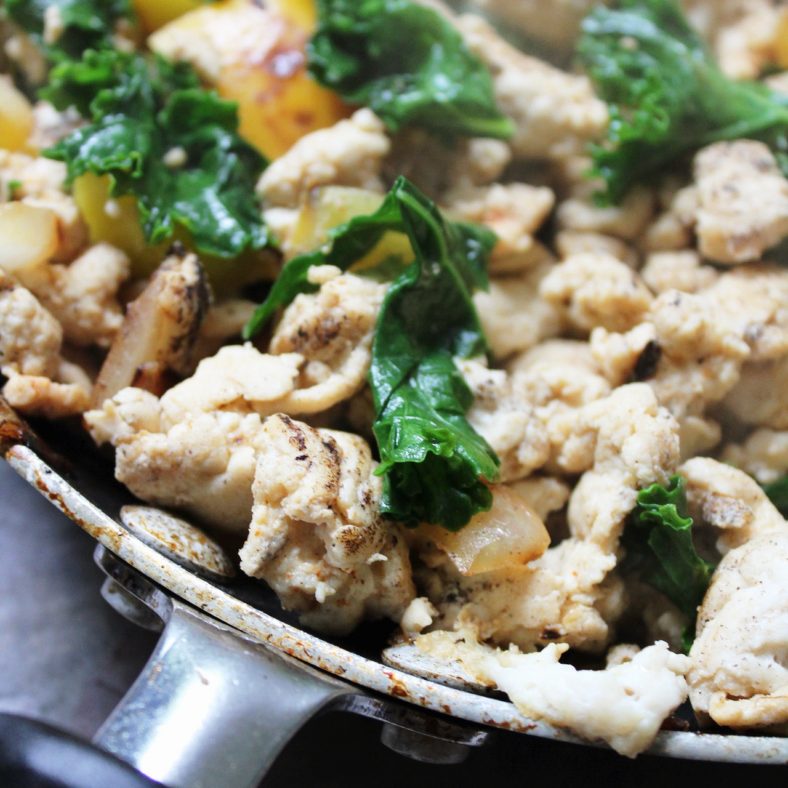 Ingredients
1 pound ground chicken
4 cups loosely packed roughly chopped kale
1 yellow pepper
1/2 large white onion
2 tablespoons olive oil or avocado oil
1/2 tablespoon garlic powder
1 teaspoon paprika
1/2 teaspoon salt
1/2 teaspoon pepper
Instructions
In a large skillet, heat oil over medium heat
Add in diced pepper and onion
Stir frequently to avoid burning on one side
Once the veggies are only beginning to soften, add in ground chicken
Break apart chicken and brown
As chicken is browning, add in spices
When the chicken and veggies are just about fully cooked, add in the kale and stir in
Once the kale has wilted, remove from heat
Serve, or store! and enjoy!
This post may contain some links that are affiliate links, though products are ones I use personally and recommend. When you purchase anything using my links, it costs you absolutely nothing extra, but it does give wholekitchensink.com a little financial support which helps to keep this blog running. Thank you for your continued support, both with your dollars and your interest.