These easy Paleo and Whole30 egg muffins made with sausage and veggies are the perfect meal prep recipe! They are so quick to make, always a family favorite, and stay good in the fridge all week. Whole30 breakfast shouldn't be time consuming, and with these, you're out the door without the hassle!
Getting out of the house both on time and with a healthy breakfast in your body is a challenge some days. I get it. I've been there. Having to decide between a shower or breakfast sucks. Making sure your children have a lunch before you even think about breakfast sucks. I usually end up running out the door and forgetting my coffee on the counter. Then I spend the morning thinking about how I'm without both caffeine AND breakfast.
Making breakfasts I don't have to think about or put any effort into in the early hours of the day saves me time and sanity. Then I just have to worry about remembering my coffee. Paleo and Whole30 egg muffins are usually the way to go when I have a busy week ahead. They're easy and convenient to make because I usually don't need to make a special trip to the store to do it. Just throw what I already have for meat and veggies in the fridge into them and that's that. It's hard to get sick of them, too. There's so many combinations of ingredients you can use to make them differently every time.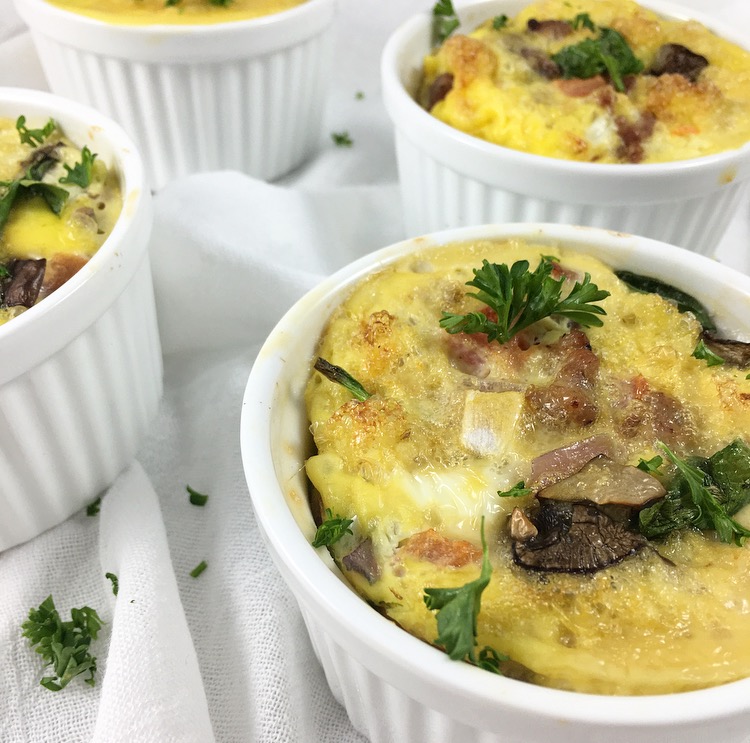 I normally use a standard muffin tin to make these. If I'm being fancy or hosting a brunch of some sort, I bake them in these cute little ramekins. I found these ones for 40% off at Sur-La-Table a while back. At under 2 bucks per dish, I couldn't help but buy them. Unnecessary maybe, but I'm a sucker for a good deal. I used them during a breakfast and mimosa themed bridal shower (and made these Whole30 egg muffins!) and they were a huge hit. Makes me look like I have my crap together more than my worn muffin tin does. What they don't know won't hurt them, ya know?
I used diced tomatoes, mushrooms, spinach, ground breakfast sausage and onions. Feel free to substitute any veggie you prefer or change up the protein by using (sugar free) bacon or ham instead!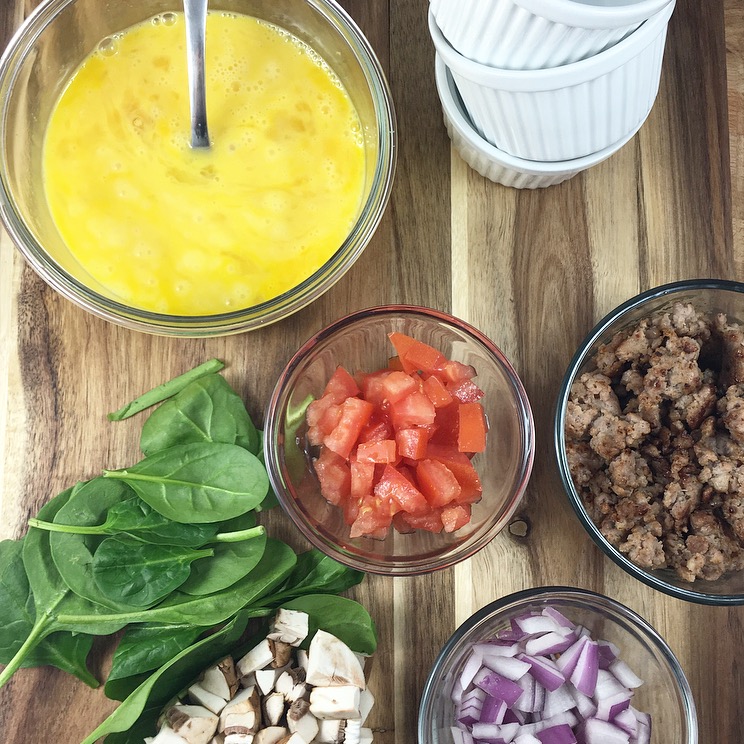 I've learned the best way to exercise some quality control with these paleo and Whole30 egg muffins is to place your ingredients into each muffin tin individually. I mention this in the recipe outline. It's no biggie, really. You can definitely just go ahead and dump all of the veggies and meat right into the beaten eggs. Just stir, and either pour or spoon the mixture into each cup. It's an easy option when you're in a hurry. If you have the few extra minutes it doesn't hurt to line up your ingredients like an assembly line and place them in the cups by hand. That way, you're getting the same amount in each muffin instead of one muffin with a ton of sausage or one muffin with all onions and spinach. But hey, if you like surprises and mixing things up, the other way works perfectly fine too!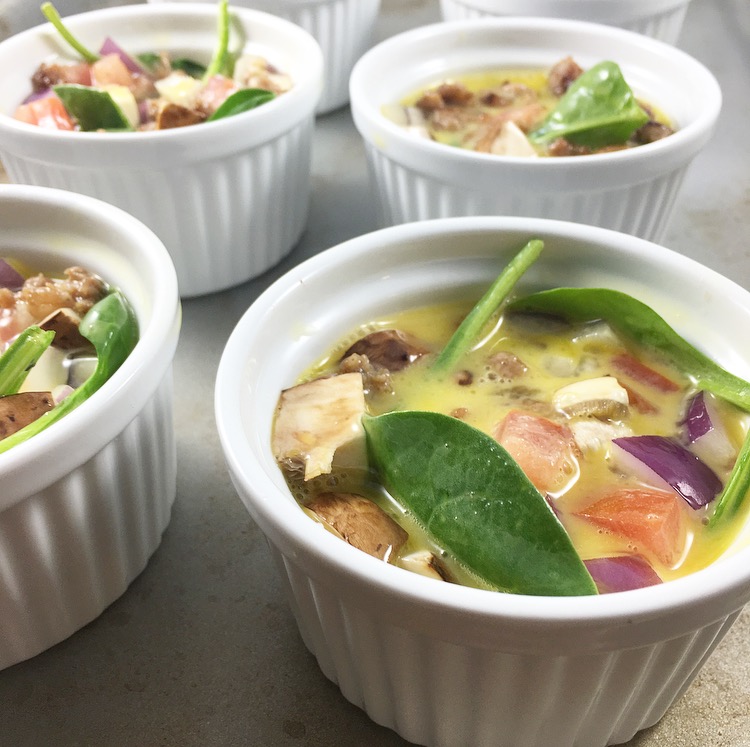 My muffin tin is my go-to when it's just me meal prepping. However, if you are using ramekins, place them on a baking sheet before putting them in the oven. Seems like an easy enough concept, right? Maybe. But I had to google what the heck to do with these cute lil' guys when I first got them so I figured I'd throw that helpful hint in here.
Let me know what some of your favorite ingredients are to jazz up your paleo egg muffins!
Print
Paleo Sausage and Egg Make-Ahead Muffins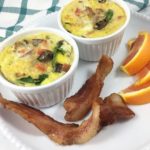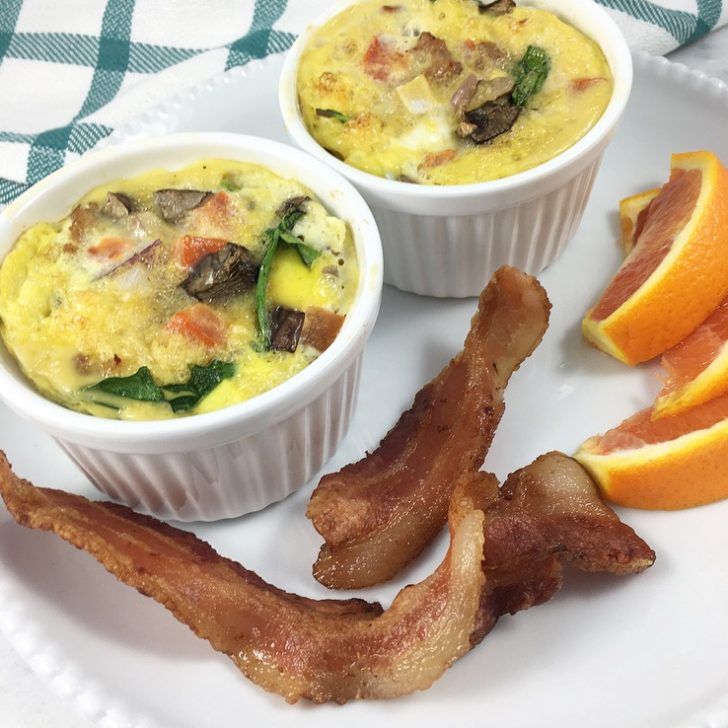 Ingredients
1/2 tablespoon olive oil (or non-stick oil spray)
8 eggs, beaten
1/2 pound breakfast sausage
1/2 onion, diced
1/2 tomato, seeds removed and diced
1/2 cup mushrooms, diced
1 handful spinach
Parsley to garnish
Instructions
Preheat oven to 350 degrees F.
Grease muffin tin or ramekins
Brown sausage in skillet over medium heat, remove from pan and crumble
Beat eggs in large bowl
Dice veggies
Either mix veggies and sausage into beaten egg or place veggies and sausage individually into cups
Fill cups 2/3 full with mixture or pour egg into pre-filled cups until 2/3 full
Bake in the oven for 25 minutes or until egg is cooked and no yolk can be seen
Allow to cool for a few minutes before removing them from cups
Refrigerate in air tight container or place in freezer in individual servings in freezer bags