Finding breakfast sausage without sugar and other additives is not the easiest task. I often put it on my shopping list with no idea if I'll get lucky and actually come home from the grocery store with it. Thankfully, with a few simple spices, making your own Whole30 homemade breakfast sausage for skillets, egg bakes, or sausage patties is really easy!

It's easy, but it also can be a cheaper option, along with a great recipe to make for meal prepping. I like to make a double batch and toss them into the freezer. I store them in groups of 2 or 4, which makes my life easier on days or weeks I don't want to or don't have time for cooking breakfast.
I've also made Paleo homemade breakfast sausage in double batches. I like to keep one pound of uncooked ground sausage in the freezer. This is also really awesome for having ground Paleo breakfast sausage on hand to make meal prepping or cooking breakfast, lunch or dinner a breeze later down the road. Simply take it out, thaw, and use like you would ground breakfast sausage. Egg muffins? Breakfast skillet? Slow cooker egg bake? You could make any of them, because, ya know, you already have the homemade breakfast sausage. Wink wink.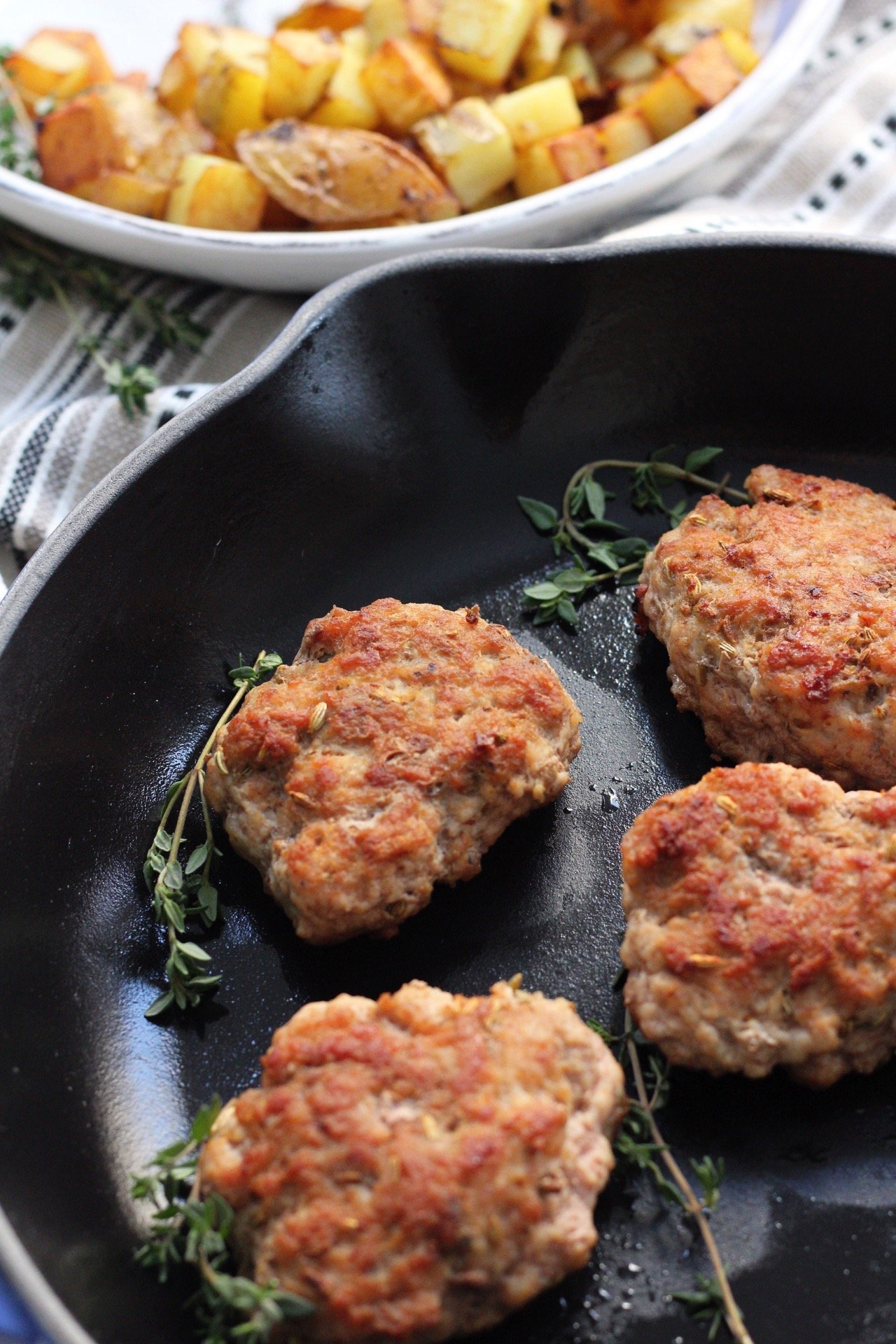 This Whole30 homemade breakfast sausage recipe calls for only a few spices, such as fennel. I get most of my spices from Thrive Market now. I've been slowly purchasing them there as I run out of what's in my glass jars. Instead of buying new jars, I can purchase them cheaper from Thrive Market and just restock! Thrive Market is basically like Costco meets Whole Foods, where all the healthy food and lifestyle products are 20-50% below retail price. AKA, my spices cost me a lot less than they do in the store.
Print
Homemade Breakfast Sausage: Paleo, Whole30 & Freezer Friendly!
Prep Time: 10 minutes
Cook Time: 20 minutes
Total Time: 30 minutes
Yield: Serves 8
Category: Breakfast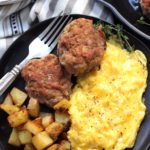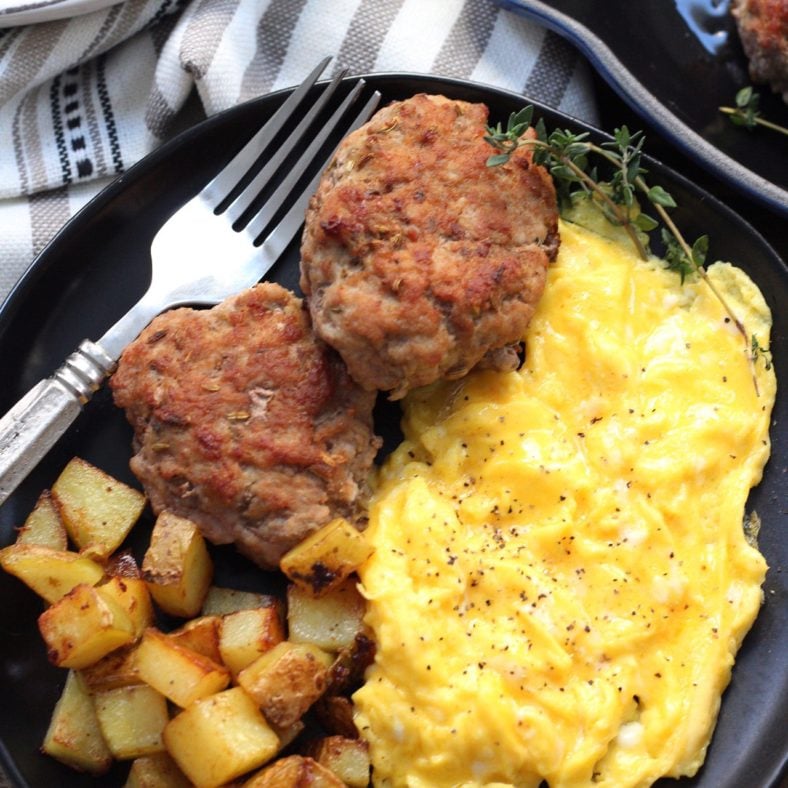 Ingredients
2 pounds ground pork
1/2 tablespoon salt
1/2 tablespoon fennel
2 teaspoons pepper
1 teaspoon dried sage
1 teaspoon garlic powder
Optional: 1/2 teaspoon crushed red pepper flakes
Instructions
Add all ingredients to a large bowl
Mix spices in with the ground pork until all combined
Use ground pork mixture in breakfast skillets, or freeze
OR heat 1 tablespoon oil in a large skillet over medium heat
Form patties 1/3 inch thick and place in hot skillet, ensuring not to overcrowd in the pan
Cook sausage patties for 4-6 minutes on each side, until no pink remains in the middle
Serve immediately, store in refrigerator up to 5 days, or freeze for meal prep later!
Nutrition Facts:
Calories: 336.6
Sugar: 0
Fat: 23.5
Carbohydrates: 0
Protein: 29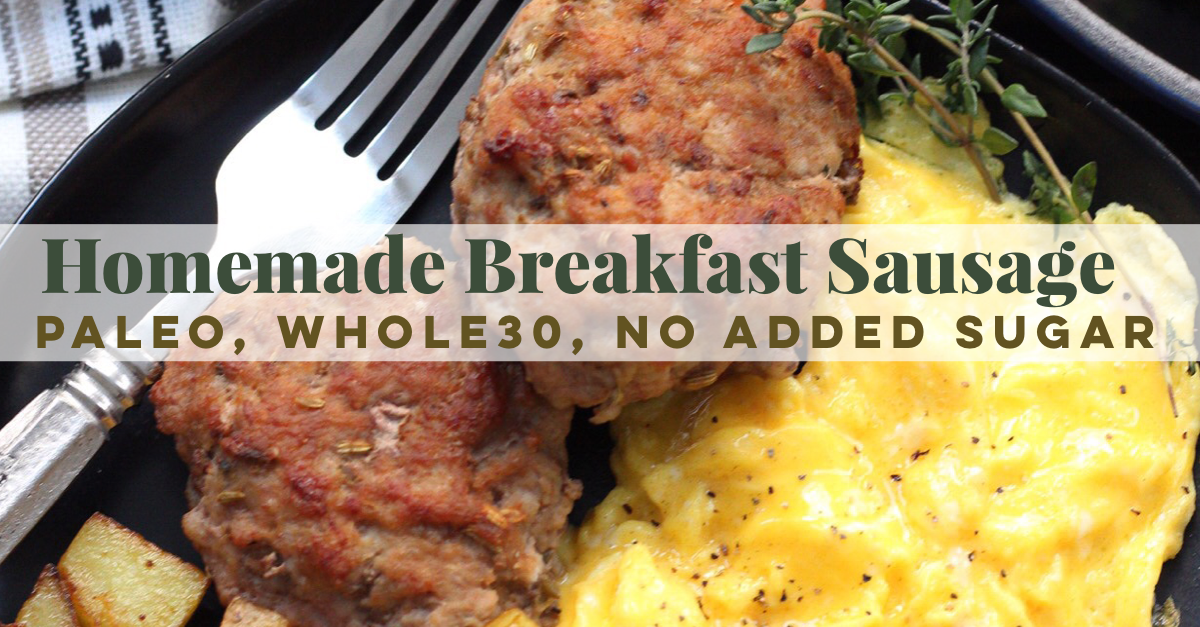 This post contains affiliate links, though all products are ones I use personally and recommend. When you purchase anything using my links, it costs you absolutely nothing extra, but it does give Paleobailey.com a little financial support which helps to keep this blog running. Thank you for your continued support, both with your dollars and your interest.