These low carb air fried BBQ wings are on the menu tonight! This Paleo air fryer chicken wing recipe is Whole30 and doesn't leave you any pots or pans to wash! Does it get any better? Probably not. It's almost hard to tell the difference between these wings and wings from the neighborhood restaurant. The air frier gets them crispy but still tender and it'll be your new obsession like it is mine!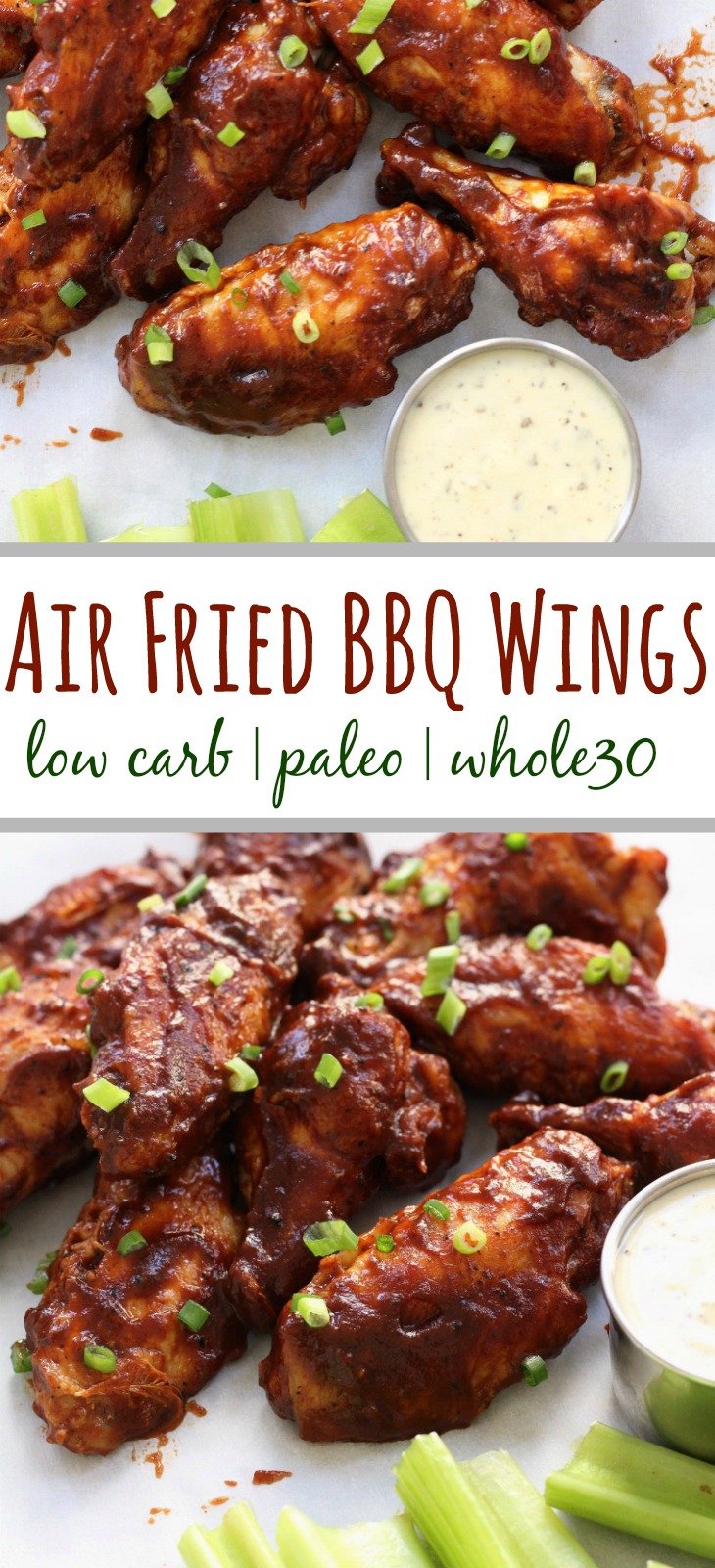 If you're new to air frying, don't worry. So am I! I'm just getting the hang of how to work my air fryer but I already love it so much! It makes cooking and cleaning really simple. If you don't have an air fryer, it might be to hop on the bandwagon.
I've seen an influx of questions about air fryers and if they can be used on Whole30. Or if the Paleo air fryer recipes can even be a real thing. The answer to both of those good questions is YES! Whole30 air fryer recipes and Paleo air fryer recipes are both still Whole30 and Paleo. There's no extra oil added, no off limits ingredients used. I mean, unless YOU add them! That makes this whole air fryer deal pretty cool if you ask me.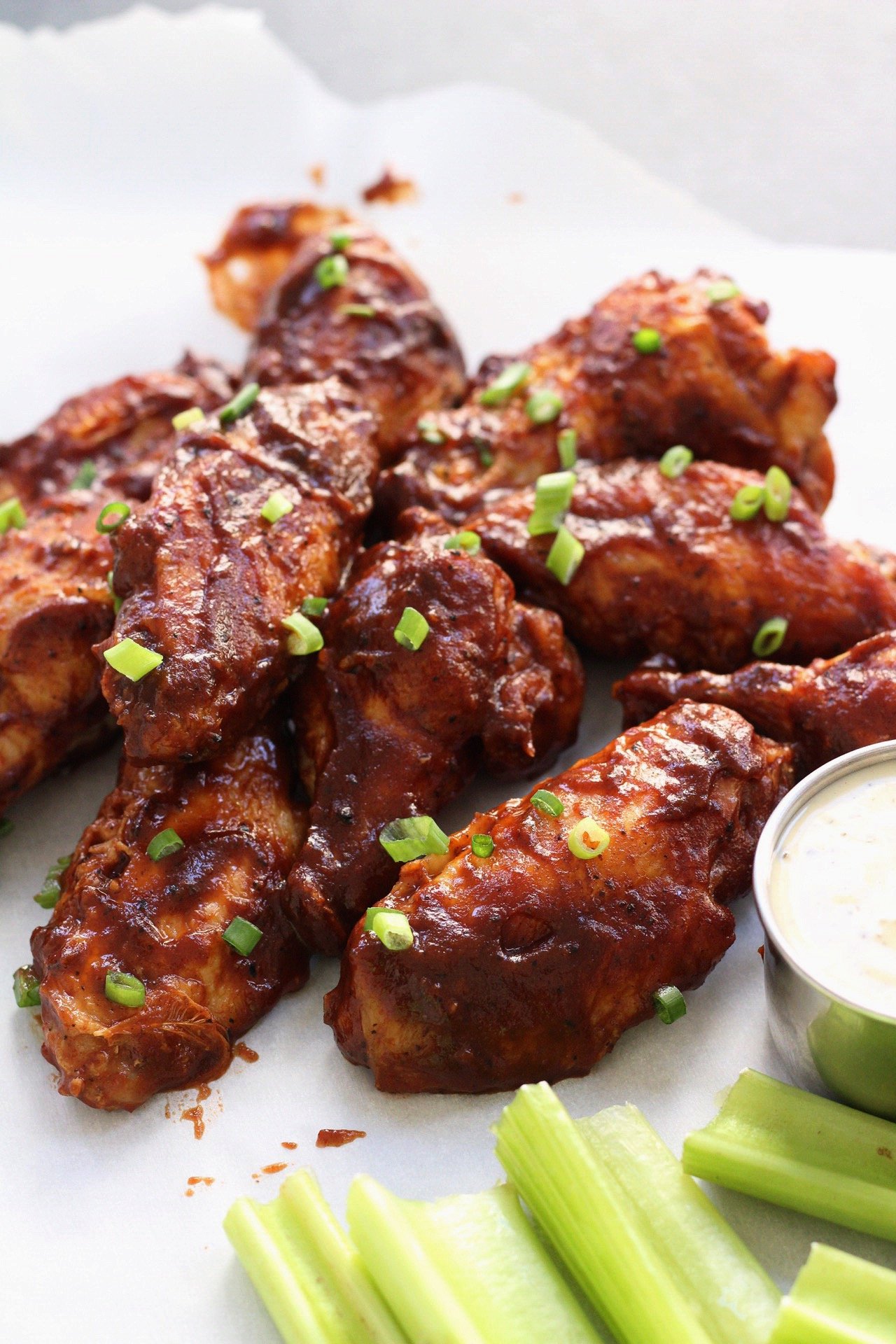 My boyfriends favorite thing to do with ours is to reheat his leftovers. I'm sure you can guess that's not MY favorite thing to do, but to each his own! You'll find that there's a lot you can do with this baby. From sweet potato fries, crispy breakfast potatoes, chicken wings, every and all veggies, pork chops. It even makes asparagus taste not as bad. Just saying.
As for these BBQ wings, they don't have to be BBQ wings. You could, and should, toss them with whatever sauce gets you excited. I had just made a fresh batch of my Whole30 BBQ sauce so of course that's what was going on mine. Any dressing or sauce you've got would work! Some of my favorites that I don't have to make myself are from Tessemae's. I also really love crispy caesar dressing wings! If you're having a hard time finding Whole30 dressings and Paleo sauces, make sure to check out Thrive Market!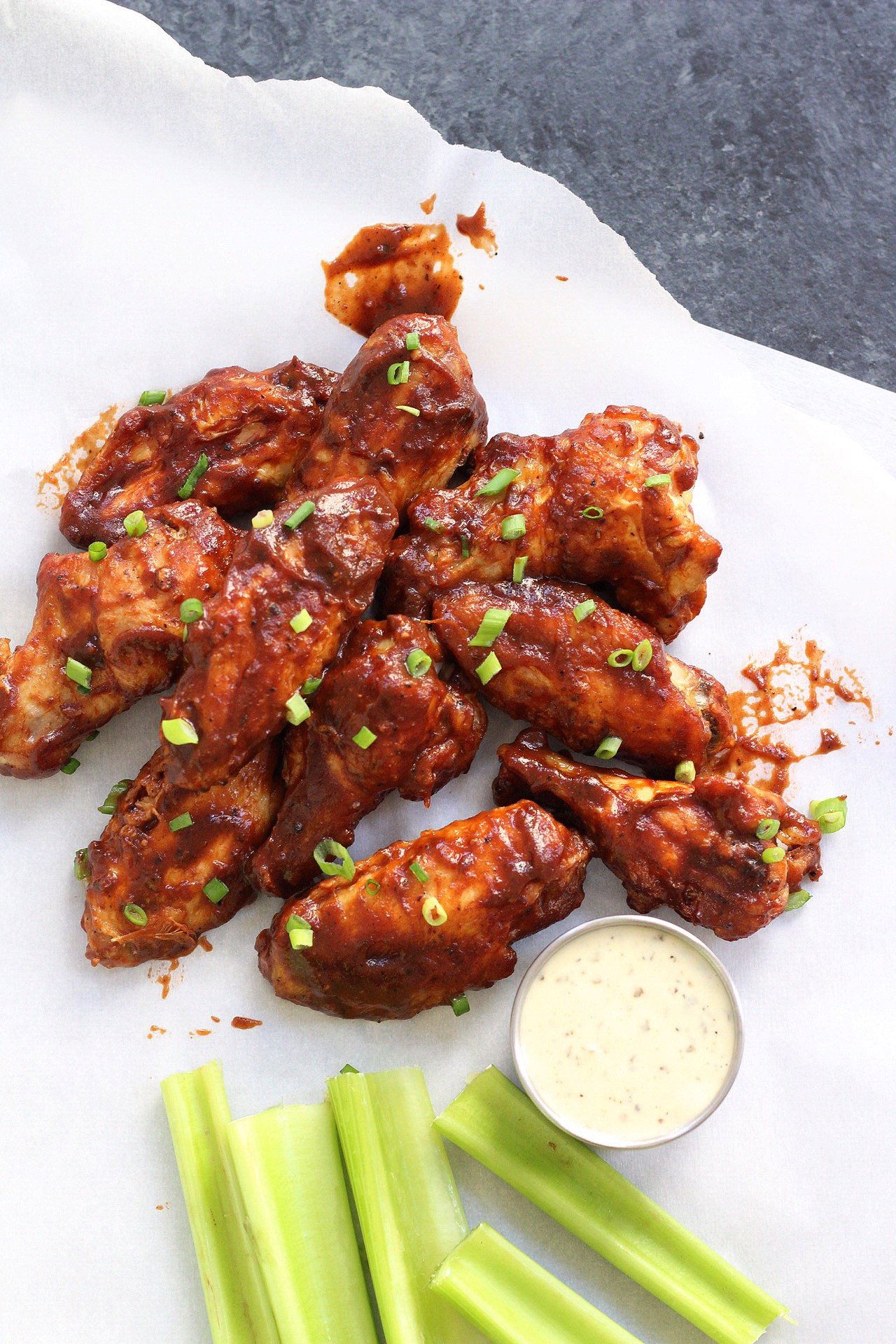 The only real important note about this recipe is to make sure you flip the wings. Honestly, if that's the hardest part and the only thing I really need to say about how to prepare these, I think you'll be fine! So if you're scared of that air fryer, let this encourage you to just go for it with these Whole30 air fried BBQ wings!

Alright now get yourself some ranch to dip these Whole30 air fried BBQ wings into, some extra napkins, and have yourself a totally Paleo, totally low carb wing night!
Other Wing Recipes You'll Make Over and Over:
Crispy Salt and Pepper Whole30 Chicken Wings
Whole30 Buffalo Boneless Wings
Everything But The Bagel Wings
Print
Air Fried BBQ Wings: Whole30, Paleo, Low-Carb!
Prep Time: 2 minutes
Cook Time: 28 minutes
Total Time: 30 minutes
Yield: Serves 4
Category: Appetizer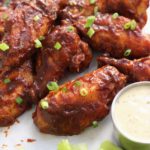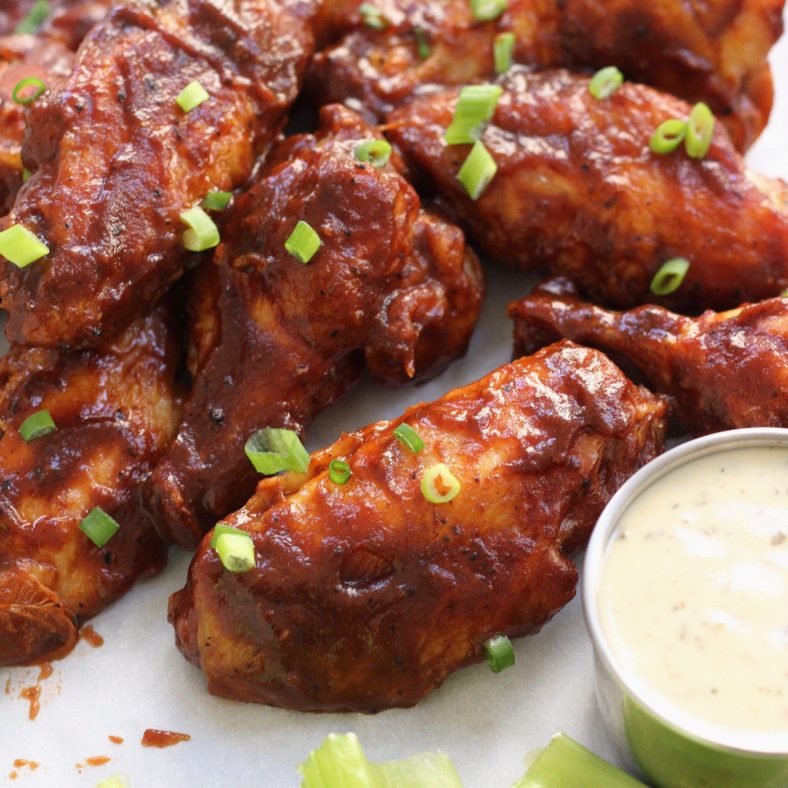 Instructions
Set the air fryer to 375 degrees F.
Season chicken wings with salt and pepper and place into the air fryer basket
Cook the wings for 20 minutes, flipping with tongs after 10 minutes
When time is up, flip one last time and increase the temperature to 400 degrees F.
Cook an additional 8 minutes until skin is crispy and golden
Remove wings from air fryer and place in a bowl or serving dish
Toss with BBQ sauce and enjoy!
Nutrition Facts:
Calories: 594
Sugar: 18
Fat: 34
Carbohydrates: 23
Protein: 47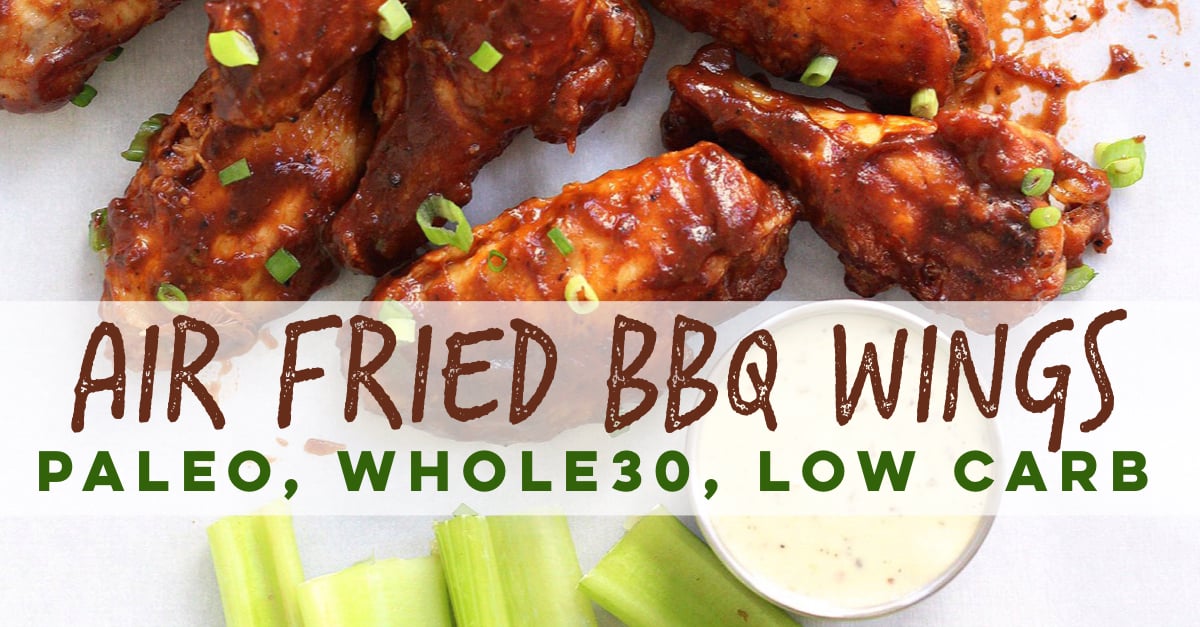 This post may contain some links that are affiliate links, though products are ones I use personally and recommend. When you purchase anything using my links, it costs you absolutely nothing extra, but it does give wholekitchensink.com a little financial support which helps to keep this blog running. Thank you for your continued support, both with your dollars and your interest.