Just because you're grain free doesn't mean you can't dive into delicious fish tacos! These Paleo fish tacos are so quick to whip up, and full of flavor. If you enjoy them without the tortilla, they're Whole30 fish tacos too! The best part is you'd never know they were healthier than the fish tacos from Tony's Taco Truck.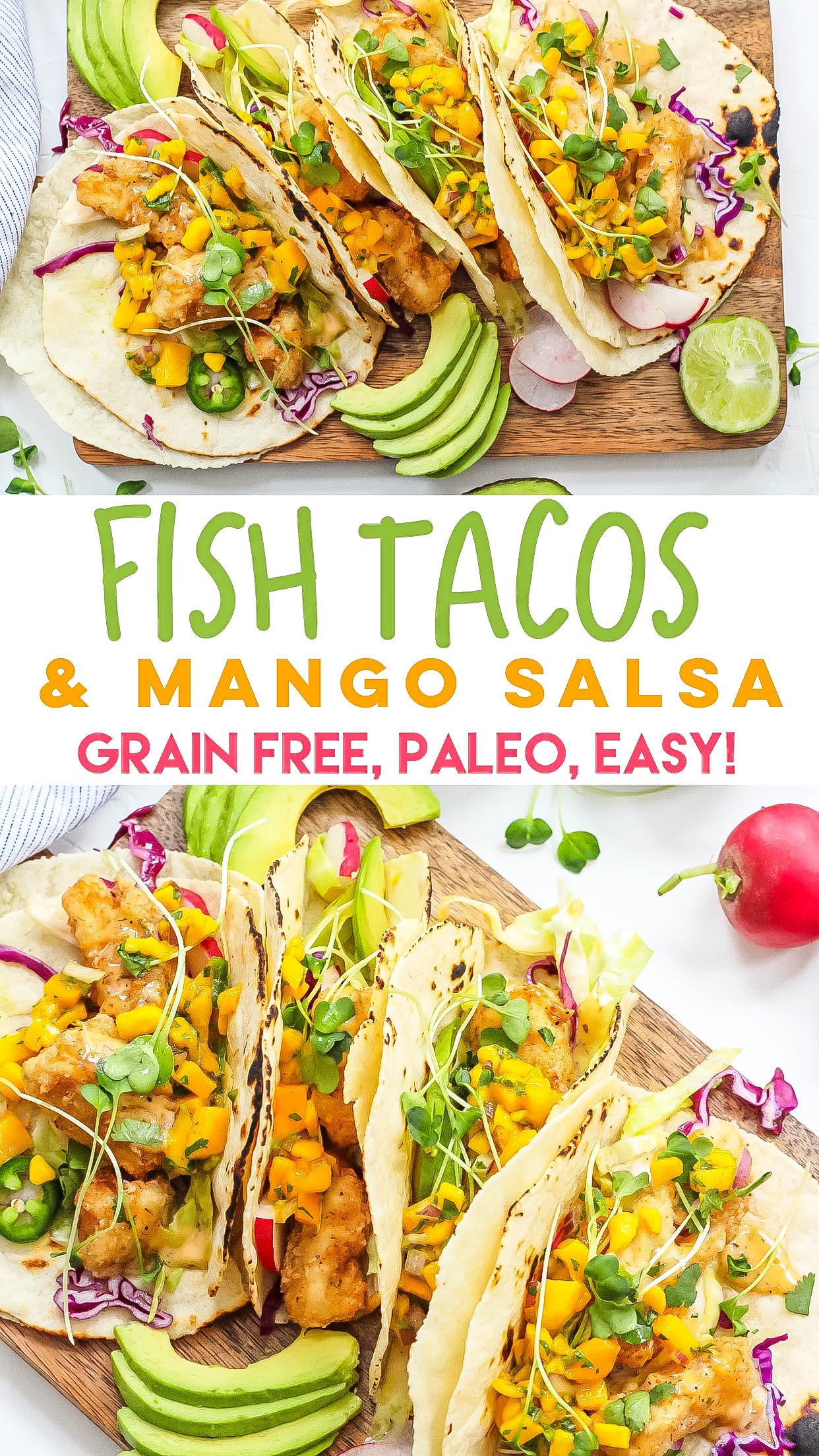 The grain free tortillas I used are from Siete. I think they're an awesome grain free and Paleo tortilla option, but you can of course make your own or use your favorite! If you have a gas range, heat the tortillas up right over the range and let them char a bit. Not needed, but I think it gives them an even bolder flavor with your Paleo fish tacos!
Back to that Whole30 fish tacos comment. Just because the photos show tortillas, which are a no-go on Whole30, doesn't mean you can't switch it up! Use lettuce cups from butterhead lettuce, romaine leaves, or just have a Whole30 fish taco salad! You could even add the taco fillings to a collard greens wrap. If you haven't had a taco wrap full of mango salsa and avocado, maybe now is the time.
So, if you've been reading for a while, you might know what I'm about to say. I'm about to say how much I love this kind of recipe because YOU can do whatever works for you. I always encourage you to use a recipe as the bones to your meal. Use what you have on hand, experiment and I bet a super delicious taco will land on your plate!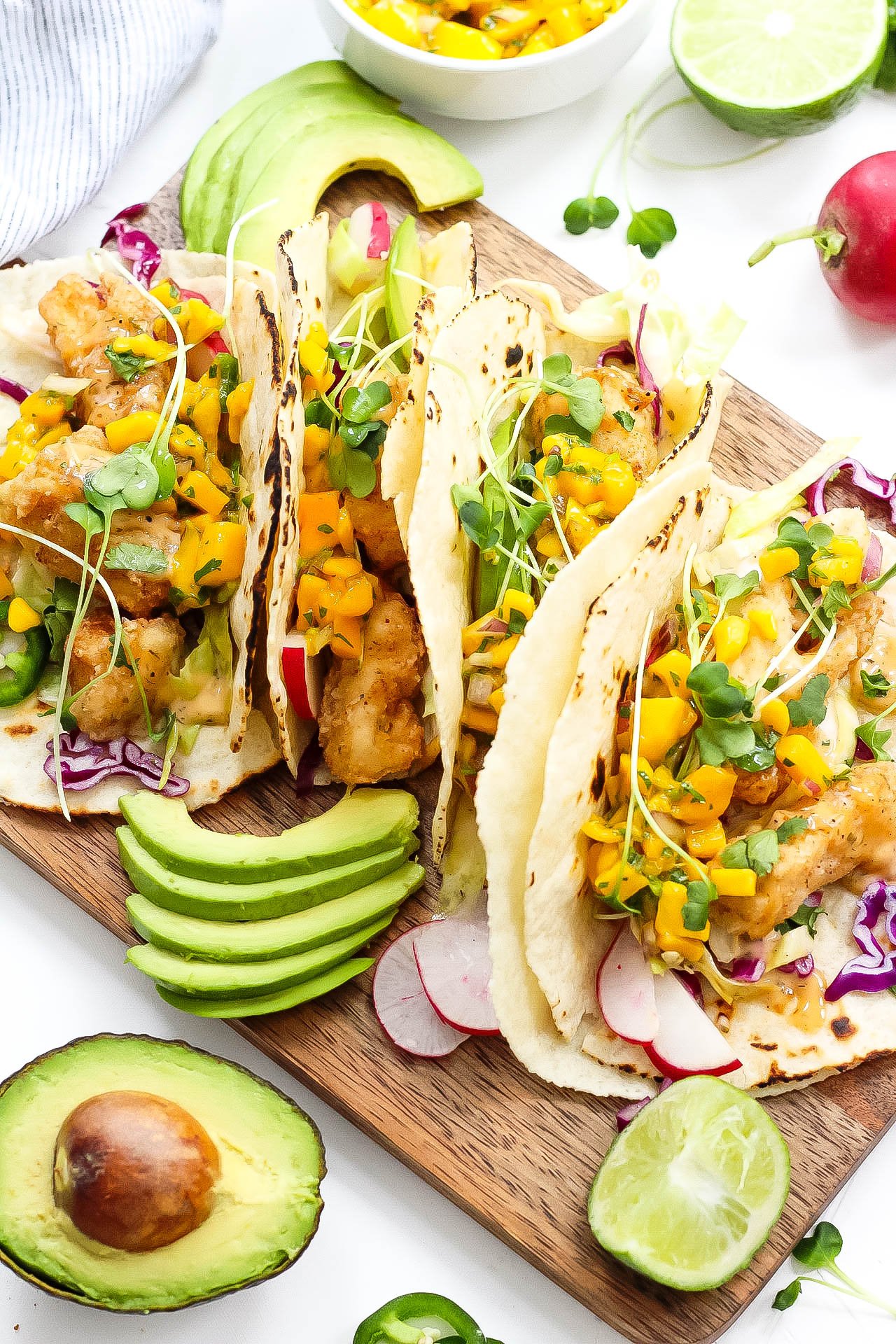 My taco fillings don't have to be yours. If you have shredded lettuce already, use that. Have pineapple instead of mango? Make pineapple salsa instead! Hate radishes? No biggie! (Except for the fact that radishes are amazing….)
For the breading on the fish, I use a combination of coconut flour and tapioca flour. You can skip the tapioca flour if you don't have it. Tapioca is a common Paleo thickener. The purpose it serves in this Paleo fish tacos recipe is to make the breading a bit thicker. It just gives it a little more somethin' somethin' than the coconut flour does on it's own. Don't get me wrong, I promise it'll still turn out great with just coconut flour still!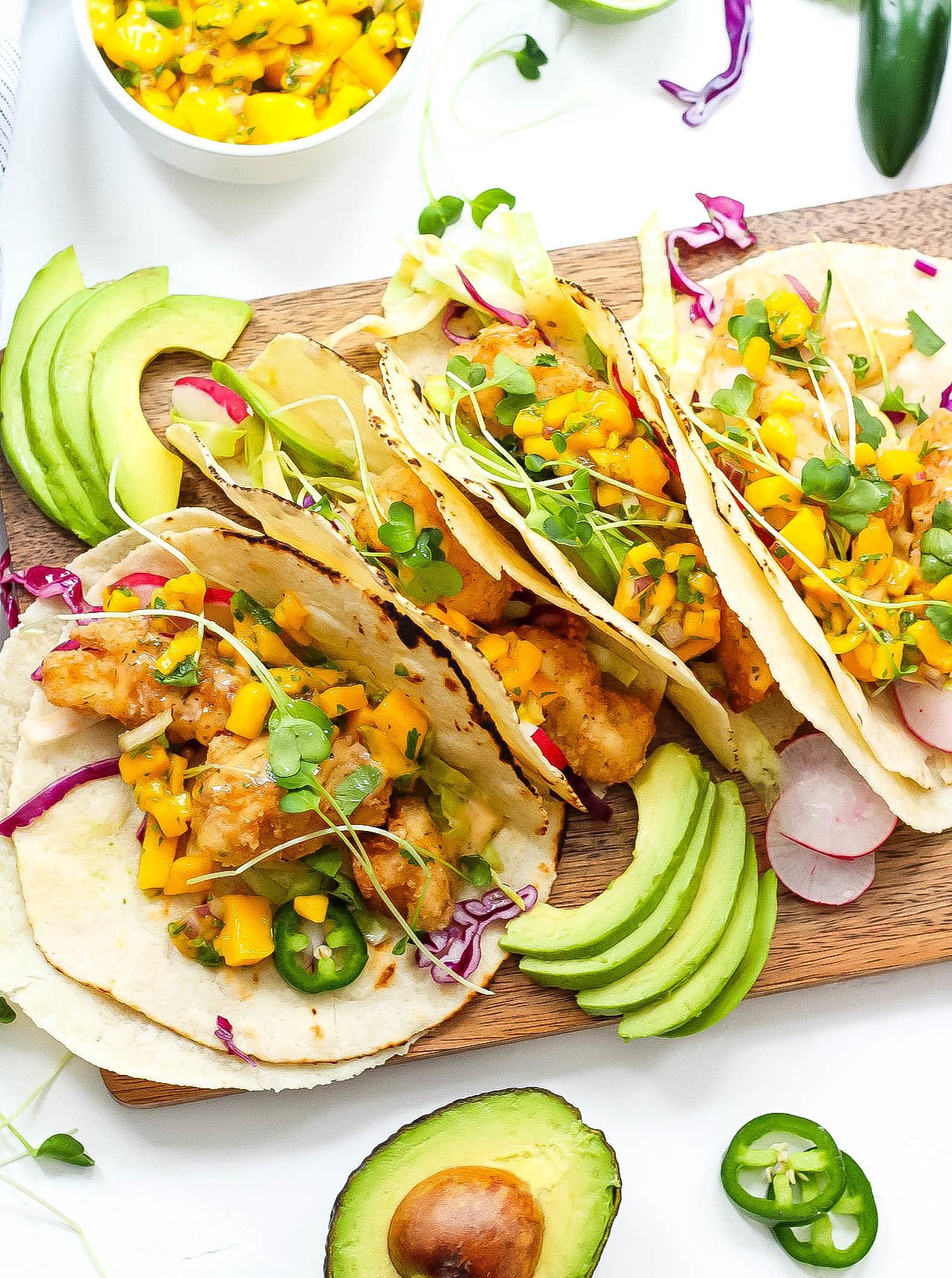 If you don't have those standard flour alternatives, you can get them from Thrive Market, which is like Costco meets Whole Foods. They give you 20% off of your first 3 orders, so basically free tapioca flour. Just kidding. You can also get them from Amazon, Whole Foods, and some other health oriented grocery stores!
My Other Favorite Paleo Fish Recipes:
15 Minute Creamy Skillet Salmon
Sheet Pan Lemon Garlic Salmon & Veggies
Print
Paleo Fish Tacos with Mango Salsa
Prep Time: 15 minutes
Cook Time: 10 minutes
Total Time: 25 minutes
Yield: Serves 3-4 1x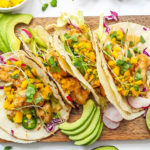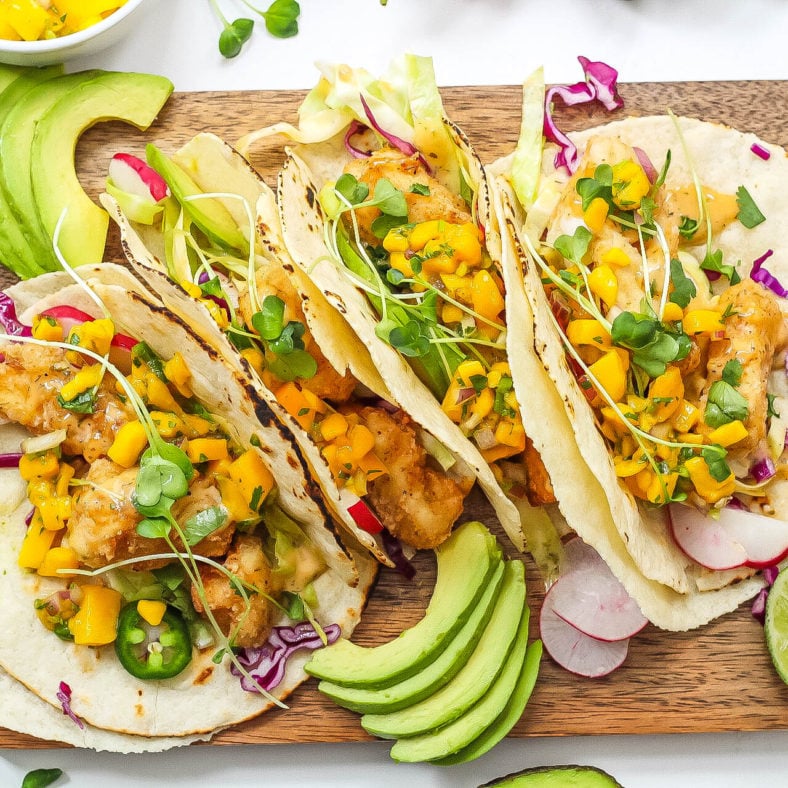 Ingredients
For the Tacos:
8 grain-free tortillas
1 pound halibut or cod
1 cup coconut oil
1 egg, beaten
1/2 cup shredded purple cabbage
½ cup tapioca flour
¼ cup coconut flour
1 teaspoon garlic powder
1/2 teaspoon salt
Optional:
1/2 sliced jalapeño
1/2 cup diced cilantro
Microgreens
Sliced avocado
For the Mango Salsa:
2 mangos, skinned and diced
1/2 cup diced red onion
1/4 cup finely chopped cilantro
1/2 jalapeño, finely diced
1/2 teaspoon salt
Juice of 1 lime
Instructions
Dice fish into 1 inch pieces
Combine coconut flour, tapioca flour, garlic powder and salt into a small bowl next to the bowl with the beaten egg
Heat coconut oil in a large skillet over medium-high heat
While the coconut oil comes heats up, dip fish into the egg, then directly into flour mixture and evenly coat
When coconut oil is hot, use thongs to add fish pieces into the pan
Cook 1-2 minutes until golden brown on the first side
Flip each piece of fish and cook another 1-2 minutes until fish is cooked through
Remove fish from heat and let sit on a plate lined with a paper towel to absorb any excess oil
Add fish, toppings and mango salsa to the tortillas and enjoy!
Notes
Double mango salsa recipe for storing half for later. Mango salsa is good up to 7 days when refrigerator in an airtight container. Don't crowd fish while cooking. If pan isn't large enough, repeat cooking process adding more coconut oil for each batch of fish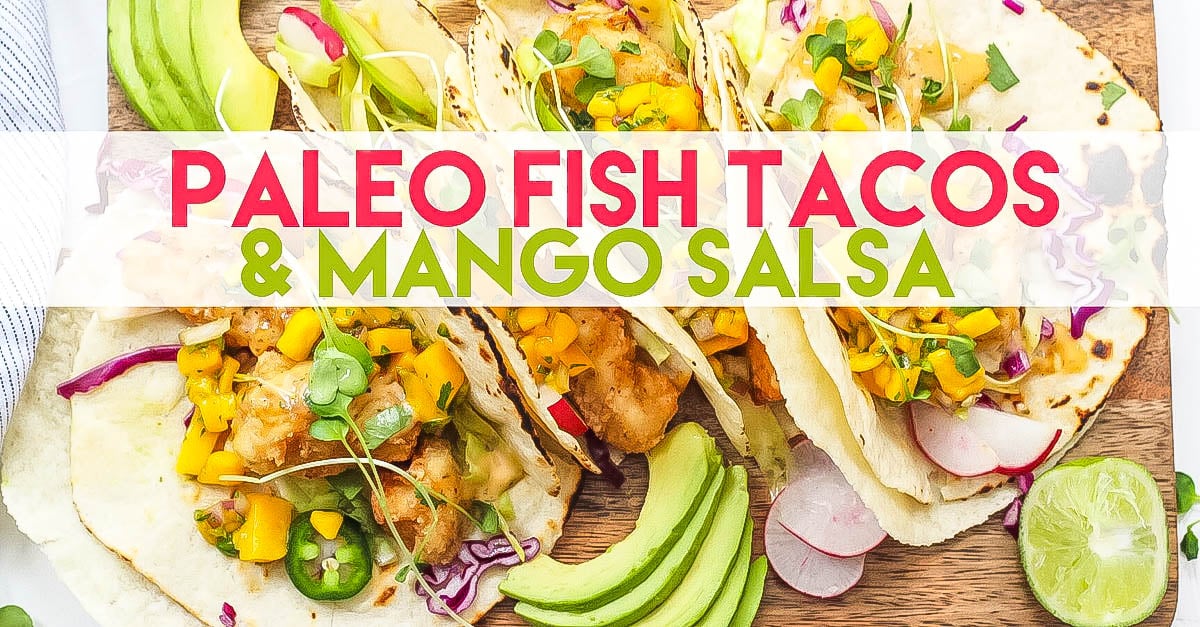 This post may contain some links that are affiliate links, though products are ones I use personally and recommend. When you purchase anything using my links, it costs you absolutely nothing extra, but it does give wholekitchensink.com a little financial support which helps to keep this blog running. Thank you for your continued support, both with your dollars and your interest.