These stuffed Whole30 bacon burgers are going to be the star of your next get together. They're easy to make on the grill or on the stovetop, and perfectly customizable for all of your party guests! These juicy burgers are full of flavor, topped with the best condiments, and great for dinner no matter if you're eating keto, Paleo or Whole30!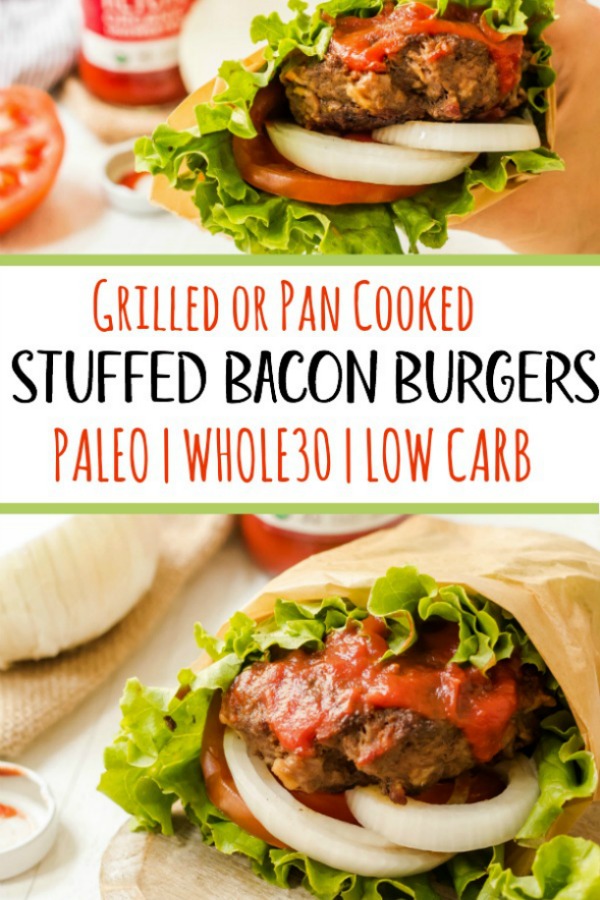 This post is sponsored by Primal Kitchen. They're giving you 10% off any of their products using the code "PALEOBAILEY" at checkout! I'm happy to work with a company I love, use and believe in so much. Thanks for your support here on the blog and your support for Primal Kitchen!
My boyfriend claims these are the best burgers he's ever had every single time we make them. Because the bacon is mixed right into the burger, you get so much flavor in every single bite. While I agree, they taste fan-freakin-tastic, my favorite thing about them is how easy they are to make, and how easy it is to set up toppings and condiments so everyone is happy and can have their perfect burger.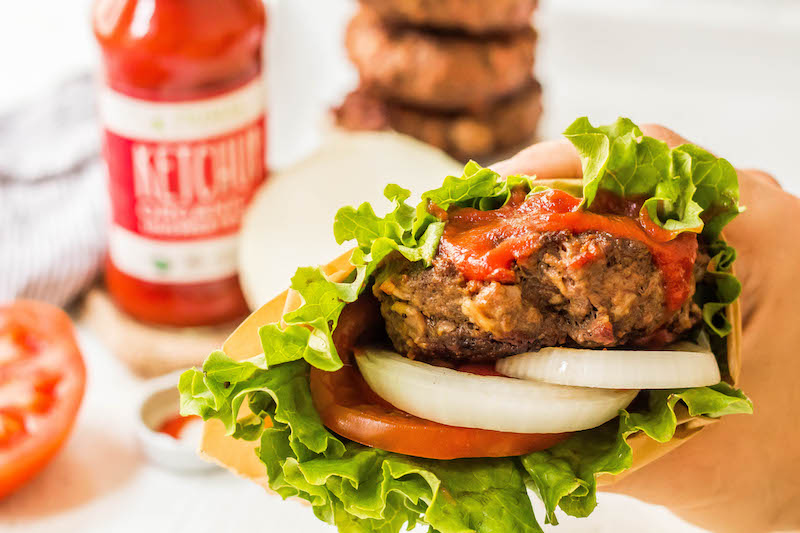 Primal Kitchen products have been my go-to for a while now with their delicious dressings and marinades. But now they truly have taken over my refrigerator with the new sweetener-free, organic and Whole30 Approved ketchup. I love swapping out common conventional items that are filled with junk ingredients and sugar for healthier, whole foods based products. I love it even more when my boyfriend, friends and family can't even tell the difference.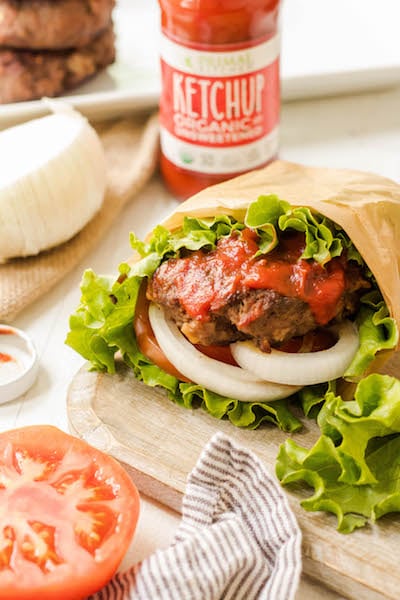 That's exactly what this ketchup is. SO good that my boyfriend didn't even realize it was Paleo! Putting this Primal Kitchen Whole30 Approved ketchup out on the table at our last BBQ helped everyone not only enjoy their meal, but also see that healthy doesn't mean boring, plain meals. The new organic spicy brown mustard is another tasty condiment to add to the table, too!
You can find these new condiments from Primal Kitchen on their website, or exclusively at Whole Foods!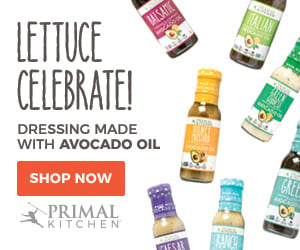 Let's talk bacon. And burgers. Like I said, there is so much flavor packed into each bite, there's really no way you won't love these. We add a little bit of chipotle powder to kick it up a notch, which totally compliments the flavor of the ketchup!
I suggest cooking the bacon halfway through prior to mixing it into the ground beef. If you're pan cooking the Whole30 bacon burgers, leave the bacon fat in the pan to cook the burgers in for even more juicy flavor. This recipe only needs a handful of ingredients which makes them super quick, easy and perfect for summer. If you're looking for Whole30 Approved bacon, check out Whole Foods, Target, Sprouts or Fresh Thyme. Now more than ever before it's easier than ever to find!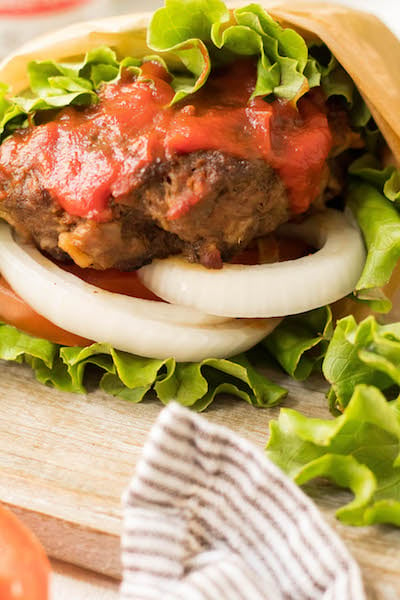 Build a fun burger bar for your guests or family to let them top it with their favorite things. I like to put out lettuce wraps, buns for those who may want them, Primal Kitchen ketchup and mustard, sliced onions, and tomatoes. Make a simple side like potato salad, grill some veggies and have yourself a delicious Whole30 dinner!
Other Recipes that use Primal Kitchen's Awesome Whole30 Products:
8 Ways to Use Caesar Without the Salad
5 Minute Paleo Protein Smoothie
Print
Hungry for more? Subscribe to my newsletter to get new recipes delivered straight to your inbox! And be sure to stay in touch on Facebook, Pinterest and Instagram for all of the latest updates.
Stuffed Bacon Burgers: Paleo, Whole30, Keto
Prep Time: 15 minutes
Cook Time: 15 minutes
Total Time: 30 minutes
Yield: Serves 4-6 1x
Category: Grilling
Cuisine: American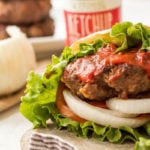 Ingredients
1 pound ground beef
1 package sugar-free bacon
1/4 cup almond flour
1/2 teaspoon chipotle powder
1/2 teaspoon salt
Toppings:
Green leaf lettuce or butterhead lettuce for wraps
Sliced tomatoes
Sliced white onion
Instructions
Heat a skillet over medium heat and add bacon to the skillet once hot
Let bacon cook halfway through, about 5 minutes, and remove from skillet to let cool
In a large bowl, combine ground beef with almond flour and spices
Once bacon is cool, finely chop and mix in with the ground beef mixture
Form 6 burger patties and leave a thumbprint indent in the middle of each patty to help keep their shape
If grilling, heat grill to 400 degrees F and cook for 4-5 minutes on each side until internal temp is 160 degrees F. for medium done burgers
If pan cooking, heat skillet with bacon fat over medium-high heat. Once hot, cook burgers for 5-6 minutes on each side, flipping halfway through or until burgers reach internal temp of 160 degrees F. for medium done burgers
Lay two lettuce leaves slightly overlapping down flat and place a burger directly in the center. Add burger toppings and condiments. Wrap up the burger and use toothpicks or parchment paper to easily hold in place
Enjoy!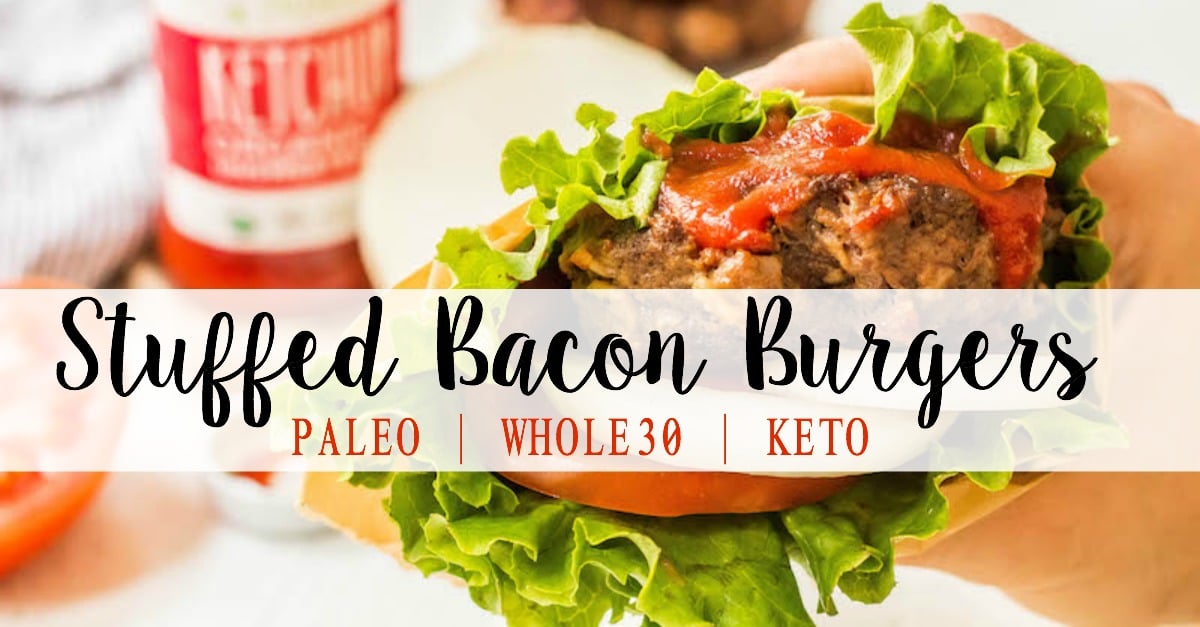 This Whole30 bacon burgers post may contain some links that are affiliate links, though products are ones I use personally and recommend. When you purchase anything using my links, it costs you absolutely nothing extra, but it does give wholekitchensink.com a little financial support which helps to keep this blog running. Thank you for your continued support, both with your dollars and your interest.