Much like my obsession with chicken wings, my love of burgers runs deep. These spicy Thai burgers are a new favorite at my house. However, a lot of people, after hearing what I eat or more, what I don't eat, assume that burgers are off limits. But much like with wings, there's so many easy, fun and healthy ways to make them that there's no reason you can't enjoy them still!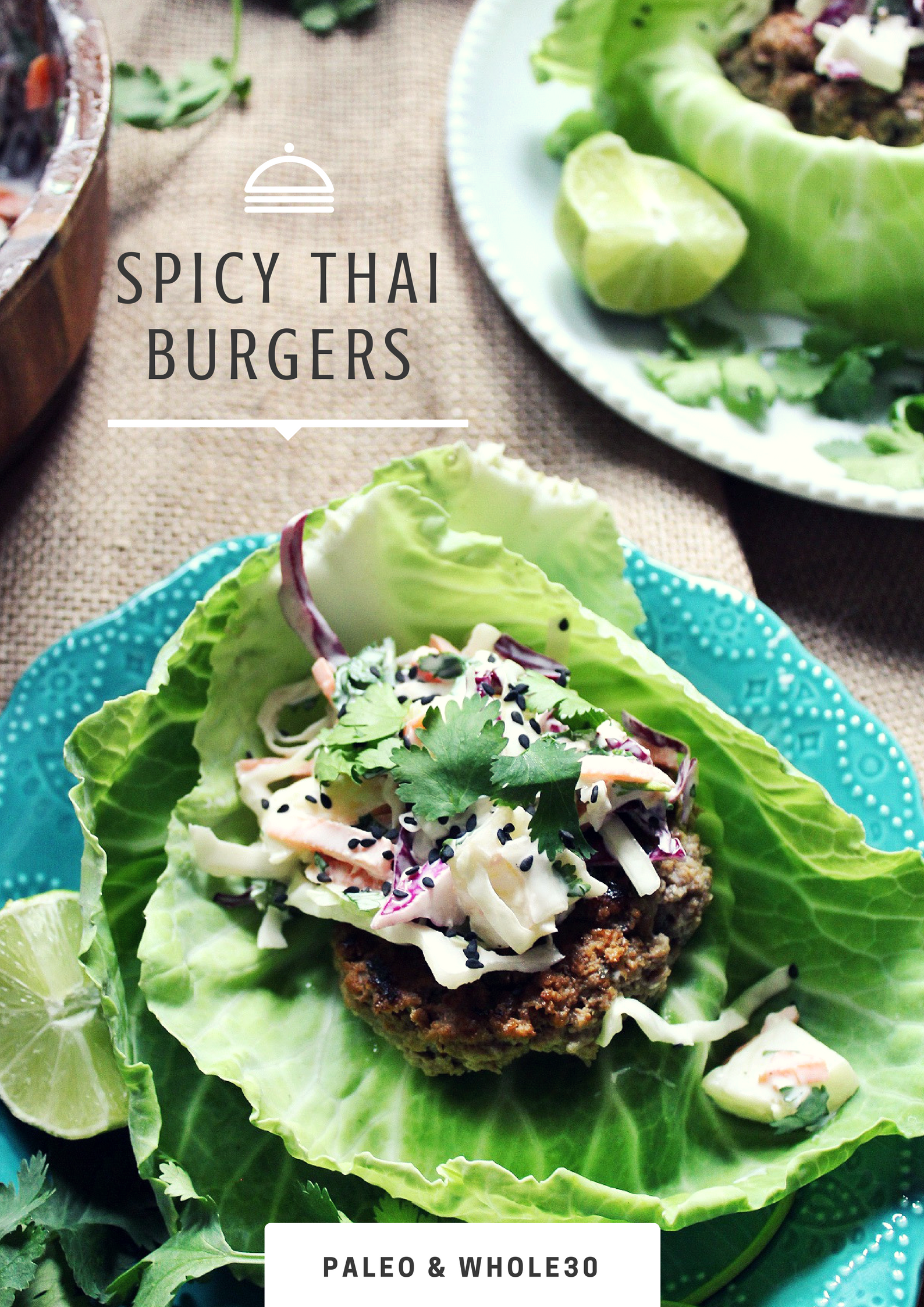 This post is all about celebrating Yai's Thai and delicious Thai inspired recipes. I'm happy to have partnered with this brand I believe in! Thanks for your support here on the blog and your support for all of our awesome Whole30 Approved companies!
Making Paleo burgers takes a little creativity being we're going sans bun and cheese but that doesn't mean it has to lack flavor. I like to try to deviate every once in a while from the traditional All-American burger with bacon, tomato and onion with a lettuce wrap when I'm making burgers. It keeps things fresh and exciting and keeps me from getting a case of food boredom.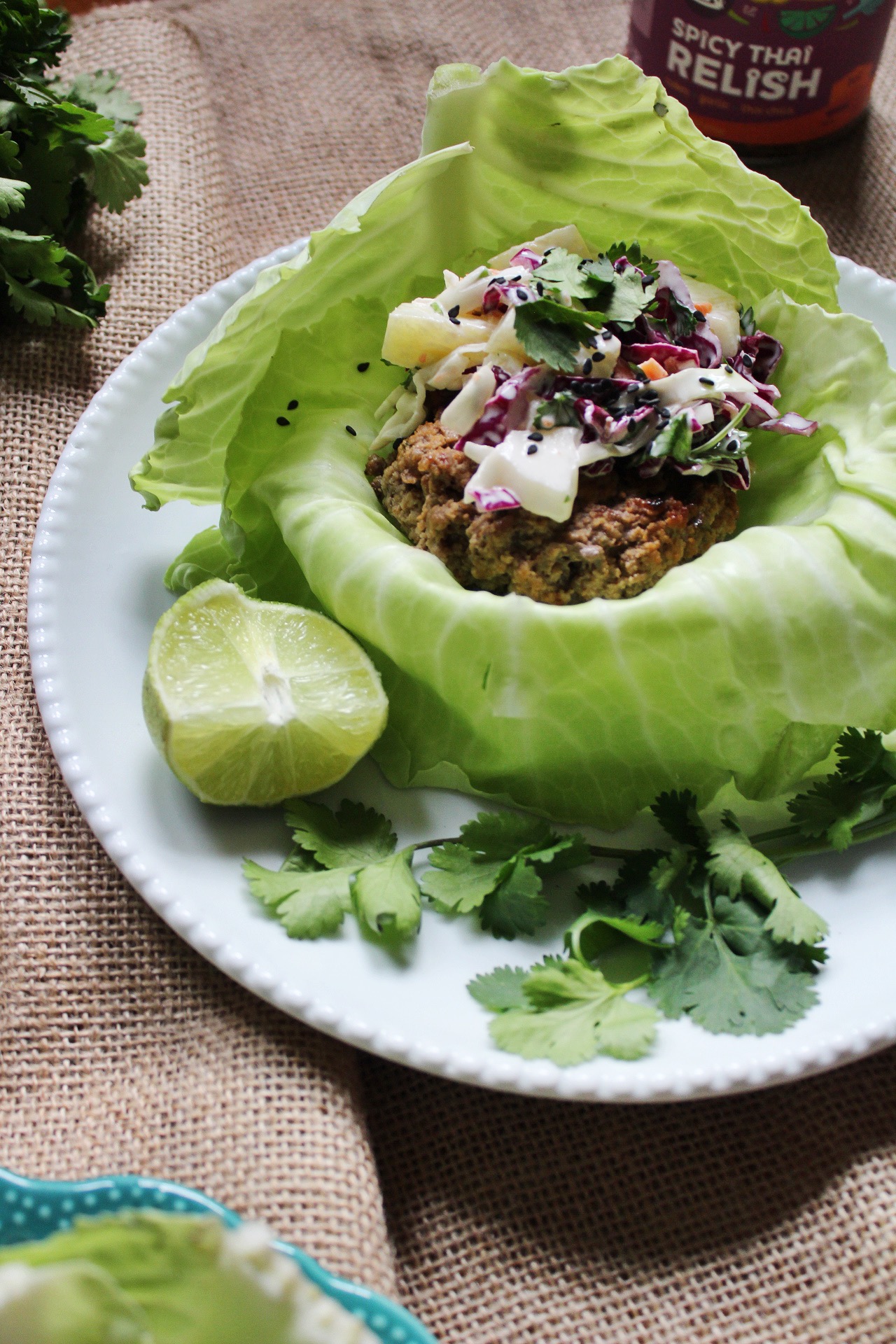 The first time I made these spicy Thai burgers, my boyfriend was basically licking his plate when we were finished. So it wasn't a surprise to me when they were requested for the following week's menu as well. We love them so much I placed another order for the Spicy Thai relish I used in the burgers from Yai's Thai before the relish was even gone.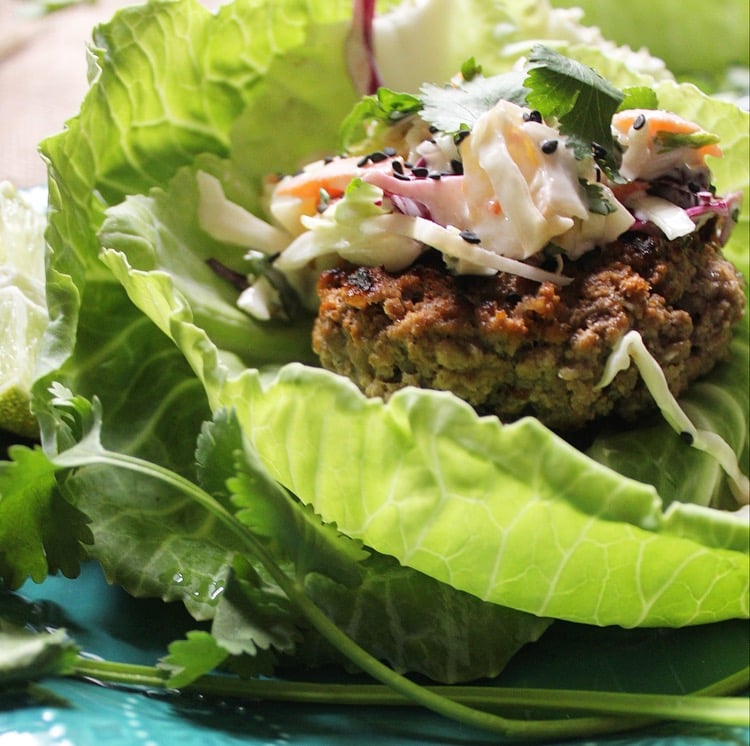 The Asian coleslaw I whipped up is an awesome compliment to the burger and I'm not even ashamed to say I ate the leftovers right out of the bowl standing in the middle of my kitchen the next day.
I used a precut coleslaw mix from my grocery store. If you don't have access to that, you can easily chop 1/2 head red cabbage, 1/2 green cabbage and slice a few carrots! I used green cabbage for the "lettuce" wraps in place of iceberg lettuce or hamburger buns. Cabbage wraps are crisp and easy to work with and a little more durable than lettuce.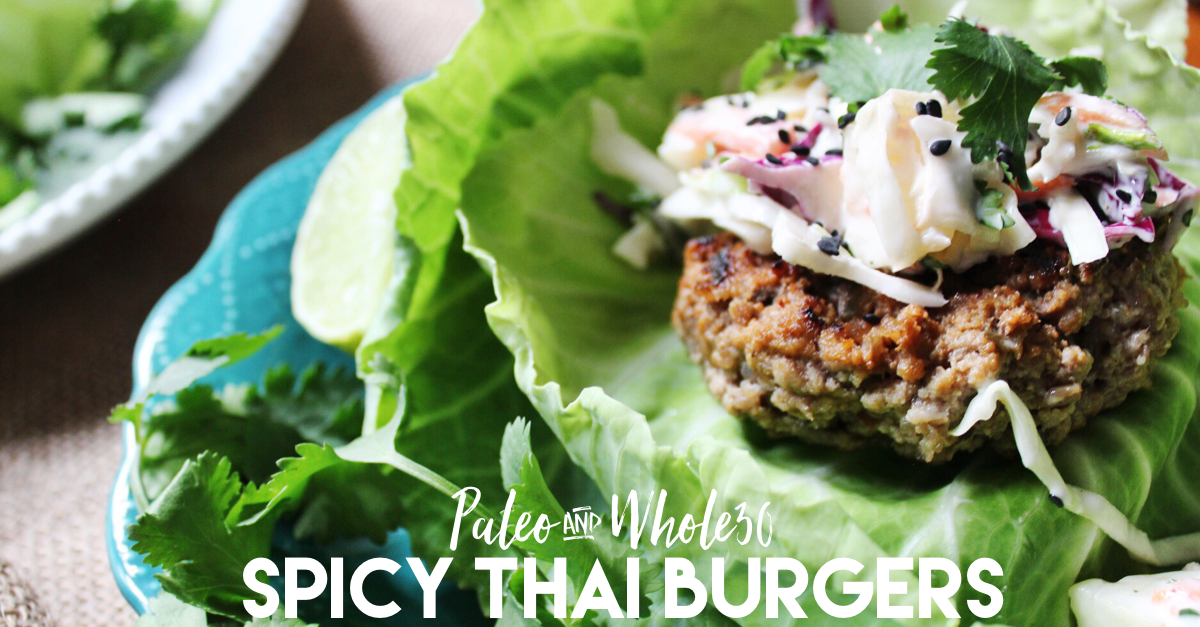 Print
Spicy Thai Burgers and Asian Inspired Coleslaw: Paleo & Whole30
Prep Time: 20 minutes
Cook Time: 15 minutes
Total Time: 35 minutes
Yield: Serves 4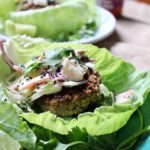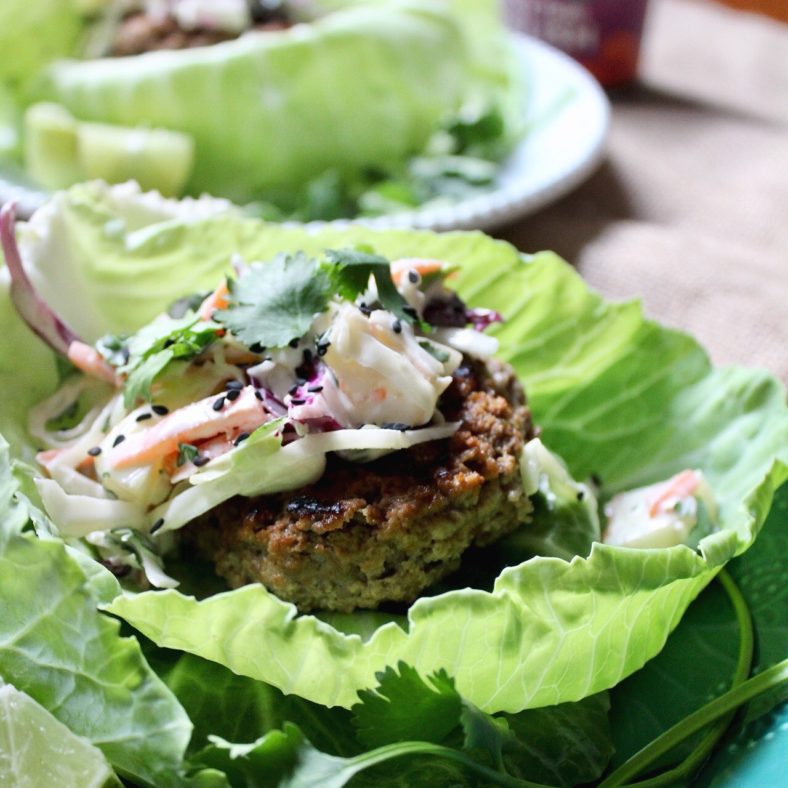 Ingredients
For the Burgers:
For the Coleslaw:
1 package precut coleslaw mix (or 1/2 small red cabbage, 1/2 small green cabbage, 2 large carrots – shredded)
1/2 cup diced red onion
1/2 cup thinly sliced (julienned) cucumbers
1/2 cup mayo
2 teaspoons sesame oil
1 large handful of cilantro, roughly chopped
2 tablespoons sesame seeds
Salt and pepper to taste
Instructions
Combine relish and ground beef well- mixing with hands
Cover and refrigerate for 30 minutes or overnight
Mix all coleslaw ingredients together and refrigerate
Remove ground beef mixture and drain/squeeze out any excess liquid
Form into burger patties
Place on hot grill or on hot oiled skillet
Cook 4 minutes on each side for medium done or until cooked to your preference
Place burger on two cabbage leaves, top with coleslaw, extra cilantro and sesame seeds
Wrap burger and enjoy!
This post may contain some links that are affiliate links, though products are ones I use personally and recommend. When you purchase anything using my links, it costs you absolutely nothing extra, but it does give wholekitchensink.com a little financial support which helps to keep this blog running. Thank you for your continued support, both with your dollars and your interest.