Fresh Thyme is up there for my favorite grocery store. Especially with all of the Whole30 options Fresh Thyme offers. This Whole30 Fresh Thyme shopping list will be perfect if you're doing a Whole30, eating Paleo, or just trying to clean up your diet! Fresh Thyme is also really affordable. For us Midwesterner's, it's a good mix between a Whole Foods and cheaper budget option.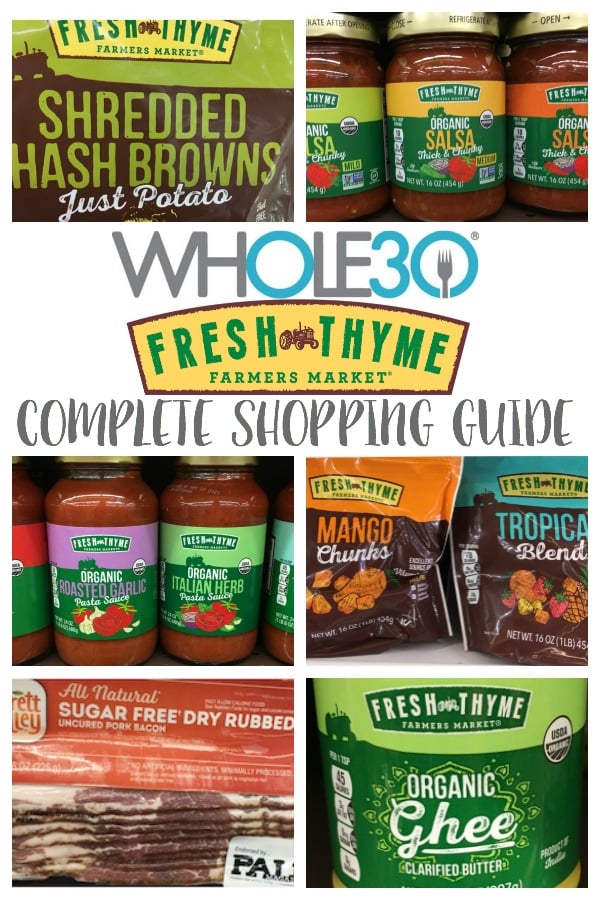 One thing I really like about Fresh Thyme is that they carry a lot of Whole30 Approved brands, but also have tons of compliant offerings from their own Fresh Thyme brand. The Fresh Thyme brand is a lot less expensive, but always high quality! Some of their Fresh Thyme brand options that are Whole30 compliant I can't even find at Whole Foods at all, like hash browns!
If you're looking for more shopping lists, I got you covered! Check out these posts!
So, let's get to it! Here's all of my favorite Whole30 Fresh Thyme grocery finds!
As always, you want to check your labels! It's a good habit to get into!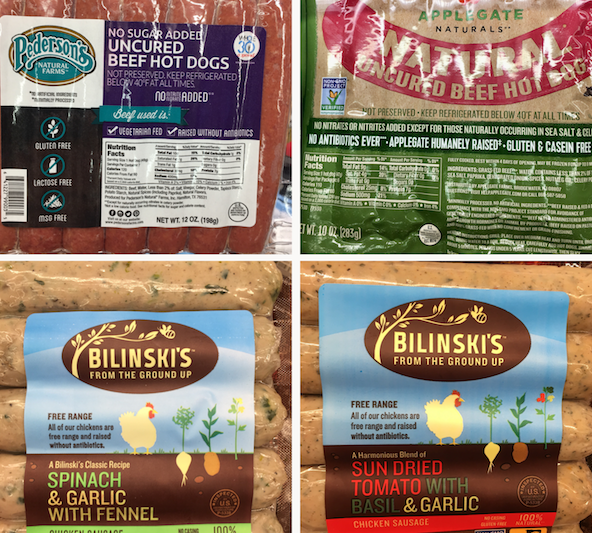 Fresh Thyme has a LOT of compliant meats. Of course, you'll find the usual cuts of meat, but they also have a huge variety of packaged meat. They carry Pederson's and Applegate hot dogs, which are both Whole30 Approved brands. They also have Bilinski's chicken sausages in three Whole30 compliant flavors, spinach and garlic, sun dried tomato with basil and garlic, and, not pictured here, cajun with cayenne pepper, herbs and spices.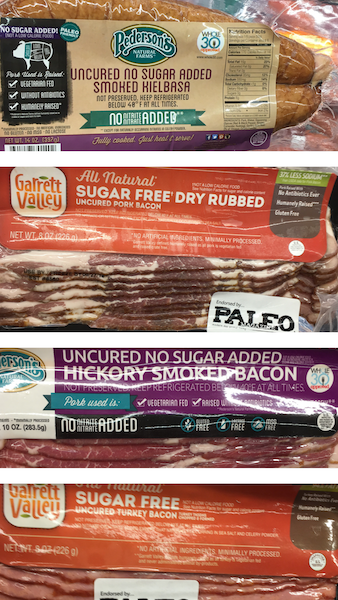 Other packaged meats are the Whole30 compliant bacon options! And there's plenty! They have more here than I can usually even find at Whole Foods. Fresh Thyme carries Whole30 Approved Pederson's bacon, along with Garrett Valley bacon and turkey bacon. They also have Pederson's Whole30 Approved kielbasa.
You can get all of Pederson's Whole30 Approved meat delivered to you in the Ultimate Whole30 Box on the Simple Grocer.

Fresh Thyme also has other meat options including smoked salmon, prosciutto, Epic jerky bars, bites and sticks, and Pederson's fully cooked bacon strips.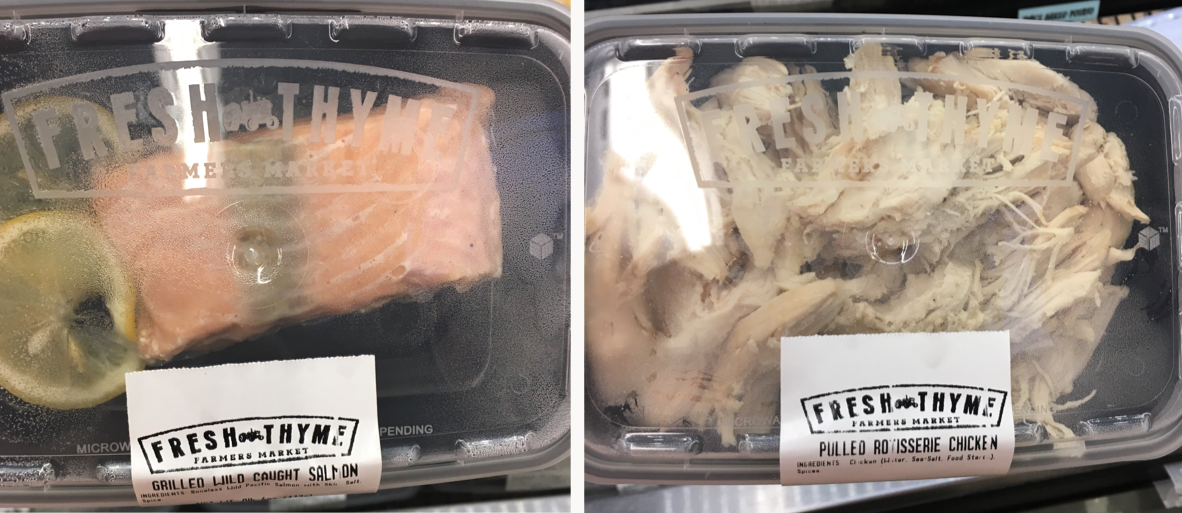 I'm also impressed with the Whole30 Fresh Thyme pre-made options. They have a hot and cold bar, which you can make your own salads. But, they also have these grilled salmon portions and pulled rotisserie chicken. This makes "fast food" healthy and Whole30 when in a pinch or on a lunch break you may have forgotten your meal!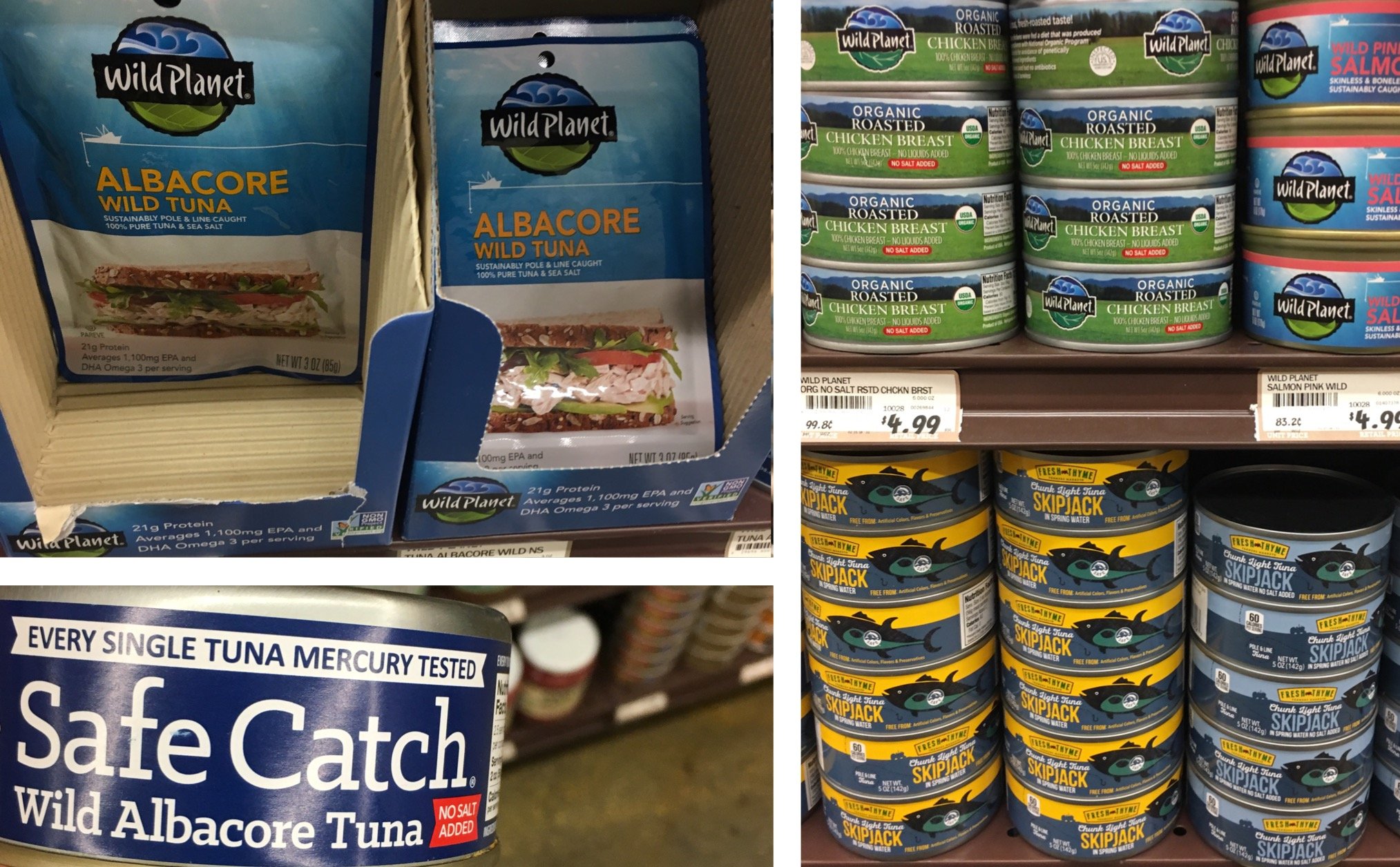 Sticking with the meat theme here, Fresh Thyme carries a huge variety of Whole30 compliant (and Approved) brands of canned tuna and canned chicken. The Fresh Thyme brand itself is Whole30 compliant, and they also have Wild Planet and Safe Catch. The Wild Planet tuna is also offered in packets, which is great for on the go protein.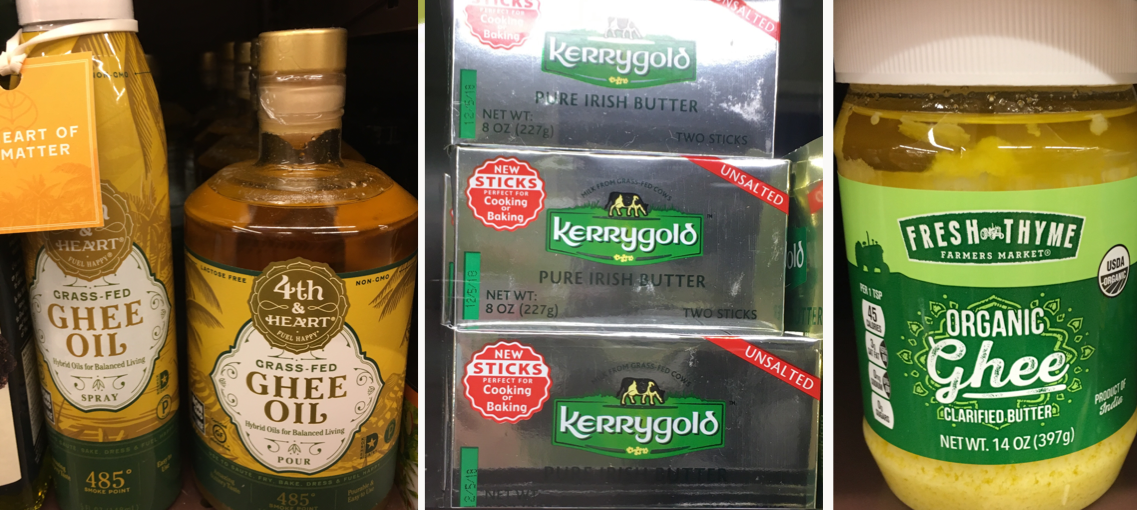 Moving right along to Whole30 Fresh Thyme oils and fats! There's no shortage of ghee options at Fresh Thyme, with the options being from Kerry Gold to make your own, their own house brand, and 4th and Heart.

They also have an extensive line of spray oils that are all Whole30 compliant. Lemon olive oil, avocado oil, EVOO, garlic olive oil, you name it. I love that they're in spray bottles, and really affordable. It's great for roasting veggies! The large bottles of oil they carry are also really affordable under the Fresh Thyme brand.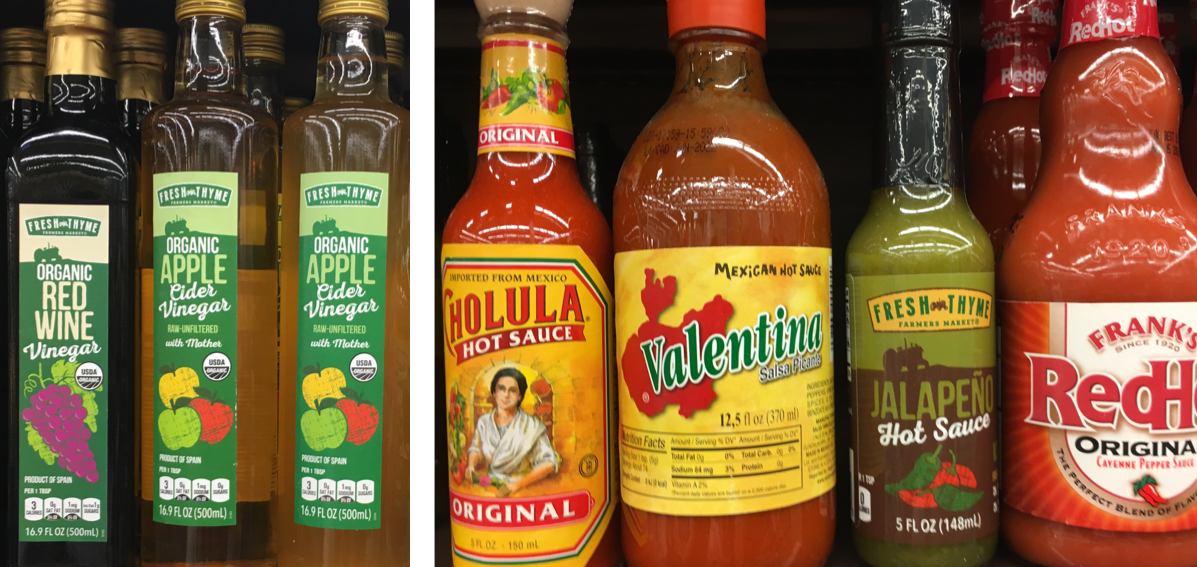 Whole30 Fresh Thyme options are equally as varied for their vinegars! Any and all type of vinegar, and many do not have added sulfates. Make sure to read the labels here though, as it varies from type of vinegar. The hot sauce collection is awesome, as well. They carry Cholula, Valentina, Franks, and their own Fresh Thyme brand of hot sauces, including the pictured jalapeño hot sauce.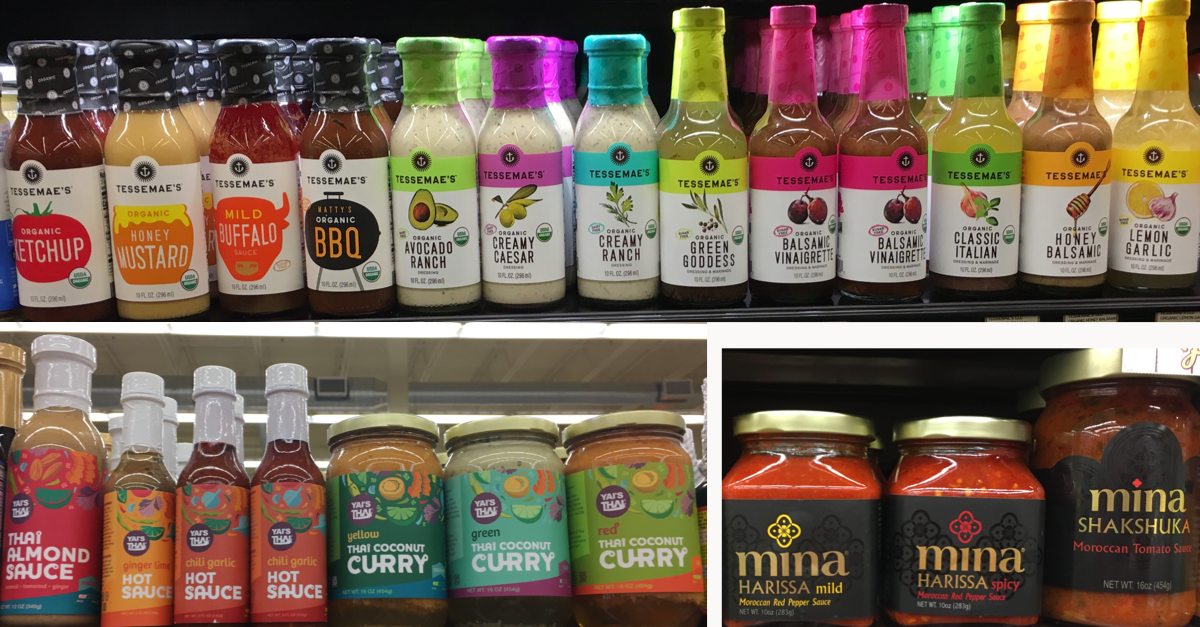 They have the best (in my opinion) options for Whole30 Approved and compliant sauces and dressings. The pantry staples they have are just so awesome and there's so much to choose from. Every Tessemae's flavor can be found here, along with Yai's Thai's entire line of Whole30 Approved products.
Other Whole30 Fresh Thyme pantry staples include these sauces and condiments. Fresh Thyme carries Primal Kitchen products which are great for dressings or marinades. They also have their own line of organic salsas, and different types of mustards!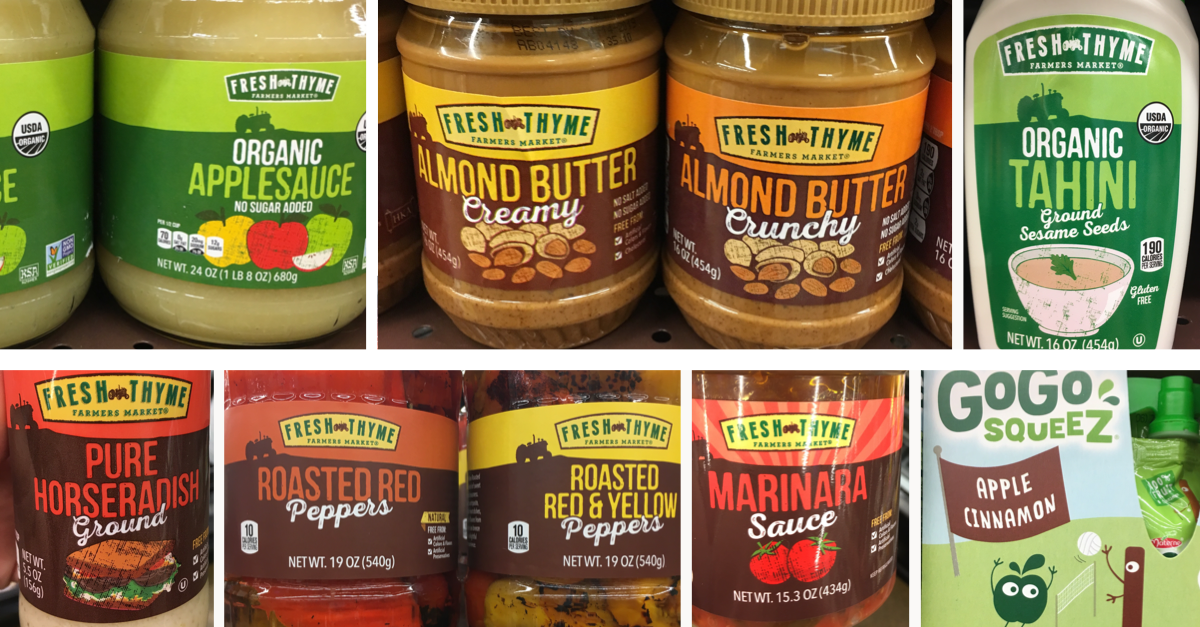 Fresh Thyme has it's own line of nut butters, including the pictured crunch and creamy almond butters. They also carry pantry items like applesauce (and applesauce pouches), tahini, horseradish, marinara, and jarred roasted peppers. All Whole30 compliant, of course!

Speaking of marinaras, they have larger jars with different seasonings. Italian herb, tomato basil, roasted garlic, and traditional are all Whole30 compliant. With the canned goods, you'll also find compliant pizza sauce!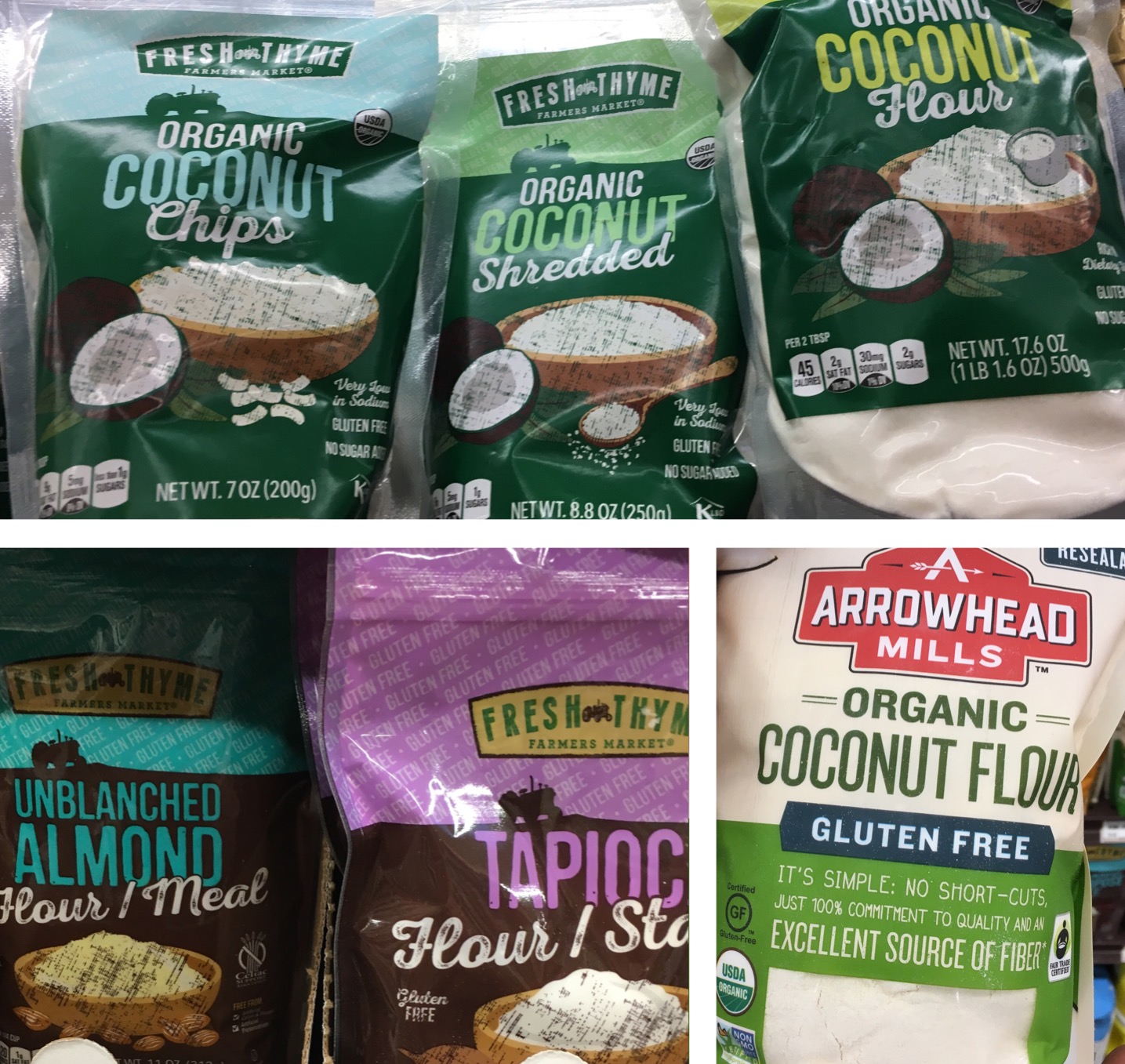 Fresh Thyme has everything you need for thickeners and flours as well. Almond meal is great as a binder in meatballs, and tapioca and coconut are great for thickening sauces. These are all Whole30 compliant, and they also have a large section of Bob's Red Mill.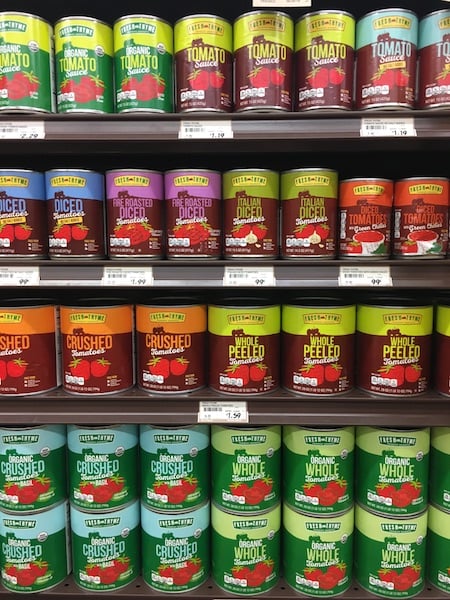 Other canned goods include any and all types of canned tomato products you could ever want or need. From diced, peeled, crushed, sauce, the list goes on. They're all Whole30 compliant from the Fresh Thyme brand, but this is another good example of things you should check labels on!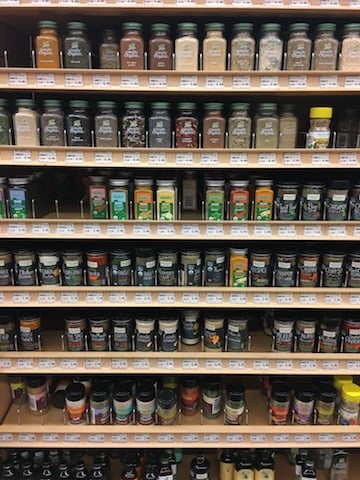 Along with every kind of canned tomato, they also have any kind of spice you could ever need. The Fresh Thyme brand is most affordable, but they also carry many other recognizable brands, like Simply Organic.

More pantry items inclue canned coconut milk, coconut cream and coconut aminos. Coconut aminos are a Whole30 compliant soy sauce replacement and one of my favorite things for Whole30 Asian inspired meals, like my sesame chicken chopped salad!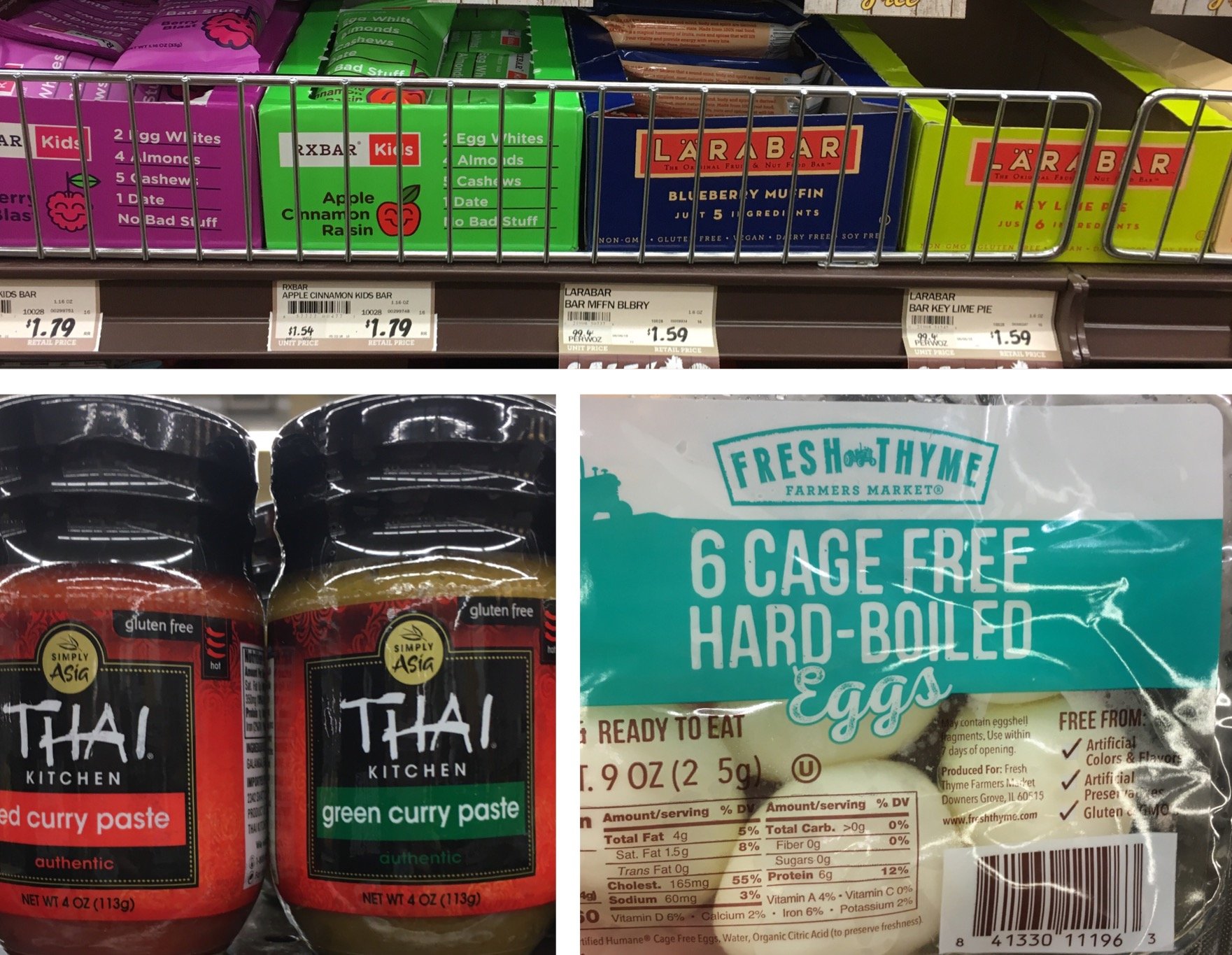 These odds and ends are also Whole30 compliant, and the curry paste is a great staple for spicing up your Whole30. The hard boiled eggs, Lara Bars and RXBARs are awesome for quick and easy on the go options. Note: not all Lara Bars and RXBARs are compliant, check your labels!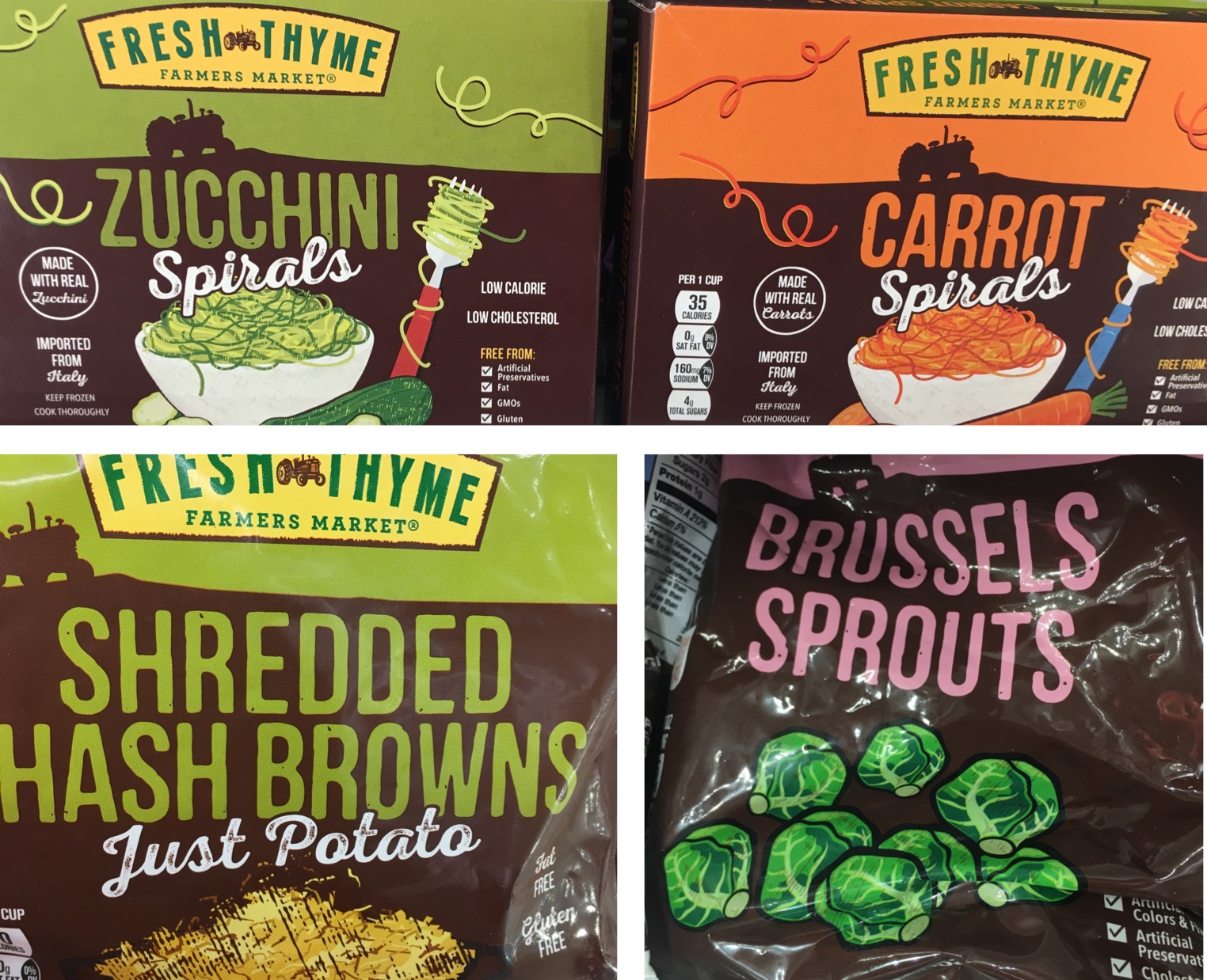 In the freezer section, they have a huge variety of frozen veggies beyond the Brussels sprouts pictured. They also have Whole30 compliant hash browns, which are often hard to find. Fresh Thyme's brand of frozen zucchini and carrot spirals are really good, and something I keep in my freezer for quick weeknight meals.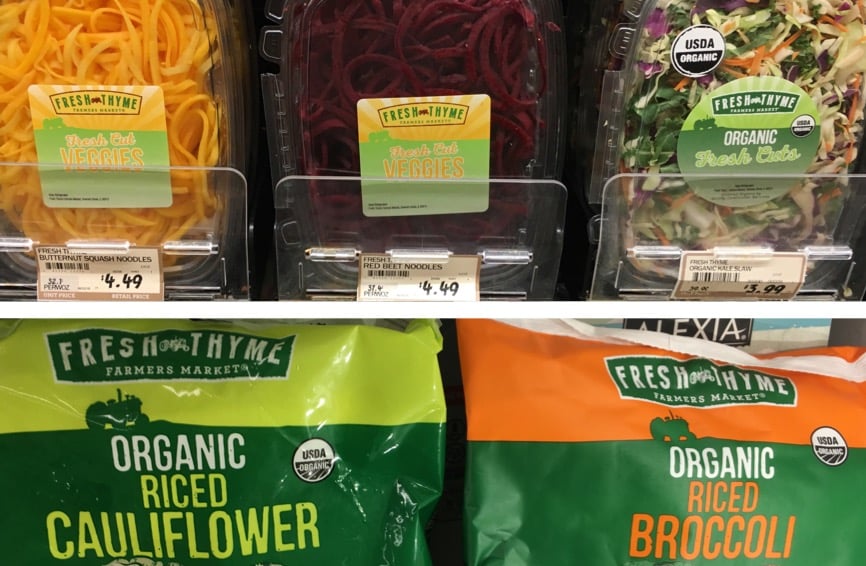 They carry fresh spiralized veggies in the refrigerated section as well as riced veggies in the freezer section. All are Whole30 compliant and only have the veggie listed as the only ingredient.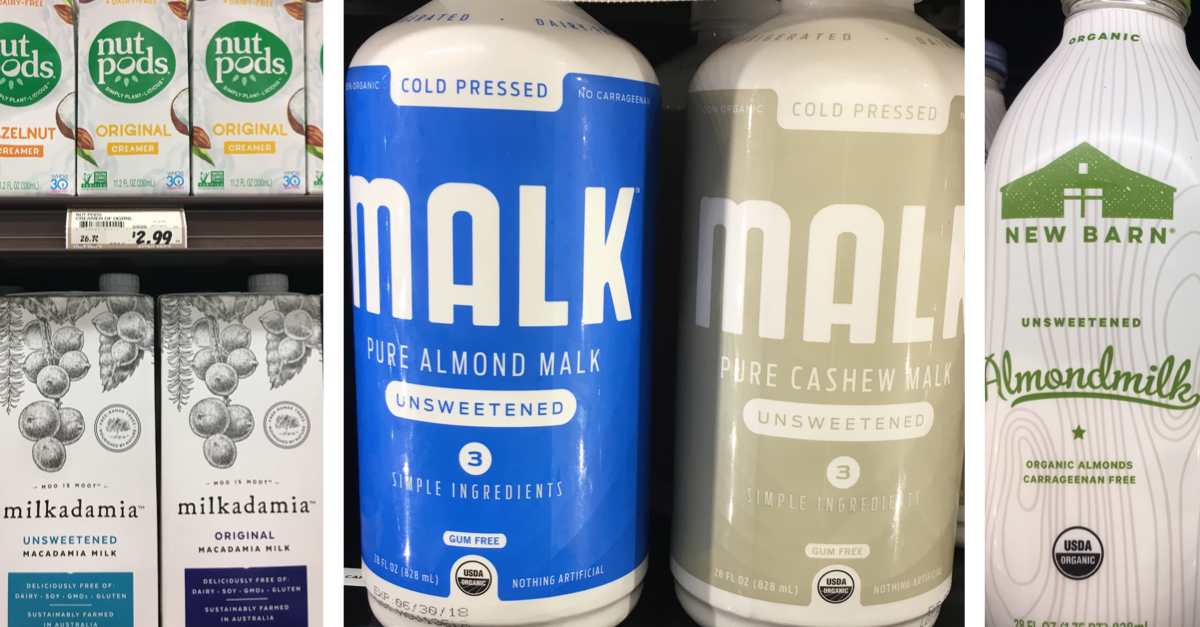 There's no shortage of nut milks to be found at Fresh Thyme that are Whole30 compliant. Nutpods and New Barn are Whole30 Approved even! They also carry Elmhurst, Califia unsweetened almond milk, Califia unsweetened almond milk creamer, and Silk unsweetened almond milk.
For a more complete list of Whole30 Compliant Almond Milk, ingredients and where to find them, check out my Guide to Whole30 Almond Milk!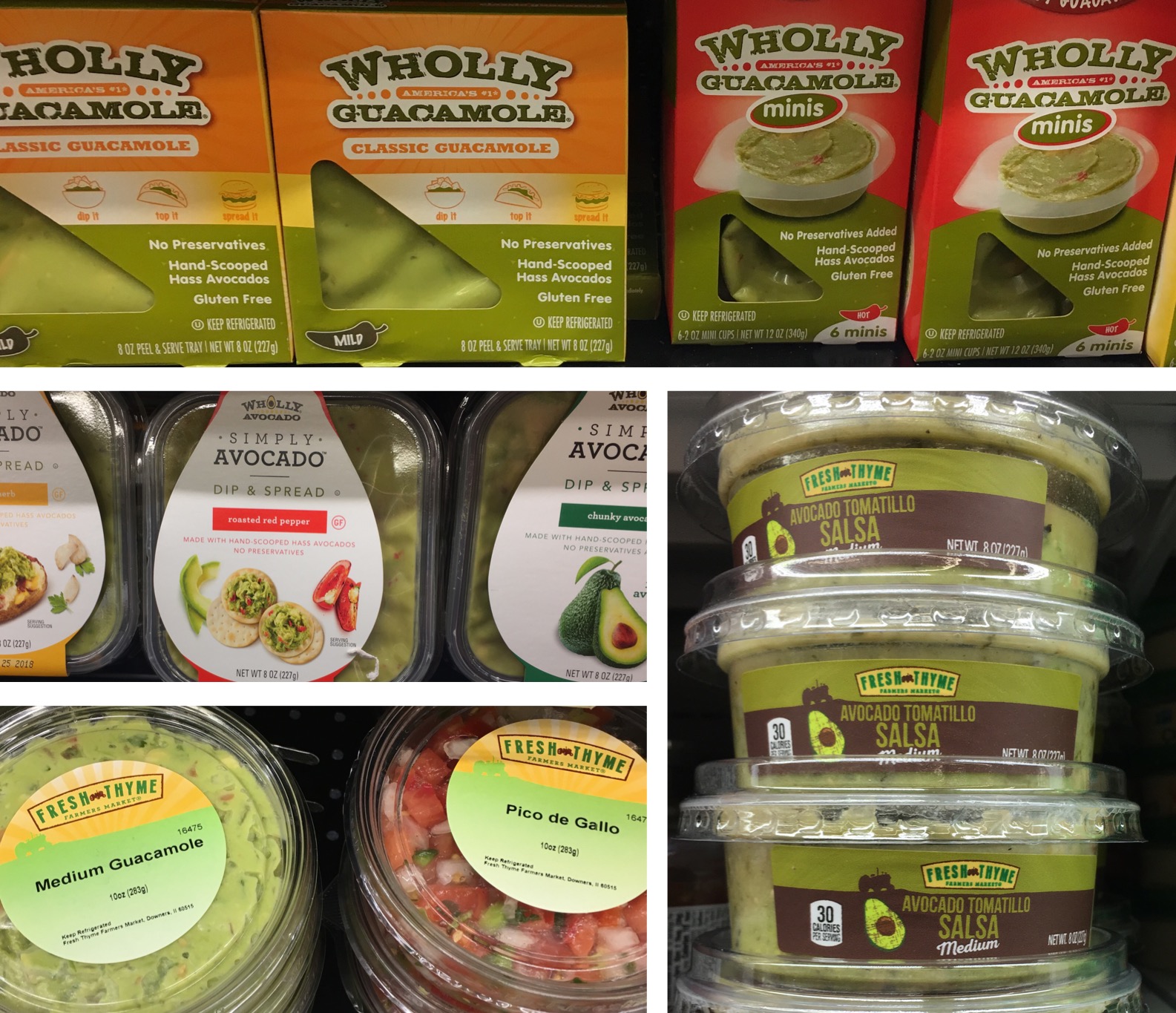 Basically what you're seeing here is any kind of guacamole under the sun is at Fresh Thyme! They carry the mini packs in both mild and hot, and the large containers in even more varieties. They have additional options of guacamole and pico made in house, too.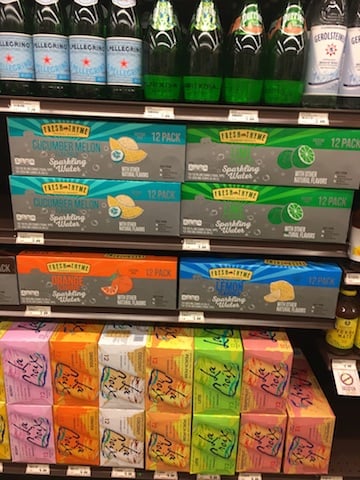 Last but not least, the large selection of waters! They carry Whole30 Approved Hint water (not pictured), La Croix, San Pellegrino, Perrier and the Fresh Thyme brand. From the Fresh Thyme brand, the cucumber melon and the orange are definitely my favorite – and my favorite price too!
That wraps up the Whole30 Fresh Thyme shopping list for now! I'll do my best to keep this updated as I find new Whole30 compliant items available here. Make sure to let me know if there's any I'm forgetting in the comments, and check out the other Whole30 shopping lists I've complied!