It's no secret that I have a longstanding love affair with potatoes. All potatoes – in any way, shape or form. That being said, mashed potatoes have a little corner of my heart that hash browns could never fill. While I still eat them, sometimes I like to use a substitute to switch up my potato intake. I fall into the convenience trap with potatoes because they're a quick, cheap and easy side to almost any meal. And I'm betting I'm not the only one, amirite?
Replacing them with cauliflower mashed potatoes only takes a few minutes more than standard mashed potatoes but gives you the sense you're doin' something right by packing in even more veggies and nutrients onto your plate than you normally would. This less starchy alternative is a perfect way to trick your picky 7-year-old into eating cauliflower or give your carb-conscious BFF all the potato feels at your dinner party. Obviously any self-proclaimed potato enthusiast, such as myself, can tell the difference but this cauliflower mashed potato recipe creates a pretty darn close illusion.
Cauliflower is on the list of one of the World's healthiest foods. In fact, just ONE serving gives you over 75% of your daily vitamin C. It's got an impressive list of nutrients and health benefits so it really should be in all of our regular rotations. If you're like me, you can't honestly say you eat enough if it. So next time you've got mashed potatoes on the menu, try doing THIS instead. Even my boyfriend enjoyed it and went back for seconds!
I make them creamy by adding a few tablespoons of Nutpods, my favorite dairy-free and Whole30 approved creamer. You can also use any type of milk you prefer. I always have these on hand in the original flavor for a thickening agent to replace what I once used heavy cream for.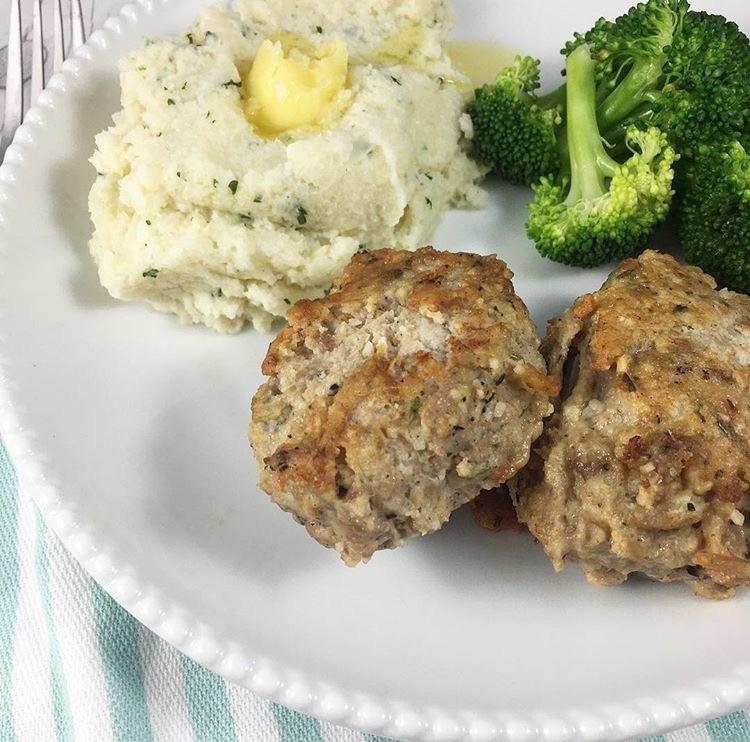 This cauliflower mashed potatoes recipe makes enough for 4 servings of mashed "potatoes". I use the extra to have for meal prep the following two days. Double the recipe and use the whole head of cauliflower for larger groups or bigger meal preps.
Print
Cauliflower Mashed Potatoes
Ingredients
1/2 head cauliflower
3 tablespoons Nutpods Original Flavor (or almond milk)
2 tablespoons parsley flakes
2 tablespoons ghee
1 tablespoon minced garlic
1/2 tablespoon salt
1/2 tablespoon pepper
Instructions
Boil cauliflower until soft
Drain well
Chop cauliflower down into large chunks (small enough to easily fit into food processor)
Place cauliflower into food processor
Add milk substitute, ghee, garlic and seasonings
Blend until smooth, potato consistency
Add more garlic, salt and pepper to taste
Top with a dollop of ghee and parsley to garnish!
This post contains affiliate links, though all products are ones I use personally and recommend. When you purchase anything using my links, it costs you absolutely nothing extra, but it does give wholekitchensink.com a little financial support which helps to keep this blog running. Thank you for your continued support, both with your dollars and your interest.