I used to hold this idea that salads were boring 'diet food'. To be honest, when I was 300 pounds and binge eating, anything that remotely resembled a vegetable was dubbed as a diet food but I never got close enough to them to be sure.
Anyway, I've since learned the versatility that are salads. There's summer salads, chicken salads, taco salads, warm hearty winter salads like this herb crusted steak salad. The list is endless and the options are endless. It's like the math problem "how many combinations can you make from these numbers?" that has an answer higher than you can count. Except the number combinations are all of the random things in your fridge.
I live in Minnesota, most recently ranked at the tippy top of the Worst Winter States list. January is downright awful and you know I mean that because my Starbucks intake dramatically declines. AKA: It's the month where you have to think twice about if you reeeeeeally need to leave the house for anything. This is where salads come in handy. You'll pretty much have a hodgepodge of ingredients in the fridge to throw on it, saving you from frostbite, blizzards, wind that rips your face off and an in-general unpleasant experience.
For the herb crusted steak salad, I had two steaks already thawed, which was perfect because I need my salads with a little umpf so I'm not a starved crazy person again in 2 hours. Ya feel me? I used one steak for the salad and saved one for the same salad the next day. I decided to make this a warm salad, because, well, winter. It's almost like comfort food, hearty veggies and savory steak that warm my insides and make me feel all cozy, wrapped up in a blanket on the couch.. looking at the Christmas tree I still haven't taken down…..
Anyway. I used spinach and only slightly wilted it, but you can do as you please. If you're planning on using the other steak(s) for meal prep, don't wilt the spinach until you're ready to eat – or skip this step. If you've never tried a warm salad (yes, I know you're out there), do it! It's an entirely different salad eating experience. Change is good for you.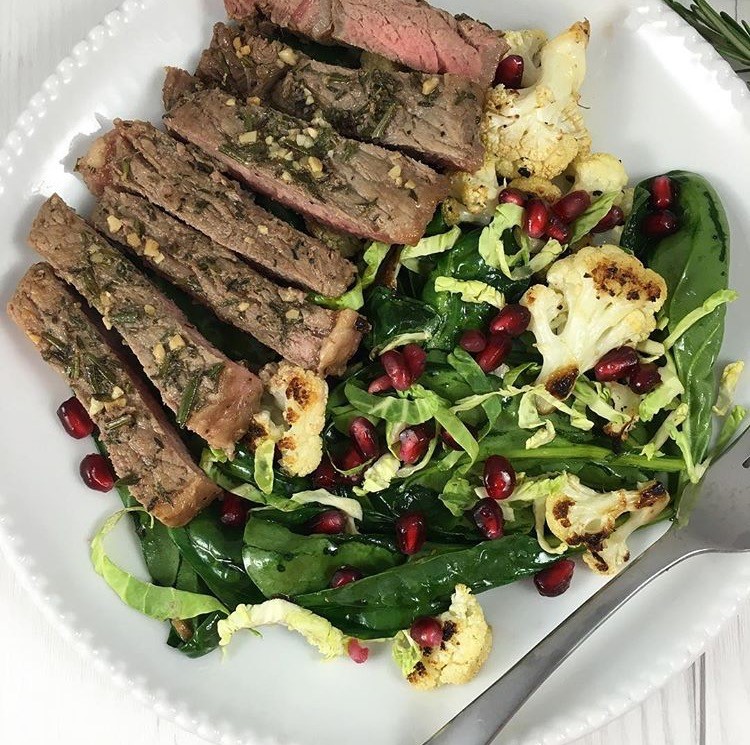 This post may contain some links that are affiliate links, though products are ones I use personally and recommend. When you purchase anything using my links, it costs you absolutely nothing extra, but it does give wholekitchensink.com a little financial support which helps to keep this blog running. Thank you for your continued support, both with your dollars and your interest.
Print
Herb Crusted Steak Salad
Prep Time: 5 minutes
Cook Time: 15 minutes
Total Time: 20 minutes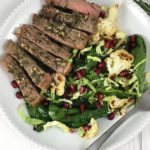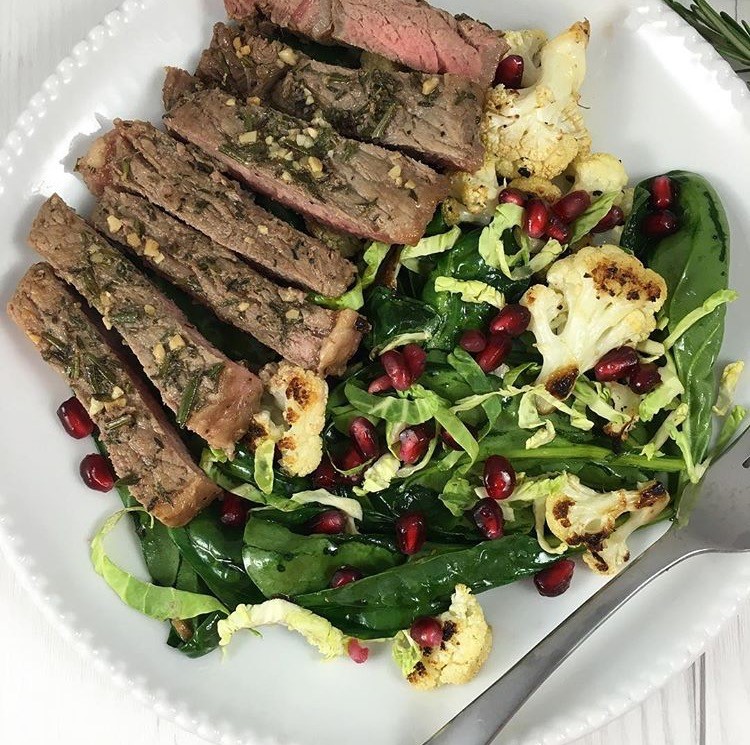 Ingredients
For the Steak:
2 tablespoons olive oil or avocado oil
2 eight ounce steaks, cut of your choice
1 tablespoon minced garlic
2 tablespoons fresh thyme, chopped
2 tablespoons fresh rosemary, chopped
1 teaspoon salt
1 teaspoon pepper
For the Salad:
1/4 head of cauliflower, cut into florets
1/2 tablespoon minced garlic
1/2 teaspoon salt
1/2 teaspoon pepper
2–3 large handfuls of spinach
1/3 cup shaved Brussels sprouts
1/3 cup pomegranate seeds
Instructions
Heat oil in pan over medium heat
Mix spices and garlic for steak in a bowl
Rub both sides of each steak with mixture, coating liberally
Place steak in pan or skillet
Cook steak until done to your preference
Remove steak and place cauliflower in pan
Stir in minced garlic, salt and pepper
Cook until soft (*you could also roast the cauliflower while the steak cooks)
Once soft, add in spinach and allow to wilt only slightly
Remove from heat
Top spinach with shaved Brussels sprouts, pomegranate seeds and steak
Serve warm and enjoy!