I'm not sure if spaghetti squash has always been cool or if I'm just new to the party. One of the things I missed the most when I started eating Paleo was pasta. Shrimp scampi was one of my favorites so when I found out about the wonders of spaghetti squash, I knew I needed to make an alternative in the form of spaghetti squash shrimp scampi. Once you've got the squash cooking, the shrimp and sauce only takes a few minutes to prepare and cook. Low carb and easy? Sign me up.
I use ghee in place of butter. It's something you'll see in a lot of my recipes that would normally need butter. I use it for sautéing veggies, cooking eggs, you name it. Ghee is a type of clarified butter. The lactose has been removed through a process of heating the butter and straining the milk solids out. It has a higher smoke point than butter does, making it more versatile for cooking and still leaving you with that buttery taste. It's a traditional Indian food, but is common enough now that it can be found in most grocery stores. Whole Foods and Super Target carry it in the international foods section. However, I use this one. You can also find other types of clarified butter in the refrigerated butter sections as well. Or, regular butter works the same here if you're not lactose-free.
Print
Hungry for more? Subscribe to my newsletter to get new recipes delivered straight to your inbox! And be sure to stay in touch on Facebook, Pinterest and Instagram for all of the latest updates.
Spaghetti Squash Shrimp Scampi: The Easy Alternative to a Classic Pasta Dish
Prep Time: 10 minutes
Cook Time: 30 minutes
Total Time: 40 minutes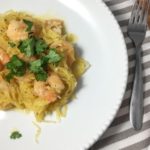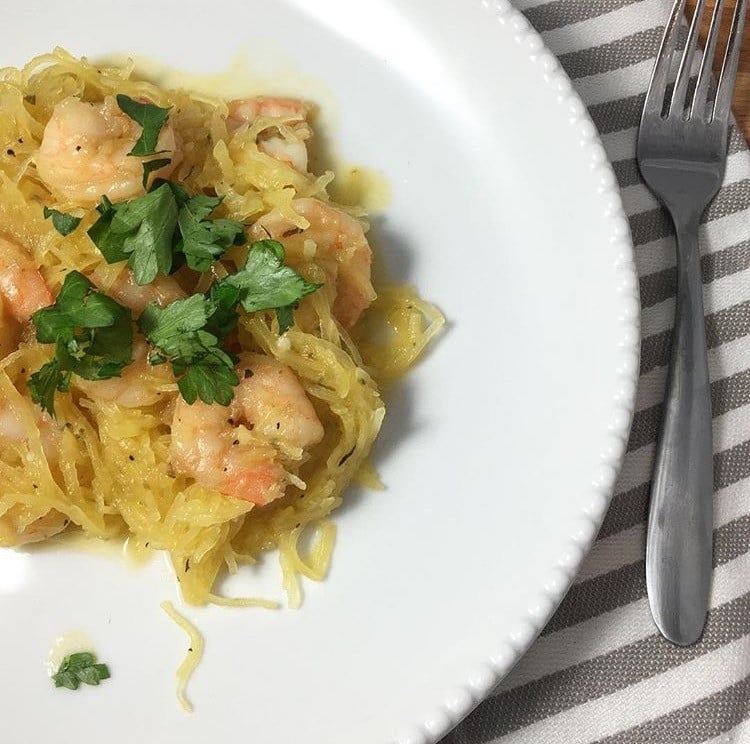 Ingredients
For the Spaghetti Squash
1 spaghetti squash (medium-large)
1–2 tablespoons olive oil
1/2 teaspoon pepper
1/2 teaspoon salt
2 tablespoons water
For the Shrimp
1 pound peeled shrimp, tails off
4 tablespoons ghee
2 tablespoons minced garlic
1 tablespoon extra virgin avocado oil
1/2 teaspoon salt
1/2 teaspoon pepper
1/2 teaspoon red pepper flakes
1/2 teaspoon dried basil
1/2 teaspoon dried oregano
1/2 lemon
Instructions
For the squash:
Use one of these methods to cook spaghetti squash
Remove the threads, cover to keep warm and set aside
For the Shrimp:
While spaghetti squash is cooking:
Add ghee, extra virgin olive oil and minced garlic to sauté pan over medium heat
Let combine for a few minutes, until garlic is fragrant
Add in shrimp
Add in the rest of the spices, stir to combine
Let shrimp and sauce simmer for about 5 minutes or until shrimp is cooked
Remove from heat
Add shrimp and sauce and a squeeze of lemon to squash noodles
Serve with another squeeze of fresh lemon on and fresh parsley on top!
This post contains affiliate links, though all products are ones I use personally and recommend. When you purchase anything using my links, it costs you absolutely nothing extra, but it does give wholekitchensink.com a little financial support which helps to keep this blog running. Thank you for your continued support, both with your dollars and your interest.