We all know by now I'm a fan of quick meals. This Paleo and Whole30 creamy lemon shrimp is just that. It was so quick I honestly didn't even look at how much time it took, my bad. I love the lemon flavor of it and it was a perfect easy dinner on this early summer night.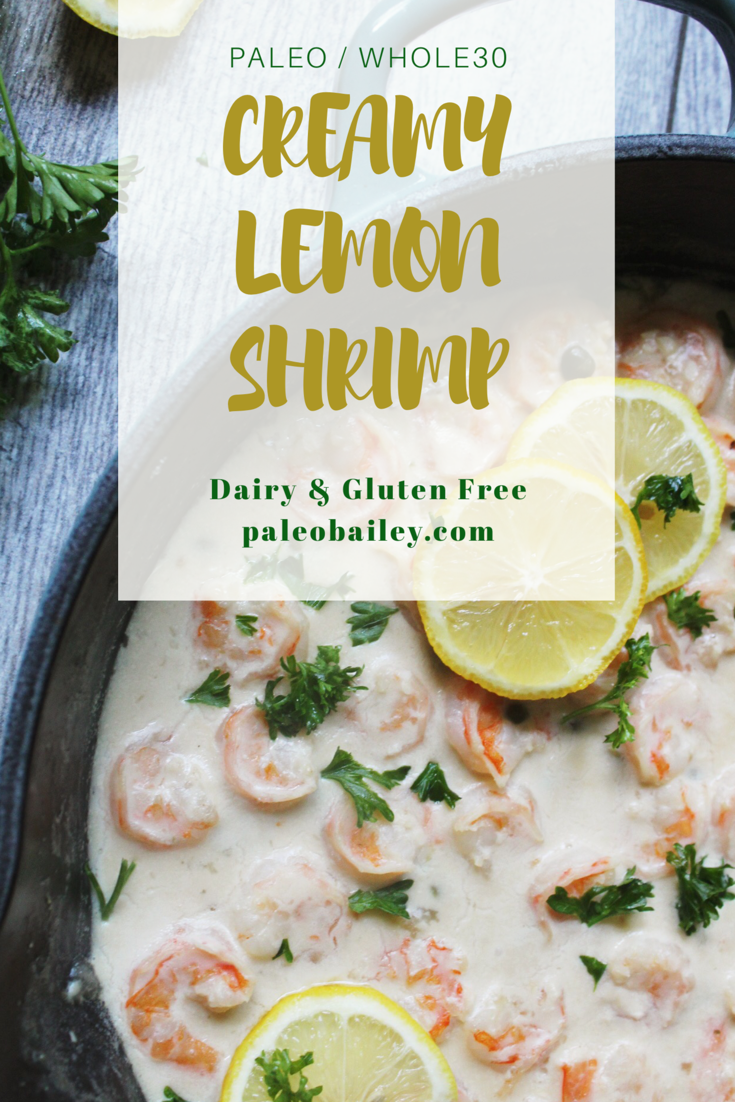 It only requires a few ingredients which makes it all the more simpler. Shrimp cooks extremely quick, as do the zucchini noodles I put this sauce over. This creamy lemon shrimp meal was complete in under 20 minutes. I happened to have capers on hand so I threw some in there while the shrimp was cooking just for funzies. You totally don't have to do this and to be honest, what the hell are capers, anyway?!
I used nutpods for the cream base because it's my FAVORITE way to make a creamy, dairy-free sauce or soup. I keep multiple packs of the original flavor on hand for just this specific reason. However, you could use almond milk or whatever your preferred method for making a cream sauce is. If you use coconut milk, it will change the flavor of this drastically so don't hold me accountable for that one. 😉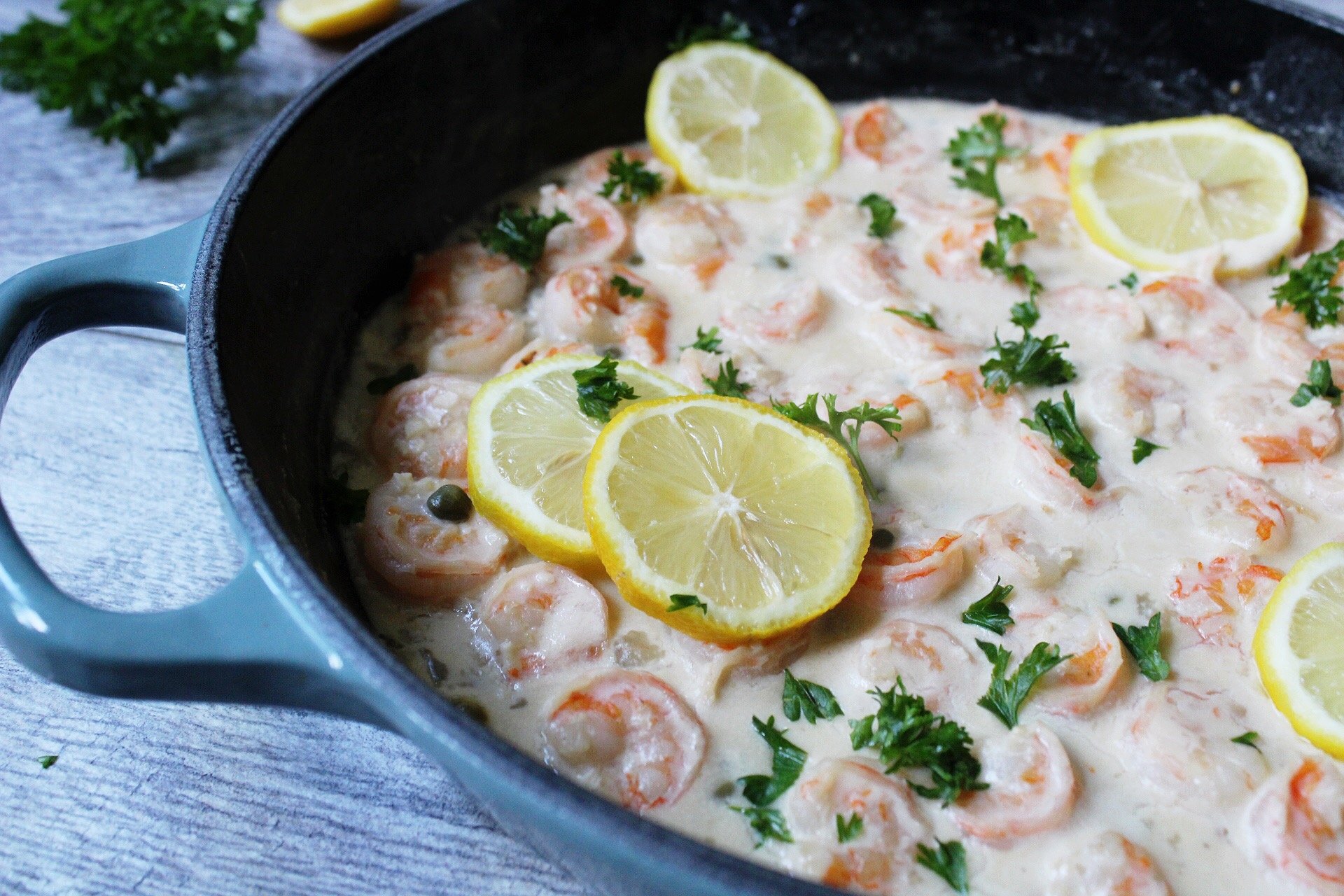 I used arrowroot starch to thicken the sauce. You could use tapioca flour if you have it on hand, I just prefer arrowroot when I'm making something that I know I'm going to freeze because arrowroot freezes and defrosts a little bit better.
You don't need much of it to get it to a sauce like consistency. 1 tablespoon is generally enough. If, after completely mixing it in and giving the sauce a few minutes to thicken, you want yours thicker, you can continue to add more starch in 1/2 tablespoon increments.  Go slowly with this because adding too much can cause your nice creamy sauce to turn into a goopy mess. Trust me, you really don't need much!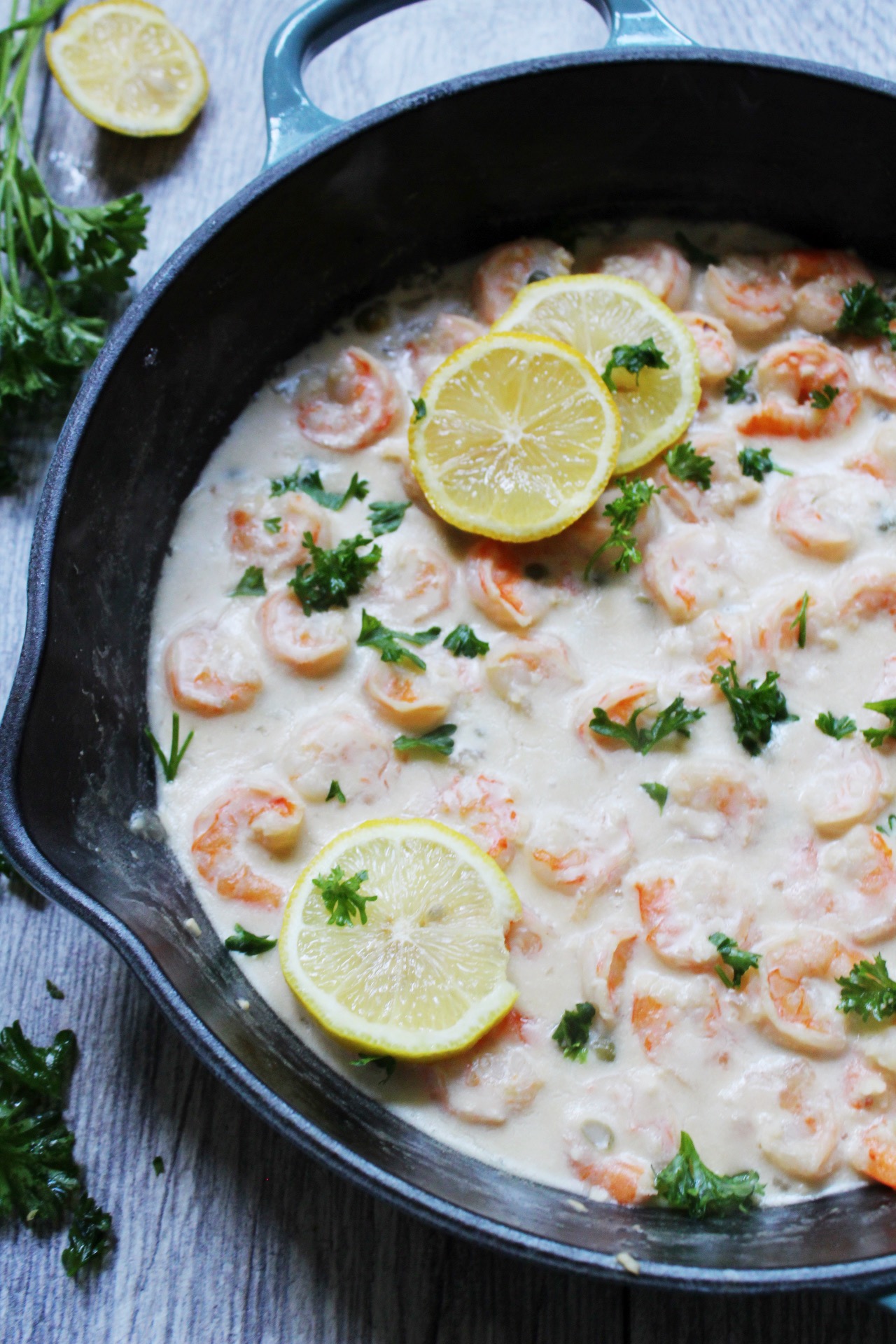 Print
Hungry for more? Subscribe to my newsletter to get new recipes delivered straight to your inbox! And be sure to stay in touch on Facebook, Pinterest and Instagram for all of the latest updates.
Creamy Lemon Shrimp – Paleo and Whole30 Summer Sauce
Prep Time: 5 minutes
Cook Time: 10 minutes
Total Time: 15 minutes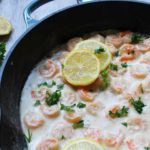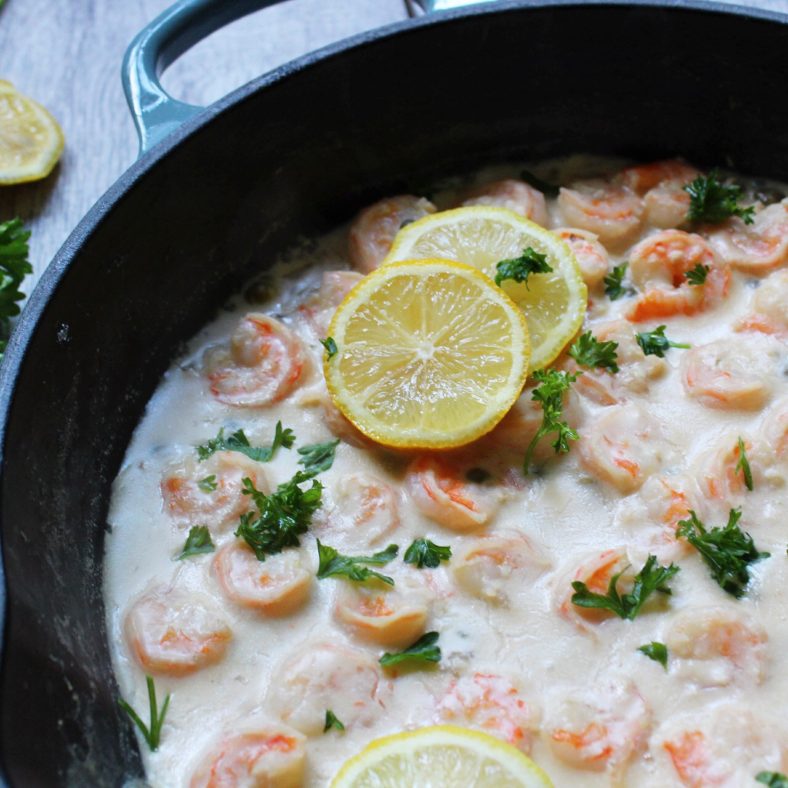 Ingredients
1 pound shrimp, deveined and tails off
2/3 cup Original flavored nutpods or almond milk
1/3 cup water or broth (vegetable or chicken is fine)
1 tablespoon arrowroot starch
1 tablespoon olive oil
1 tablespoon minced garlic
1 teaspoon salt
1 teaspoon pepper
Juice of 1 lemon
Lemon slices and parsley to garnish
Instructions
Heat oil and garlic in a large skillet over medium heat
Once skillet is hot and garlic is fragrant, place shrimp in a single layer
Juice 1 lemon over shrimp and season with salt and pepper
Once shrimp is almost cooked thoroughly, add in nutpods and water or broth and lower heat a bit
Stir to combine the liquids
Move shrimp to the sides of the pan to create an empty area in the center of the skillet
Slowly add in the arrowroot starch while whisking until dissolved and no clumps remain
Whisk/stir the shrimp and sauce together
Remove from heat, garnish with lemon and parsley and serve immediately
This post may contain some links that are affiliate links, though products are ones I use personally and recommend. When you purchase anything using my links, it costs you absolutely nothing extra, but it does give wholekitchensink.com a little financial support which helps to keep this blog running. Thank you for your continued support, both with your dollars and your interest.