Paleo chicken curry has become a staple lately. Partially because I've been trying to perfect it and partially because my boyfriend loves the stuff *almost* as much as I do. He's a pretty willing and eager recipe tester. Lucky me or lucky him?
I very recently discovered my love of curry. Oddly enough, it was after I started eating Paleo. Which is weird to me for two reasons. The first being that curry is a major comfort food. I thought that I had mastered all things comfort food back when I was dealing with my emotions through eating. Guess I missed one.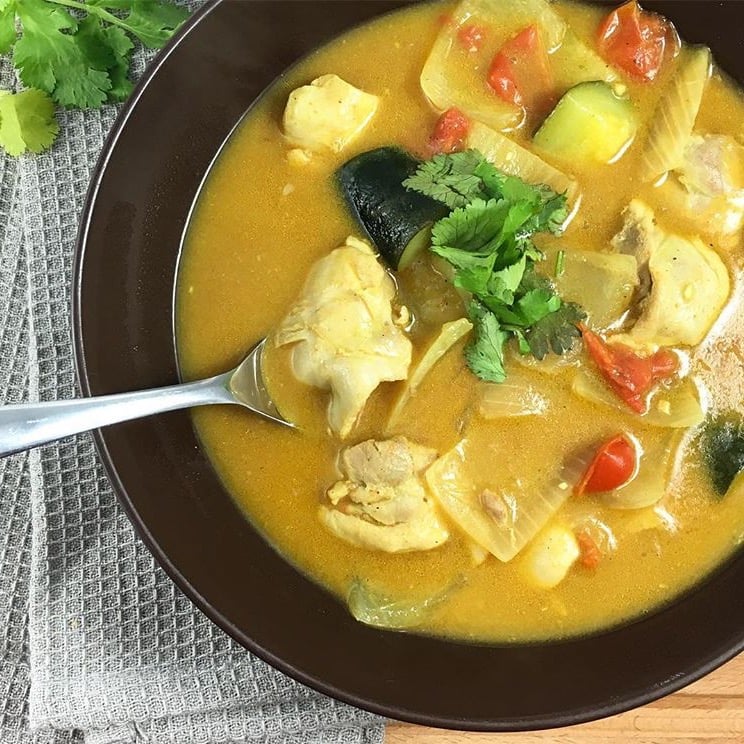 The second reason being that curry is pretty much ALREADY Paleo. Yup. Most recipes you can find out there, labeled Paleo or not, don't need any tweaking to make it super duper healthy and wholesome. So you can see how I find it weird that this slipped past my radar for over a year of this Paleo stuff. Of course, there's plenty of recipes and plenty of way to un-paleo it (not a real thing but just go with it) if you wanted to. You could serve it over rice, for example, if you eat grains. In fact, you probably should because that sounds damn good now that I'm sitting here thinking about it.
I've tried making my newly beloved Paleo chicken curry a multitude of ways and with a few different cuts of chicken. Chicken thighs are the winner. Just trust me on this one, guys. They're juicy and hold the flavor well and.. seriously, just trust me. Another thing I love about curry is that you can ramp up the spice level to what ever you and your family prefer. Or you can easily switch out one veggie for another. Don't like zucchini? Cool, use mushrooms instead. Don't like cherry tomatoes? Try canned diced tomatoes. I've played with all of them and they're all good but this is my faaaavorite way to eat it so I hope you enjoy!
This Paleo chicken curry recipe makes enough for 4 servings. It reheats will so put it in the meal prep rotation!
Print
Chicken Curry
Prep Time: 5 minutes
Cook Time: 30 minutes
Total Time: 35 minutes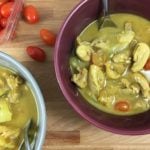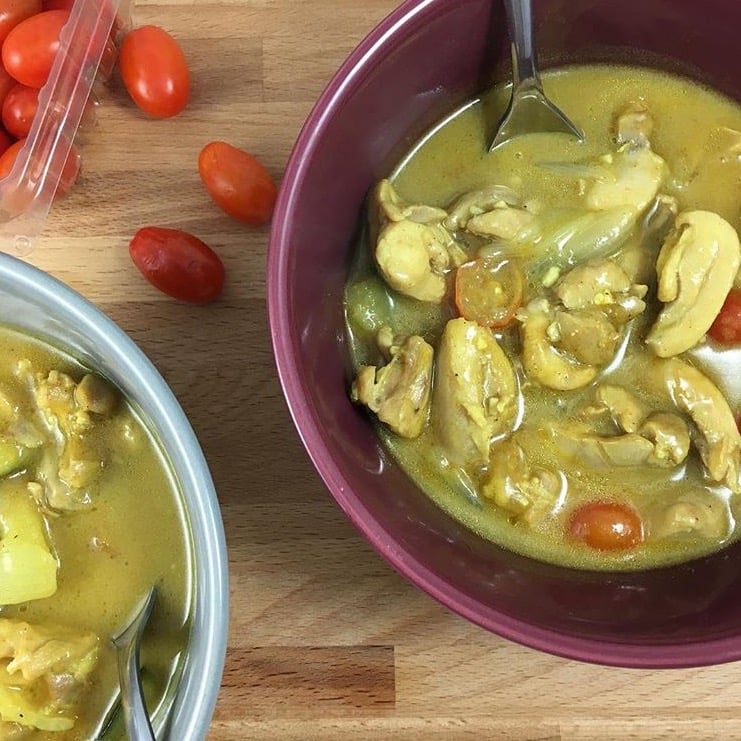 Ingredients
2 tablespoons olive oil
2 pounds chicken thighs, diced into 1 inch cubes
2 medium zucchini, thickly sliced
1 white onion, thickly sliced
1 1/2 cup halved cherry tomatoes
3 tablespoons curry powder
2 tablespoons minced garlic
1 and 1/2 teaspoons salt
1/2 teaspoon paprika
2 cans full fat coconut milk
Optional: cilantro or green onion to garnish
Instructions
Heat olive oil in a soup pot over medium heat
Brown chicken until almost cooked thoroughly and remove from pot, leaving oil in
Add zucchini and onion and let soften, about 2-3 minutes
Add in tomatoes and let soften an additional 5 minutes, stirring occasionally
Place chicken back into pot
Add curry powder, garlic, salt and paprika
Stir to combine
Pour coconut milk and combine
Bring to a simmer and cover, stirring occasionally for 20 minutes or until chicken fully cooked
Garnish with cilantro or green onion
Serve alone or over cilantro-lime cauliflower rice
Notes
Serve alone, over cauliflower rice or white rice if you eat grains!
This post may contain some links that are affiliate links, though products are ones I use personally and recommend. When you purchase anything using my links, it costs you absolutely nothing extra, but it does give wholekitchensink.com a little financial support which helps to keep this blog running. Thank you for your continued support, both with your dollars and your interest.