I don't usually eat a lot of pork chops. I'm not sure why, really. I just don't gravitate towards them when I'm poking around the meat section. I got a helluva good deal on these (yay, Target!) and figured I'd do something fun with them. Paleo chipotle pork chops with avocado cream sauce seemed like a sufficient way to spice it up, right? I usually make this cream sauce for fish tacos (try it!) but I knew they'd be amazing with this dish to add to the smoky chipotle flavor of the pork chops.
And, avocado. Duh.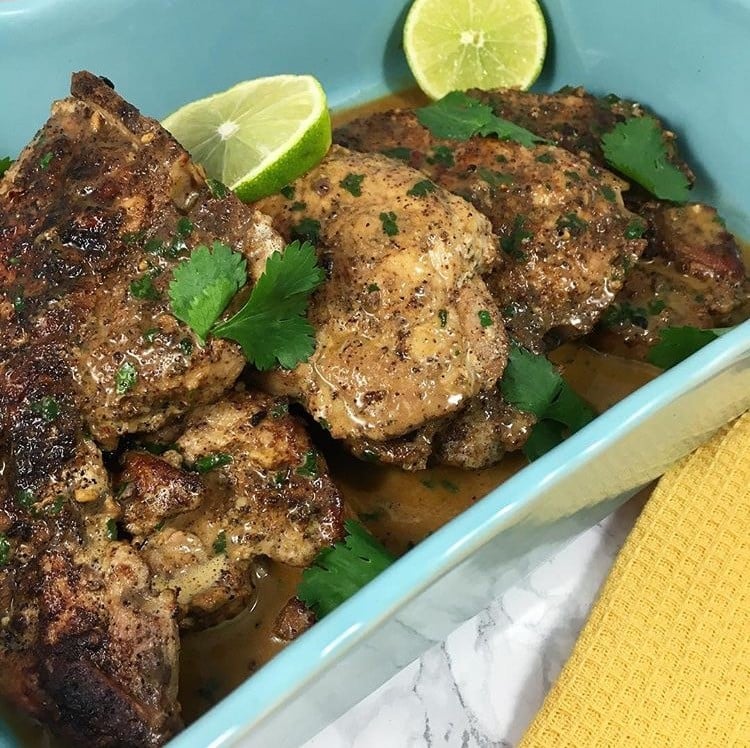 I used the other half of the avocado left over from the cream sauce to garnish on top of my pork and for a side salad. These pork chops also meal prep and reheat really well so make sure you do that with your leftovers! When I make 2 or 3 big meals a week, I generally don't need to do a big 'meal prep day', because I'm replacing the prepped foods I've ate with the leftovers from the meal. It's easier for me that way and it keeps my 'meal prep' meals feeling fresh. I'm replacing them as I eat them as opposed to making them all on one day. The struggles of eating out of Tupperware, amirite?
Print
Pan Seared Chipotle Pork Chops with Avocado Cream Sauce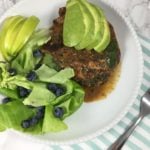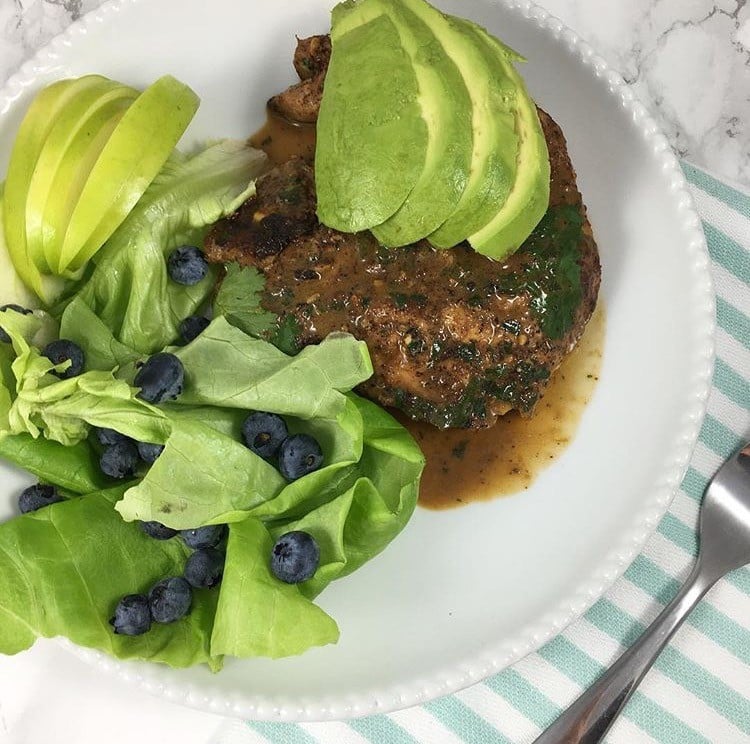 Ingredients
For the Pork:
4 pork chops (boneless or bone-in)
2 tablespoons oil (I used Primal Kitchen Foods Avocado Oil– olive oil works fine, too!)
1 tablespoon minced garlic
1 tablespoon chili powder
1 teaspoon paprika
1 teaspoon cumin
1/2 teaspoon salt
1/2 teaspoon chipotle powder
For the Sauce
1 can full fat coconut milk
1/2 avocado
1/2 cup cilantro
1 teaspoon chipotle chili powder
Instructions
For the Pork
In small bowl, create a dry rub with the ingredients for the pork, leaving out the oil
Heat oil in a pan or cast iron skillet over medium heat
Rub the seasoning mix into the pork chops liberally
Place pork chops into pan and sear for 5 minutes on each side or until cooked thoroughly
Remove from heat
For the Sauce
Place all sauce ingredients into food processor or blender and combine until smooth
Pour 1/2 of the sauce into pan with pork and flip pork over to coat
Remove pork chops and allow sauce to simmer and thicken
Pour remaining sauces over pork and serve!
Garnish with lime and cilantro
Optional: serve with cilantro-lime cauliflower rice or pineapple coleslaw
This post contains affiliate links, though all products are ones I use personally and recommend. When you purchase anything using my links, it costs you absolutely nothing extra, but it does give wholekitchensink.com a little financial support which helps to keep this blog running. Thank you for your continued support, both with your dollars and your interest.