Hi, it's me. Bailey. Here with another one pan meal. This time it's an easy peasy 30 minute one pan mustard chicken and veggies dinner! Instagram has these cool polls now and I, out of curiosity, asked you guys if you prefer cooking one pan meals in the oven or on the stovetop. An overwhelming amount of you said stovetop. I personally think that the hands on time makes it feel like it doesn't take as long as opposed to waiting for the food in the oven to be done cooking. That being said, I totally get the appeal of both and there's definitely situations where the oven is better than the stovetop. This meal can be done both ways, but as you'd expect, it takes a little bit longer in the oven.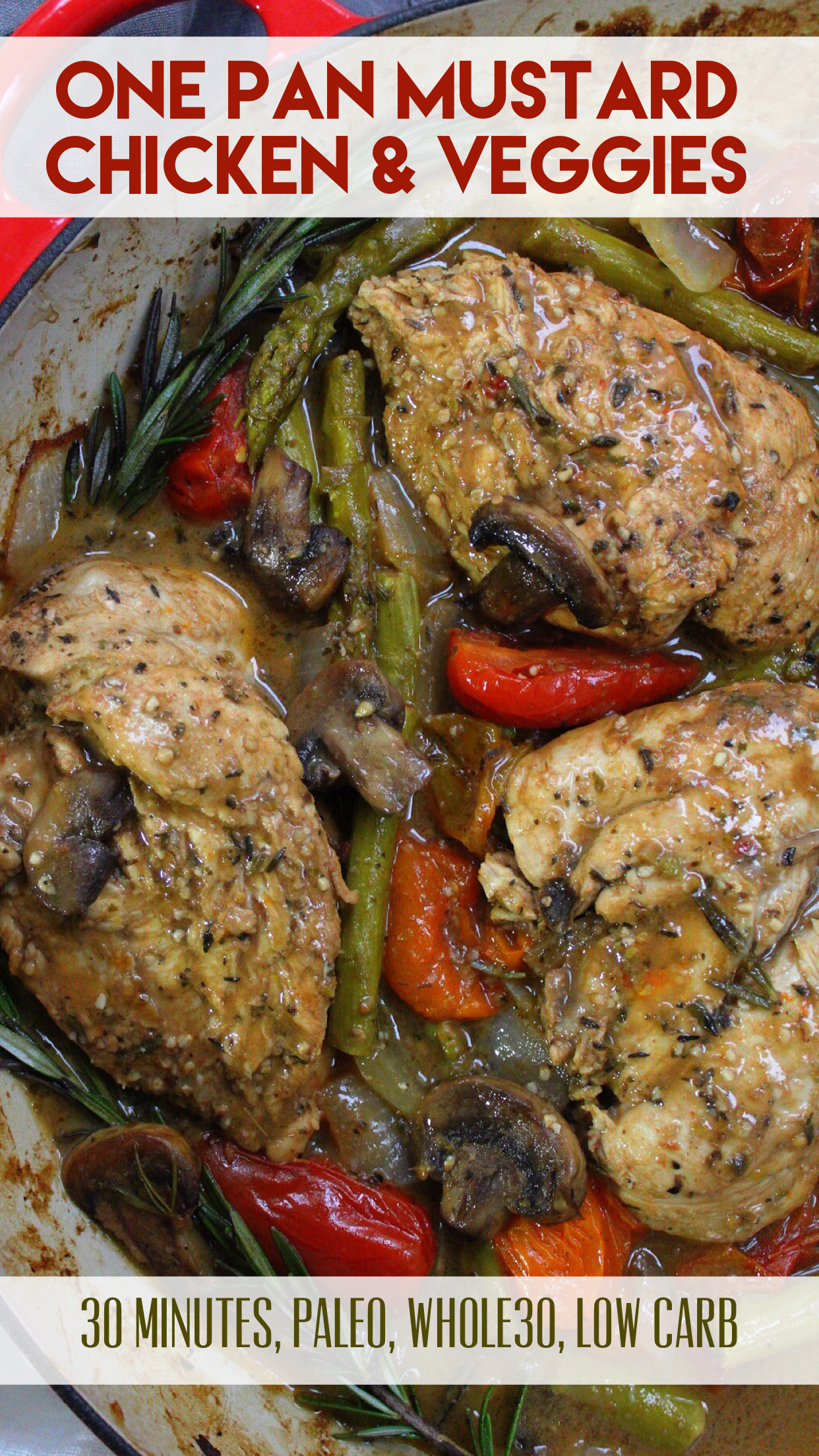 This one pan mustard chicken is super easy to make, Whole30 compliant – meaning dairy and grain free(!), and easily customizable to include any veggies you might already have on hand. I included some seasonal veggies I scored on sale at the store and already had the other ingredients handy, making it really cheap too! The veggies I included were mushrooms, multi-colored cherry tomatoes, onions and asparagus. This would be great with potatoes, delicata squash, carrots, turnips or Brussels sprouts.
Other One Pan Paleo & Whole30 Meals You May Like:
Mexican Albondigas "Meatball" Soup
One Pan Dairy-Free Creamy Chicken & Veggies
If you're making this meal on the stovetop, you'll want to add in the veggies that take the longest first, especially if you use alternate ones to what I have in the recipe, such as potatoes or turnips. The general rule of thumb I like to go by is start with the harder veggies and then every few minutes add in the softer ones, working your way forward until all the veggies are in.
This will ensure that your softer veggies don't overcook or get mushy because they've been cooking just as long as the vegetables that take longer. This is also one of the reasons I prefer doing one pan meals on the stovetop as opposed to in the oven. Most of the time, it's really not a big deal and of course it doesn't make a huge difference. But for me, because I meal prep a lot of these meals, I try to make sure they're not overcooked being I'll be reheating it and cooking it again later in the week.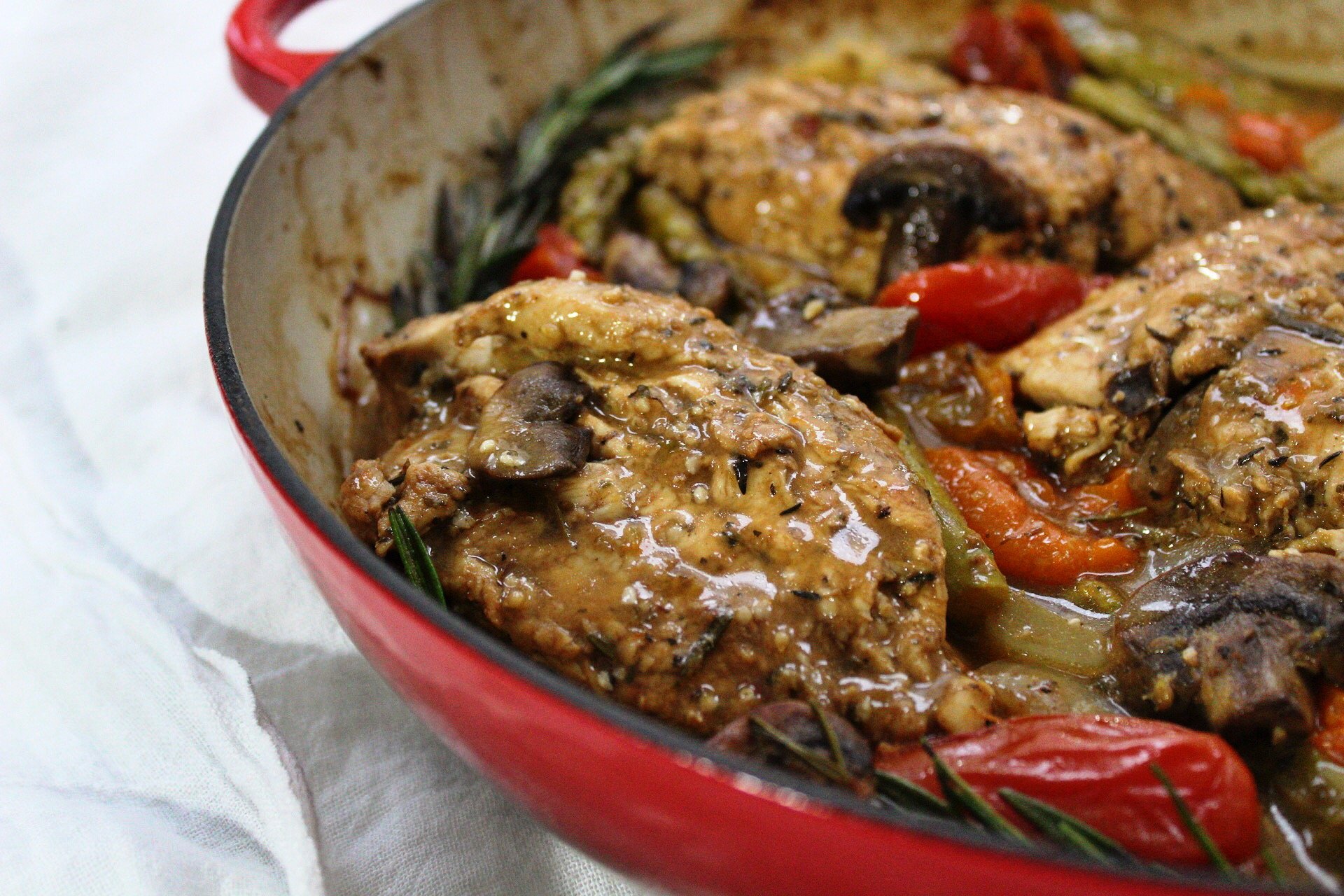 Print
Hungry for more? Subscribe to my newsletter to get new recipes delivered straight to your inbox! And be sure to stay in touch on Facebook, Pinterest and Instagram for all of the latest updates.
One Pan Mustard Chicken and Veggies: 30 Minutes, Whole30 & Low-Carb
Prep Time: 10 minutes
Cook Time: 20 minutes
Total Time: 35 minutes
Yield: 4 1x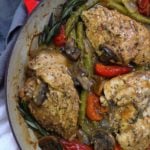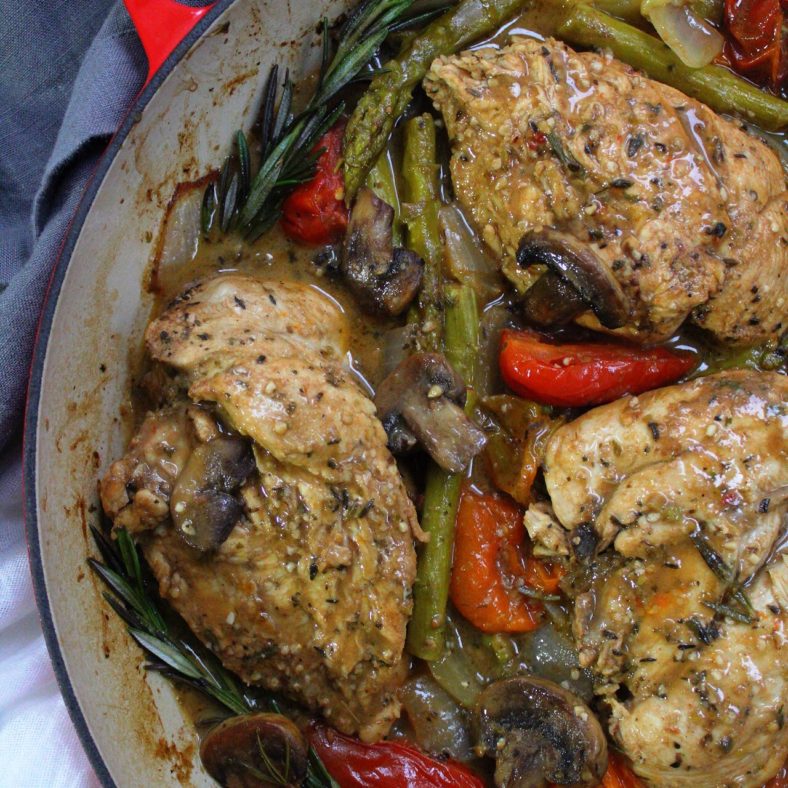 Ingredients
1 pound chicken breasts
2 cups, loosely packed, asparagus with stems removed and cut in thirds
1 and 1/2 cups cherry tomatoes, sliced in half or kept whole
1 cup sliced mushrooms
1 cup diced white onion
2 tablespoons dijon mustard
1 tablespoon olive oil, divided
1 tablespoon balsamic vinegar
1 tablespoon minced garlic, divided
1 tablespoon rosemary
1 teaspoon salt
1/2 teaspoon pepper
Instructions
For the Stovetop:
First marinate chicken for 20 minutes, or just while you're prepping veggies, with mustard, balsamic vinegar, 1/2 tablespoon minced garlic and a few shakes of salt and pepper
In a large skillet over medium heat, add olive oil and onion
Once onion begins to soften, add in chicken with marinade
Let cook for 3-4 minutes and then add in asparagus, 1/2 tablespoon minced garlic, rosemary, salt and pepper
Stir to combine, let cook an additional 3 minutes and flip chicken
Add in tomatoes and mushrooms
Stir to combine and let cook an additional 6-10 minutes until chicken and veggies are cooked completely
Add more salt and pepper to taste
For the Oven:
Preheat oven to 350 degrees F.
In a small dish, combine balsamic, mustard, olive oil and minced garlic
Add all ingredients and mixture to a large oven-proof dish
Stir to combine to evenly coat all veggies and chicken with the sauce mixture
Place into oven on center rack and cook for 40 minutes, flipping chicken and stirring veggies halfway through
Remove from oven and serve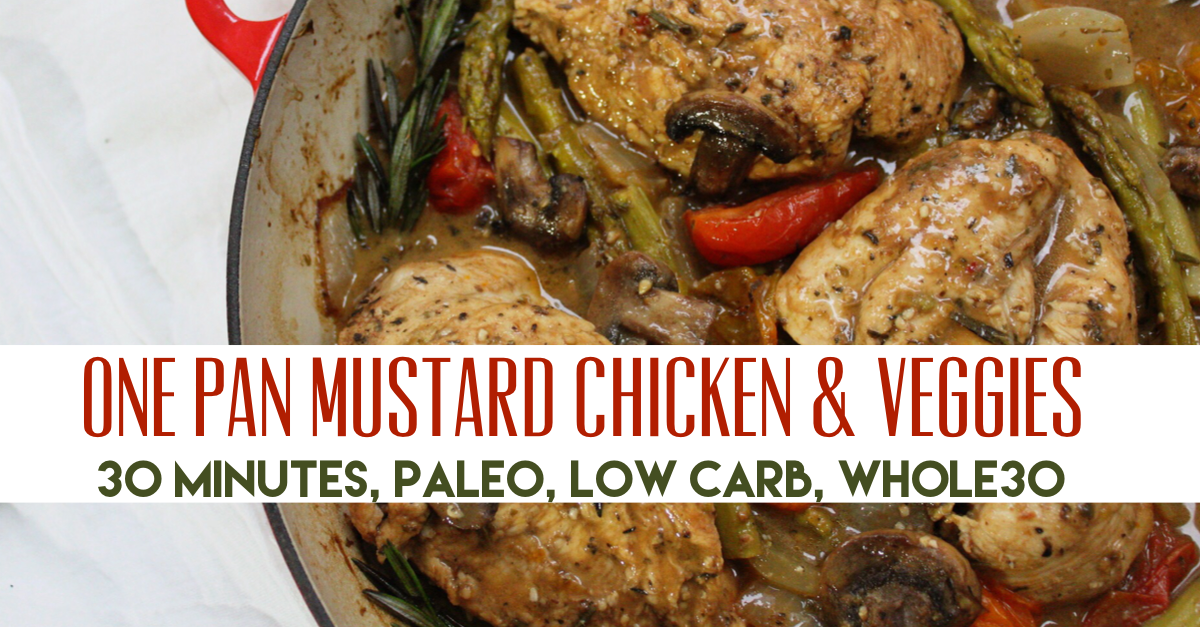 This post may contain some links that are affiliate links, though products are ones I use personally and recommend. When you purchase anything using my links, it costs you absolutely nothing extra, but it does give wholekitchensink.com a little financial support which helps to keep this blog running. Thank you for your continued support, both with your dollars and your interest.