It seems I'm all about the one pan meals this week. I don't know if it's the rainy and chilly April weather or my head cold, or a combination of both, that's leaving me less than enthusiastic about spending time over a stove. I picked up these chicken drumsticks on sale, so one pan jerk chicken it is. Plenty for leftovers and only one dish for clean up. Sign me up.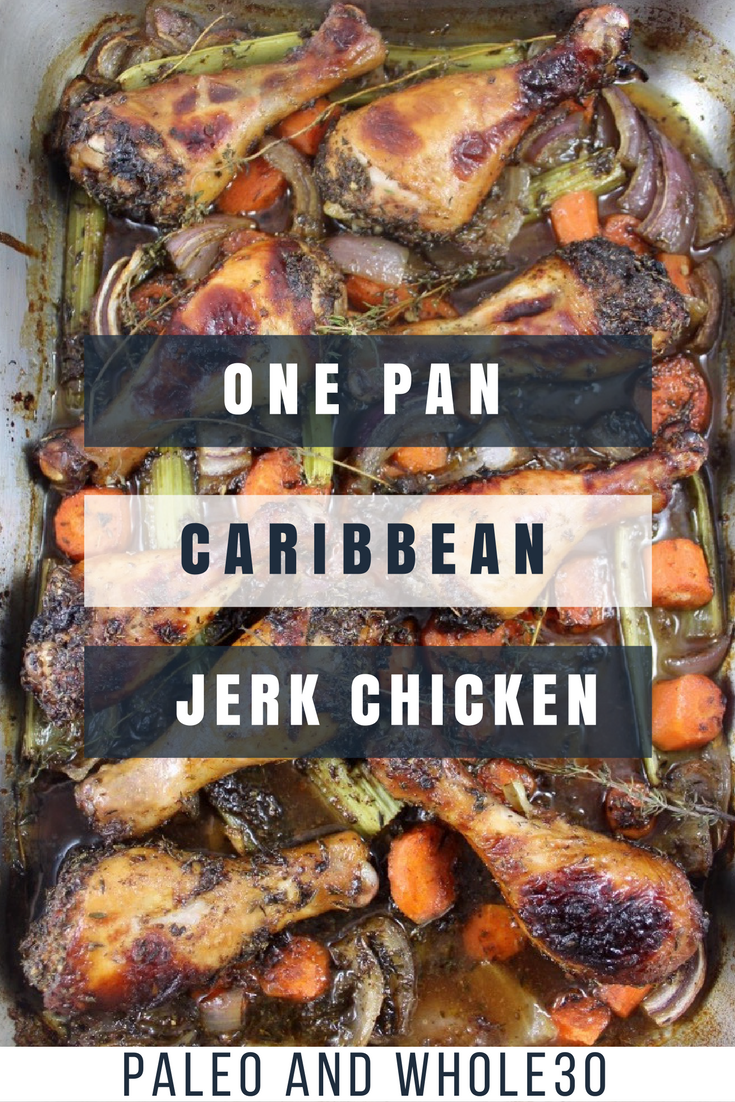 The traditional way to make Caribbean jerk seasoning and the way I used to make it before the whole "health" thing is with brown sugar. But, you know, Paleo. So I'm excluding it. You could totally add coconut sugar if you *absolutely* wanted to. The sugar makes it a little sweeter, helps bind and caramelize the chicken and vegetables while it's baking. Instead of adding sugar, I added a tiny bit of honey. If you're doing a whole30, simply leave it out. It doesn't make too much of a difference, I promise.
I just threw in veggies and unfortunately was out of potatoes otherwise I would have added those too. The way I usually make this Paleo version of my old favorite includes them, so I'll include them in the recipe as well. As always, add or remove any veggies you have on hand already or don't care for. I won't be offended ;). You could also use chicken breasts or thighs as a substitute for the drumsticks. Like I said, got 'em on sale.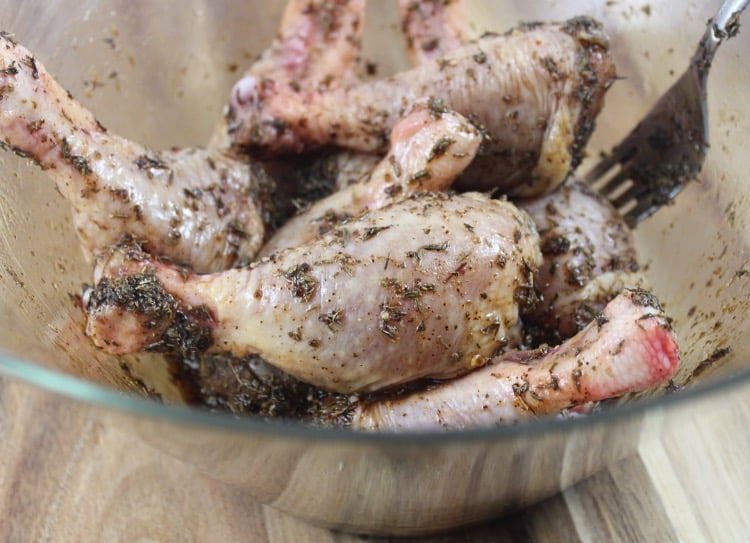 Whichever form of chicken you decide to use, you'll want to make sure to marinate it for at least an hour prior to baking. I often cover them and let them sit in the fridge overnight the evening before a meal prep. You can also pre-chop all of the veggies you're going to use as well. That way, if you're making this for meal prep, the next day all you need to do is throw it in a pan and bake. When I do this it makes my meal prep seem to go by faster because I've got one meal baking without doing any work which leaves me time to make another one at the same time.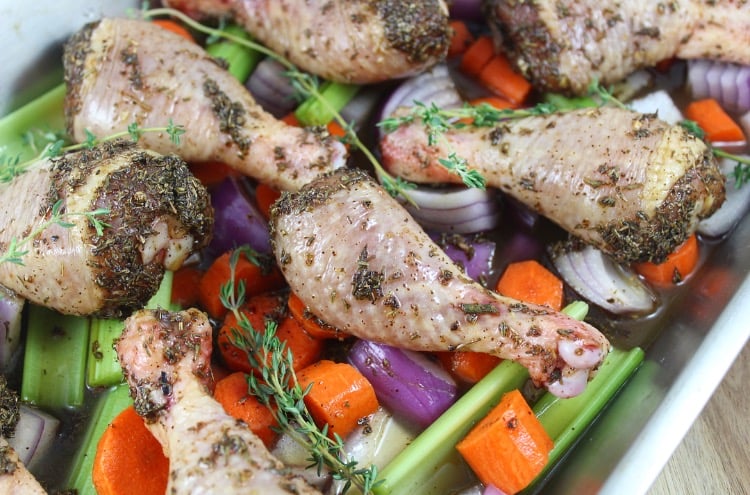 If you don't have fresh thyme for this one pan jerk chicken, don't worry about it. Dried thyme works perfectly. Speaking of seasoning, if you like to make seasoning mixes in bulk to keep handy, just triple this recipe and it makes 3/4 cup Caribbean jerk seasoning. Quadruple it for an even 1 cup. Store it in an airtight container or old spice jar and use it to season chicken or shrimp anytime you need a quick meal! This seasoning is awesome on grilled shrimp too!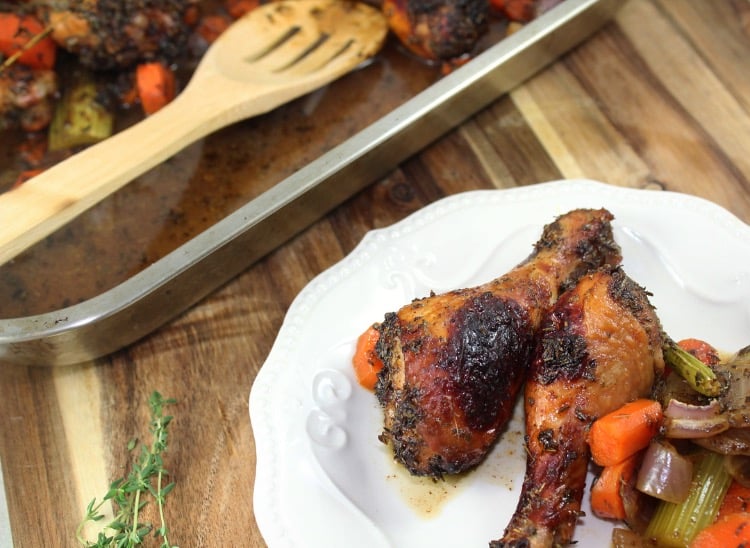 Print
One Pan Whole30 and Paleo Caribbean Jerk Chicken
Prep Time: 10 minutes
Cook Time: 40 minutes
Total Time: 50 minutes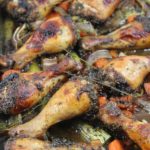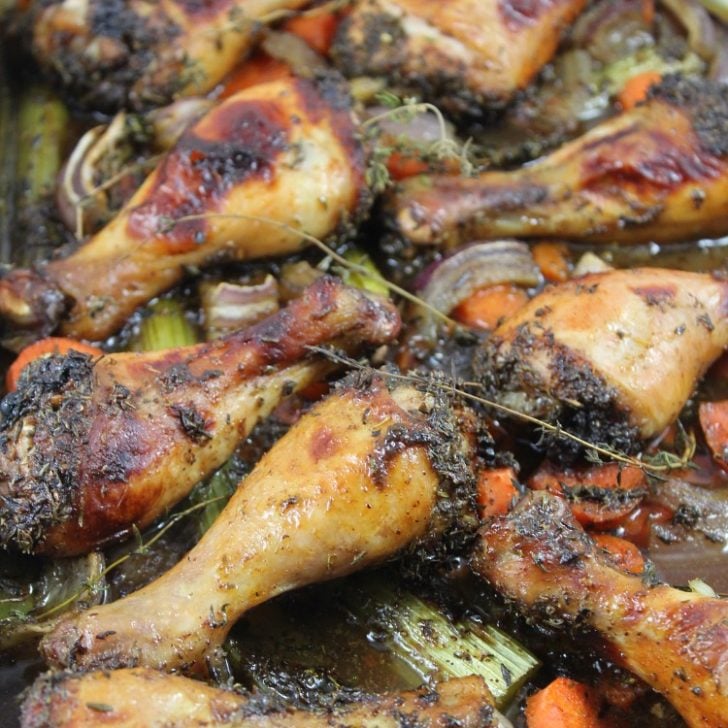 Ingredients
1.5–2 pounds of chicken drumsticks
2 cups potatoes, thickly diced
1 and 1/2 cup of onion, chopped
3 long carrots, sliced
3 stalks celery, chopped
1 cup chicken broth
2 tablespoons coconut aminos
2 tablespoons honey (no additives) – exclude if doing Whole30
2 tablespoons olive oil
For the Seasoning:
1 tablespoon dried onion
1/2 teaspoon garlic powder
2 teaspoons dried thyme
1 teaspoon pepper
1 teaspoon salt
1 teaspoon allspice
1 teaspoon cinnamon
1/2 teaspoon cayenne pepper
1/2 teaspoon nutmeg
Instructions
Add honey, oil, coconut aminos and spices for the seasoning into a large bowl
Stir until combined
Place chicken in the bowl and stir to coat chicken
Cover and refrigerate 1 hour-24 hours
Once chicken has marinated, remove from fridge
Preheat oven to 400 degrees F.
Chop veggies and place in the bottom of a large rimmed baking dish
Pour chicken broth into dish
Place marinaded chicken on top of the veggies
Put dish into oven for 40 minutes, turning chicken halfway through
Every oven differs slightly, so check chicken before taking it out and give it a few more minutes if it needs more time!
Other one pan meals:
Chicken and Bacon Caesar Spaghetti Squash
Garlic and Butter Chicken with Tomato and Spinach Sauce
This post may contain some links that are affiliate links, though products are ones I use personally and recommend. When you purchase anything using my links, it costs you absolutely nothing extra, but it does give wholekitchensink.com a little financial support which helps to keep this blog running. Thank you for your continued support, both with your dollars and your interest.