As much as I *try* to meal prep and be on top of my crap, sometimes it just doesn't happen. I had a busy week and suddenly it was Friday and I was back to work for a three day stretch of 12 hour overnights… With no food prepared for them. An hour before I was suppose to be at work I opened my fridge to see that there's barely anything in there. The sad assortment of random veggies made it look like I was going to be taking a super boring salad to work.
Instead of taking the lame salad to work, more than likely deciding I didn't want it at 1 a.m. and ordering delivery to the hospital, I decided to take chicken out of the freezer and make a quick one pan chicken dinner. I defrosted some chicken and made a sauce for it using the tomato and spinach I had. This way I could make a meal for the next night at work too, saving me time tomorrow figuring out what I'd bring.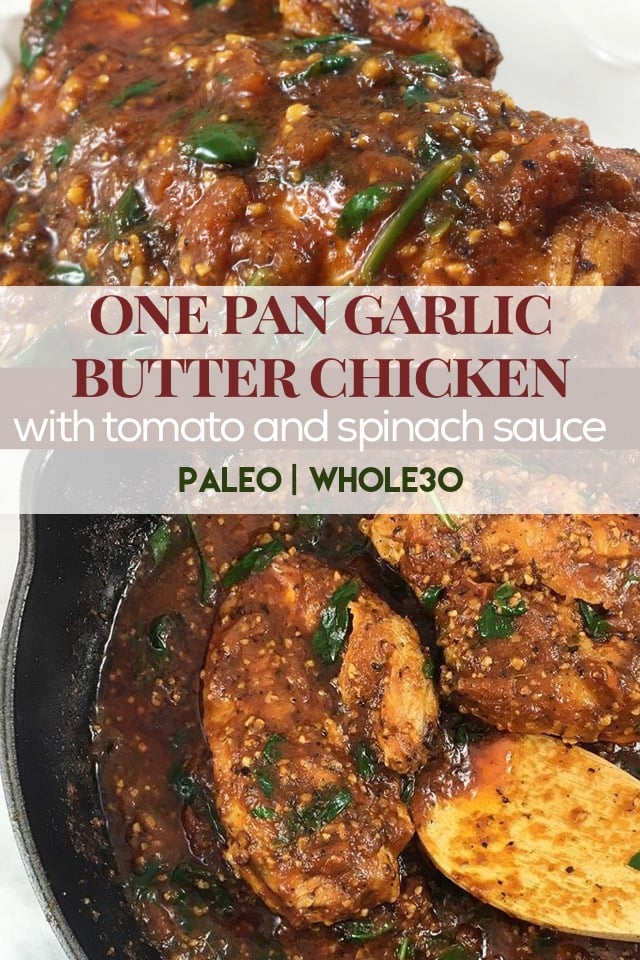 I had a tomato that would have gone bad had I not ate it soon, so I used a fresh diced tomato. For this one pan chicken recipe, you could use a can of diced tomatoes if you don't have a tomato. Make sure to drain them before adding them to the pan. If you're not strictly Paleo or dairy-free, you can substitute the ghee for regular butter.
If you want to make this for a bigger family or for meal prepping, go ahead and double the recipe!
Print
One Pan Garlic & Butter Chicken with Tomato and Spinach Sauce
Prep Time: 5 minutes
Cook Time: 20 minutes
Total Time: 25 minutes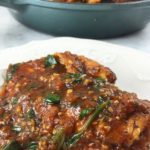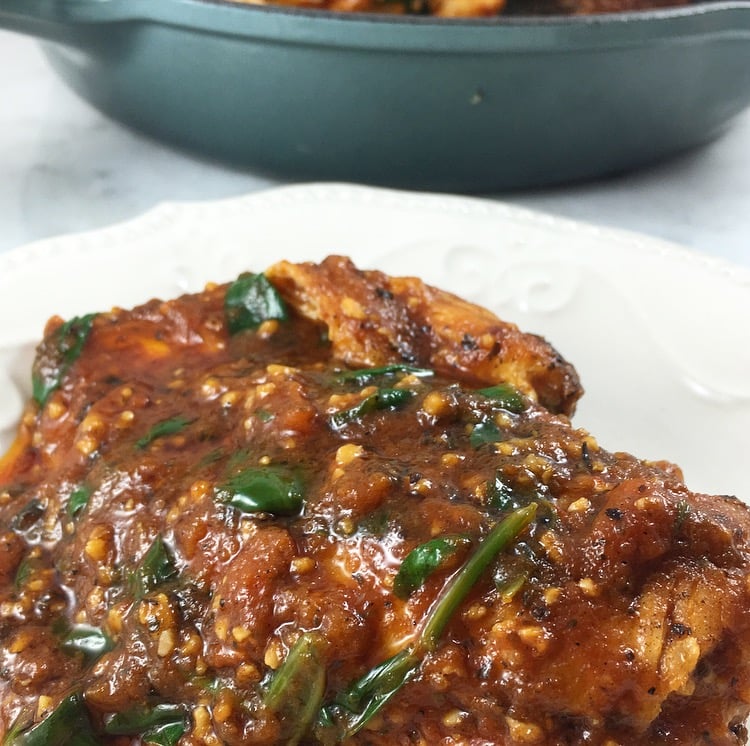 Ingredients
1 pound chicken breast
3 tablespoons avocado oil or olive oil
A dash of salt and pepper to season chicken
1 large tomato, seeded and diced or 1 can drained diced tomatoes
1 large handful spinach, sliced in ribbon strands
2/3 cup chicken stock
1/3 cup ghee
2 tablespoons tomato paste
1 tablespoon minced garlic
1 teaspoon dried basil
1 teaspoon Italian seasoning
Instructions
Season chicken breasts with salt and pepper
Add 2 tablespoons to skillet over medium heat
Add chicken and cook until done and browned on both sides. Remove from heat.
While the chicken is cooking, seed and dice tomatoes and slice spinach
After removing chicken from the skillet, add 1 more tablespoon oil and the tomatoes
Allow tomatoes to reduce down until they're a sauce like consistency
Add minced garlic, basil, Italian seasoning and ghee
Once the ghee has melted, add tomato paste
When the tomato paste is mixed into the sauce, add in the chicken stock and spinach
Bring to a simmer and place the chicken back into the skillet
Cook for a few more minutes, allowing the chicken to absorb the flavors from the sauce
Remove from heat, serve and enjoy!
This post contains affiliate links, though the products are ones I frequently use personally and recommend. When you purchase anything using my links, it costs you absolutely nothing extra, but it does give Paleobailey.com a little financial support which helps to keep this blog running. Thank you for your continued support, both with your dollars and your interest.