Cabbage is one of the veggies I talk about never having much of until I started my first Whole30. I never previously had even half of the veggies I commonly eat now. I had never cooked with them either. This egg roll in a bowl is something I found out about early on in my Paleo adventures. Different variations of this have been making the rounds on the internet and after over a year of playing around with it or just throwing things together, this is my favorite way to make it.
I'm glad I did, too. It's one of the fastest, easiest and cheapest meals to make. I usually have carrots and green onions in the fridge and meat of some sort in the freezer, so the only thing I typically need to pick up specifically for this meal is the cabbage. It's one of the most inexpensive veggies which makes the meal really budget friendly.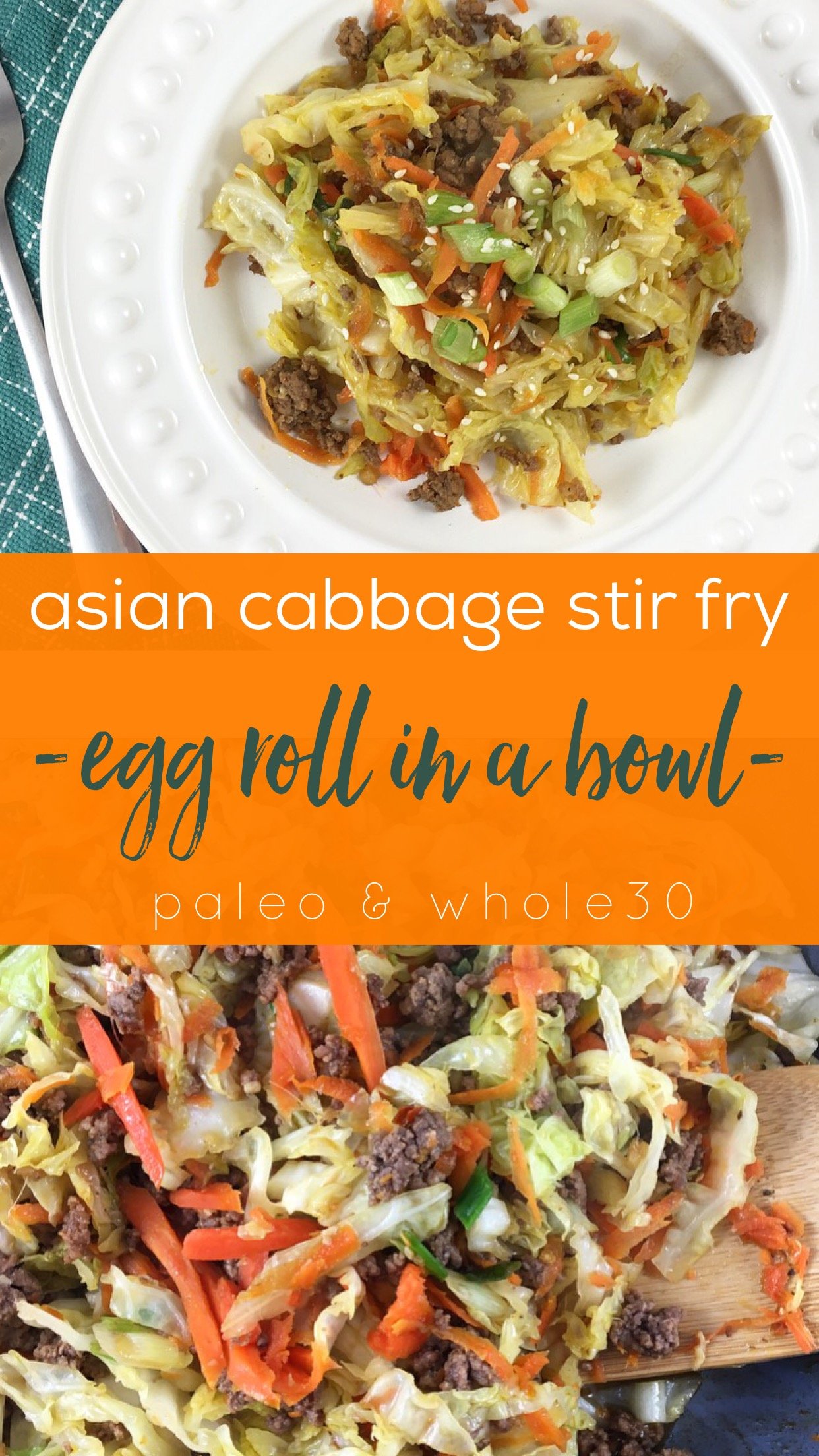 I typically use either ground pork or ground beef but you can also use ground turkey if you have it or want to make it a little bit leaner. If you use ground turkey, I'd recommend adding an extra 1/2 tablespoon of minced garlic and minced ginger to add some extra flavor where the ground turkey lacks it.
You can double this recipe, as I often do, for meal prepping. If you double it, you'll need to do it in two batches though. All of the cabbage won't fit into one skillet with all of the other ingredients too. I don't recommend freezing this recipe, however, because cabbage has a really high water content and it won't come out very well.
Print
Asian Cabbage Stir Fry: Egg Roll in a Bowl
Prep Time: 10 minutes
Cook Time: 15 minutes
Total Time: 25 minutes
Yield: Serves 2-3 1x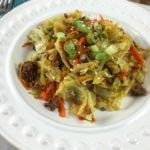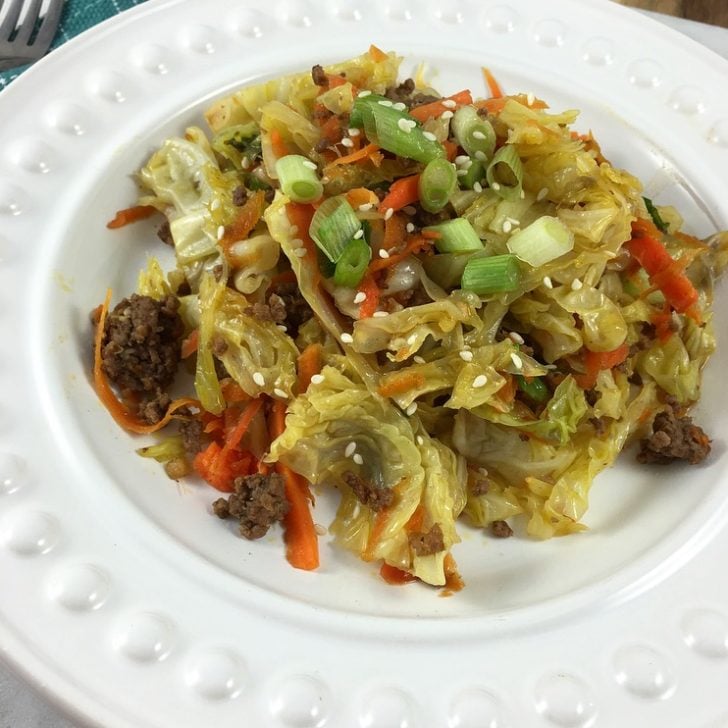 Ingredients
For the Sauce:
2 1/2 tablespoons coconut aminos
1 tablespoon toasted sesame oil
1/2 tablespoon honey (use date paste or omit if doing Whole30)
1/2 tablespoon red pepper flakes
A pinch of salt and pepper
For the Stir Fry
1/2 pound ground beef or ground pork
1/2 tablespoon avocado oil or olive oil
1/2 head of cabbage, shredded
2–3 carrots, shredded
3 green onions, diced
1 tablespoon minced ginger
1 tablespoon minced garlic
Sesame seeds to garnish
Instructions
Mix all sauce ingredients in a small bowl and set aside
Add oil to skillet over medium heat with ground beef, minced ginger and minced garlic
Cook until browned and add in cabbage
Allow cabbage to wilt slightly and then add the shredded carrots
Continue to cook and stir until cabbage is mostly completely cooked and then add the sauce and onions
Mix the sauce and green onions in well and remove from heat
Garnish with sesame seeds and more green onion
This post contains affiliate links, though the products are ones I frequently use personally and recommend. When you purchase anything using my links, it costs you absolutely nothing extra, but it does give wholekitchensink.com a little financial support which helps to keep this blog running. Thank you for your continued support, both with your dollars and your interest.