I'm drooling just looking at these Paleo slow cooker chicken teriyaki thighs. But first:
Have you looked at the back of the teriyaki sauce you use as your go-to lately? If not, humor me and let me know how many ingredients you count on that label. Okay, now how many of them can you pronounce? Totally unnecessary 'ingredients' to be packed into one bottle. Especially when this teriyaki sauce only has 5. Five whole, natural ones that we can pronounce at that. After you try this slow cooker chicken teriyaki you'll be throwing out that old bottle all together.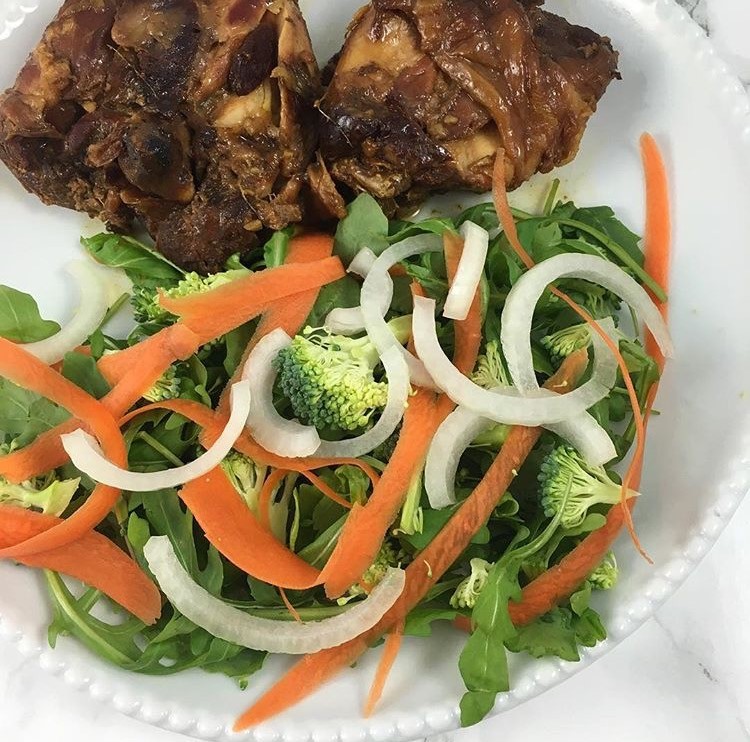 I talk a lot about how simple, wholesome ingredients matter. Not only does it make my life easier and healthier, it gives me peace of mind knowing exactly what is going into my food, and in turn, into my body. I started researching Paleo before making the leap. While doing so, I realized exactly how many additives were found in just about everything. To say it freaked me out is an understatement. It became a lot easier to cut processed and manufactured foods out once I started to pay attention to what someone else was putting in them.
This ended up being a benefit to me when I started creating Paleo meals. I could have coined the phrase "simpler is better" if only I had thought of it first (missed a golden opportunity there). Many people tell me that eating Paleo would be "too hard" for them, but I actually see it the opposite. My meals have gotten simpler while getting dramatically more tasty.
I've learned to rely on my easy, quick and simple meals. This way of eating, and more importantly, the way I do it, compliments my life well. It doesn't take me forever to make dinner or meal prep for a few days. Even now, after a year under my belt, you still won't find me creating meals with ingredient lists a mile long.
This is another reason I utilize my slow cooker so often. I work 12 hour overnight shifts in a hospital and often come home exhausted from a long night of patient care. Creating a meal with 19 ingredients, 3 different kitchen appliances, a mountain of dishes and having to find 45 minutes to stand in my kitchen just isn't something I'm game for. But throwing a few things in a slow cooker? That, well, that I can do. Plus don't we all love coming home to or waking up to that delicious smell coming from the kitchen that you did NOTHING to all day?
Maybe I'm just lazy. Either way, I love knowing that I can be healthy without making things complicated.
Whole30 friends- simply leave out the honey if you're in the middle of a round!
Protip: if you did in fact FREAK OUT when you saw all of the artificial ingredients in your standard bottle of teriyaki sauce but don't want to make your own, Tessemae's offers the best bottled alternative I've found. The close second to that would be Coconut Secret brand's Coconut Aminos Teriyaki Sauce. You can find either one at Whole Foods, their website or Amazon. They makes Paleo chicken teriyaki even that much easier.
Print
Slow Cooker Chicken Teriyaki
Ingredients
2.5 pounds chicken thighs
1 cup coconut aminos (substitution for soy sauce)
2 tbsp minced garlic
2 tbsp pure honey
2 tbsp minced ginger
1 tsp salt
Instructions
Mix all ingredients, besides chicken, in a small bowl until honey is combined well
Place chicken in slow cooker
Pour mixture over chicken and stir to cover completely
Cook on low for 6 hours
Enjoy!
This post may contain some links that are affiliate links, though products are ones I use personally and recommend. When you purchase anything using my links, it costs you absolutely nothing extra, but it does give wholekitchensink.com a little financial support which helps to keep this blog running. Thank you for your continued support, both with your dollars and your interest.