Guacamole is always in season in my book. But, now that it's football season, this citrus kale guacamole has even more reasons to be on your table on game day. It's a tailgating fan favorite and I guarantee it'll be gone before halftime. Bonus: it's full of healthy ingredients and won't go brown by the time you get to the football party.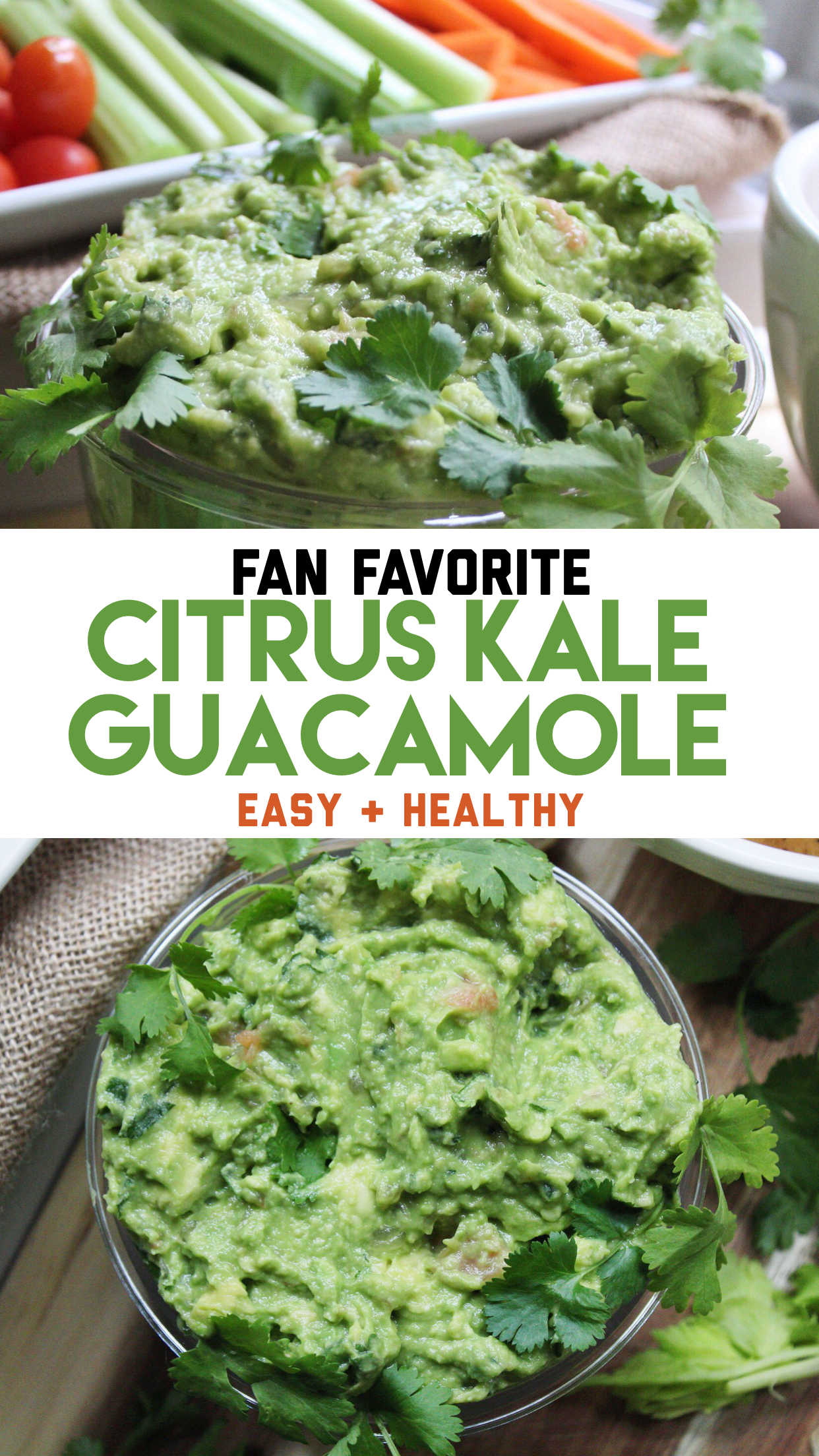 This post is sponsored by Casabella. All opinions are my own. I'm happy to work with a company I use and love! Thanks for your support here on the blog and your support for Casabella!
I've been totally lucking out recently with my avocados. Every single one I've cut open has been perfect. Hashtag blessed. Seriously though, getting them open in all green pristine condition is only half the battle. The other is keeping it that way.
If you've been following along on my Instagram, you've already seen the magic that is the Guac-Lock. I've been using it all week for my meal prepped taco salads to keep my guac fresh and even after day 3 there wasn't a spot of brown on it. Like I said, magic.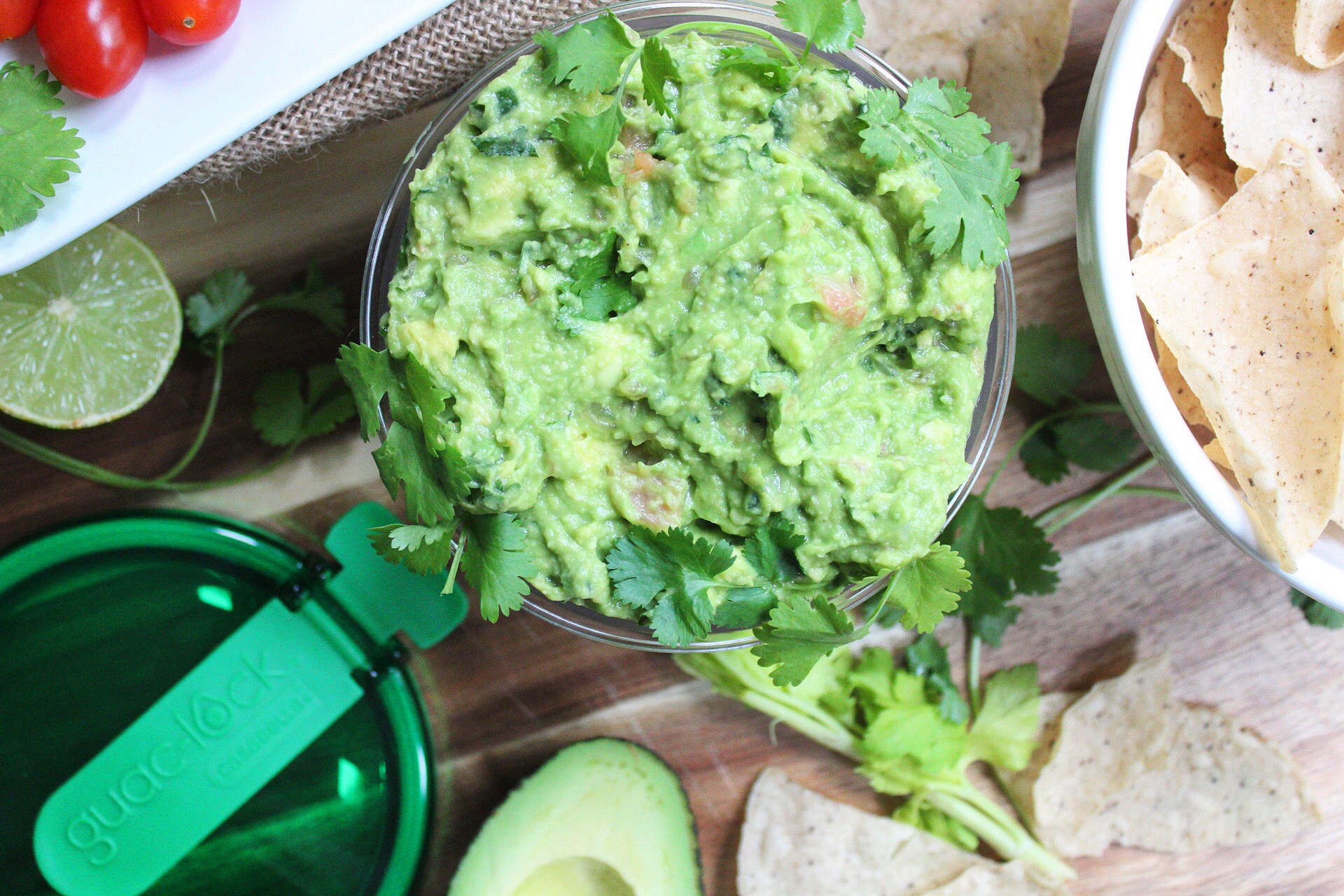 It's crazy convenient for making guacamole ahead of time for, like I mentioned, meal prepping and even more so for storing and transporting your citrus kale guacamole to the tailgating party this weekend. It's shatter proof, stores a ton of guac and it's easy to use, which makes it perfect for entertaining. The Guac-Lock even comes with a serving tray for chips and veggies. It's been a total win for my guac game and I'm not sure how I managed without it for so long.
A few years ago, I was out in California and had guacamole that had fruit in it. I couldn't believe how amazing it was and have been throwing some citrus into my guac ever since. So, this citrus kale guacamole really is a fan favorite.
All of my friends and family request it so I figured it was high time I share it here during football season! I love adding the kale to it because it both bulks it up and sneaks in a veggie that everyone at the football party *thinks* they don't like.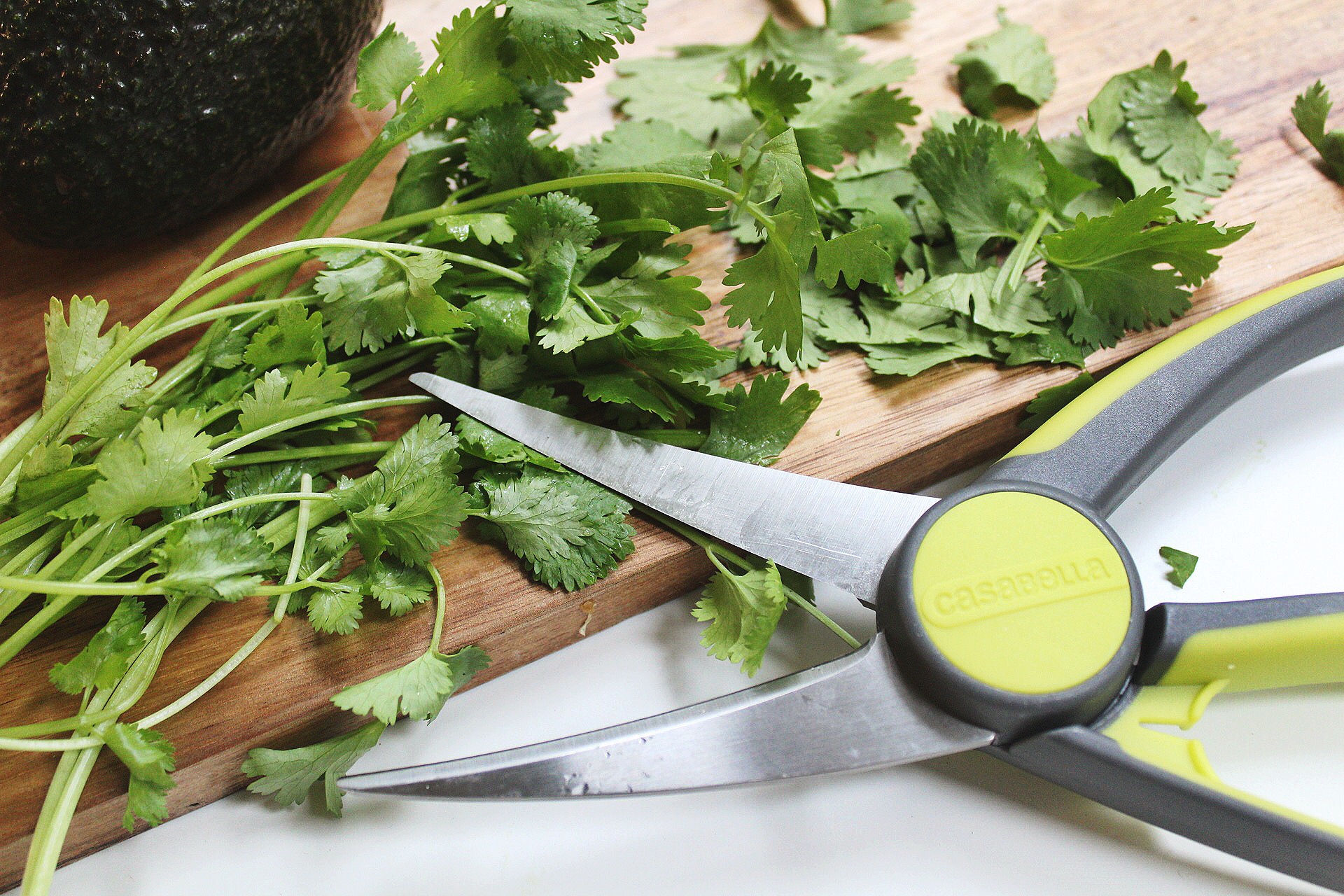 I used my Clip 'n Strip Shears to quickly remove the stem from the kale before blanching. You'll only need one to two leaves of kale. The shears also have a herb stripper built right into the handle which I used to easily and efficiently separate the cilantro leaves from the stems as well. Then I simply used the sharp scissors to cut the cilantro into the loosely chopped pieces I wanted for the citrus kale guacamole.
I wait until the other ingredients are prepped prior to cutting open the avocados. You want to make sure you do it last to reduce the amount of time they're left sitting out with the green flesh exposed to the air. Once you have everything ready to go, use the 4 'n 1 Avocado Tool, which has also been a game changer, to cut the avocados open and remove the pits. You can also use this tool to scoop out the avocado and slice or mash it. No more using a fork, knife and spoon for cutting, removing the pits, scooping and mashing. Less dishes? Sign me up.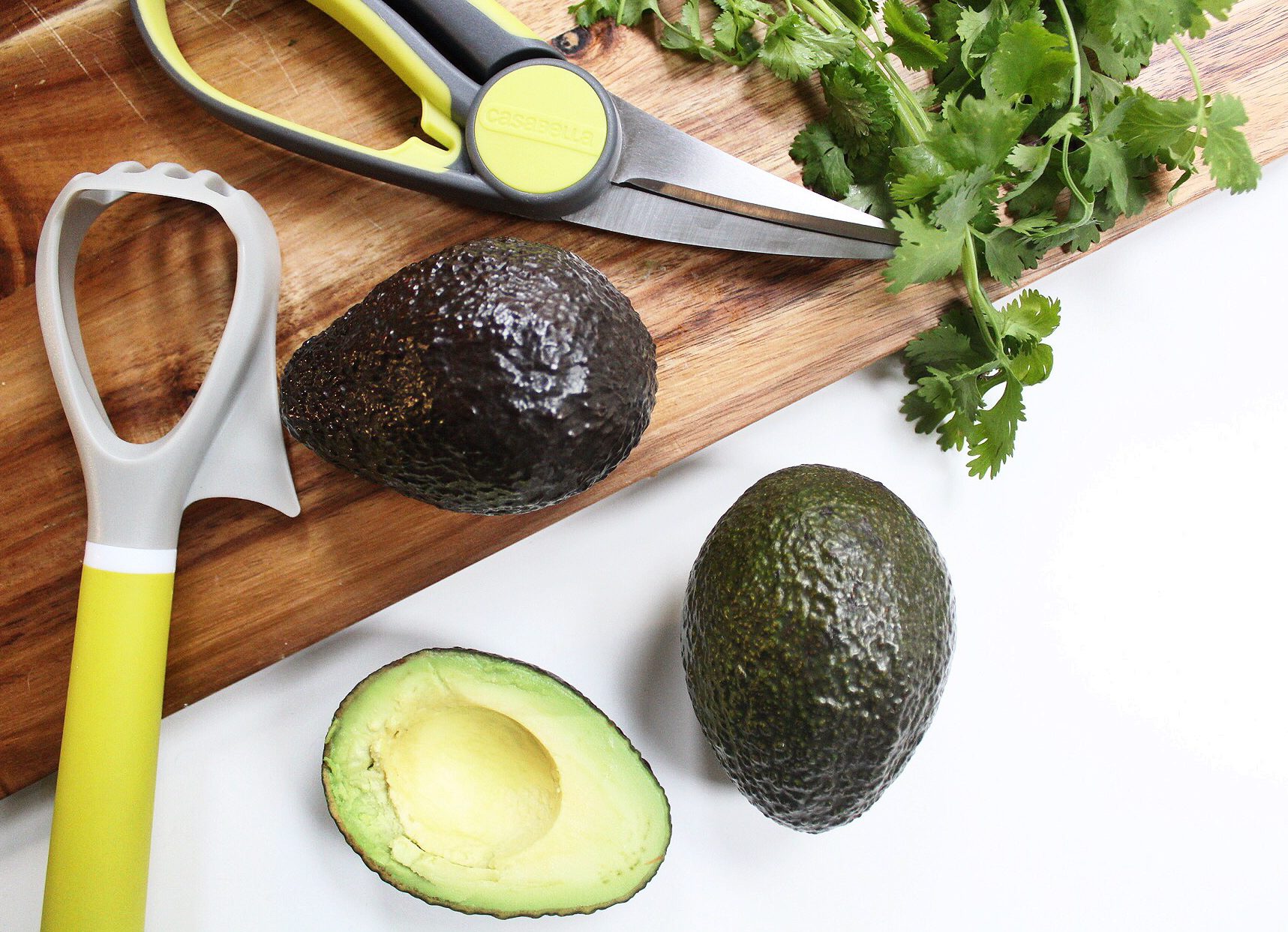 There's something so satisfying about mashing up avocados and knowing you're in store for a delicious dip that everyone loves. Or, hey, hide it for yourself. I won't tell.
Once the citrus kale guacamole is well combined with the other ingredients, give it a taste and add more salt if you prefer a saltier guac! Throw it in the Guac-Lock, ensure it's airtight and sealed and then in the fridge. I promise it'll be fresh and green for you when you're ready to dig in!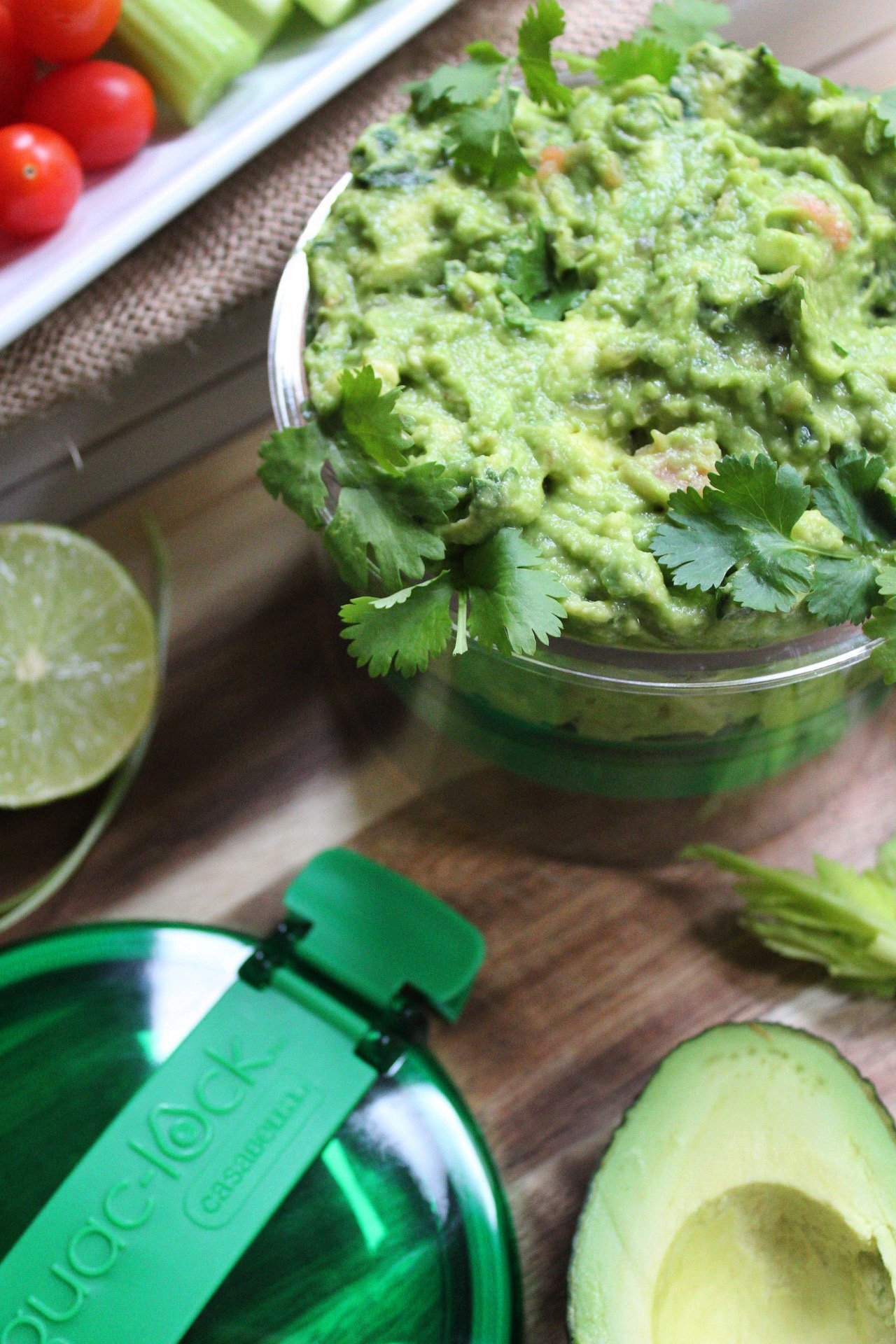 Even if your team loses, you'll win the best guacamole at the tailgate party!
Print
Citrus Kale Guacamole: A Healthy and Easy Fan Favorite
Prep Time: 10 minutes
Total Time: 10 minutes
Yield: Serves 4-6 1x
Category: Dip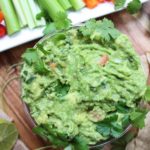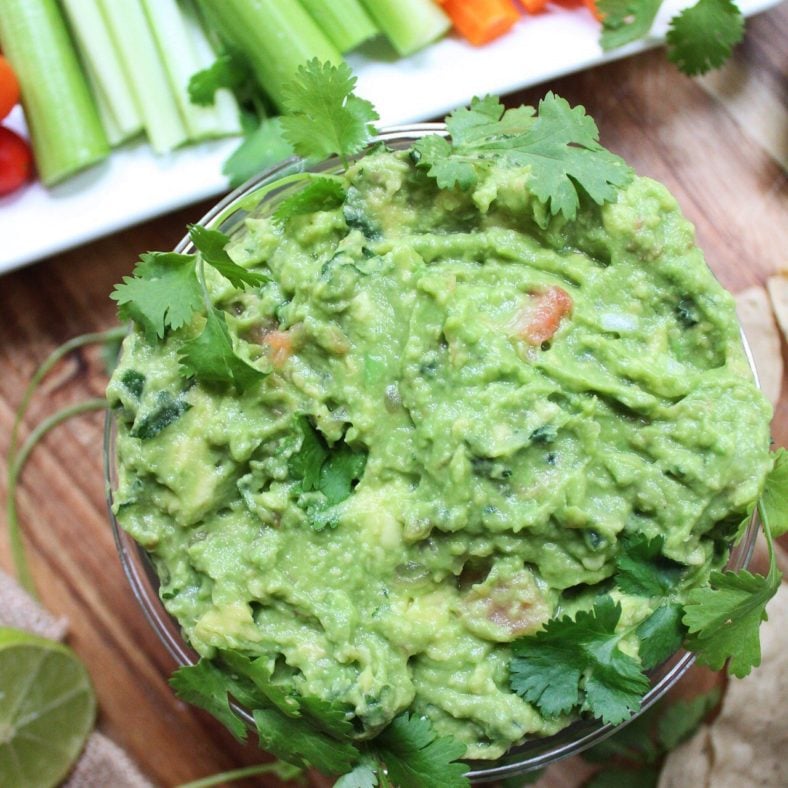 Ingredients
4 large ripe avocados
1/2 cup glanced and chopped kale
1/3 cup grapefruit pieces, chopped small (orange works well, too!)
1/4 cup chopped cilantro, loosely packed
2 tablespoons seeded and very thinly diced jalapeño
2 tablespoons very thinly diced red or green onion
1/2 teaspoon onion powder
1/2 teaspoon sea salt or to taste
Instructions
Remove stems from 1 or 2 kale leaves and place in boiling water for 30-45 seconds
Remove from water and place directly into cold water
Once no longer warm, remove kale leaves from water, dry and finely chop
Add to a large bowl
Remove stems from cilantro and finely chop, add to the bowl
Add in grapefruit pieces, onion, jalapeño, seasonings and avocados
Mash and stir until well combined
Taste and add more salt if desired
Store or serve immediately!
Notes
Double the recipe if feeding a large crowd!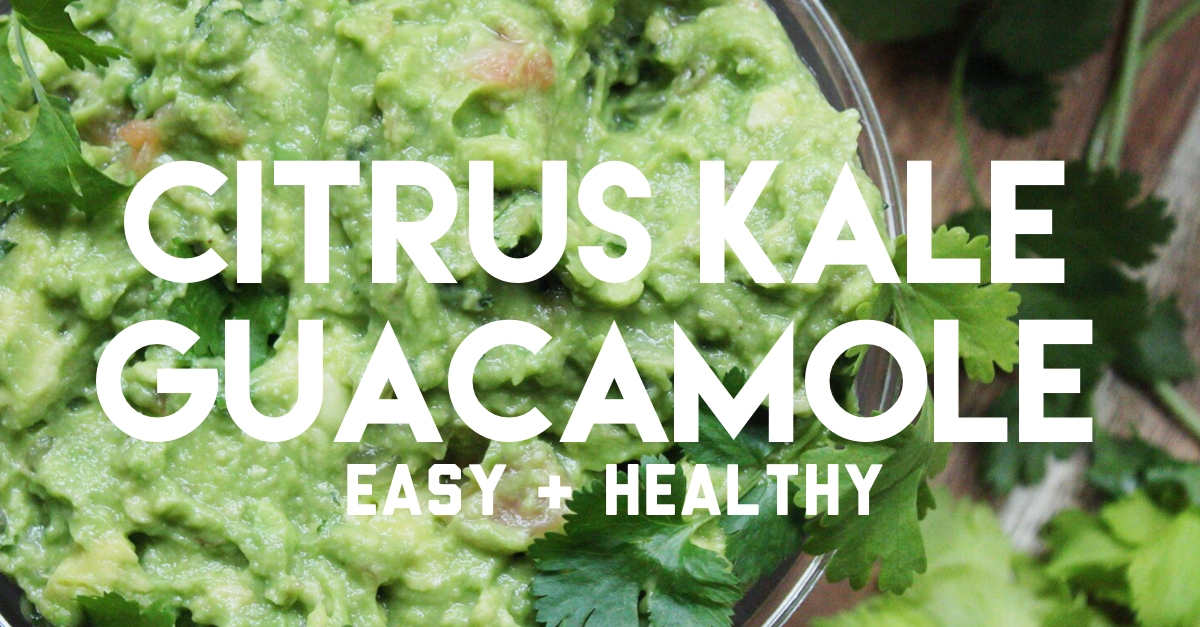 This post may contain some links that are affiliate links, though products are ones I use personally and recommend. When you purchase anything using my links, it costs you absolutely nothing extra, but it does give wholekitchensink.com a little financial support which helps to keep this blog running. Thank you for your continued support, both with your dollars and your interest.