Pizza without the carbs, dough kneading or delivery fee? YEP. These spaghetti squash pizza bowls are totally customizable so add your favorite pizza toppings and make it your own! And of course I'm not going to try to convince you that spaghetti squash pizza is pizza because ain't no one falling for that. However, these are a good alternative if you're looking for a pizza substitution.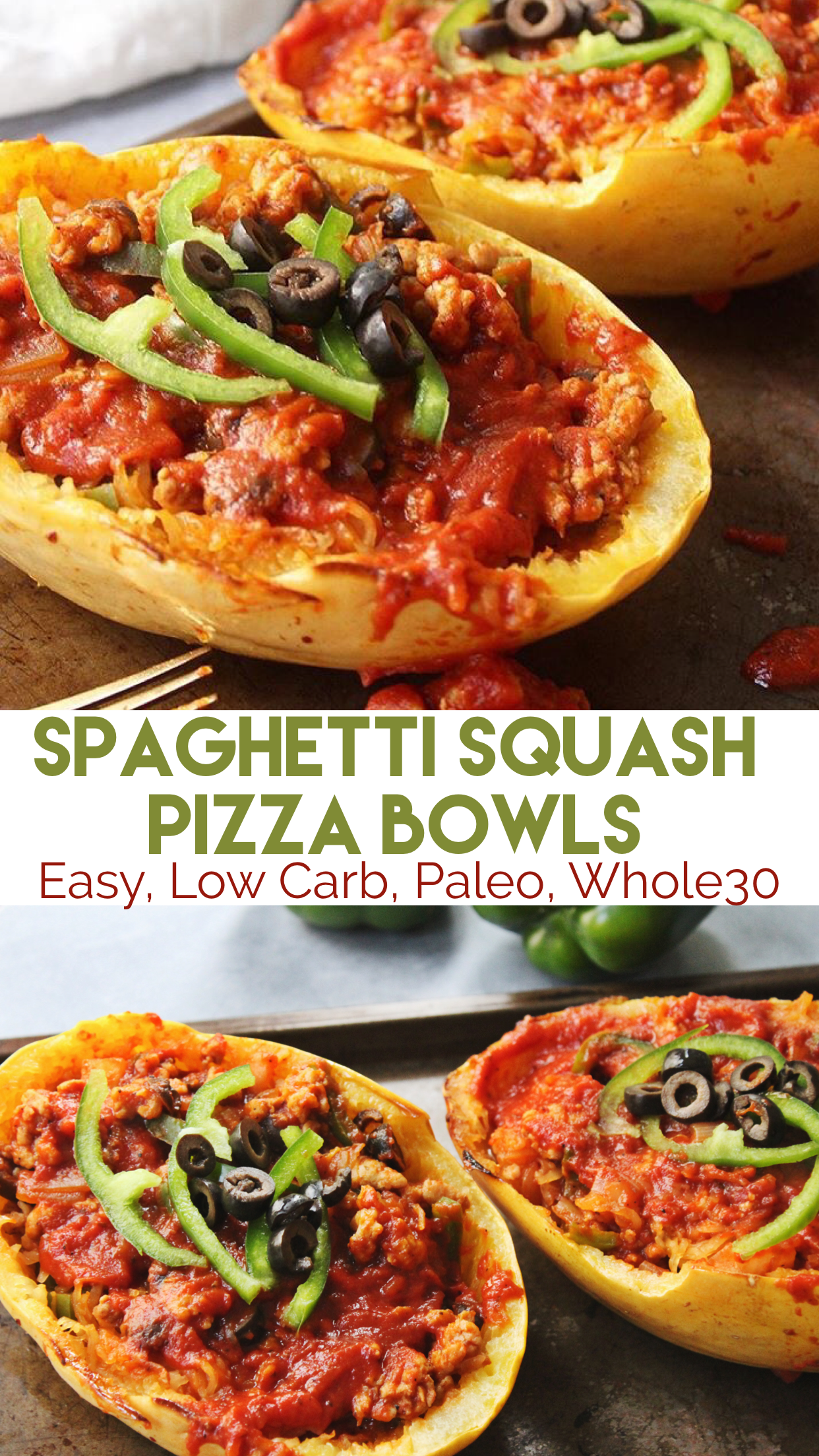 There's a few different ways to cook a spaghetti squash. They're all easy. It just depends on your preference and what you have for time. The oven is generally my go-to, just because I can set it and forget it. The slow cooker, microwave and instant pot are all options too! For more specific cooking times and instructions, check out these cooking methods for spaghetti squash.
There's lots of ways you can use spaghetti squash and it's such a versatile, low-carb way to bulk up meals. Some other ideas for ya:
If you exclude the fact that you have to cook the spaghetti squash in a pan or dish, the rest of this spaghetti squash pizza bowls meal would be a one pan meal. You'll create the pizza topping and sauce over the stovetop which makes this a really simple and quick dinner, lunch or dish to add to your meal prep list. You can make it fancier by making your own pizza sauce but if you know me, you know fancy isn't really my jam here on this blog.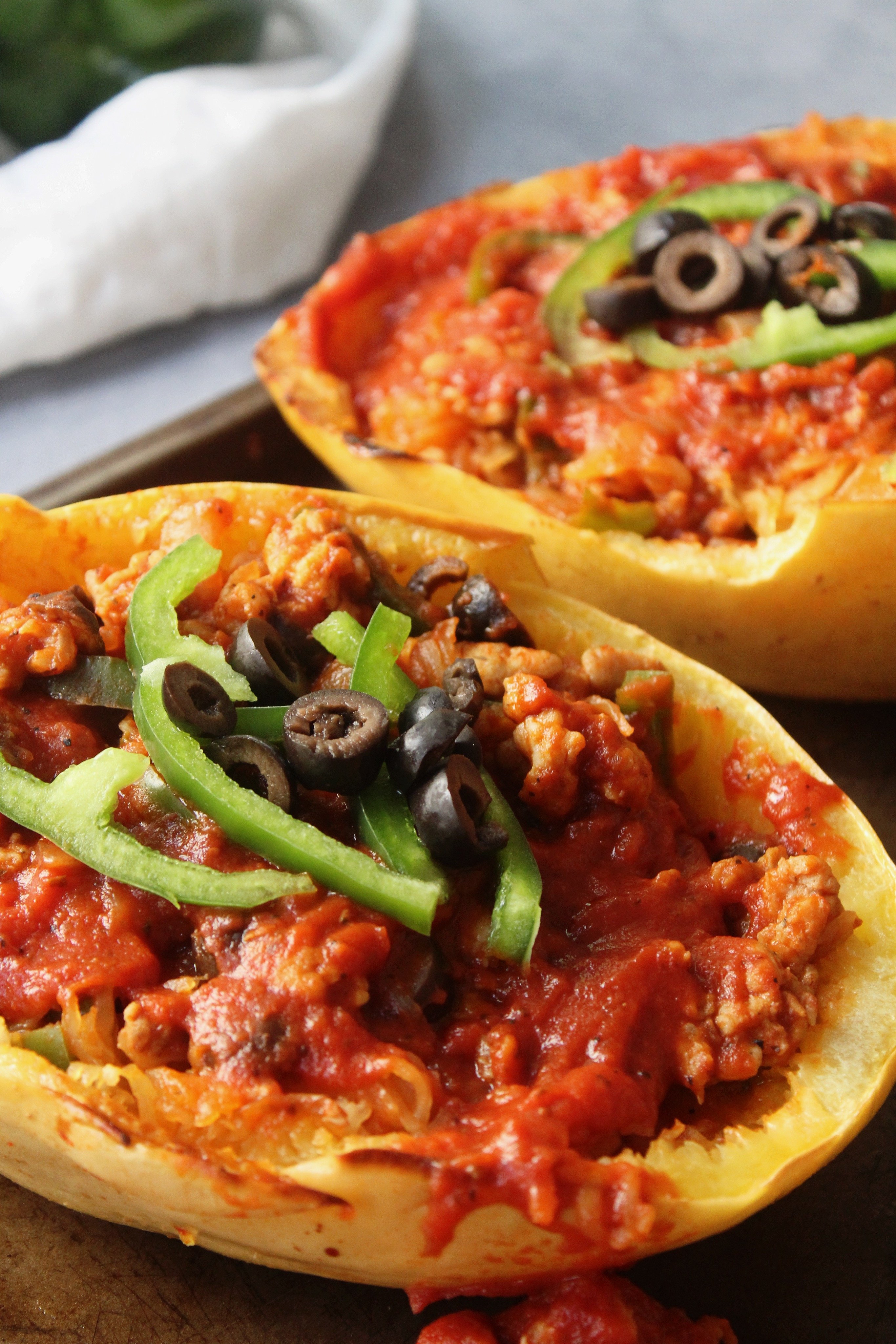 If you have a favorite sugar-free pizza sauce, use that one! If you don't know where to even look for a sugar-free pizza sauce, hit up a Whole Foods near you and pick up the 365 brand. It's their brand of products, much like Target and Walmart have their own products. Totally not sponsored or anything, I just appreciate a healthy, Whole30 compliant option that's not a million dollars. If you have other grocery chains you prefer, just check out the labels and make sure there's no crazy additives in the pizza sauce you pick up!
You'll add the sauce in last, after browning the meat and sauteeing the veggies you want to have in your spaghetti squash pizza bowl. I decided on onions, green pepper and black olives for the veggies and ground Italian sausage for the meat. You can use pepperoni, ground spicy sausage, ground Italian chicken sausage, ground beef or make it vegan/vegetarian!
Once it's all cooked and combined in the pan and your spaghetti squash is done, you can either run a fork through the squash to loose the threads and add in the sauce mixture. Or, you can totally remove the threads, add to the pan with the toppings and mix together there. If you want it to be better combined, do it this way. Then you can easily just scoop it back into the spaghetti squash pizza bowls or dish it up onto a plate!
If you have cheese lovers in your house, feel free to add some cheese to the top and throw in the oven to melt
Print
Spaghetti Squash Pizza Bowls: Low Carb, Paleo & Whole30
Prep Time: 10 minutes
Cook Time: 20 minutes
Total Time: 30 minutes
Yield: Serves 3-4 1x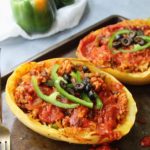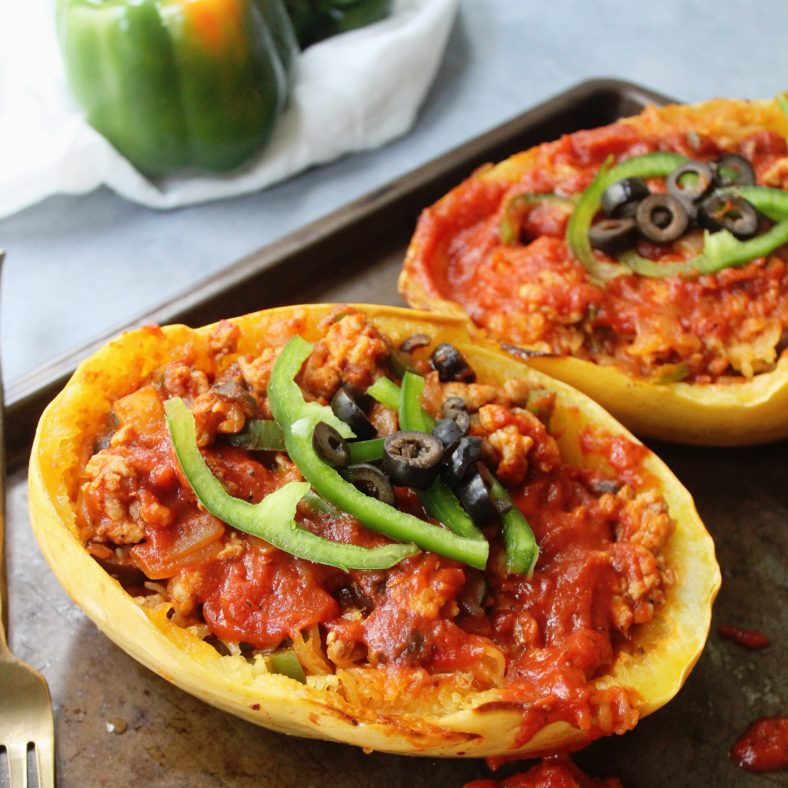 Ingredients
1 medium-large spaghetti squash
1 pound ground Italian sausage
1 medium onion, diced
1 green pepper, thinly sliced
1 jar (12oz) no sugar added pizza sauce
1 small can black olives, drained
1/2 tablespoon minced garlic
Salt and pepper to taste
Instructions
Begin cooking spaghetti squash
When spaghetti squash is almost completed, add sausage to a skillet over medium heat
Begin browning and add in minced garlic, onion and green pepper
Drain if there's an excess amount of liquid prior to adding pizza sauce
During this time, spaghetti squash should be getting done. Flip over so open side is facing up to cool squash
Once the veggies begin to soften and meat is almost cooked thoroughly, add in black olives and pizza sauce
Turn heat down to medium-low and let pizza sauce heat up
While it's heating, take a fork through the spaghetti squash threads
You can either leave them in the "bowls" or remove and add to the skillet to combine
Once spaghetti sauce is hot, if you didn't add squash threads to the pan, add the mixture to the bowls now
If you did add threads to the skillet, spoon the squash and pizza topping mixture back into the spaghetti squash shells or onto a plate/bowl
Enjoy!
Nutrition Facts:
Calories: 460
Sugar: 9
Fat: 33
Carbohydrates: 19
Protein: 26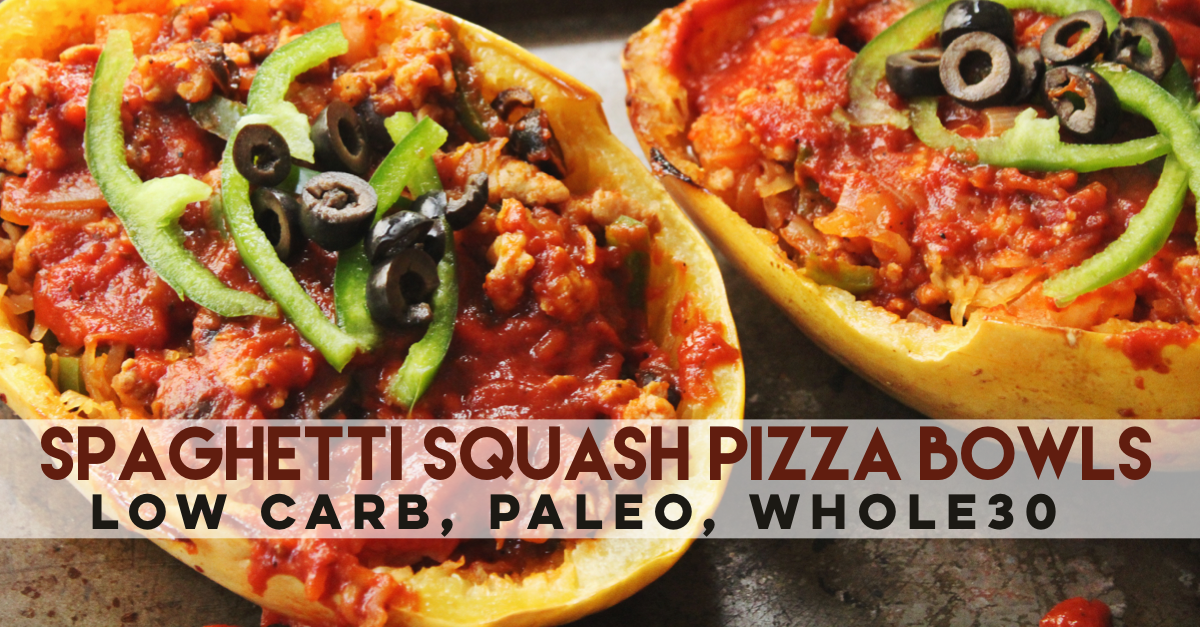 This post may contain some links that are affiliate links, though products are ones I use personally and recommend. When you purchase anything using my links, it costs you absolutely nothing extra, but it does give wholekitchensink.com a little financial support which helps to keep this blog running. Thank you for your continued support, both with your dollars and your interest.