Being the fan of efficiency and simplicity that I am, finding a curry that was ready to eat right out of the jar without unhealthy additives adds a lot of value to my life. It means no curry pastes or powders I have to transform into a sauce myself. And, therefore, more time to do other things… like eat curry. More specifically, this delicious chicken and lemongrass coconut curry.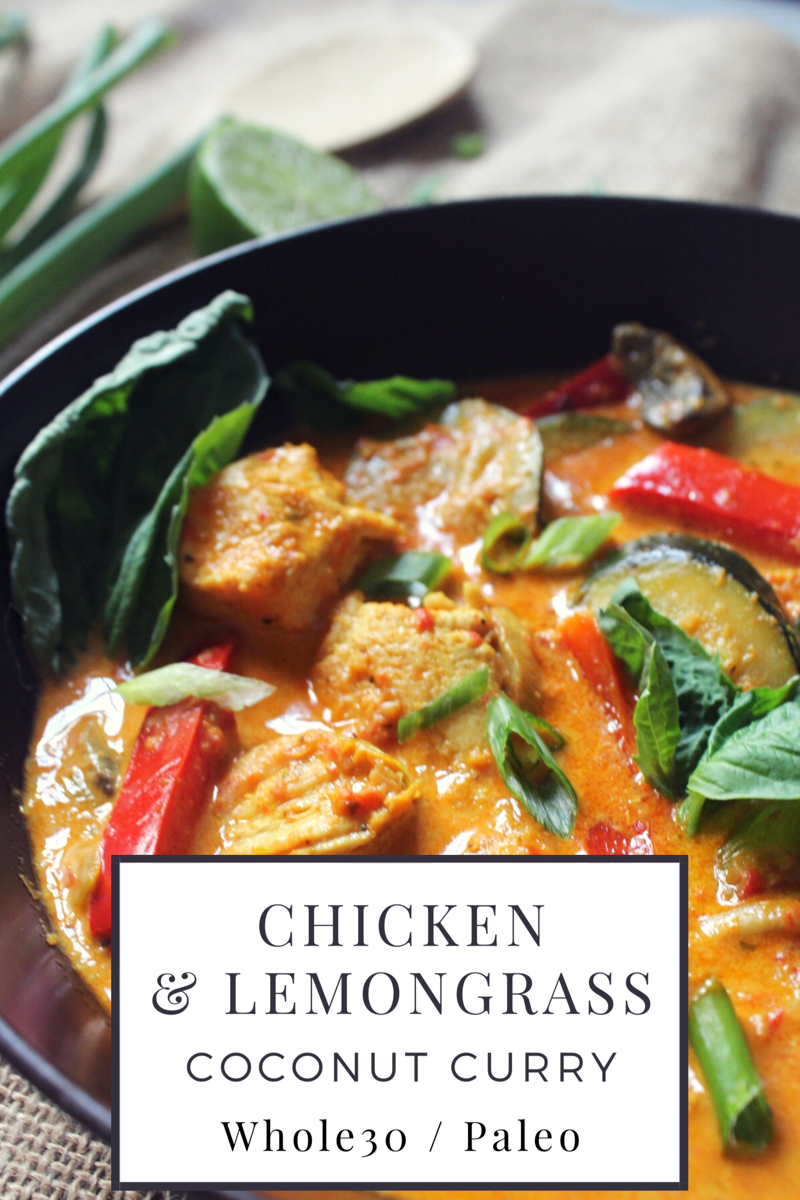 This post is all about celebrating Yai's Thai and delicious Thai inspired recipes. I'm happy to have partnered with this brand I believe in! Thanks for your support here on the blog and your support for all of our awesome Whole30 Approved companies!
One pan, Whole30, Paleo. Are there three more beautiful words to summarize a recipe? Didn't think so. Because the curry sauce is already ready to go and doesn't take the time that measuring out curry paste, turmeric, broth, etc., etc., the whole meal comes together really quickly. All ya' gotta do is cook up the veggies and dump in the sauce and coconut milk!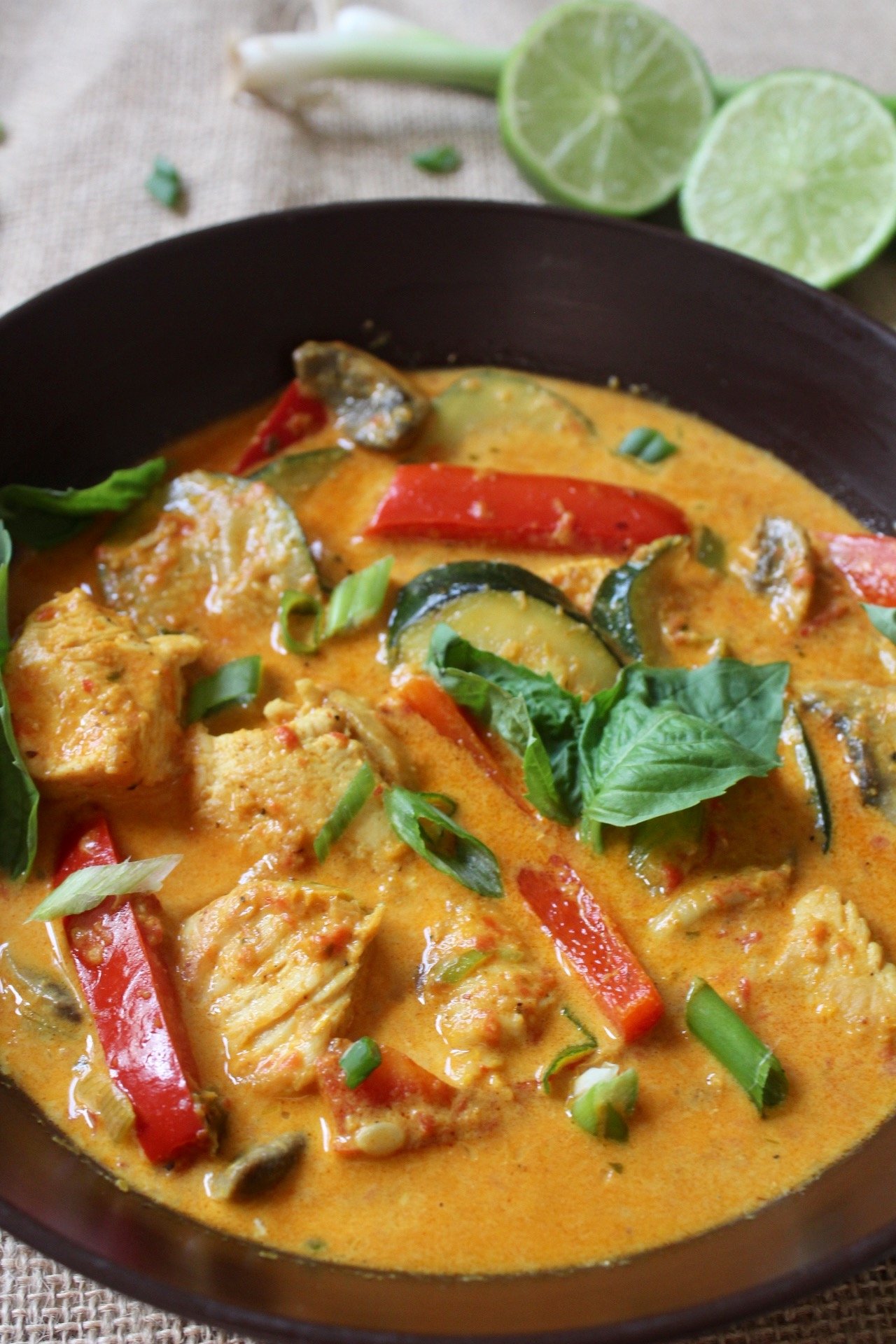 If you don't have coconut milk handy, that's no biggie either! The curry already has coconut milk in it and you could easily substitute more sauce for the coconut milk I used. I just like to add it in because it makes it even more creamy than it already is.
Aside from the fact that they're Whole30 approved (woohoo!), the reason I'm such a fan of keeping Yai's Thai around is because it's perfect for those nights when I don't feel like doing any *real* cooking after a busy day. It's also great for making use out of the random half-used veggies and protein I accumulate in my fridge.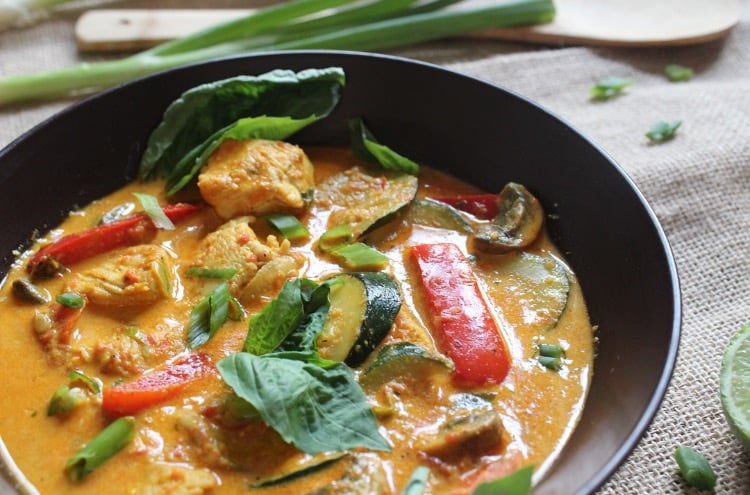 I love pulling basil leaves off of a few sprigs and throwing them into my curry. I also squeeze some fresh lime juice over it too for a little more zest. Get creative with your chicken and lemongrass coconut curry! You can add in any of your favorite veggies like onion, squash, cilantro or kale. Change up the protein and try shrimp instead! Serve it up with some cauliflower rice on the side for a hearty, veggie-packed comfort meal.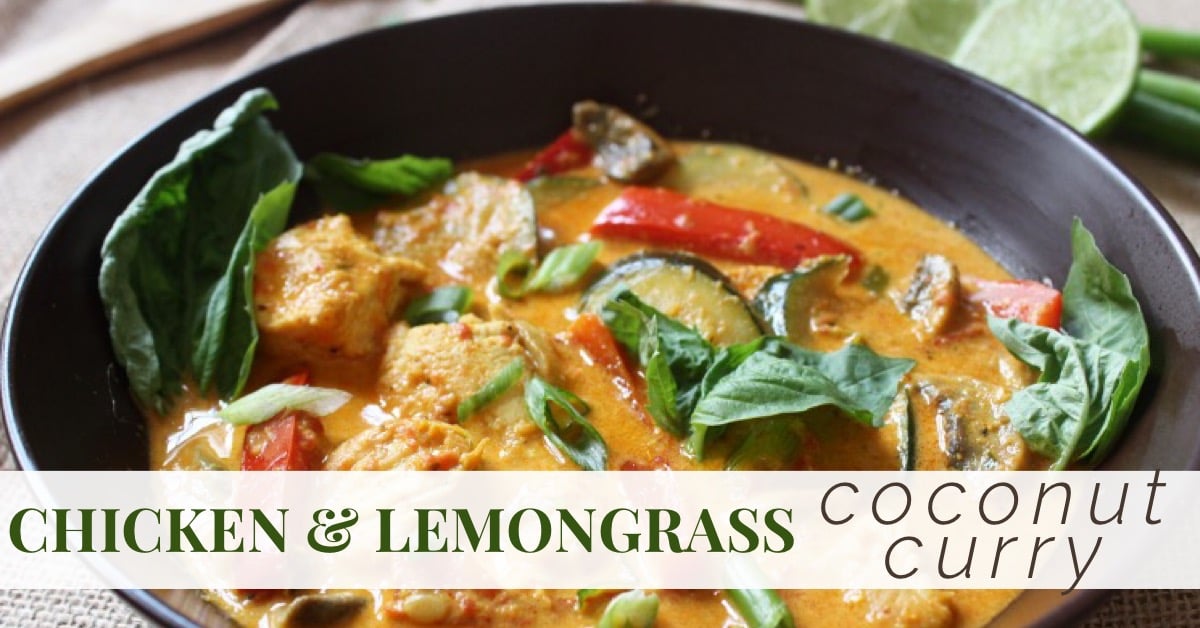 Print
Hungry for more? Subscribe to my newsletter to get new recipes delivered straight to your inbox! And be sure to stay in touch on Facebook, Pinterest and Instagram for all of the latest updates.
One Pan Chicken and Lemongrass Coconut Curry
Prep Time: 10 minutes
Cook Time: 20 minutes
Total Time: 30 minutes
Yield: Serves 2-4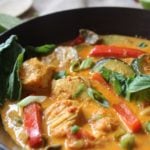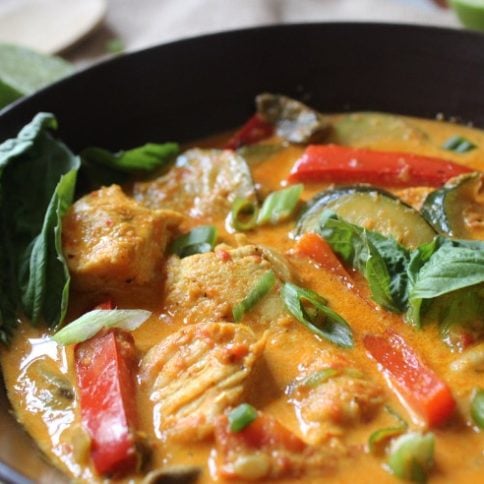 Ingredients
2 chicken breasts, cubed
1 and 1/2 cup Yai's Thai Yellow Coconut Curry
1/2 cup coconut milk
1 medium zucchini, sliced
1 red pepper, sliced
1 and 1/2 cup mushrooms, sliced (shiitake if available, white mushrooms if not)
4 green onions, thinly sliced
2 lemongrass stalks, bottom one third only and with thick outer layer removed
2 tablespoons avocado oil or cooking oil
Salt and pepper to taste
Lime, basil and sliced green onions to garnish, if desired
Instructions
Heat oil in a large skillet over medium heat
Add cubed chicken to the hot skillet and season with salt and pepper
Once chicken is mostly cooked through (3/4th of the way done), remove from pan and set aside
In the same skillet, add vegetables and lemongrass
Cook until vegetables are beginning to soften, about 5-10 minutes, stirring occasionally
To prevent browning, reduce heat if necessary
Add chicken back into the skillet
Pour curry and coconut milk into the skillet and bring to gentle simmer
Let simmer, reducing heat if necessary, about 10 minutes until chicken is fully cooked and veggies are soft
Remove from heat and serve!
Garnish with lime wedges, basil leaves and green onion