The best part about meal prepping is not having to cook on the days I don't want to. It's like cleaning your house before guests come over instead of scrambling to throw everything into a closet minutes before they arrive. You're more prepared, less stressed… and making better choices. I already had my pork cooked and my veggies pre-cut, leaving roasting the veggies the only thing I had to do for these BBQ pulled pork bowls.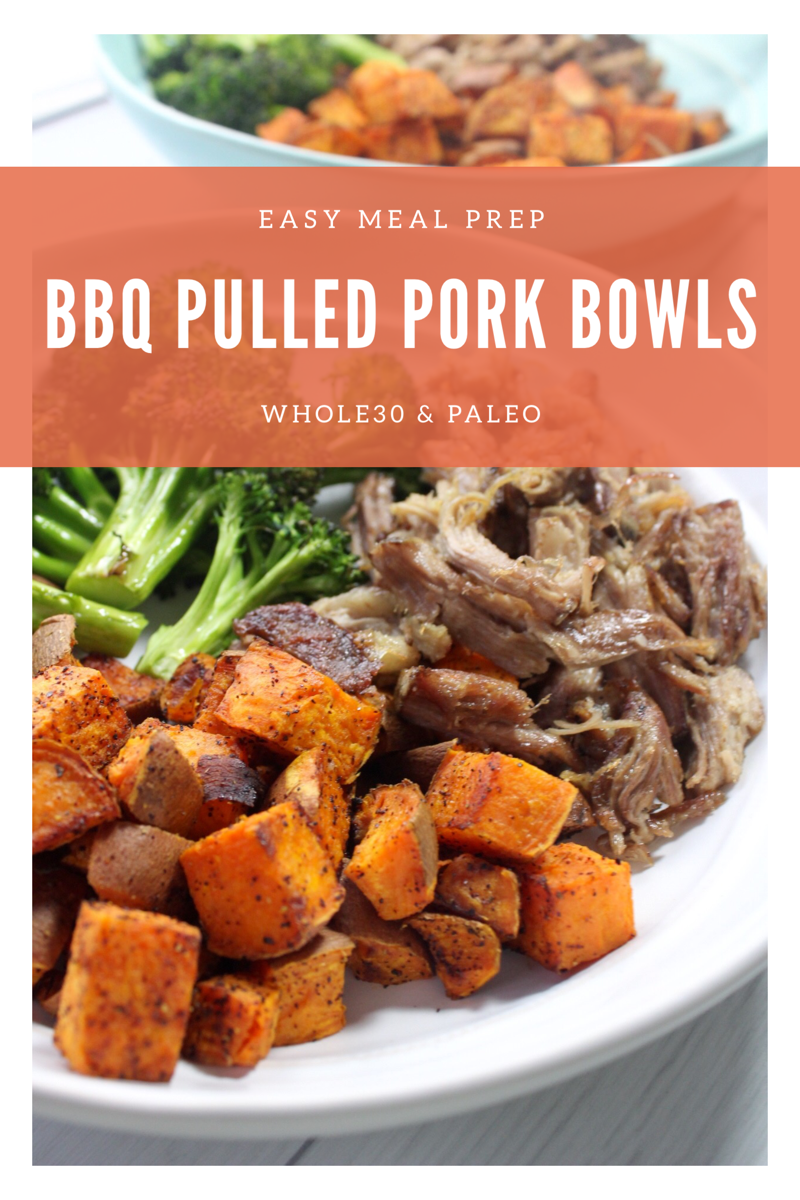 I often roast the veggies during my big meal prep, and urge you to, too! That will save you even more time when you prepare the BBQ pulled pork bowls for lunch or dinner. When I roast the sweet potatoes and broccoli during a big meal prep day, I portion them out and create the "bowls" right away in individual Tupperware containers. Then I can just grab and go! It's perfect for my workdays or to just have available in the fridge at home.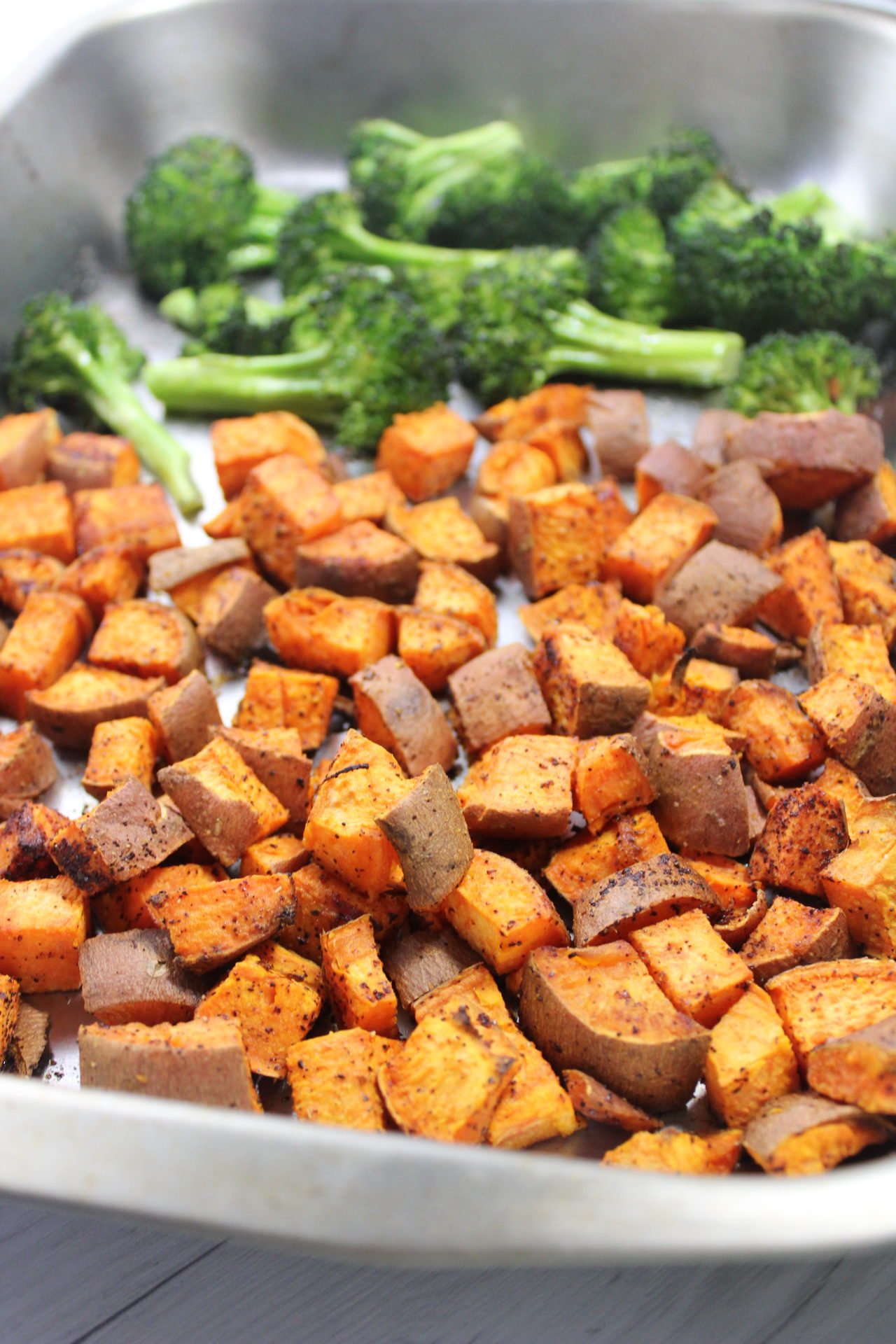 Because I used an all-purpose pulled pork recipe, I seasoned the sweet potatoes more liberally. I added paprika, garlic and onion powder, salt and pepper. I stayed away from cinnamon or chili powder which are common spices to add to roasted sweet potatoes just because I knew I was using these ones specifically with BBQ sauce in the bowls.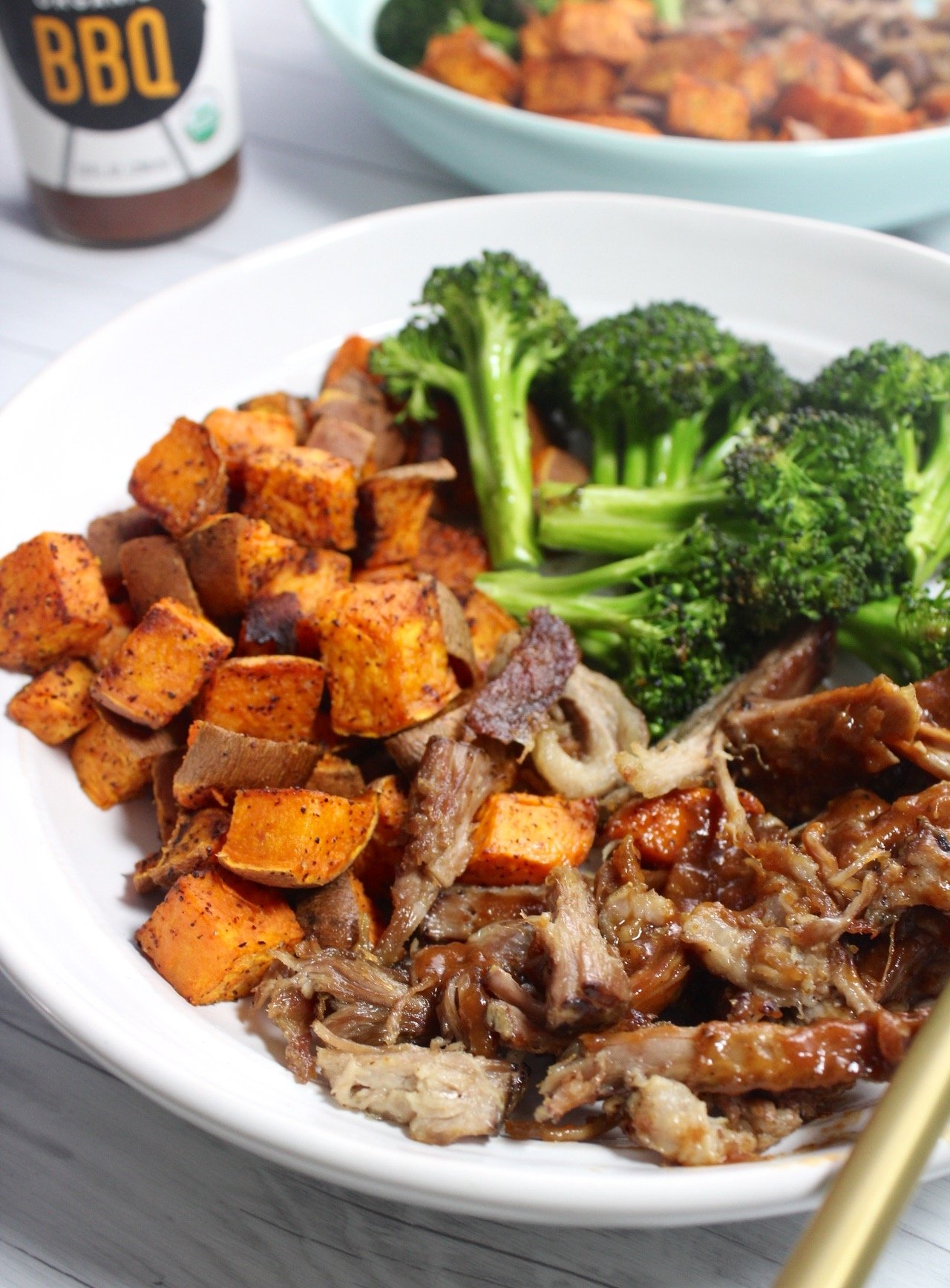 Don't let the clean photos of the BBQ pulled pork bowls fool you. Once the ingredients are in the bowl, I mix it all up and go to town. Probably adding even more BBQ sauce while I'm at it. The BBQ sauce use is by Tessemae's and it's basically the best. You can find it at a ton of different stores now, including Whole Foods, Sprouts, Fresh Thyme, even some Target stores carry them now! Or you can buy them online, of course (thank you, internet).
I diced up two sweet potatoes and two heads of broccoli. I'll be putting half a sweet potato into each of the 4 meals I made out of this. That's both light enough for lunch but filling enough so I'm not starving by dinner. Like I said, these BBQ pulled pork bowls are perfect for meal prep!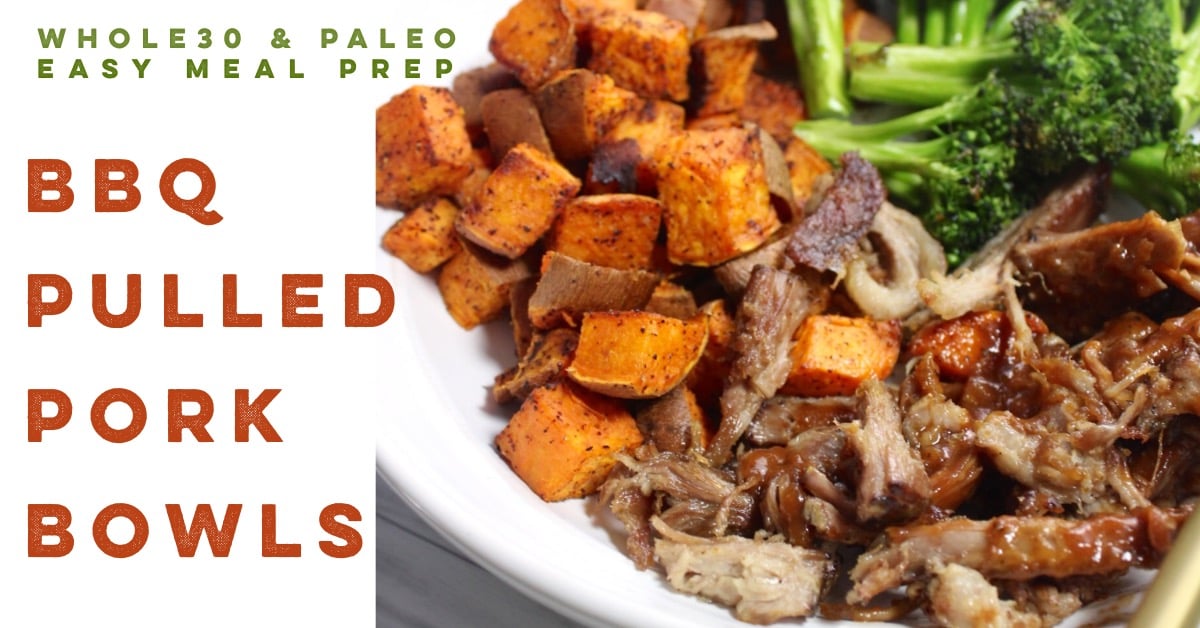 Enjoy!
Print
BBQ Pulled Pork Bowls
Prep Time: 10 minutes
Total Time: 10 minutes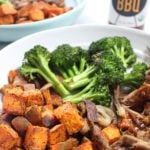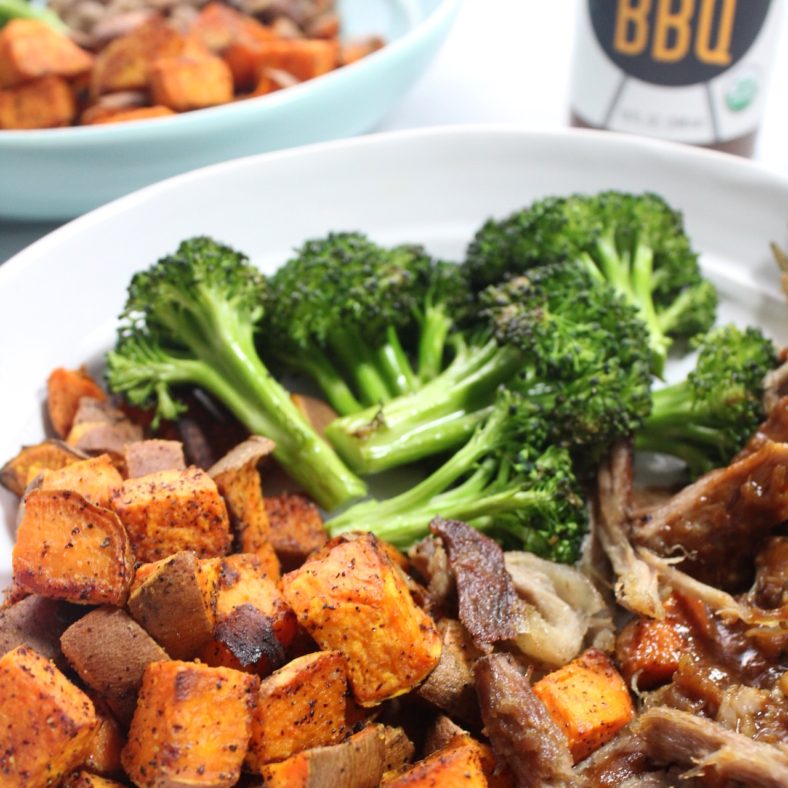 Ingredients
2 sweet potatoes, diced
2 heads of broccoli florets
3–4 cups shredded pork
1/2–1 cup sugar-free BBQ sauce
3 tablespoons avocado oil
1/2 tablespoon paprika
1/2 tablespoon garlic powder
1 teaspoon salt
1 teaspoon onion powder
1/2 teaspoon pepper
Instructions
Preheat oven to 400 degrees F.
Line a baking sheet with tin foil
Add veggies, spices and oil
Mix with hands to coat with the oil and spices
Place in the oven for 30-40 minutes or until baked to desired doneness of roasted veggies
Divide up veggies into individual bowls or containers
Add in pork (heat in a skillet if eating now)
Drizzle with BBQ sauce or mix in BBQ sauce before adding to bowls
Serve and enjoy!
This post may contain some links that are affiliate links, though products are ones I use personally and recommend. When you purchase anything using my links, it costs you absolutely nothing extra, but it does give wholekitchensink.com a little financial support which helps to keep this blog running. Thank you for your continued support, both with your dollars and your interest.