The grill is the unsung hero of the healthy eating world. It's perfect for those busy nights, lazy meals or even meal prepping. Awesome flavors for little work and next to no clean up makes everyone's life easier. I love making skewers like these grilled Caesar shrimp skewers in the summer because all it takes is a little marinade to pull dinner together!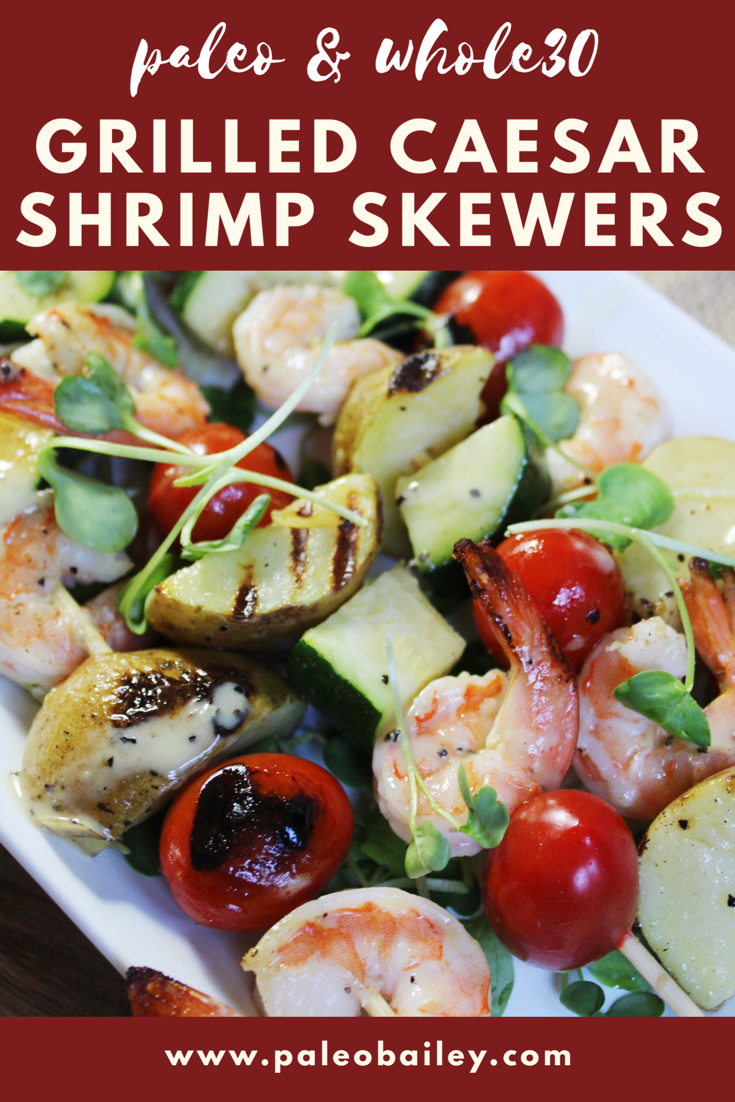 The beauty of grilled skewers (or kabobs) is that you can add any of your favorite veggies to them and they will always turn out delicious. I love grilled zucchini, potatoes and cherry tomatoes so guess what when on my skewers? 😉 You can add anything from mushrooms to squash to onions if you'd rather!
Ever since Primal Kitchen came out with their new Paleo and Whole30 approved Caesar dressing I've been using it on everything. It's so versatile and I love that I can use it as a salad dressing and a marinade. For this Caesar shrimp skewer recipe, all I did was throw shrimp in a ziplock a few hours prior to grilling and let them marinade with a few tablespoons of Caesar.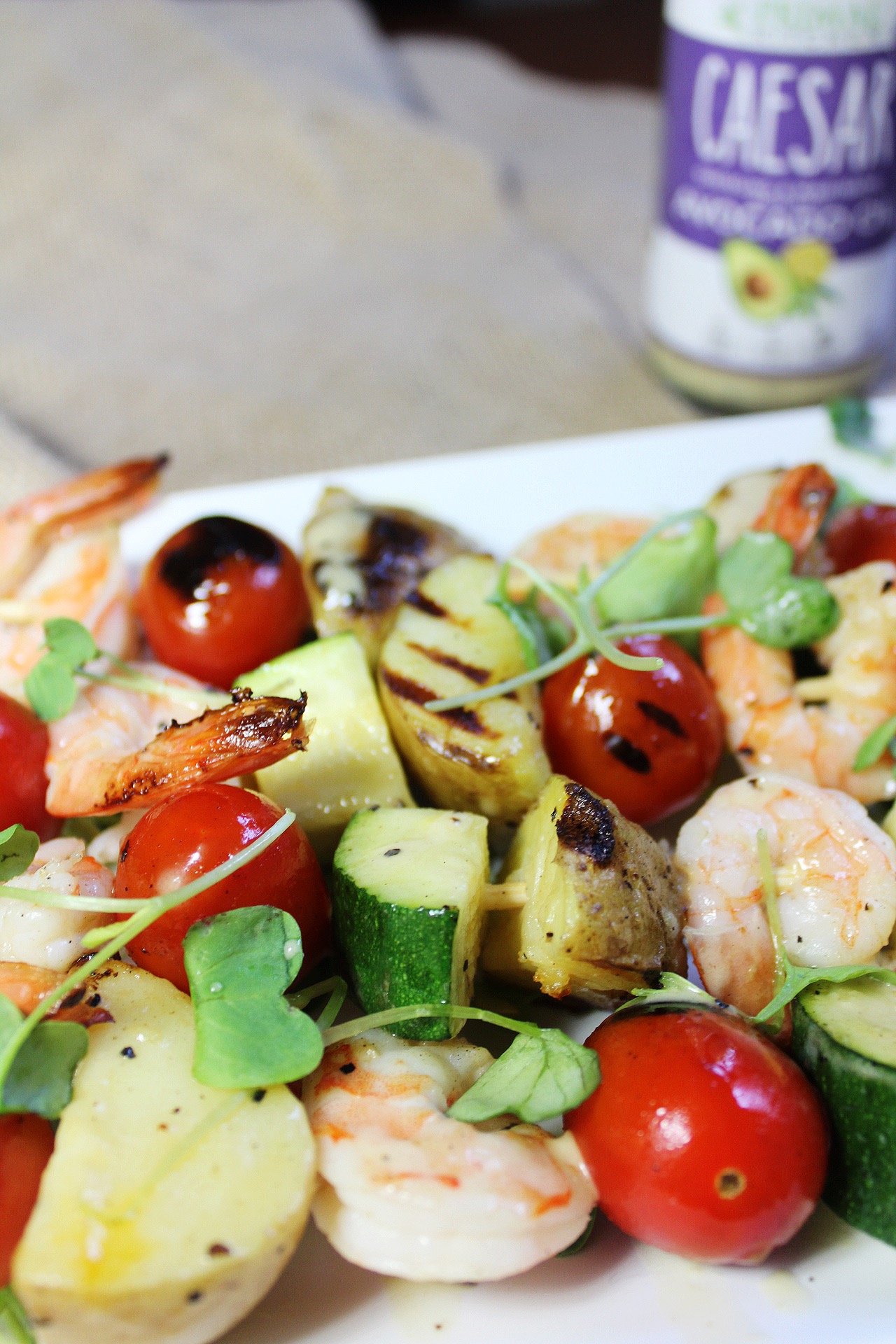 You can get their new dressing (and all of the other awesome ones) on their website. You can use the code GROK15 to save 15% off on your order. Or you can get them from Thrive Market and in Whole Foods! Literally all of the dressings I've also used as marinades or turned into sauces so they're pretty much constantly rotating through my kitchen – and not just for salads!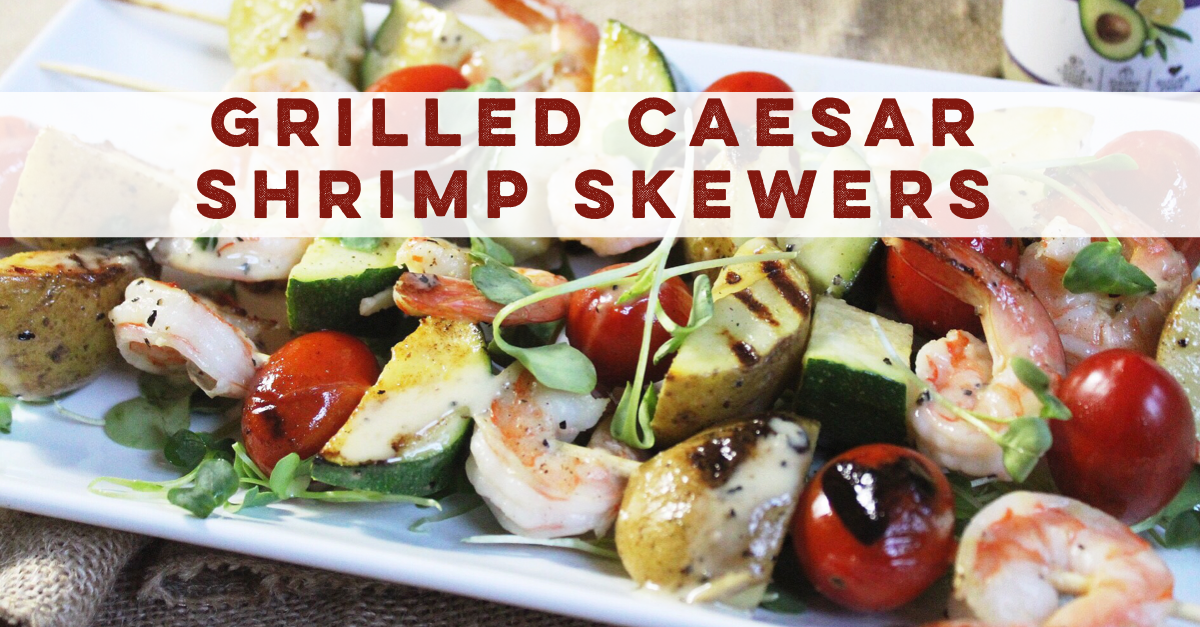 Print
Hungry for more? Subscribe to my newsletter to get new recipes delivered straight to your inbox! And be sure to stay in touch on Facebook, Pinterest and Instagram for all of the latest updates.
Grilled Caesar Shrimp Skewers: Easy Weeknight Dinner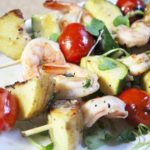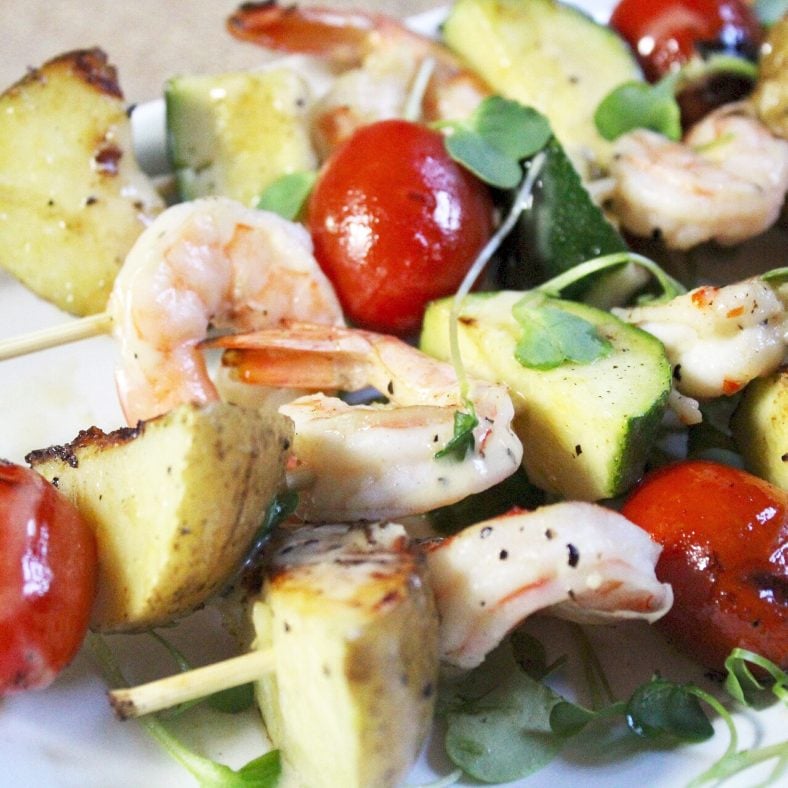 Ingredients
1 pound shrimp
1–2 cups cherry tomatoes
1 large zucchini, chopped or sliced
2 large white potatoes or 6 baby blonde potatoes
4 tablespoons Caesar dressing
Instructions
1/2 hour-overnight, place shrimp and 3 tablespoons Caesar dressing in a ziplock bag and marinate in the fridge
Poke small holes in the potatoes and microwave for a few minutes until slightly soft
Remove from microwave and slice into bite sized pieces
With wooden or metal skewers, skew shrimp, tomatoes, zucchini and potatoes
Drizzle or brush 1 tablespoon over veggies on the skewers
Grill for about 4 minutes on each side, or until cherry tomatoes blister and potatoes and shrimp are cooked thoroughly
This post may contain some links that are affiliate links, though products are ones I use personally and recommend. When you purchase anything using my links, it costs you absolutely nothing extra, but it does give Paleobailey.com a little financial support which helps to keep this blog running. Thank you for your continued support, both with your dollars and your interest.