Okay, people. Butternut squash is officially back in season and this girl couldn't be more excited about it. The flavorful and nutritious winter veggie pairs so, so well with warm and hearty curry that I couldn't help but have my first fall-ish recipe be this butternut squash curry! In typical Bailey style, it's short on ingredients and time but big on flavor.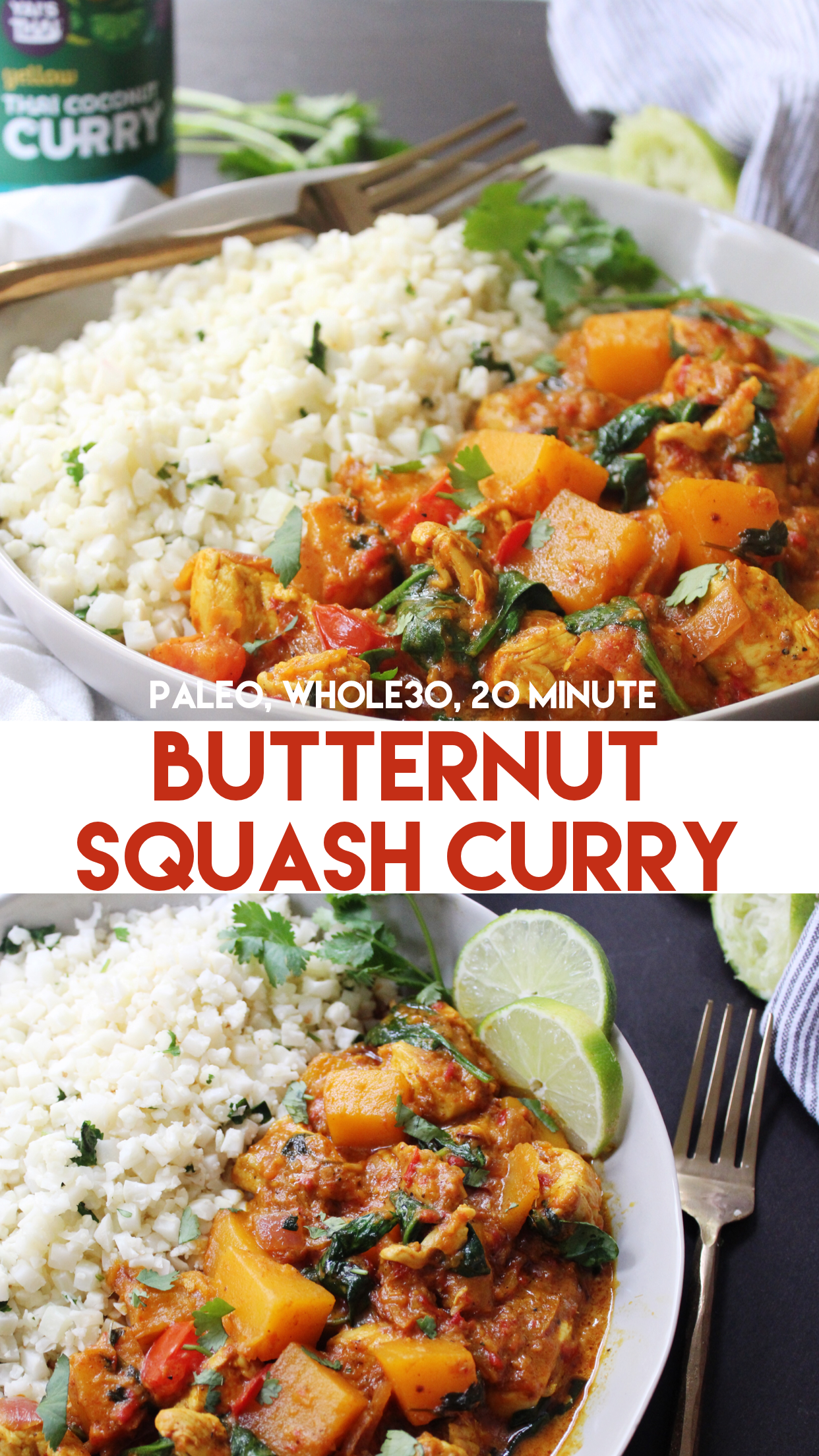 This post is sponsored by Yai's Thai. I'm happy to work with a company I love and believe in so much! Thanks for your support here on the blog and your support for Yai's Thai!
Let's talk butternut squash for a second. In a past life, you know, that one where I was 300 pounds, I had no idea what the heck this stuff even was. Never had it. It looked super intimidating so I left it alone even when I did start getting healthy. If that sounds familiar, I'm here to tell you it is SO simple to prepare and it's really just a good go-to, versatile veggie. Really all you gotta do is cut it in half, remove the seeds, peel and you're on your way to being able to add it to whatever you want!
Now let's get to the good stuff. This curry. Yai's Thai makes THE BEST Thai inspired products and if you don't have the desire to spend 34534 hours in the kitchen making your own sauces (that's me), you need this curry in your life. It reduces the time I spend on a meal in half because I just pop open a jar of curry that's ready to go, dump it into whatever I'm making and… wait, no. That's it. That's all I have to do.
You can get it from their site, or from Thrive Market!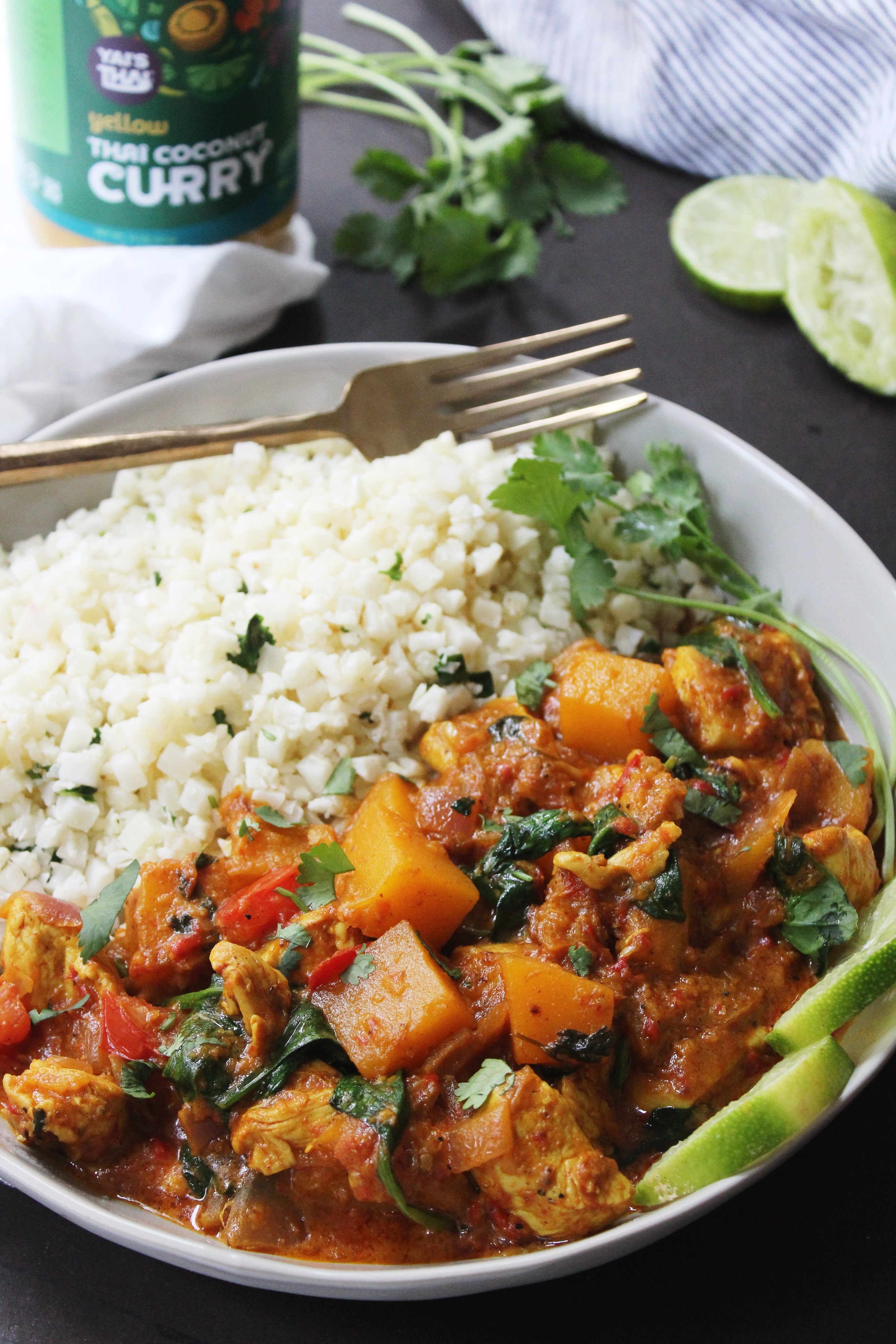 Yai's Thai's whole product line is Whole30 Approved and, the best part, super reasonably priced. Convenience is worth it a lot of the time for me but even more so when that convenience comes at a good price. Especially on busy week nights, for meal prep or when I'm short on things in the fridge, having a few jars of this curry around has been a lifesaver.
Check out these other quick, easy and delicious recipes I've made using Yai's Thai!
In this butternut squash curry recipe, I added chicken but you can 100% leave it out and create an awesome meatless meal! I'd double the amount of butternut squash you use to bulk it up a bit. I divided this out into 4 portions for meal prep and it's so filling with the cilantro lime cauliflower rice I added, I couldn't even finish the one I ate for lunch!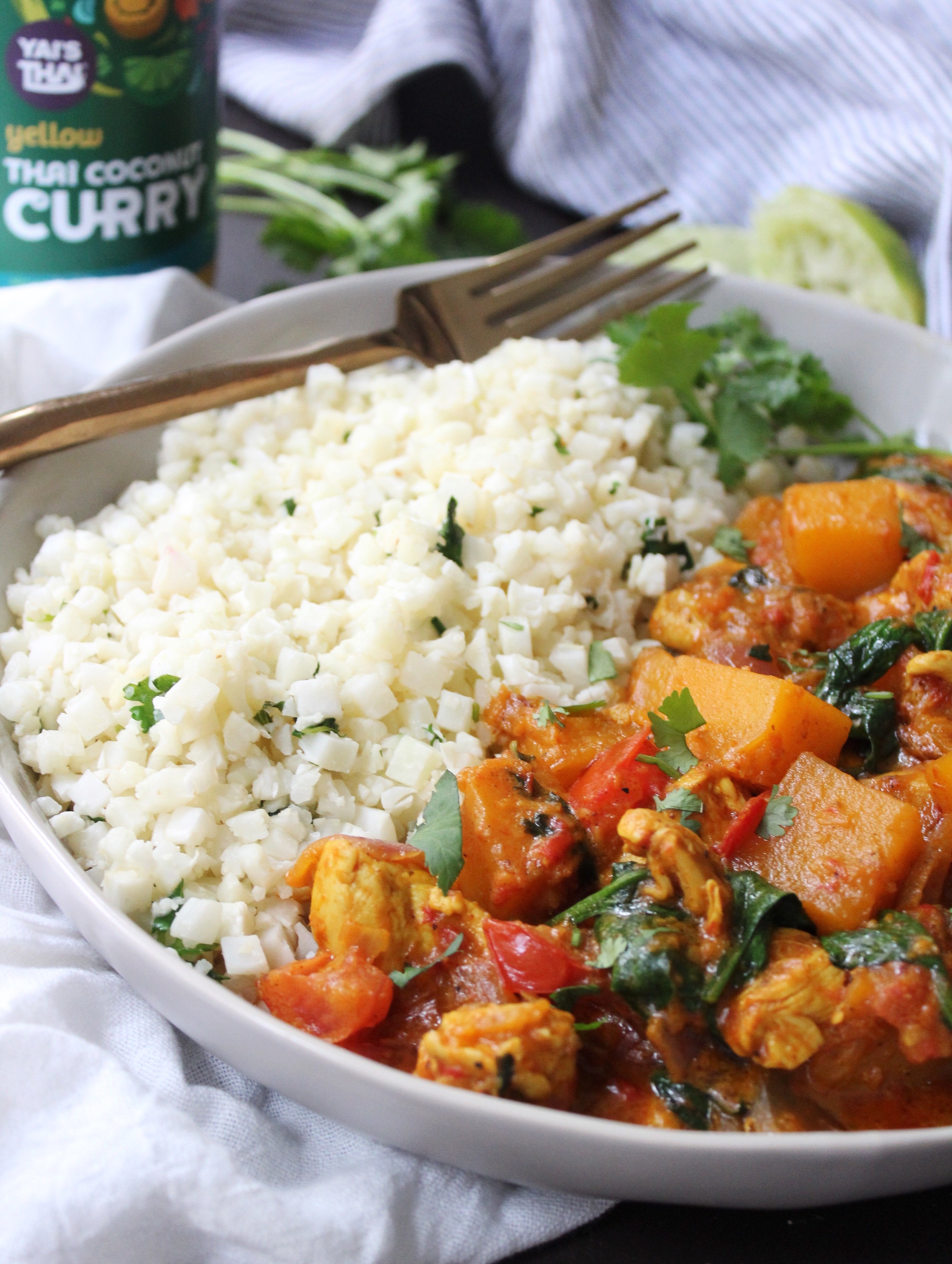 Some optional garnishes for the butternut squash curry are cilantro, lime, crushed almonds or green onions. Curry is one of my personal comfort foods. Served piping hot, it just warms my belly and my soul, which is perfect as the temps start to drop and I need a good hearty meal. This is my new winter go-to staple this season and I'm just so happy to be back in the kitchen cookin' with butternut squash.
And, seriously, do yourself a favor and grab some Yai's Thai Yellow Thai Coconut Curry. You can thank me later!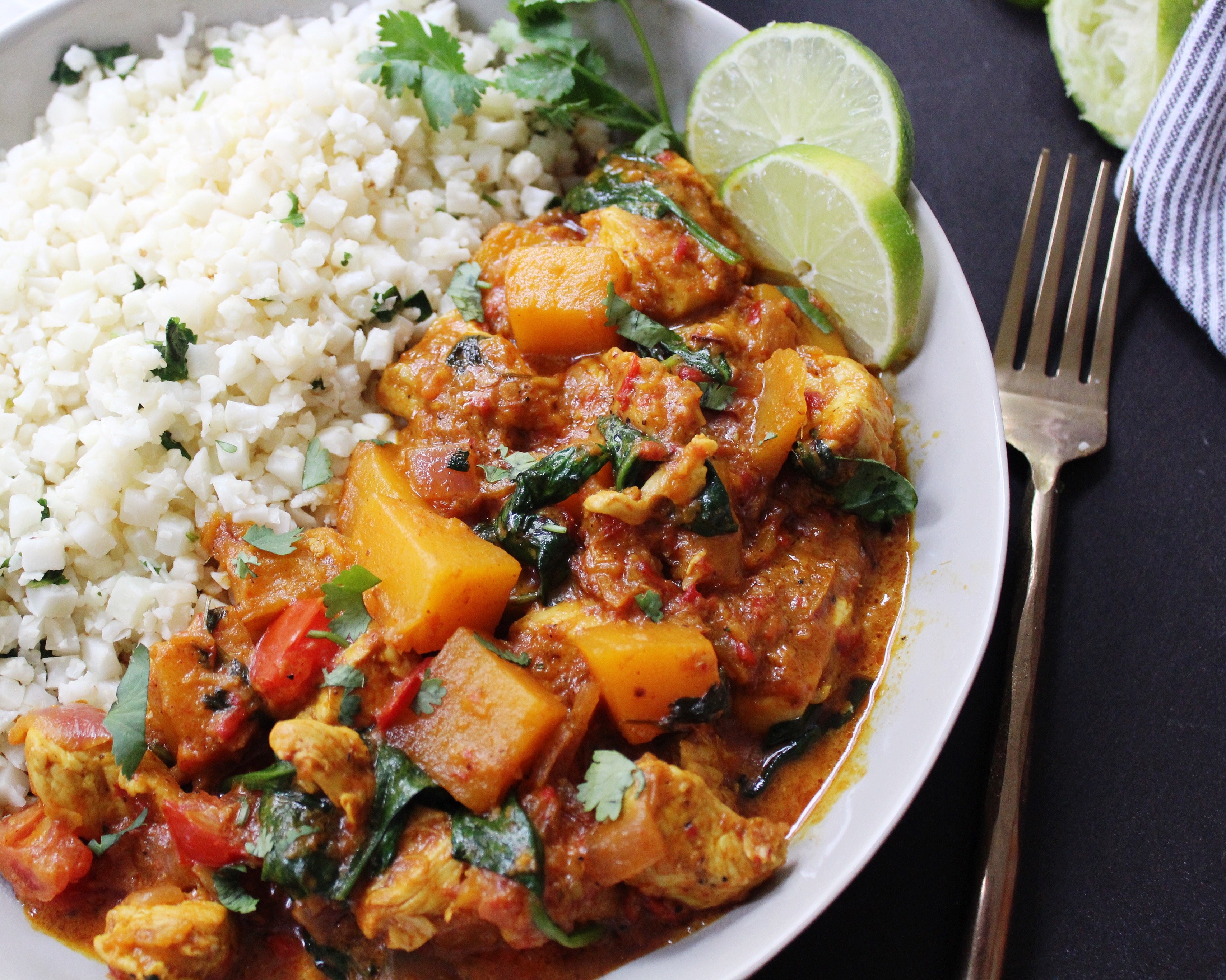 Print
Hungry for more? Subscribe to my newsletter to get new recipes delivered straight to your inbox! And be sure to stay in touch on Facebook, Pinterest and Instagram for all of the latest updates.
Butternut Squash Curry: 20 Minute Dinner
Prep Time: 10 minutes
Cook Time: 20 minutes
Total Time: 30 minutes
Yield: Serves 3-4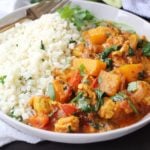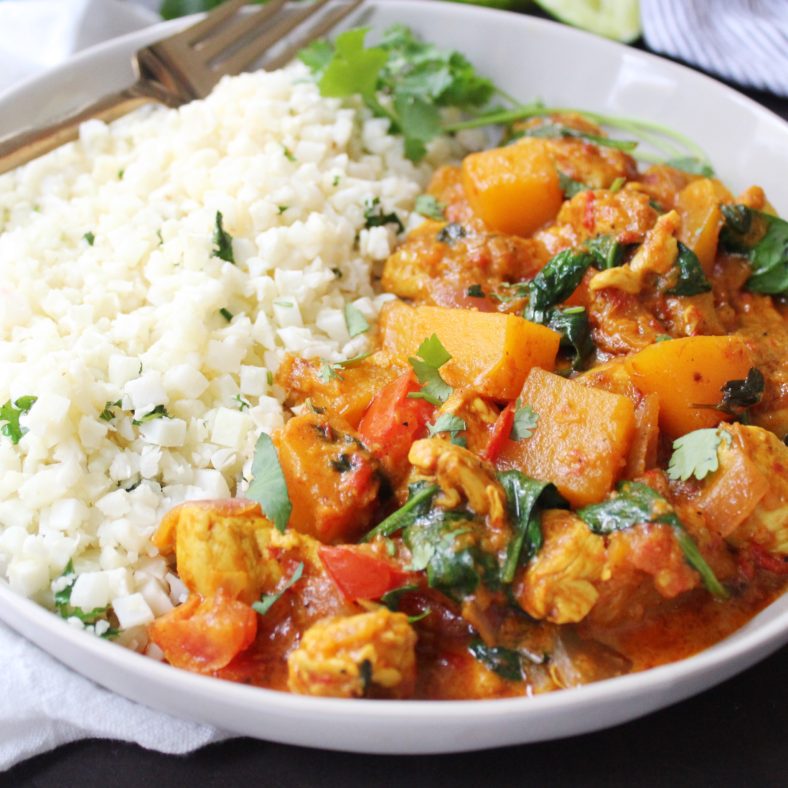 Ingredients
1 pound boneless, skinless chicken breasts, cubed
2 cups butternut squash, peeled and cubed in 1″ pieces
1 medium tomato, seeded and diced
1/2 red onion, diced
1 handful spinach
1/2 cup loosely packed cilantro leaves
2 tablespoons coconut oil
1/2 teaspoon salt
Juice of 1/2 lime
Additional cilantro and lime to garnish
Instructions
Heat coconut oil in a large skillet over medium heat
Once oil is melted and skillet is hot, add chicken, lime juice and salt
Once chicken becomes half opaque and half white, add in butternut squash, onion full jar of Yai's Thai yellow curry and cilantro
Cover and let simmer for 15 minutes, stirring occasionally until butternut squash is fork tender and chicken is cooked thoroughly
Reduce heat to low and add in diced tomatoes and spinach
Stir to combine and let cook an additional 2 minutes, letting tomatoes soften and spinach wilt
Remove from heat, garnish and serve
It's perfect on it's own, or serve with cauliflower rice!
*Note: if you chop the butternut squash into larger chunks, add a few additonal minutes to the cook time