Pad Thai is one of my favorite foods. Before switching over to Paleo, my friend and I would have weekly dates to our favorite Thai place and would eat so much pad Thai we'd have to waddle out of there. I've been wanting to make a healthy replacement for a while now so I finally did it! This Paleo Pad Thai noodle salad is every bit as good for you as it is delicious. And it won't leave you so carb-overloaded you have to waddle anywhere 😉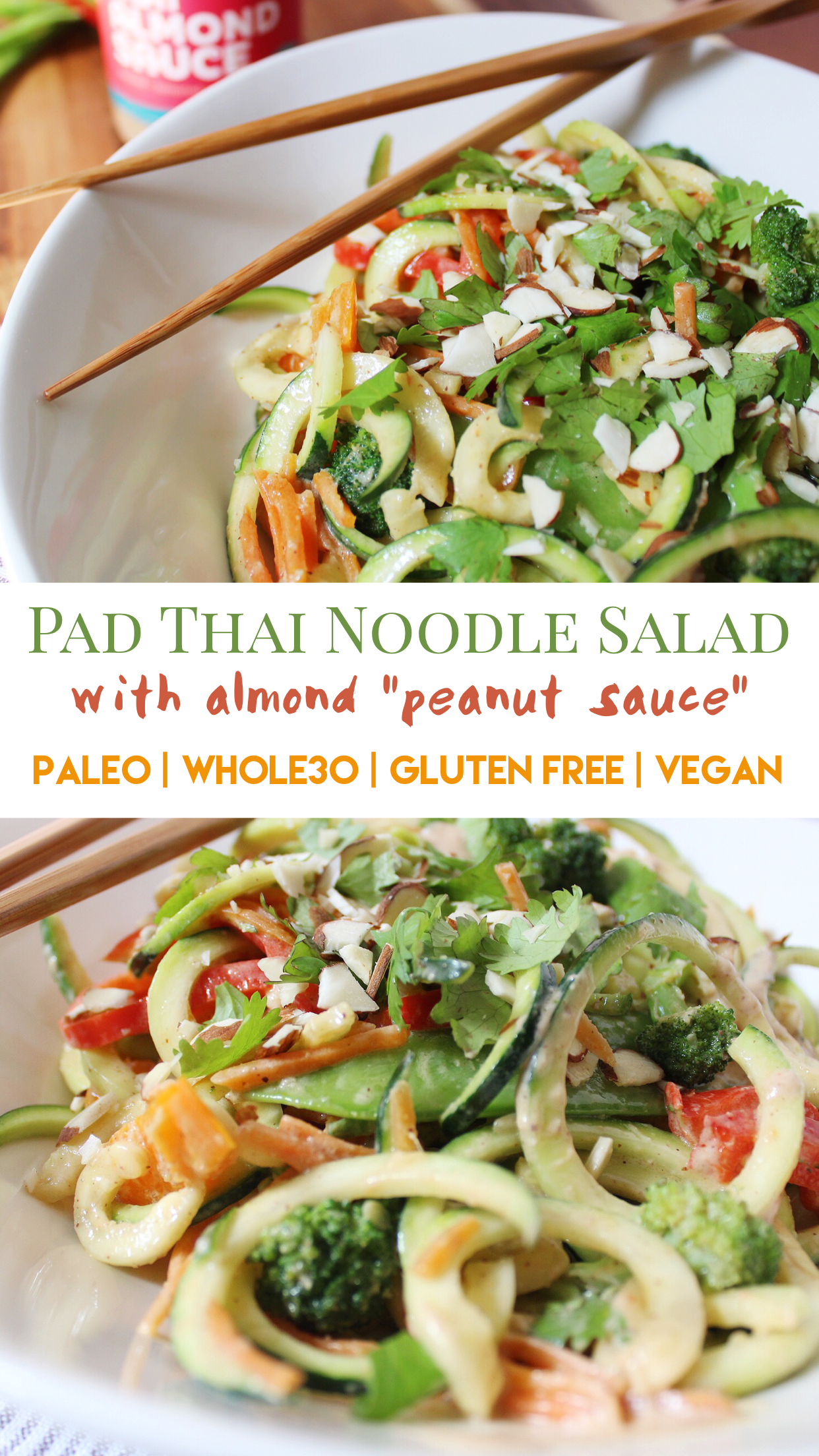 This post is sponsored by Yai's Thai. I'm happy to work with a company I love and believe in so much! Thanks for your support here on the blog and your support for Yai's Thai! To celebrate their new Whole30 Approved Thai Almond Sauce, use code "YAISALMOND20" to get 20% off!
In typical Bailey fashion, this Paleo pad Thai is quick and easy. If it requires a hundred hours in the kitchen, it's usually a no-go for me. Which is partly why I haven't messed around with coming up with a peanut sauce replacement to use for revamping all of my old favorite Thai salads and dishes. Yai's Thai just did that for me though and they did it WELL. Yai's Thai Thai almond sauce fills a big hole in the healthy food arena and definitely fills one that was in my kitchen. No more spending 20 minutes or more making your own "peanut" sauce!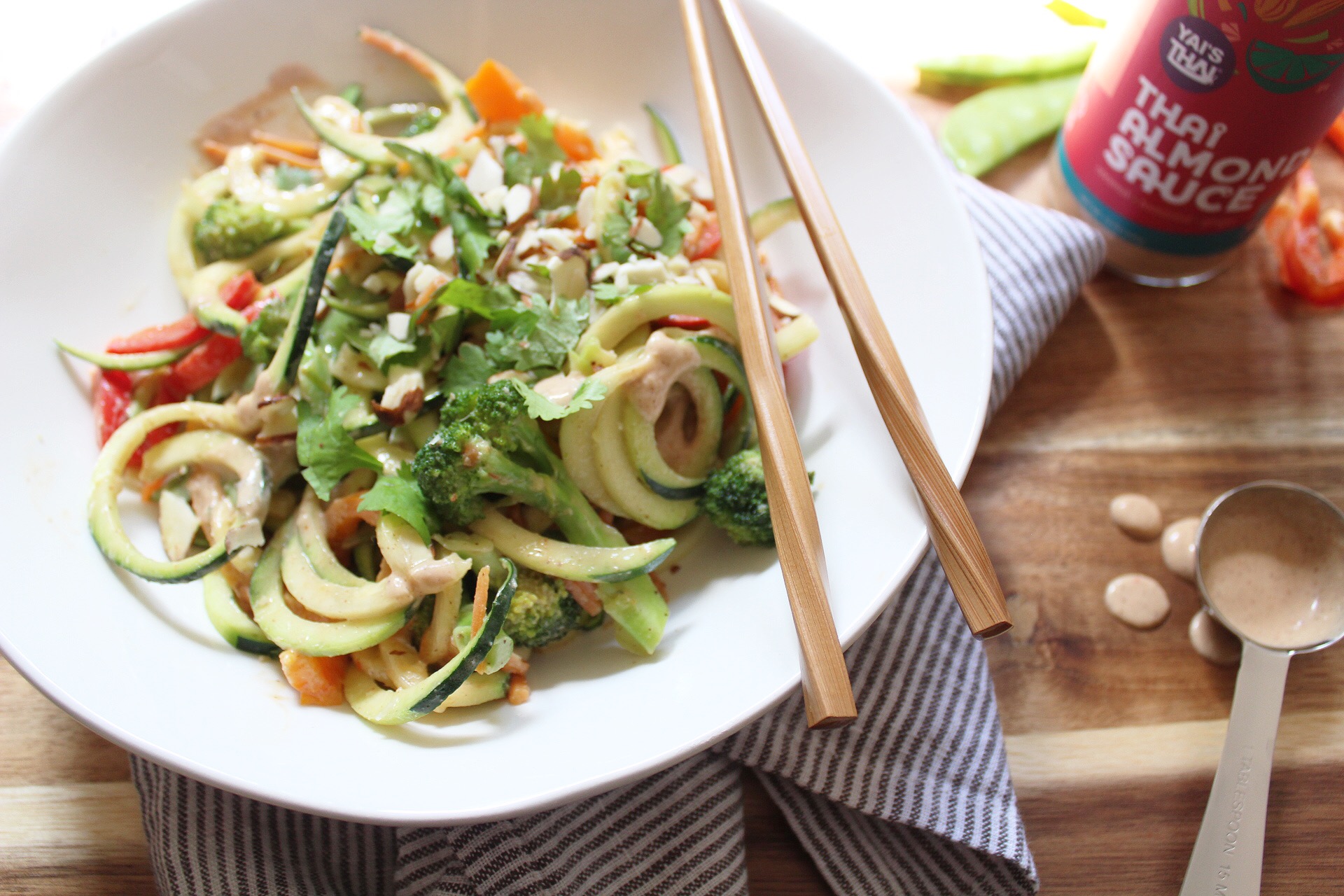 So, even though I called this a salad because it's PERFECT and refreshing served cold, I did take the leftovers, throw them into a pan over medium heat and warm it up like a stir-fry the next day. So freakin' good. I seriously can't stop eating it but I also don't want it to be gone. It's a real problem.
This Paleo pad Thai is totally vegan and Whole30 and all the good stuff, but there's so many variations you can apply to make this dish your own. Add in chicken or shrimp, sub out any veggies you don't like or that you have on hand already. Use sweet potato or spaghetti squash noodles. Do it up. The world (aka: Yai's Thai Almond Sauce) is your oyster. 😉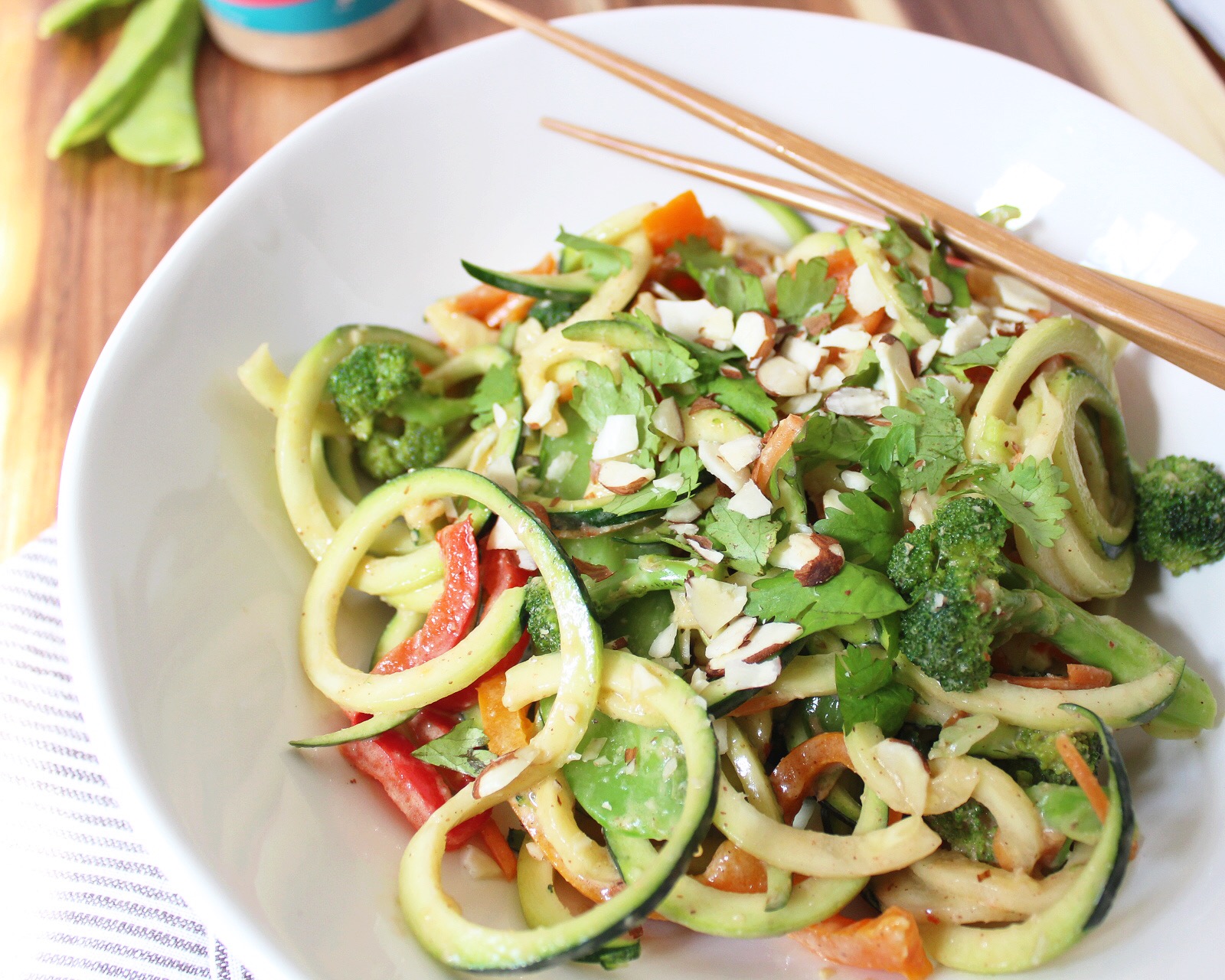 I'm a sucker for a colorful dish. We eat with our eyes first, after all. That's why I used red and orange peppers (plus they're a bit sweeter!) but if you prefer green peppers you can totally use those. I also had sliced almonds on hand but if you only have whole or slivered you can make that work too by just crushing them up.
Even with prepping the veggies and doing a light sauté to soften them, this whole dish comes together in about 20 minutes, thanks to Yai's Thai and not having to make the almond sauce yourself. Honestly, I just think sometimes it's totally worth it to make your life a little easier. Especially when it comes to having healthy products on hand that are so versatile and can add flavor and convenience in a few minutes flat. I also made this when I found out on short notice that a few friends were stopping by – it was a huge hit with everyone and I got to spend time with my loved ones and not in the kitchen. Win-win.
Print
Paleo Pad Thai Noodle Salad with Almond "Peanut" Sauce
Prep Time: 10 minutes
Cook Time: 10 minutes
Total Time: 20 minutes
Yield: Serves 3-4 1x
Category: Salad
Cuisine: Thai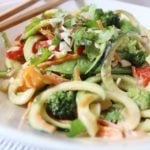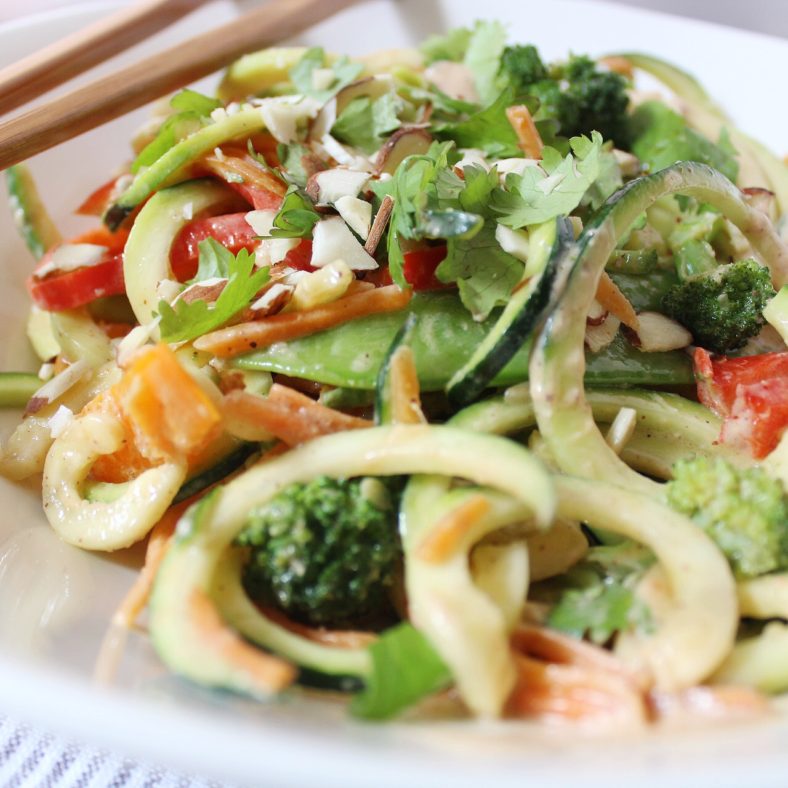 Ingredients
2 sprialized medium zucchinis
1/3–1/2 cup Yai's Thai Thai Almond Sauce (depending on the yield of your zucchini noodles)
1 sliced red pepper
1/2 sliced orange pepper
1 cup shredded carrots
1 cup snow pea pods
1–2 crowns broccoli
2 tablespoons avocado oil
1/2 tablespoon minced garlic
Juice of 1/2 small lime
1/4 cup chopped cilantro
1 handful crushed almonds
Instructions
Prepare all veggies and place zucchini noodles in the fridge to keep cold
In a large pan, heat oil over medium-high heat
Add in minced garlic, broccoli and peppers and sauté for 2-3 minutes
Add in carrots and pea pods and sauté for another 5 minutes, stirring occasionally until softened
Remove from heat and place in the refrigerator to cool
Once cool, remove veggies and combine with zucchini noodles in a large bowl
Add in Yai's Thai Thai Almond Sauce, lime juice, cilantro and almonds
Mix together and add in a few additional tablespoons of sauce if needed
Serve and enjoy!
*Garnish with additional sauce, cilantro and almonds!