Easy peasy blackened chicken salad LOADED with fresh veggies? Where do I sign up? This is seriously one of the easiest lunches to throw together in only a few minutes. You can cut up your veggies as the chicken is cooking and before you know it, you're chowin' down.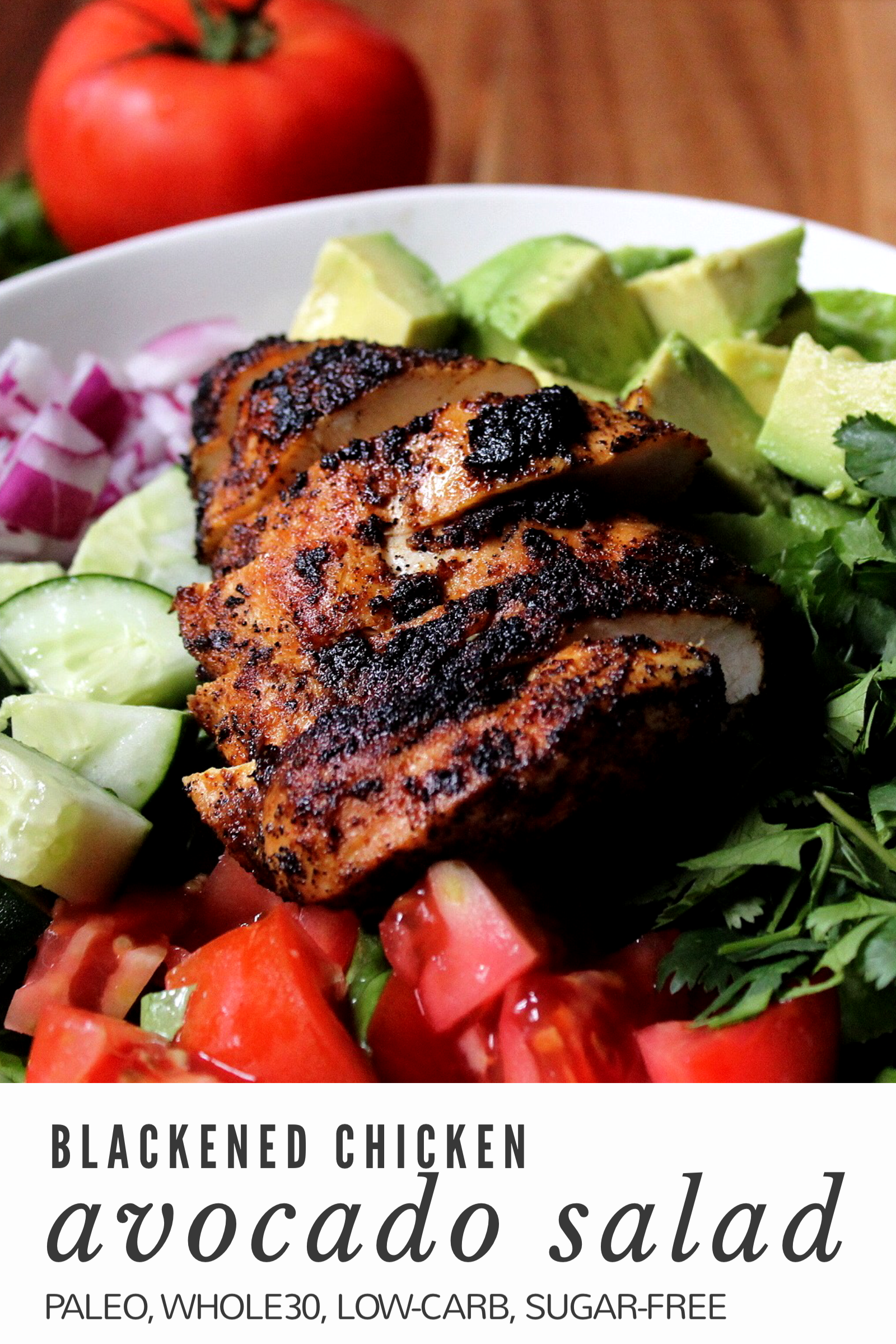 When I make this, I often don't include cucumbers because I don't always have them on hand. I assure you it's every bit as good without it. The avocados and tomatoes are obviously a must though! I also load it up with cilantro because…. cilantro. I know it's not for everyone though so you can easily skip that, too.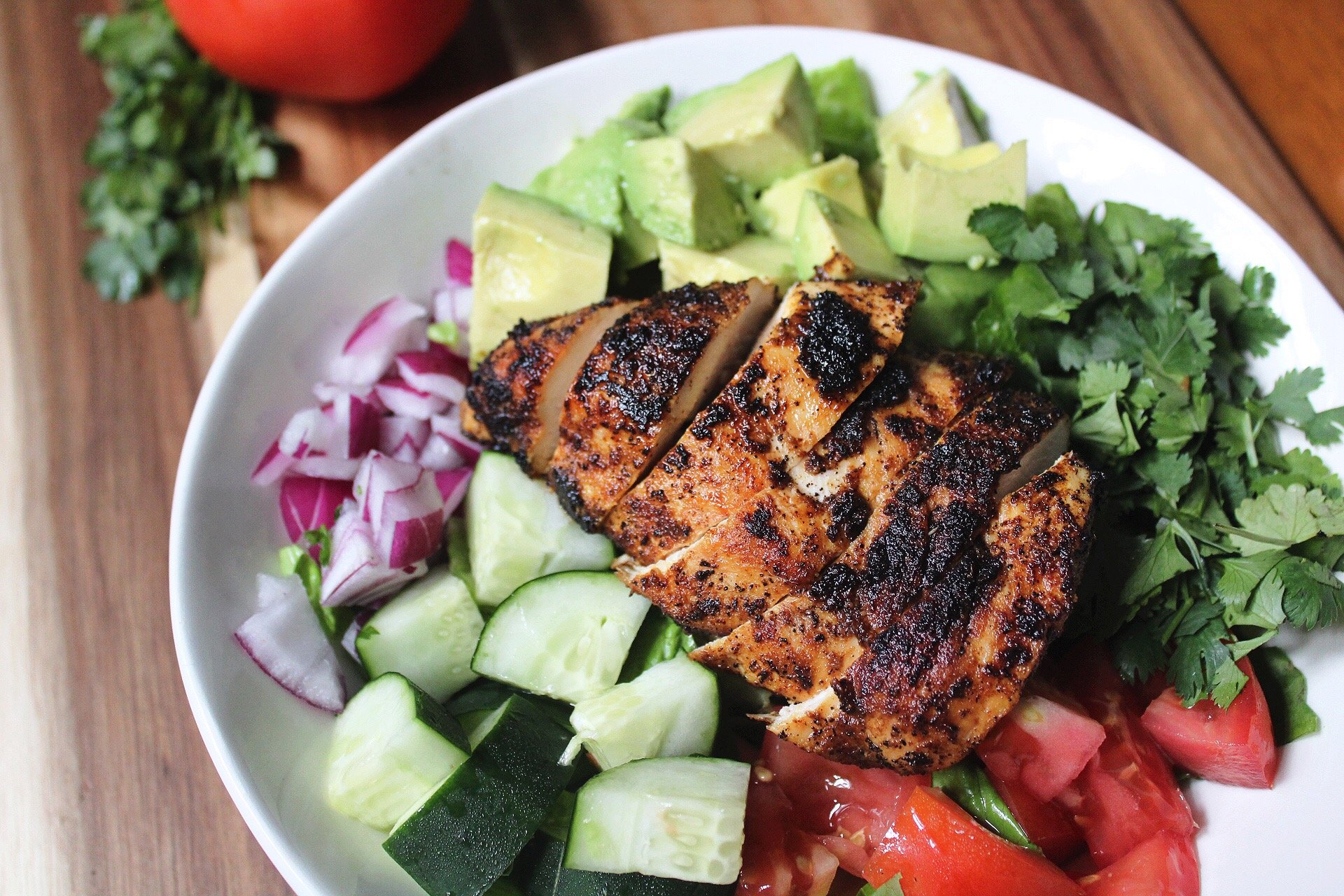 I prefer to chop up the chicken and mix it all together, refrigerate for a few minutes and let the veggies soak up some of the seasoning from the chicken. In the directions you'll see that I suggest leaving the avocado out if you're making this for meal prep. When you're ready to eat it, just dice up the avocado and mix it in then to prevent it from oxidizing.
Other Recipes You'll Love:
Mexican "Albondigas" Meatball Soup
I'm the queen of purse avocados, meaning I throw an avocado in my purse ALL. THE. TIME. on my way out the door or when I leave for work. It's such an easy thing to add to my meal prepped meals right when I need it.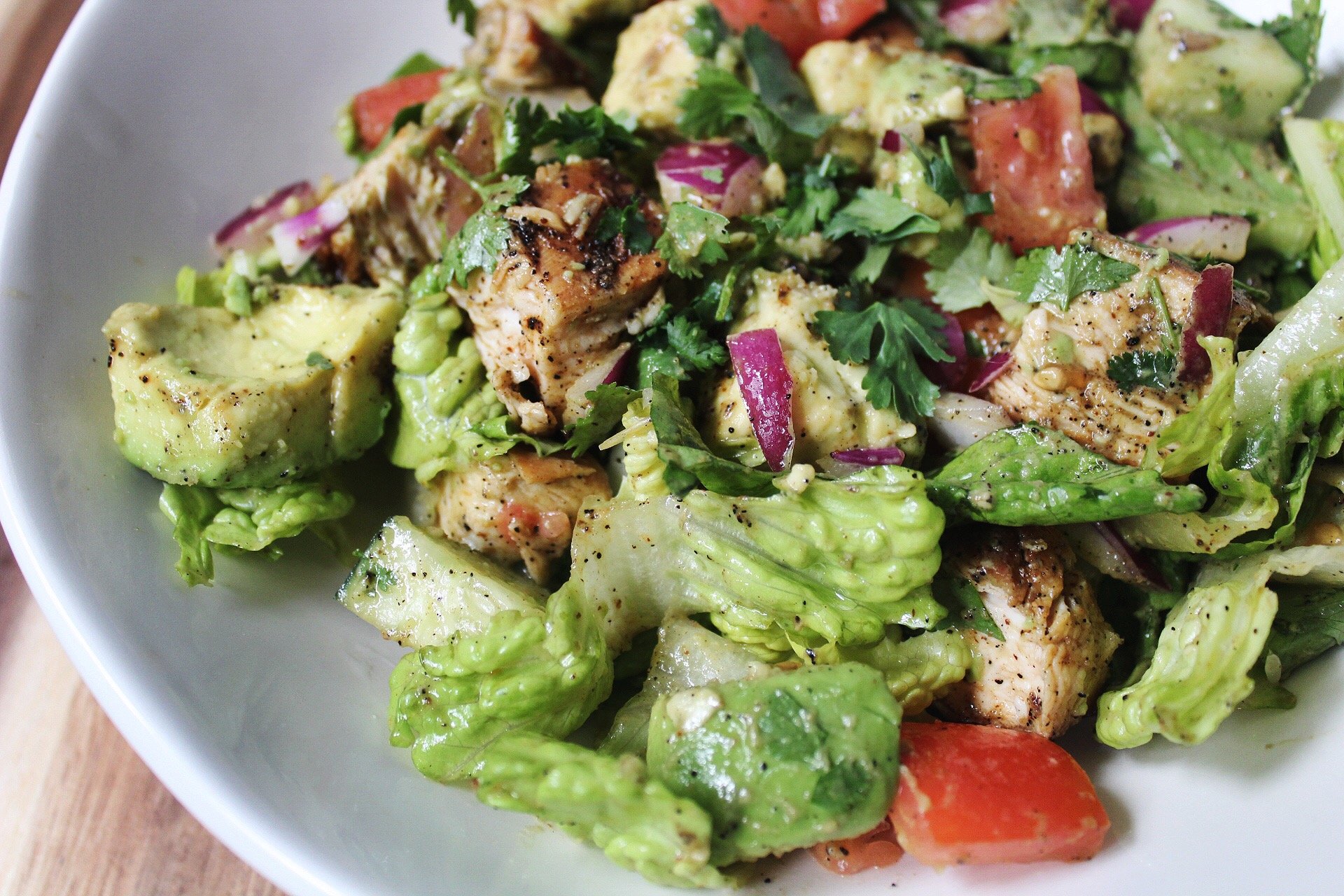 I've only ever used romaine for this recipe but I'm sure it's tasty with mixed greens or spinach. Chopping the romaine gives it some extra crisp and crunch, even after it's been in the fridge for a while. If you use another salad mix, let me know how it is!
This blackened chicken salad just doesn't get old for me. I'm making it again this week to have on hand as we move into our new house. I'm doing everything I can to be prepared so we don't fall into the "I'm so tired of moving, we should order pizza instead of cook!" trap that seems to ALWAYS happen when you move. NOT this time!
Enjoy!
Print
Hungry for more? Subscribe to my newsletter to get new recipes delivered straight to your inbox! And be sure to stay in touch on Facebook, Pinterest and Instagram for all of the latest updates.
Blackened Chicken, Cucumber and Avocado Chopped Salad
Prep Time: 10 minutes
Cook Time: 10 minutes
Total Time: 20 minutes
Yield: Serves 4 1x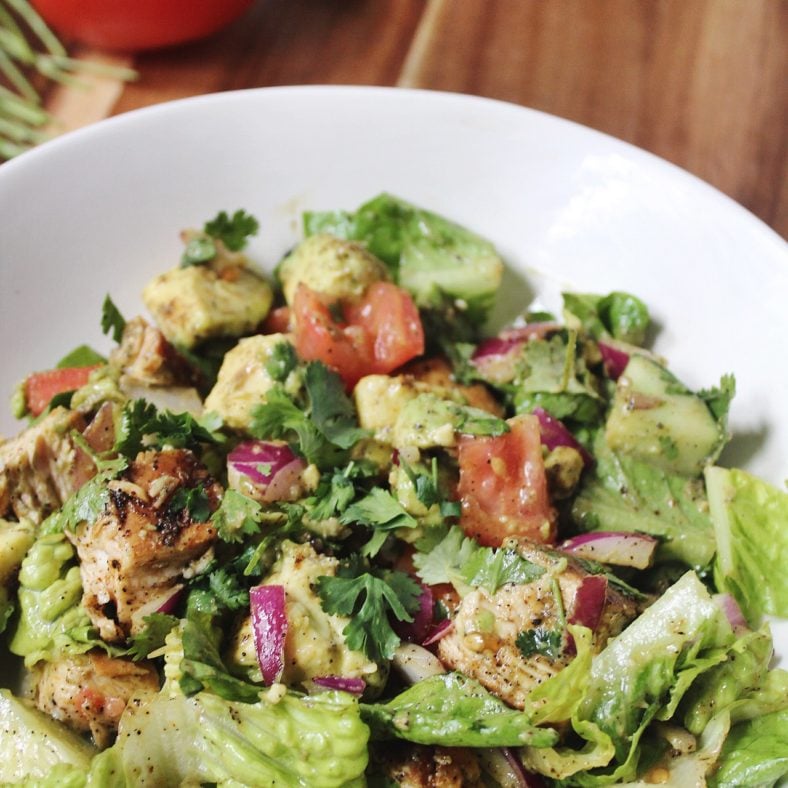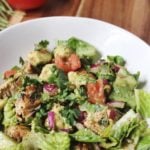 Ingredients
For the Chicken:
2 large boneless chicken breasts, skinless and defrosted
2 tablespoons avocado oil
1 teaspoon garlic powder
1 teaspoon chili powder
1 teaspoon paprika
1 teaspoon onion powder
1 teaspoon cumin
For the Salad:
2 avocados, diced
1 romaine heart, chopped
1 medium cucumber, diced
1 large tomato, diced
1/2 red onion, diced
1/4–1/2 cup fresh chopped cilantro
2 tablespoons avocado oil
Instructions
Combine spices in a small bowl or dish
Generously season each chicken breast with the spice mix on both sides
Heat avocado oil in a pan over medium heat and add chicken once hot
Don't move chicken around too much, leave it sit without disturbing it for at least 5 minutes to get a good sear
Flip chicken breasts and cook until no longer pink (10-15 minutes, depending on thickness)
Remove from heat and set aside
In a large bowl, combine all of the salad ingredients together except for the avocado oil
Once chicken as cooled enough to handle, chop into bite-sized pieces
Add into the salad and mix to combine, adding in the oil now
Serve and enjoy!
Notes
Halve the recipe if only serving two or double it for a large crowd. If you're making this for meal prep, make everything exactly as written with the exception of the diced avocado. To prevent oxidization, wait to add in the avocado in individual portions until you're ready to eat.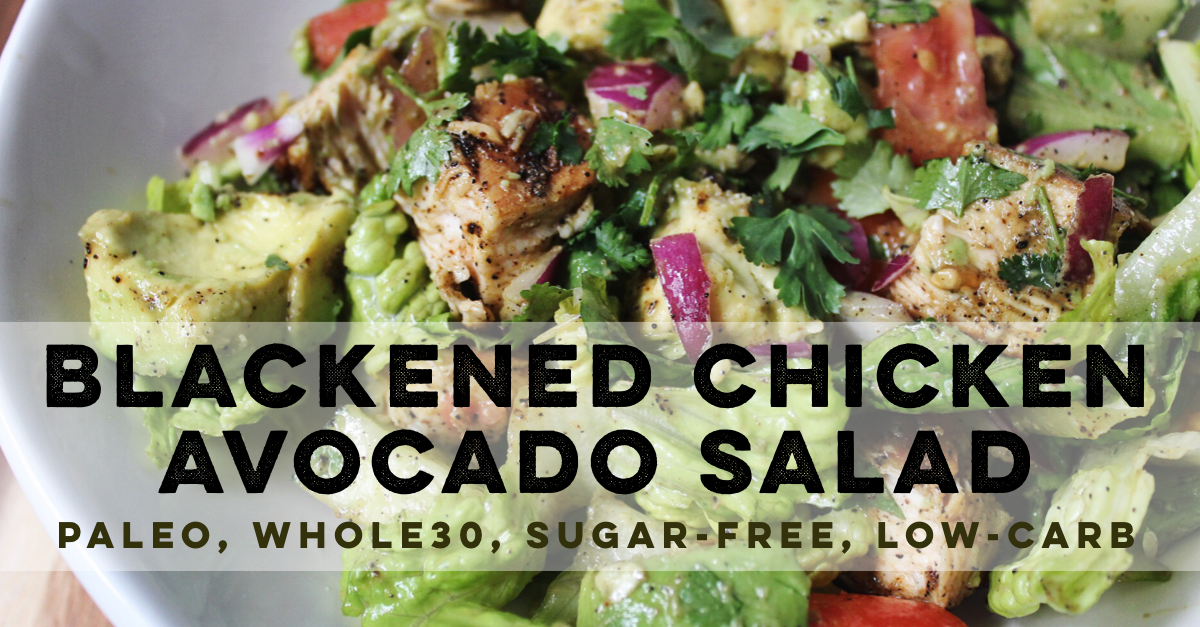 This post may contain some links that are affiliate links, though products are ones I use personally and recommend. When you purchase anything using my links, it costs you absolutely nothing extra, but it does give wholekitchensink.com a little financial support which helps to keep this blog running. Thank you for your continued support, both with your dollars and your interest.