Green beans are one of my favorite veggie options. Always have been. These Asian green beans are so tasty and don't take much longer or much more effort to make. They're a great side for grilled chicken or steak, additions to a salad, or to accompany an Asian style dish.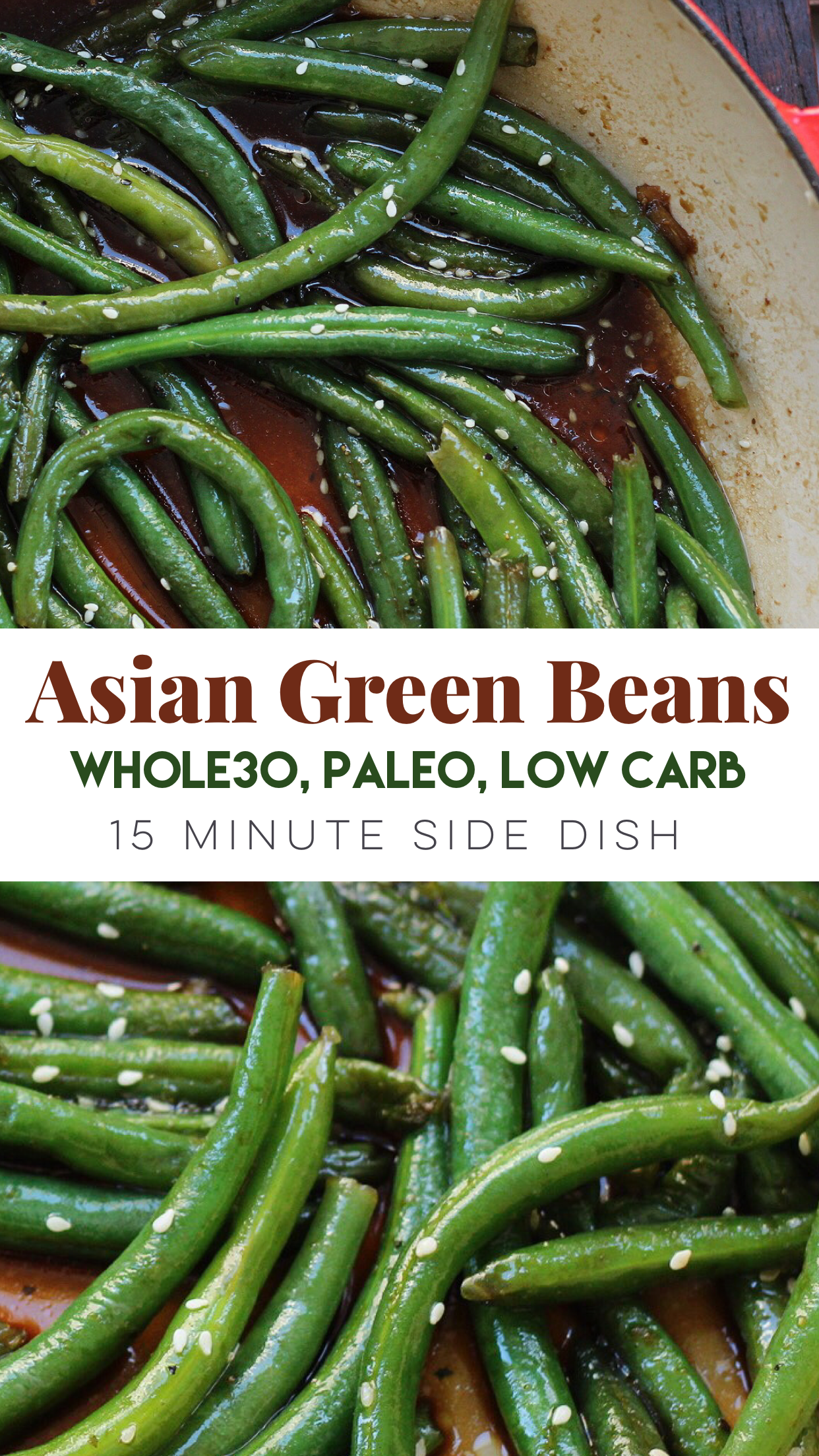 Blame it on my Midwestern palette, but spicy isn't my thing. My boyfriend who isn't from Minnesota is all about the spice though. Because I'm cooking for both of us, I've became a master spice adaptor. Yeah, no you're right that's totally not a thing and I just made it up.
What it means though is that I can make food appeal to both him and me. If you're into spicy veggie dishes, add some chili garlic paste/sauce. Which he claims isn't actually that spicy. This is the brand he likes best. Not totally Paleo, but figured I'd letcha know anyway. You can also add in red pepper flakes to your liking as well.
What I do is just take my half out and then mix in the chili garlic sauce. I let them sauté a little longer while coating the sauce over the green beans. One or two extra minutes and everyone's happy. Annnnd most importantly, my eyes aren't watering and my throat isn't burning.
Another thing that I love doing with these green beans when I'm not on a Whole30 is adding half a tablespoon of honey to the sauce. It gives the green beans a slightly sticky texture which is perfect with the slight sweetness from the coconut aminos (AKA: soy sauce replacement). PS: I linked to them on Amazon, but you can get them cheaper from Thrive Market.
Because green beans aren't the greatest veggie to let sit in the fridge for a few days for meal prep purposes, and because they're cooked in a sauce, these are best enjoyed after cooking or the day after.
Print
Asian Green Beans: A Paleo and Whole30 Veggie You'll Love!
Cook Time: 15 minutes
Total Time: 15 minutes
Yield: Serves 4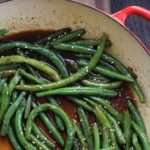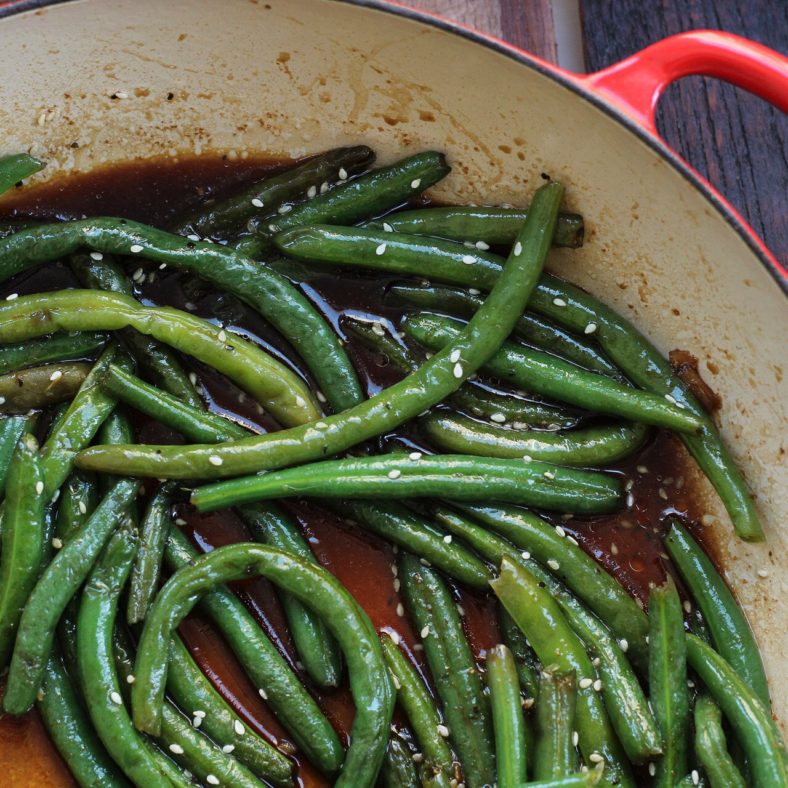 Ingredients
1 pound green beans
3 tablespoons coconut aminos
1 and 1/2 tablespoons red wine vinegar
1 and 1/2 tablespoons sesame oil (or toasted sesame oil)
1 tablespoon avocado oil
1 tablespoon sesame seeds
1/2 tablespoon minced garlic
1/2 tablespoon minced ginger
Optional: 1 teaspoon red chili flakes, 1/2 tablespoon honey (omit for Whole30)
Instructions
Combine all ingredients except green beans and sesame seeds in a large skillet or wok over medium heat
Once liquid starts to heat and garlic becomes fragrant, add green beans and sesame seeds
Stir frequently until green beans are cooked thoroughly, about 10-15 minutes
Remove from heat slightly before if you prefer them more al dente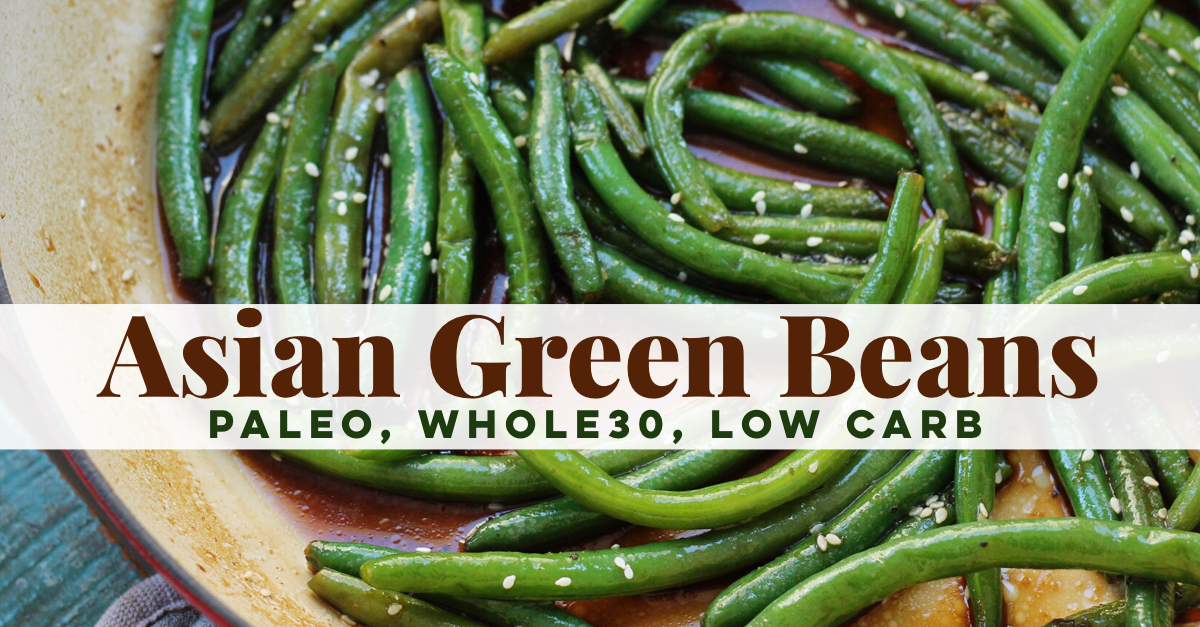 This post may contain some links that are affiliate links, though products are ones I use personally and recommend. When you purchase anything using my links, it costs you absolutely nothing extra, but it does give wholekitchensink.com a little financial support which helps to keep this blog running. Thank you for your continued support, both with your dollars and your interest.