I grew up eating $.79 cans of green beans. Now my food lives on the 'gram next to other people's photos of $27 jars of coconut yogurt. I worked with the sick general public for the last 7+ years, but open my phone to see the exact opposite of what I know the general public to look like. This might be an unpopular opinion piece among some of my fellow bloggers, but that doesn't make it any less important to me.
I sometimes feel like I have one foot grounded in the real world next to my average neighbors and one foot hanging off somewhere into the abyss where sought after lifestyles are unattainable but highly praised. Where good isn't good enough and where doing your best in the real world falls short of being worthy in the Internet world of health and wellness.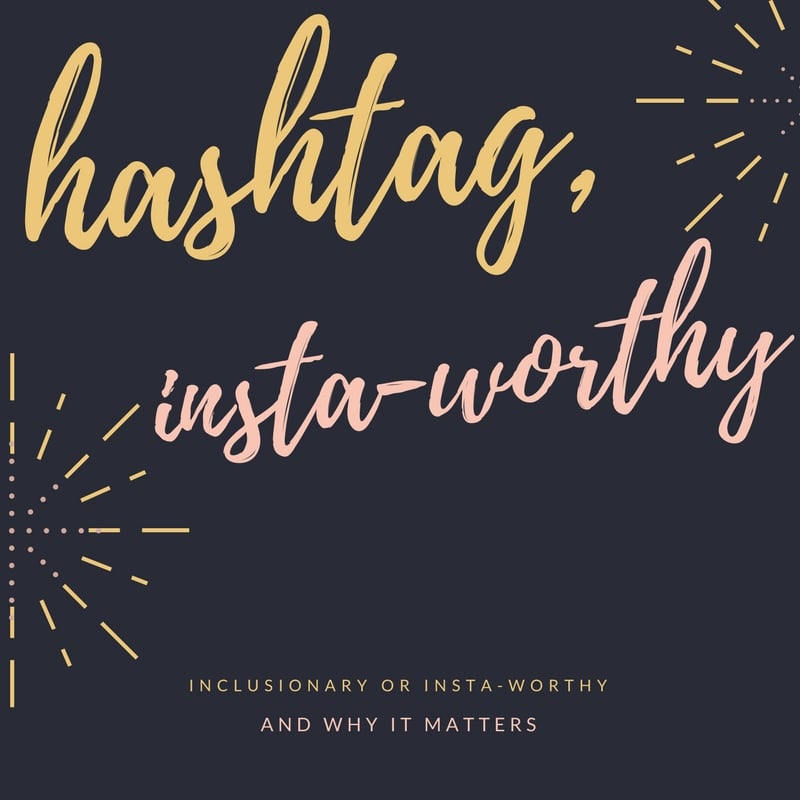 What I'm getting at here, is that I, for some reason, was given a small voice in this crazy Internet world and I'm extremely aware (both because I have to be and because I want to be) of the limitations some of us face and the pressures and influence that this space can have on us. As someone who lives pay check to pay check, buys most workout "outfits" when they're 50% off at Old Navy, is buried in student loan debt, had to cancel my yoga membership because I just couldn't swing it, and grew up on canned green beans and canned corn being my only veggie intake, I get it. I'm with you.
And I don't want you (or me) to feel like what we see on other people's Instagram feed is equal to our worth. I don't want you (or me) to feel like what we can't put on our own Instagram feed is a reflection of our worth either.
And it's important to me to never lose sight of that.
On one hand, I think it's so freaking amazing that we live in a world where more people are being educated on healthy options. Consumers being informed and voting with their dollars has led to an explosion of more natural food choices entering the market and then the stores by our homes. These amazing products gaining shelf space make it easier for us to live healthier lives, and for the average person to get ahold of them instead of Oreos. It's incredible that social media helps make that a reality in the crazy time we live in.
I get so excited when I see the products I love come to stores and gain the visibility I think they deserve. Big brand companies are now feeling it and being forced to adapt and change with the market. I'm so grateful these products will be in front of the average person and on the shelves in their stores. There's a huge shift going on in our food system right now because of this. I'm so happy to be a part of this bigger picture and so happy to get to watch it unfold. I am honored that I'm able to show you these things on a personal level and help you implement more healthy habits into your life.
As much as Instagram is so great for sharing information and discovering new products I think it can come at a cost to us personally if we're not paying attention to who and where we're getting our information from. And the price we pay is that we can slowly become removed from the real, not-on-Instagram world. The world where people don't have access, knowledge, or resources. The world where a majority of people don't know there's added sugar in bacon, marinara sauce and beef broth, or that "Kind" bars contain harmful soy additives. The world where seeing a dietician in $140 leggings advocating for a $8 juice every day after spin and then yakking on after an hour massage about how "it's not a diet it's a lifestyle" is INTIMIDATING. Or just plain not relatable.
This post is NOT meant to bash anyone or their lifestyle. It's great that there are people who CAN live their healthiest life in a way that makes them feel good. I truly wish that were all of our realities. This post is just to share my opinions from the unique point of view I have – from previously being completely intimidated and overwhelmed with the health world, having to lose 100 pounds living very much on a budget, working a full-time job with undesirable hours, on a very diverse city street, taking a sick day and not having the PTO to cover it and having to buy lower quality meat that week, and being very in-touch with how the average person experiences life, health and the struggle that comes with them away from the Instagram world.
Now, that part isn't unique. That's millions of Americans. What I mean by "my unique point of view" is that I am all of those things, yet then found myself on the other side in this Internet reality and was suddenly given a voice in it somewhere and however small. And I will always honor that person I was first. I won't let my "success" or my "health journey" ride on the back of making anyone feel like their health journey is unattainable because of my life today.
While there's many positives to the health movement taking place right now, and I'm so excited about it, I think it can often be difficult for the person who needs support, guidance and real-life examples of how to move towards health. A lot of the voices they hear and bodies they see don't sound or look anything like them. Everyone has a different idea of what health means. And with that, everyone's idea of inclusion is different too. The person who never sports the same workout outfit twice or the one that uses their platform to discuss how important only feeding her family organic is isn't meaning to make me feel less than. But it's okay if it does, and it's okay to remove myself from that person. To me, being inclusionary means making health and related information available in an approachable way and if I'm not finding that, it's okay to look for it elsewhere from someone who doesn't make me feel badly.
Just getting fresh produce into the hands of certain populations or areas of the country is an issue. I was shocked this last semester in my RD courses when I was researching the accessibility and food deserts that some populations and areas of our countries face. There's a low-income district in D.C. that only has 2 stores with fresh produce. There's an area in central California where there's 350% more fast food restaurants and delis than there are stores with produce.
But what we see happening right in front of us on our phones can make us feel like the norm is $25 daily workout classes, mid-day farm-to-table café lunches of kale salads and matcha lattes, running errands in outfits that cost more than I made in a whole shift at my job, and women talking about their belly rolls who weigh a good 70 pounds less than you do. Not saying they don't have a right to do so because body image is difficult for all of us, I just that I know how not relatable it is to look at someone and know they don't know what being morbidly obese looks or feels like. These things we're seeing right in front of us have a way of making the bigger picture less in-focus. It's easy to lose sight of the fact that we have the ability to get healthy food at all when on Instagram, that's often not enough to be interesting or worthy of attention. It's easy to think we're not doing enough when sometimes on Instagram, health = $16 Paleo bread. It's easy to get caught up in the comparison that happens when doing your best doesn't feel like it's "the best".
When it comes to being inclusionary or Insta-worthy, I just know I won't be the one placing added guilt on anyone for the artificial flavors in their whole foods based protein bars they're having instead of boxed cereal, or for the artificial flavors in the water that they're having instead of soda. It's important to remember that health happens on a sliding scale. You don't go from eating the S.A.D. (Standard American Diet) to understanding every additive. And you don't go from eating take-out every day to valuing meat sourced from the highest quality farm. You certainly don't get there overnight on a limited budget. It's a process to get there.
There's so much shame around food already, I refuse to add to that by not supporting someone's better choices even if they're not my best choices. Because I understand my best choices today didn't become my best overnight. We all started somewhere, and if you're like me, you started in a place where the priority had to be just eating better, and letting the more advanced knowledge come with time and experience. No one starts out an expert, but the people we're following or comparing ourselves to or idolizing on Instagram usually already are.
Keep that in context when you're feeling like there's no way you could maintain their lifestyle, or cook like them, run like them, meal prep like them, or do one-arm push-ups like them. Remember next time you get caught up in thoughts of comparison that if they're not serving you, they don't need to take up space in your thoughts.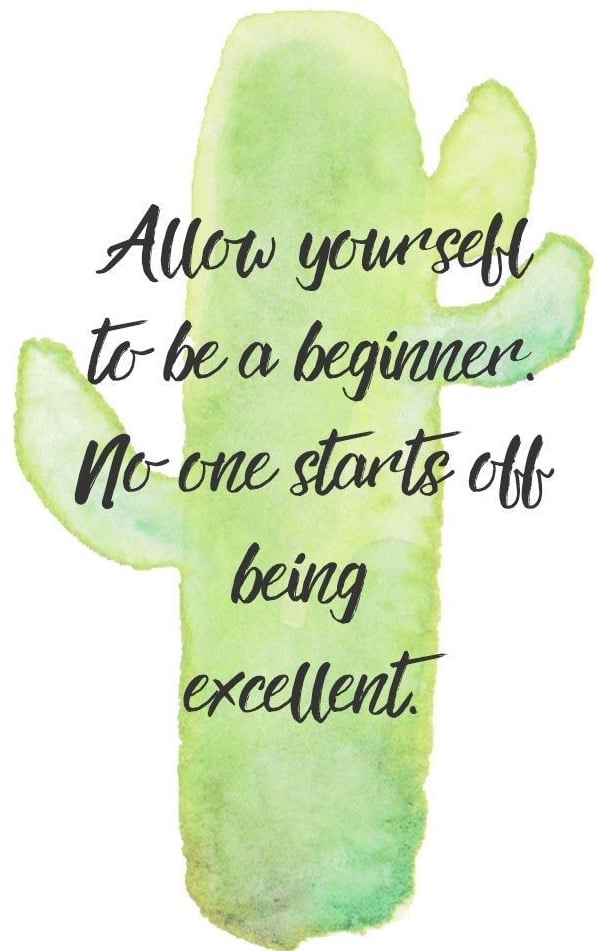 It was Instagram that opened my eyes to all of this stuff beyond the basics of eating real food. When I first started eating real food, prior to having an Instagram, all I did was eat meat, fruit and veggies. Since then, it's been Instagram that's helped me learn about new things, do research, dig deeper and become more informed. Don't get me wrong, I am extremely grateful for the resource and community Instagram is. A lot of the products I use daily now have simplified my life and hugely impacted my health for the better.
With that comes the responsibility I have to you to make sure you know that I truly mean that when I say that about something. And the responsibility to myself to bring you the things I really think hold value. With that, I have to continually find a way to balance understanding the limitations most of us face, while also coming from a place of wanting to help inspire you to keep learning, growing and advancing with your health and building upon the information you have. And THAT goal is what I think the difference between Insta-worthy and inclusionary is.
It's finding this balance to both let you know it's okay if you're not there yet or can't afford that but also provide your neighbor with the value if it is something they'd find useful that I think is missing from a lot of the people we're idolizing. If I'm telling you about products that are higher in cost that meet my quality standards for meat, or longevity or function, I understand that not everyone gets to choose that, but hopefully I'm helping to educate on options and sourcing and etc. If I'm showing you something reasonably priced, it's going to be something that makes sense for being busy, added convenience, healthier options, etc. I can know I'm beginning to help people who are newer to making healthy changes this way by meeting them where they are. Which is another reason I do love sharing products because instead of scaring people away from healthy living, if done thoughtfully and with good intent, it can show them that it's not as intimidating, it's do-able for people who don't have time to make their own ketchup, and that making some changes can make an overall difference.
These are just a few real-world examples of how Instagram can make us feel like we're less than because of the $27 coconut yogurt being promoted or the smoothie bowls we don't have time to make. But there's another side of it too. The mental health part that can sometimes suffer as a result of seeing bodies and lives that don't look like yours. Scrolling past 134 pictures that show everyone's highlights can lead to the not-so-fun feeling of comparison, while you're sitting there scrolling and eating a warmed up hot dog and an orange that's about to go bad.
I get it. It happens to me too. Sometimes it's hard for me to post a photo of myself or my body now because I know more people are watching now compared to a year ago, and it brings a lot of anxiety with it because I don't have the body they might expect from a health food blogger. My logical reasoning tells me this is even more of a reason I should show it, but my Instagram logic tells me I'm less than these other women are, and my body isn't as good as it "should be".
I do also want to say I truly believe that most bloggers or IGers try their best to provide valuable advice, suggestions and support. I personally don't know a single blogger who would risk their reputation recommending something they don't believe in. Your trust means a lot to us. All of them try their best to keep in mind that not everyone has access to the things they do. At least the bloggers I choose to associate with and support.
And that's my main point here. You can choose to see feeds that make you feel good, that inspire you and show you helpful things. You don't need to see feeds that don't benefit you, make living healthy seem out of your reach, make you feel badly about your body, your parenting, your beliefs. Many people are surprised that I don't even follow many bloggers. They make me feel like crap about myself or like I should be doing more, doing better, be skinner, have better photos, etc. Especially now that I'm a blogger, comparison and clique-ness isn't an extra pressure I need and I know being exposed to it every day would eventually change the things I think are important – so I choose not to do it. I choose to follow the ones who inspire me to be better, to learn more, to work harder, not the ones who make me feel like I have to.
A few of my favorites:
If you take anything from this post, let it be this: you're not unworthy of health, unworthy of happiness, unworthy of loving your body because social media makes your real life look inferior in comparison to someone's IG feed. Health is NOT out of your reach because someone else's life makes it look impossible.
You are not expected to be a perfect person, perfect parent or to have the perfect caption. You're not expected to "never miss a Monday", to buy things you can't afford, to take workout classes you don't enjoy, to eat something because everyone else is, to already be an expect at all things nutrition and wellness. Your only job is to show up for yourself, however that looks for you, and just do your best. Keep learning and growing and keep cultivating an Instagram feed that makes you feel good and makes you feel inspired while you scroll.
Or, maybe one that just makes ya' hungry 😉